As simple and flavourful as it gets, this leek & pink peppercorn risotto is both humble & festive and perfect for winter's gloomy days.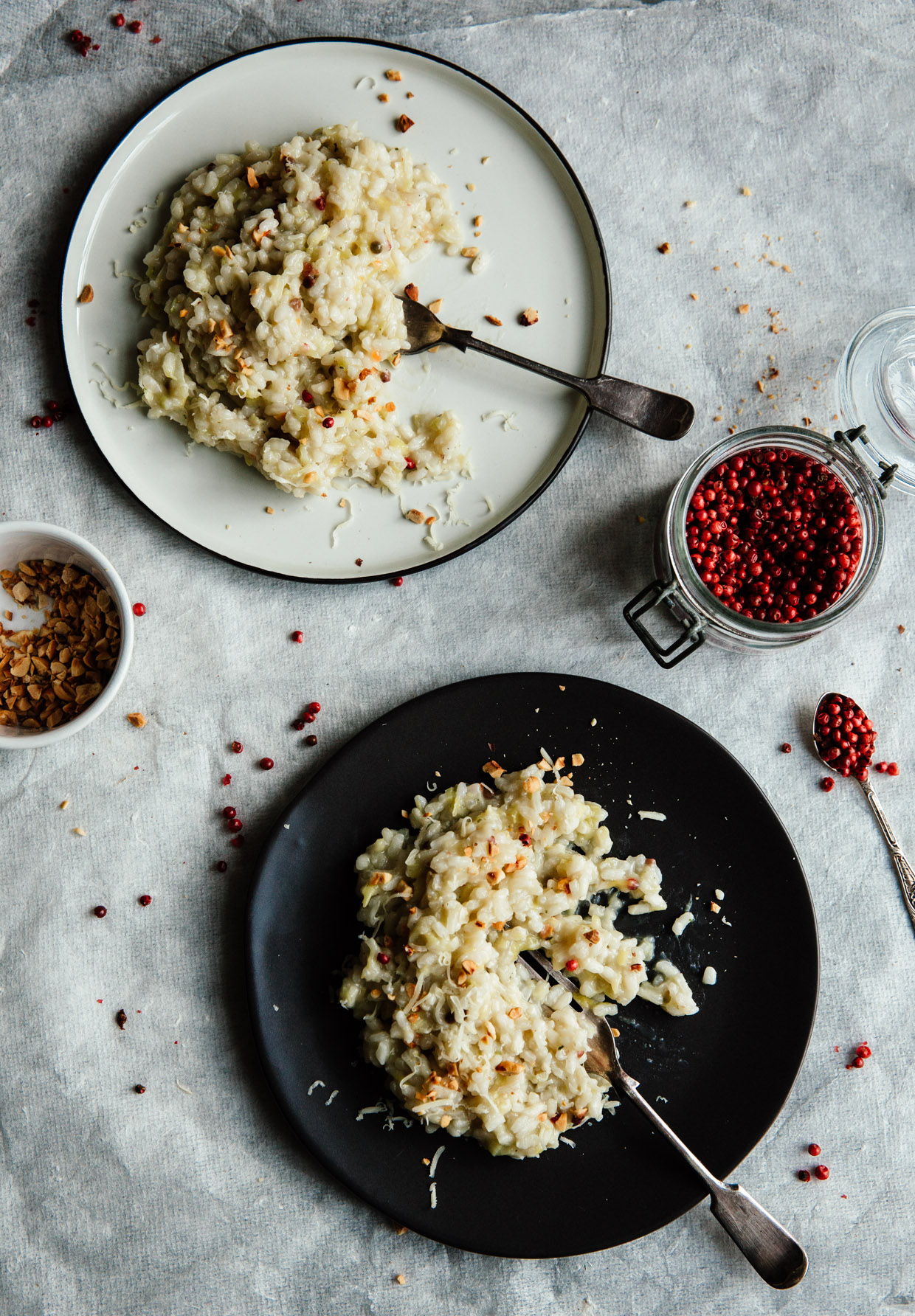 Lately, more than usual, I am drawn to one pot dishes, filled with all sorts of autumnal and early winter treats: pumpkins, rough dark green leaves, apples & pears, thick chunks of meat and heaps of spices; I've made hearty pies and stews, roasted vegetables with their skin on in big trays paired with just olive oil and big bunches of fresh herbs; I've filled sweet potatoes with crunchy beans and melted cheese. Even breakfast is heartier and more rustic, with steaming bowls of almond milk oats, sweet raisins and crunchy nuts. Winter is all about staying in, keeping warm and enjoying all things simple, is it not? Comfort food, a glass or two of good, fragrant wine and meals ending with a sweet satisfying bite- they all make the season worth celebrating, other festivities aside. The mere thought of enjoying these simple comforts is such a good fortune, and one I try not to take for granted.
This risotto is a testament to that: in praise of simple joys and for the love of one of the season's favourites, leeks. Sweet, wonderfully versatile and, when paired with rice, reminiscing of childhood flavours, they are true stars of understated comfort. Here, they are paired with merely pink peppercorns, which add subtle heat and a brilliant pop of colour and toasted hazelnuts (which I can't seem to stop using in seemingly every meal I prepare, sweet or savoury). Finish off with a couple grinds of black pepper too and a touch of grated cheese and enjoy- simple is often the way to go, especially this time of year.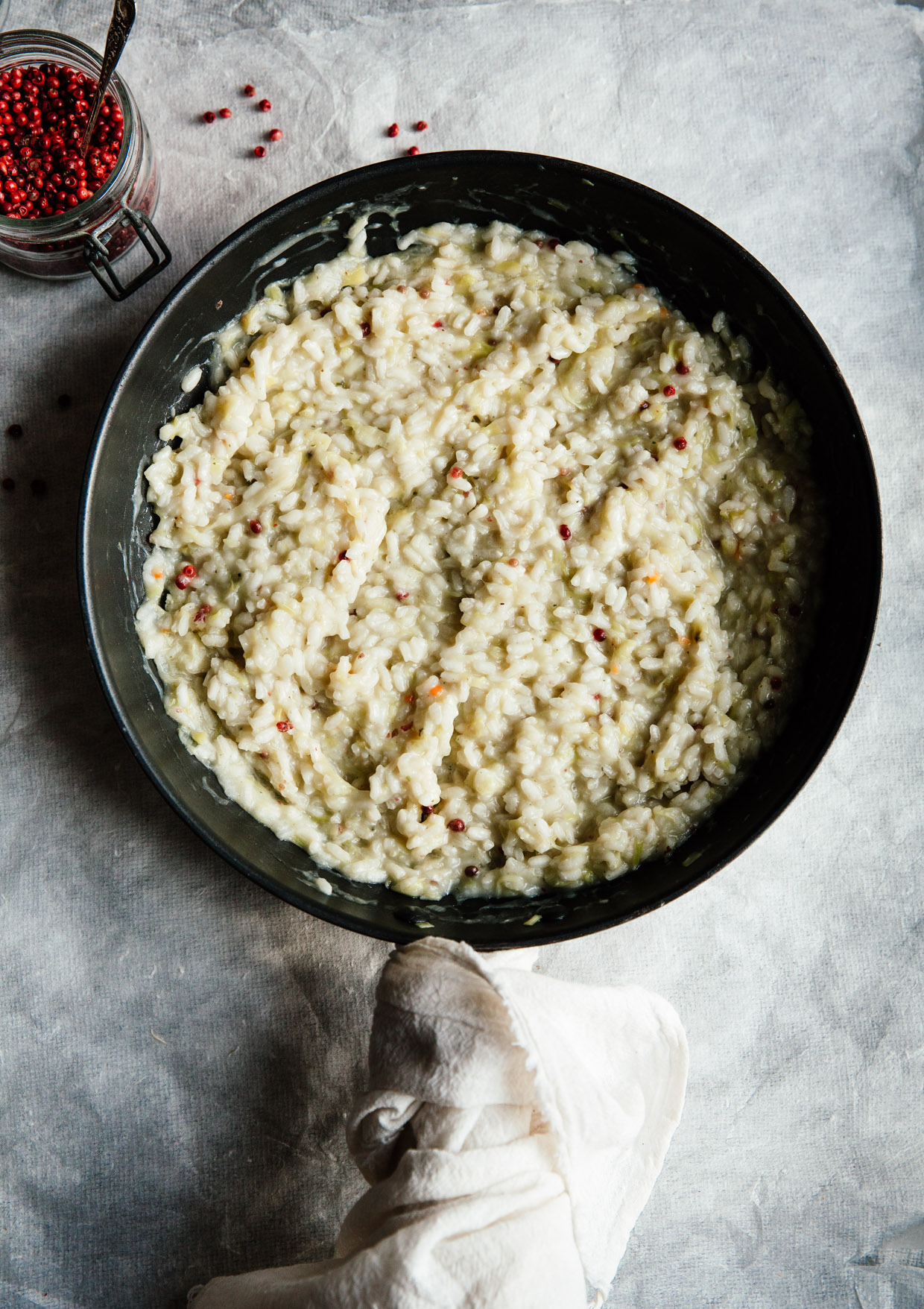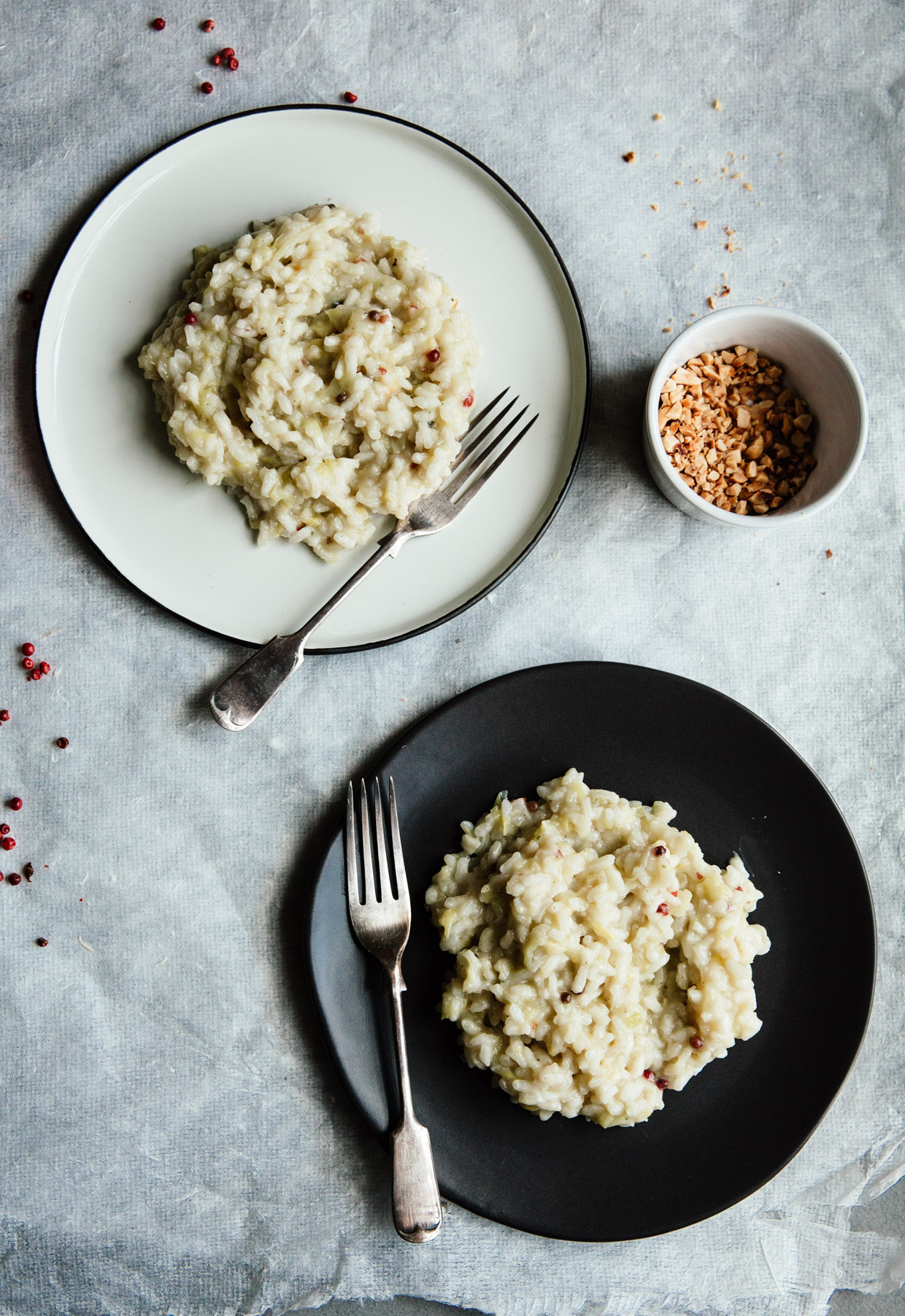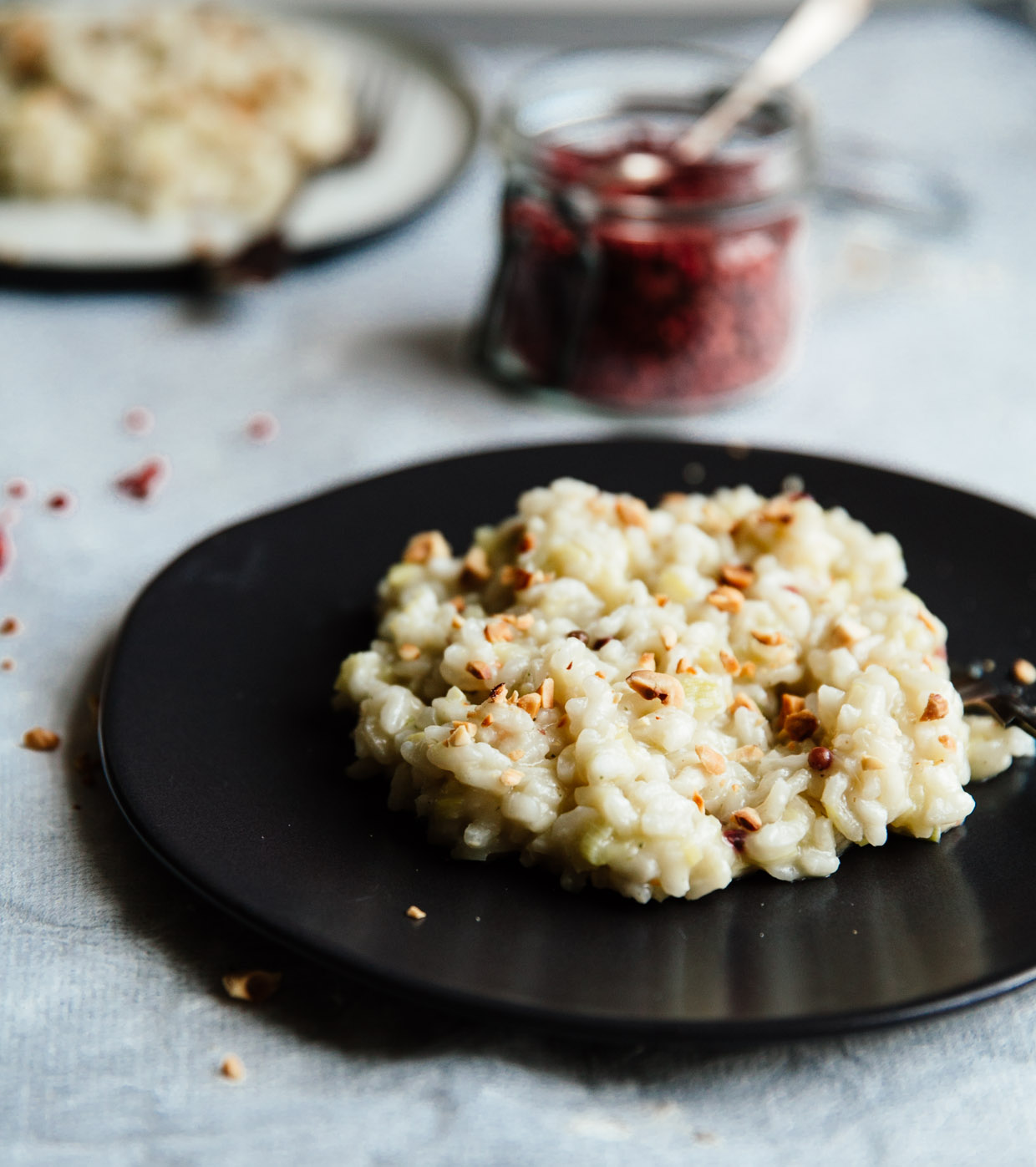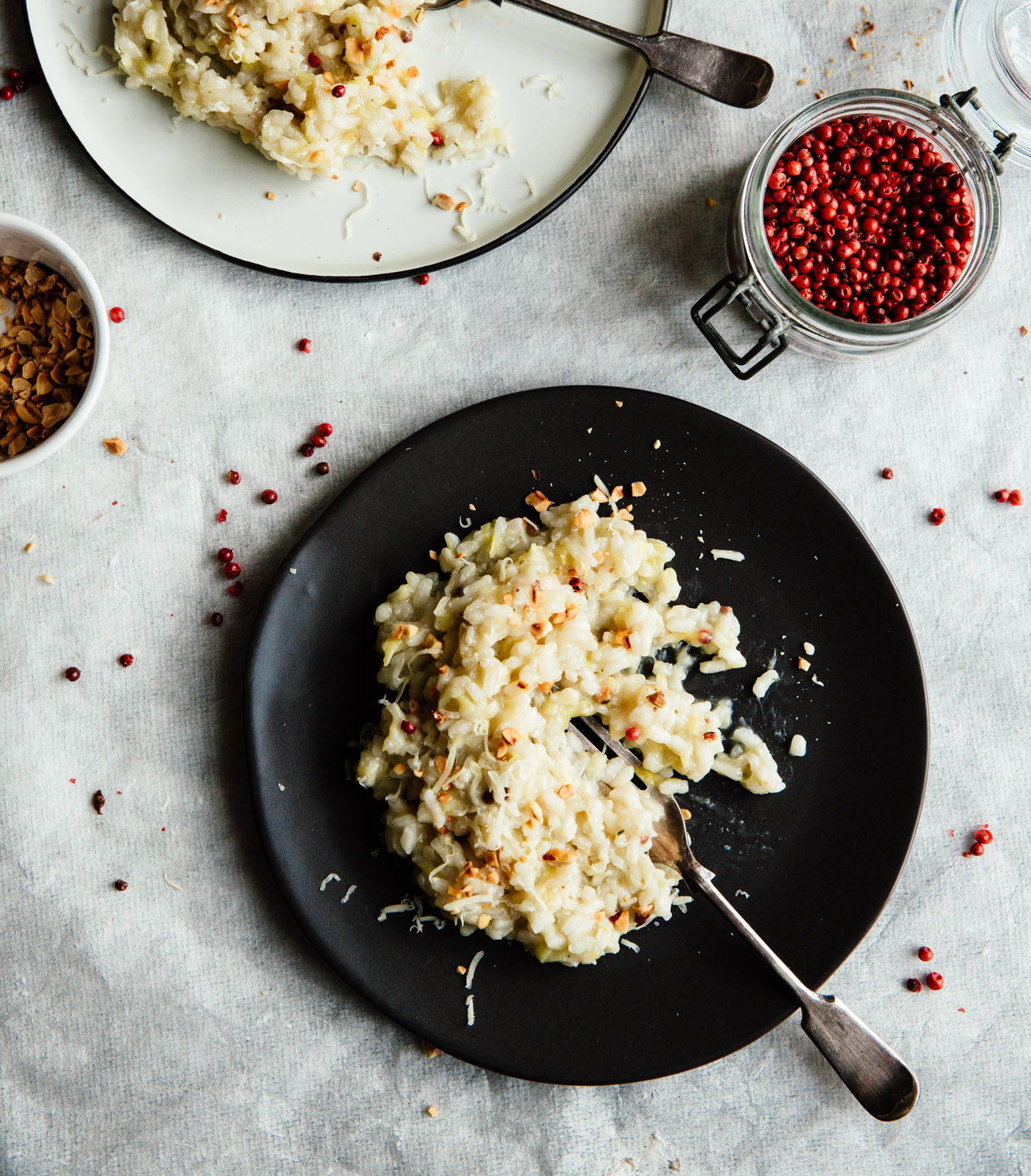 Leek & pink peppercorn risotto
WHAT
1 tablespoon extra virgin olive oil
1 1/2 cups leeks, roughly chopped
1 cup arborio rice
5 1/2 cups vegetable stock
freshly ground sea salt to taste
1 teaspoon pink peppercorns, divided
1 tablespoon unsalted butter
to serve:
freshly ground black pepper
1/3 cup toasted hazelnuts, finely chopped
grated Parmesan or Grana Padano
HOW
Warm the olive oil in a large pan, over medium heat; add the leeks and cook until soft, about 7′. Add the rice and salt, stir and cook for another couple of minutes. Lower the heat, add a ladleful of the stock and stir gently until the liquid is absorbed.
Add half the peppercorns, stir again to combine and add another big splash of the stock. Continue like so, keeping the heat low and adding the stock little by little; stir gently often and allow the rice to absorb the liquid each time- it will need about 20-25′.
Remove the risotto from the heat, add the butter, lots of freshly ground black pepper and stir gently.
Divide into warm plates, sprinkle the remaining peppercorns, hazelnuts and top with the grate cheese.