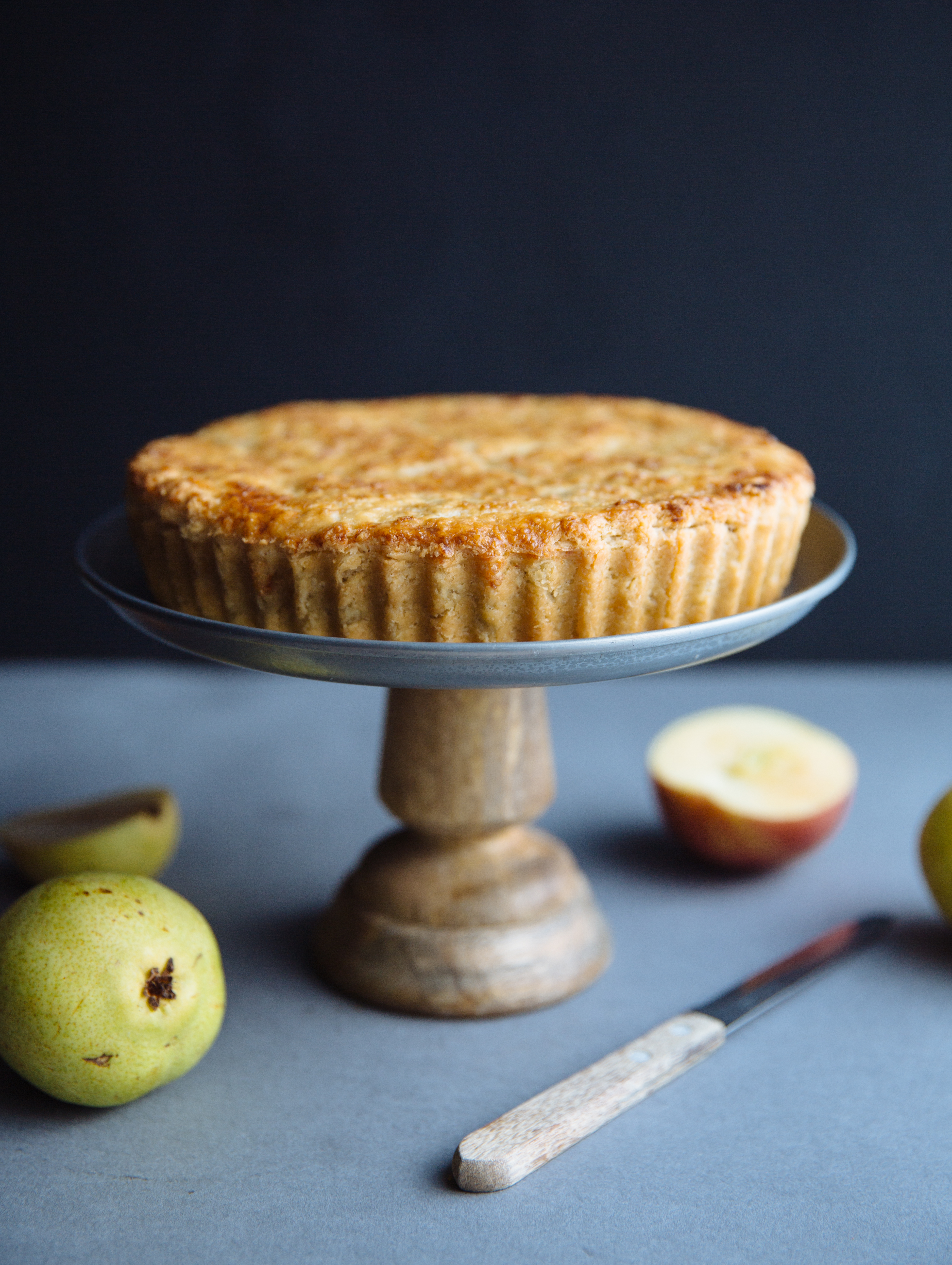 It's cold! And sunny! And cold, dammit, so very cold! But hey, it comes with the season, along with a few other things, so lovely and so close to my heart: leaves with the most stunning colours, Halloween and Bonfire night right around the corner and, you guessed it, delicious, hearty food. I honestly can't get enough of fall's fresh produce: crispy carrots and so many pumpkins, leeks and sage, swede, celeriac and beautiful wild mushrooms. And the fruit! Oh, all the different varieties of crisp apples and sweet juicy pears, which all just beg to be used in a pie! 
A little confession before I tell you all about our buttery, fruity sweetheart: the pies I'm used to making are quite different. Mostly on the savoury side, almost always using olive oil and coming together differently, I had to really try with this kind of pastry. No that it's hard- not at all. It just takes some getting used to. And it's so worth all the failed attempts, because you can actually eat them, unlike failed attempts occuring outside the kitchen.
But I did it, I made a flaky, sweet and slightly salty buttery pastry, perfect for the season's jewels. Braeburn apples (crisp and not too sweet) and blush and rocha pears, tossed with a more butter (don't judge me), fragrant cardamom, cinnamon, lemon zest and a few grinds of black pepper for extra flavour and a little kick. All these, cooked until tender and juicy and sticky, spooned over one layer of pastry and top with another layer. And then we wait, until our pie is golden brown and gorgeous. Waiting is the hardest part. Apples and pears and all that butter love affair are the best parts and they are absolutely worth it. Pie for fall. Always.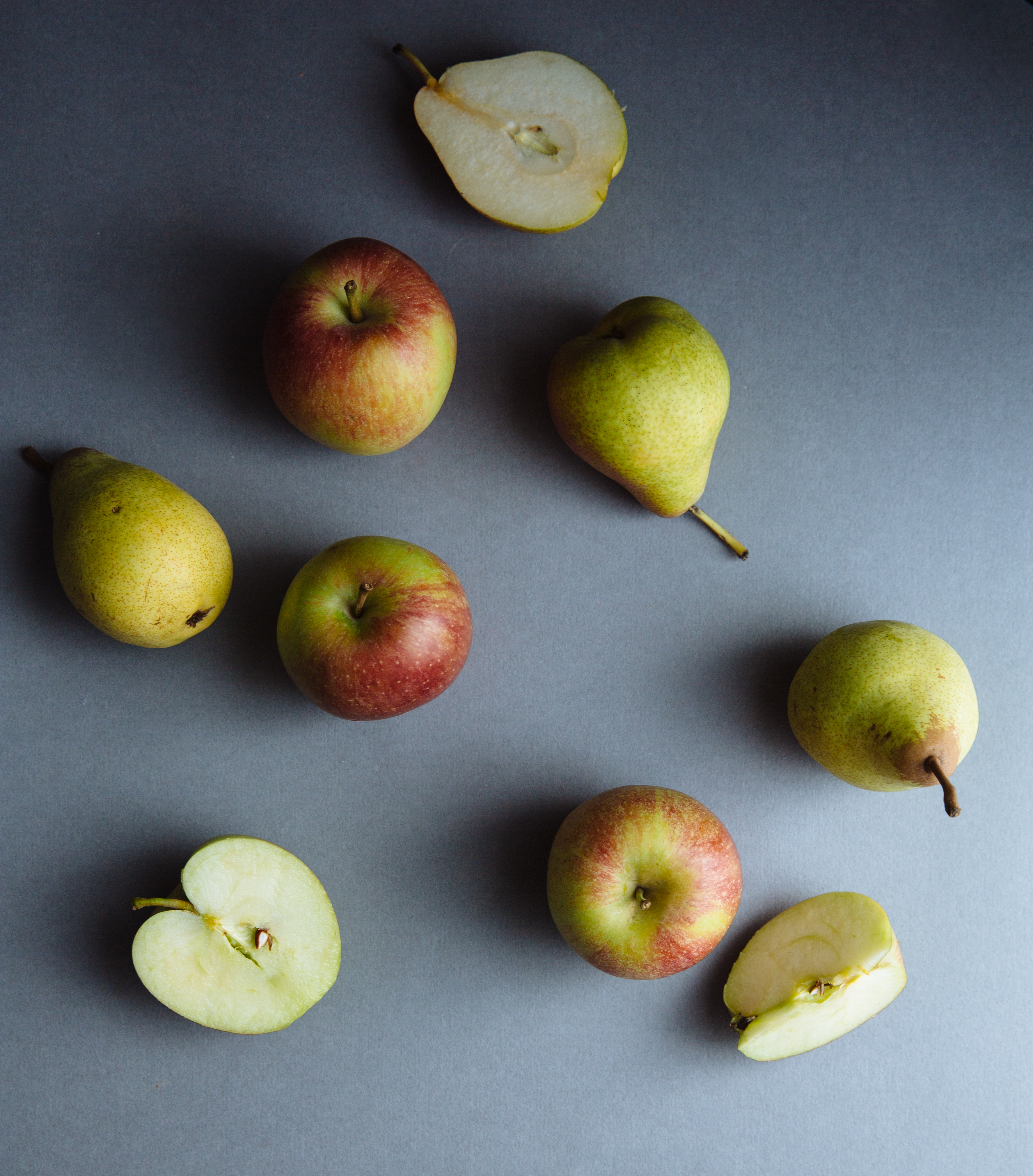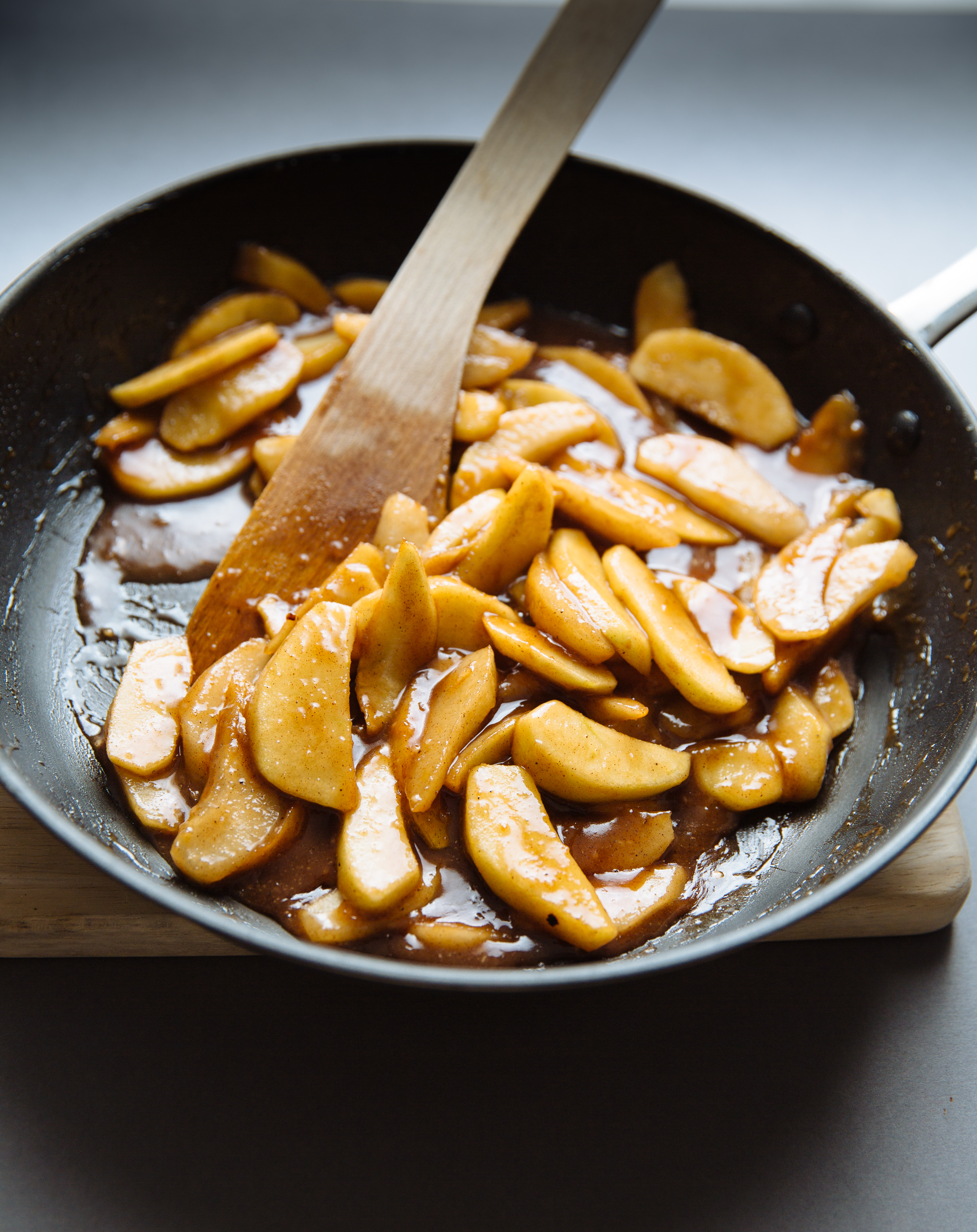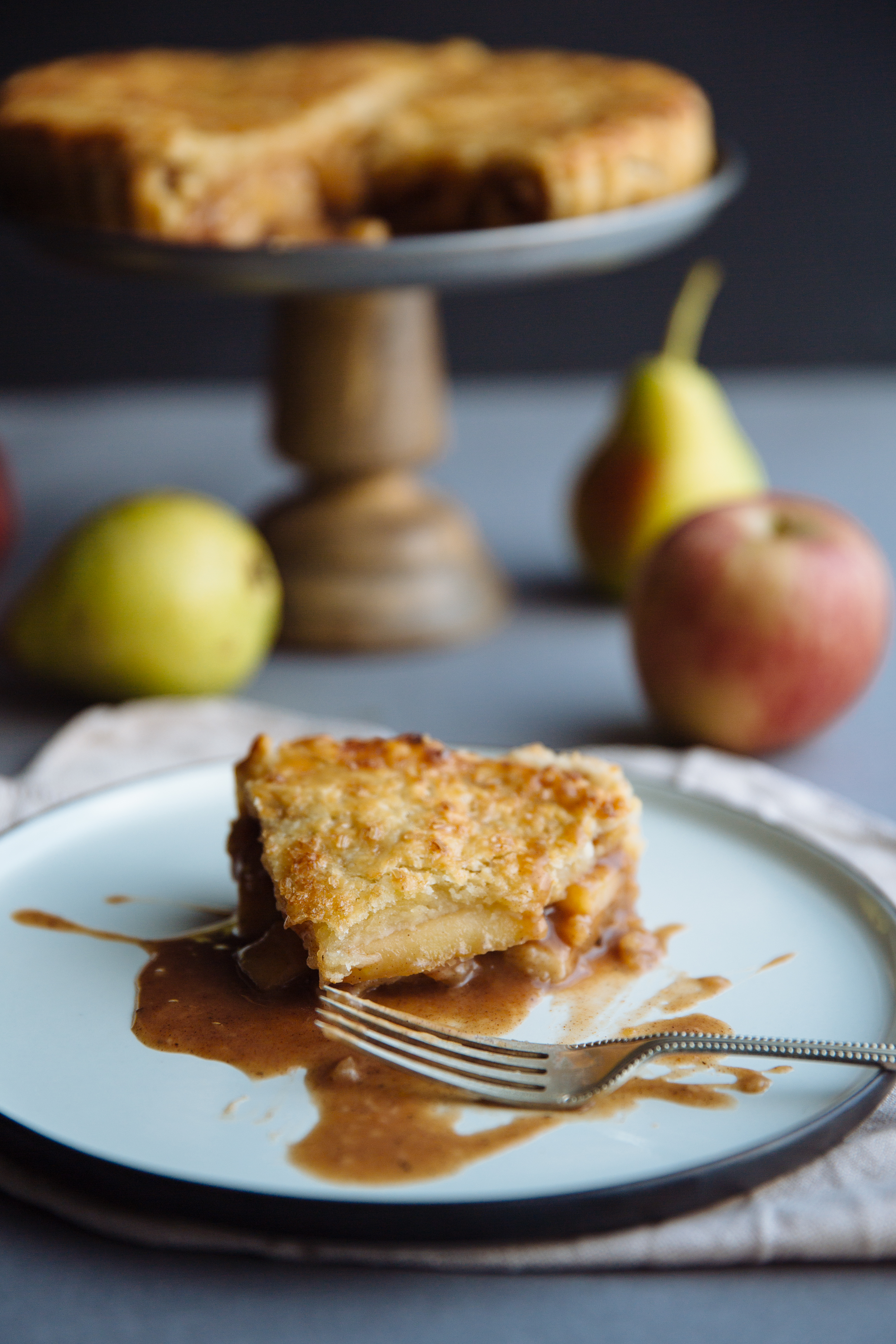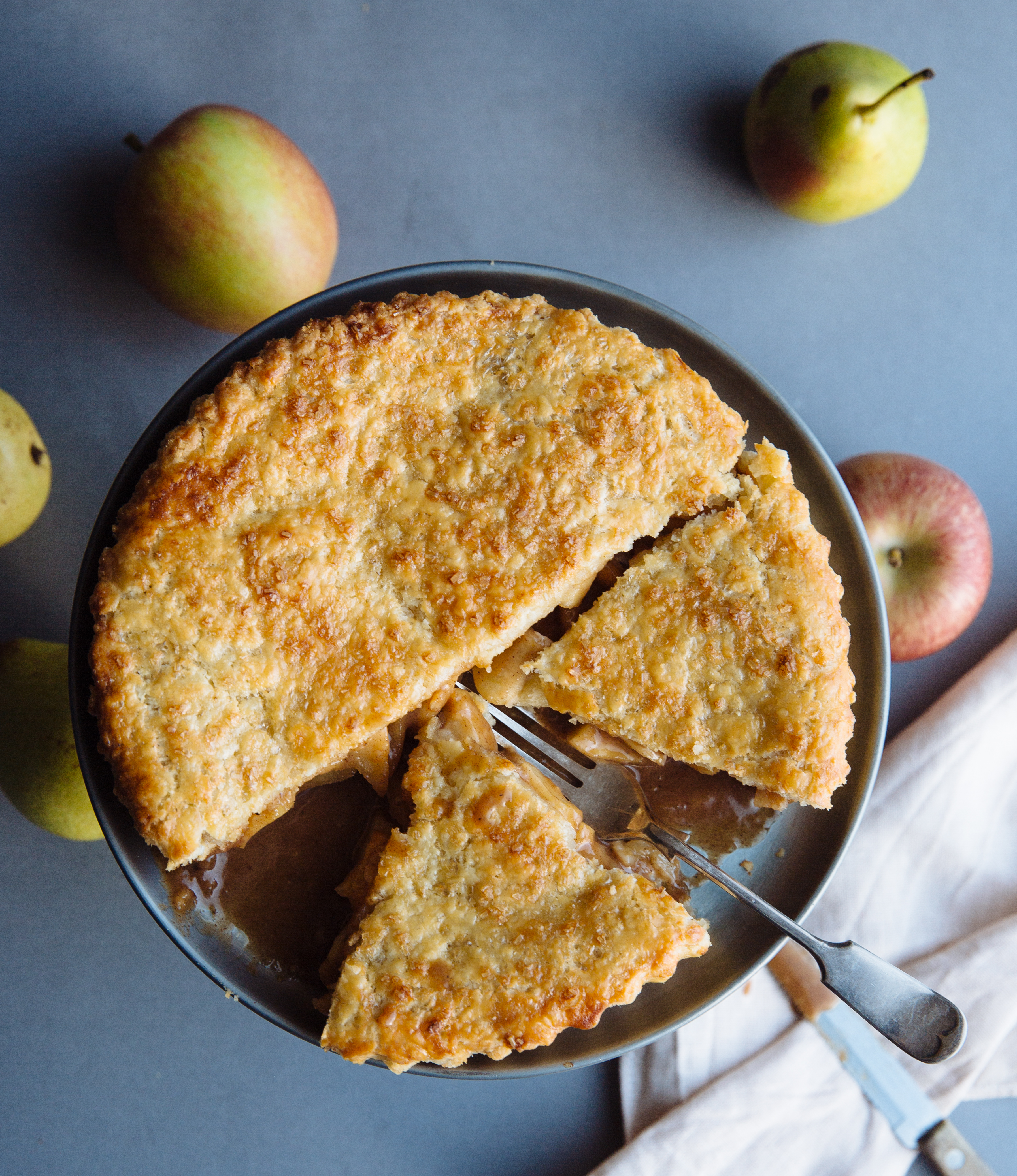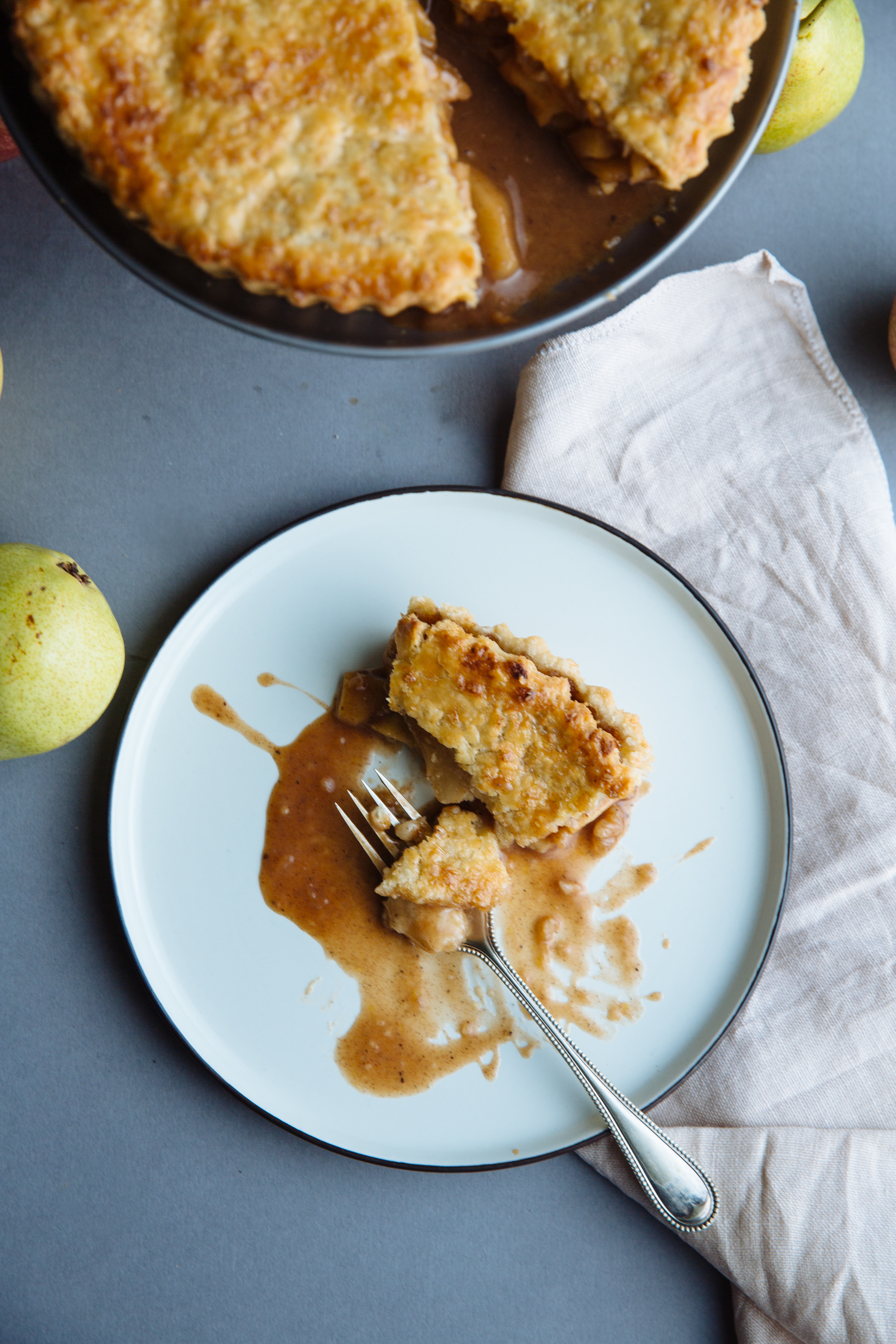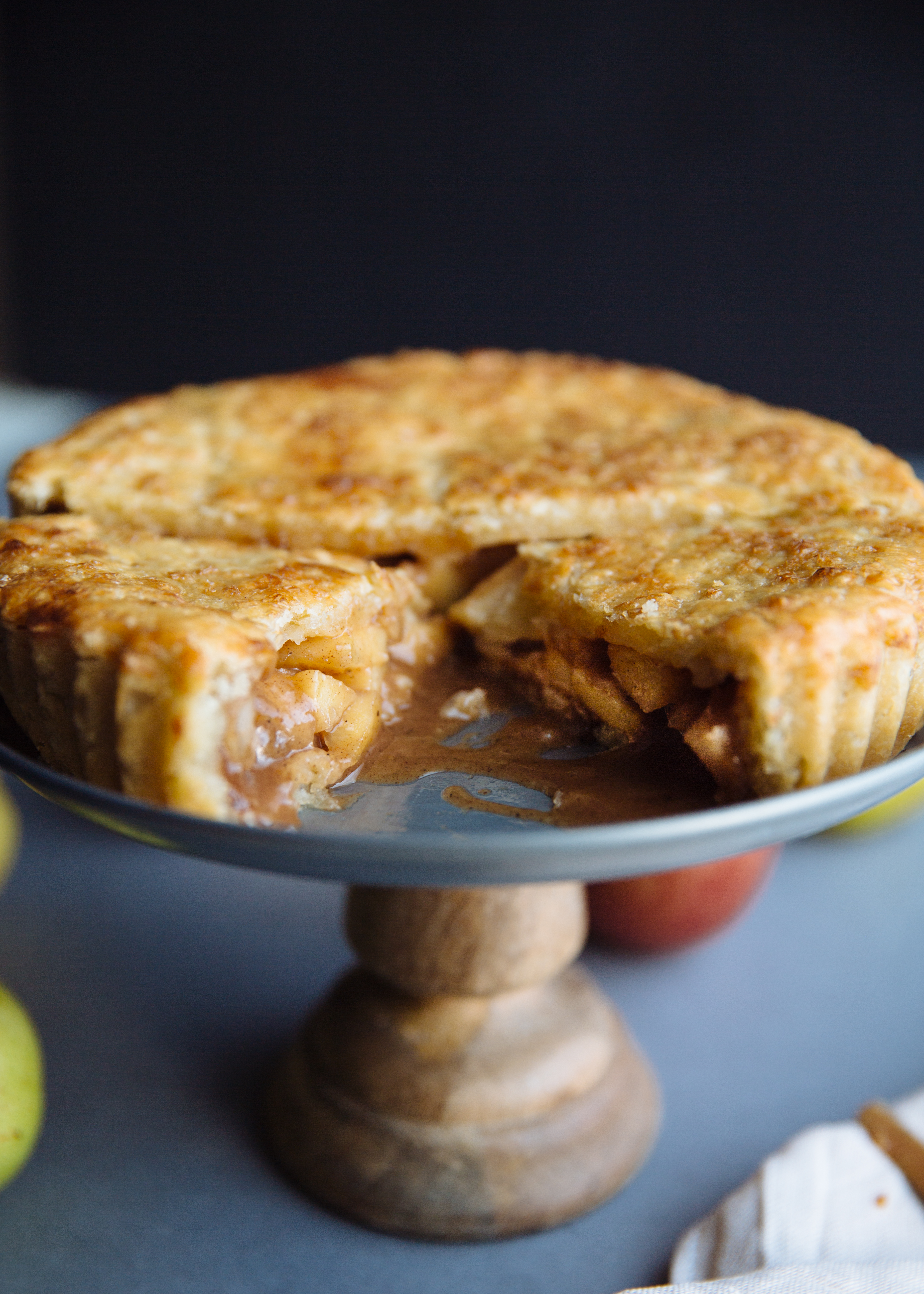 Ps. All you apple-loving, fact-checking, healthy food nerds out there, check out Helen's crazy good post on everything about apples. Like everything. I learned so much and I am now officially apple-crazy! (Seriously,  their history? So cool!)
Apple, pear & cardamom pie
INGREDIENTS
pastry
2 1/2 cups all purpose flour
1 tablespoon caster sugar
1 teaspoon salt
1 cup butter, cut in small cubes, very cold
1/2 cup ice cold water
filling
3 medium braeburn apples, cored, peeled and sliced
3 pears (I used a combination of blush and rocha) cored, peeled and sliced
3/4 cups demerara sugar
3/4 teaspoon ground cardamom
1 teaspoon ground cinnamon
1/2 lemon zest
50gr unsalted butter
1 tablespoon cornflour 
to finish
1 egg
1 teaspoon water
demerara sugar
METHOD
Make the pastry: put the flour, sugar and salt in a food processor and pulse a couple times to combine. Add the cold butter and run the food processor until the butter is mostly incorporated, but you can still see small bits of it. While it's still running, gradually add the cold water, allowing the dough to come together, with some crumbs still remaining.
Turn the dough onto a work surface, divide, wrap each piece with clingfilm and place in the fridge for an hour.
In the meantime, prepare the filling. Place the apples, pears, sugar, spices, lemon zest and butter in a pan over medium heat. When the butter is melted and the sugar is dissolved, raise the heat slightly and cook until the fruit is softened (the apples will take longer, so make sure you test these as well). Before taking off the stove, add the cornflour and stir well to incorporate. Remove from the heat and set aside.
Turn the oven on to 200C (180C for air) and place a large baking sheet inside.
When the hour is up, take one piece of pastry out of the fridge and let it rest for 5′, making it easier to roll. Lightly flour a work surface and roll out the dough, starting from the centre and pushing out. If at any point you see the dough softening and getting sticky, return it to the fridge for a couple minutes. You need the butter to remain as cold as possible.
Once the dough it rolled into a circle, fold over the rolling pin and place on the base of the baking dish, pushing towards the edges. Trim the overhanging edges with a sharp knife or scissors. Place in the fridge while you are rolling out the second piece of pastry as before.
Take the baking pan out of the fridge, pour the filling over the rolled pastry and cover with the second piece of rolled pastry and trim the edges as before. Make a couple slashes in the centre and brush with the egg wash. Sprinkle with demerara sugar and bake in the preheated oven, on top of the baking sheet (to catch any juices), for 30′- 45′, until golden brown.
Take out of the oven and let it sit for 15′, before slicing.