This brown butter & hazelnut apple cake is a variation of the one my mom's recipes: simple, unapologetically straightforward and perfect for fall.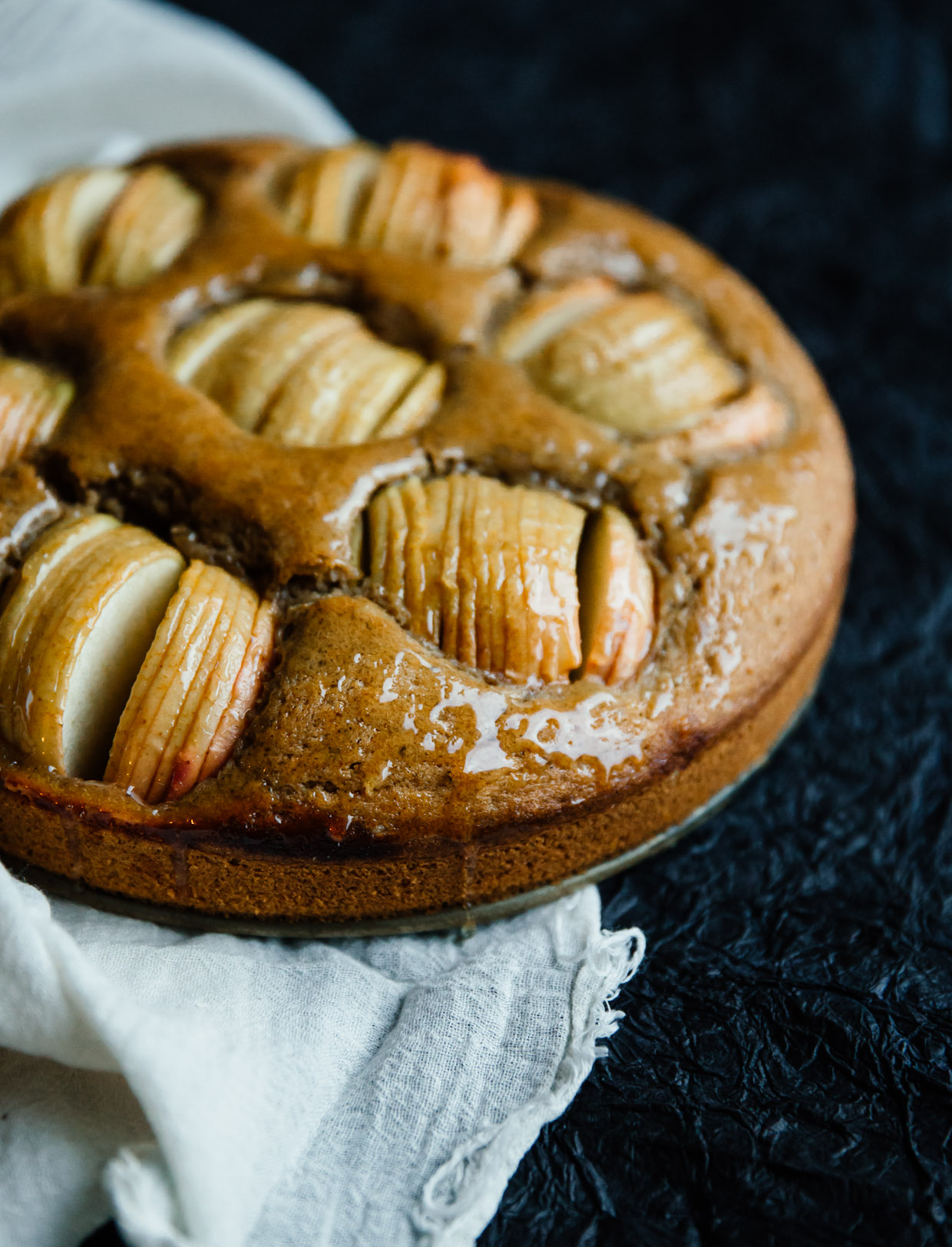 Enamoured as I am with apples, every autumn they are appear on our table frequently and in different ways: roughly chopped, tossed with dried fruit, toasted nuts and folded into creamy oatmeal; sliced thinly or turned into a jam, topping thick slices of toasted bread, along with tahini and sweet honey; cut in big chunks and added last to cider chicken stews; mixed with pears and spices to fill buttery dough for pies. I have experimented with many different recipes in the last couple of years, yet my favourite by far is my mom's apple cake. The main reason is possibly nostalgia and missing her and my dad a little too much; but it's also the flavour, simple, straightforward and utterly satisfying, as well as its rustic looks, with thick apple slices, which she cuts in a hurry on her worn wood cutting board.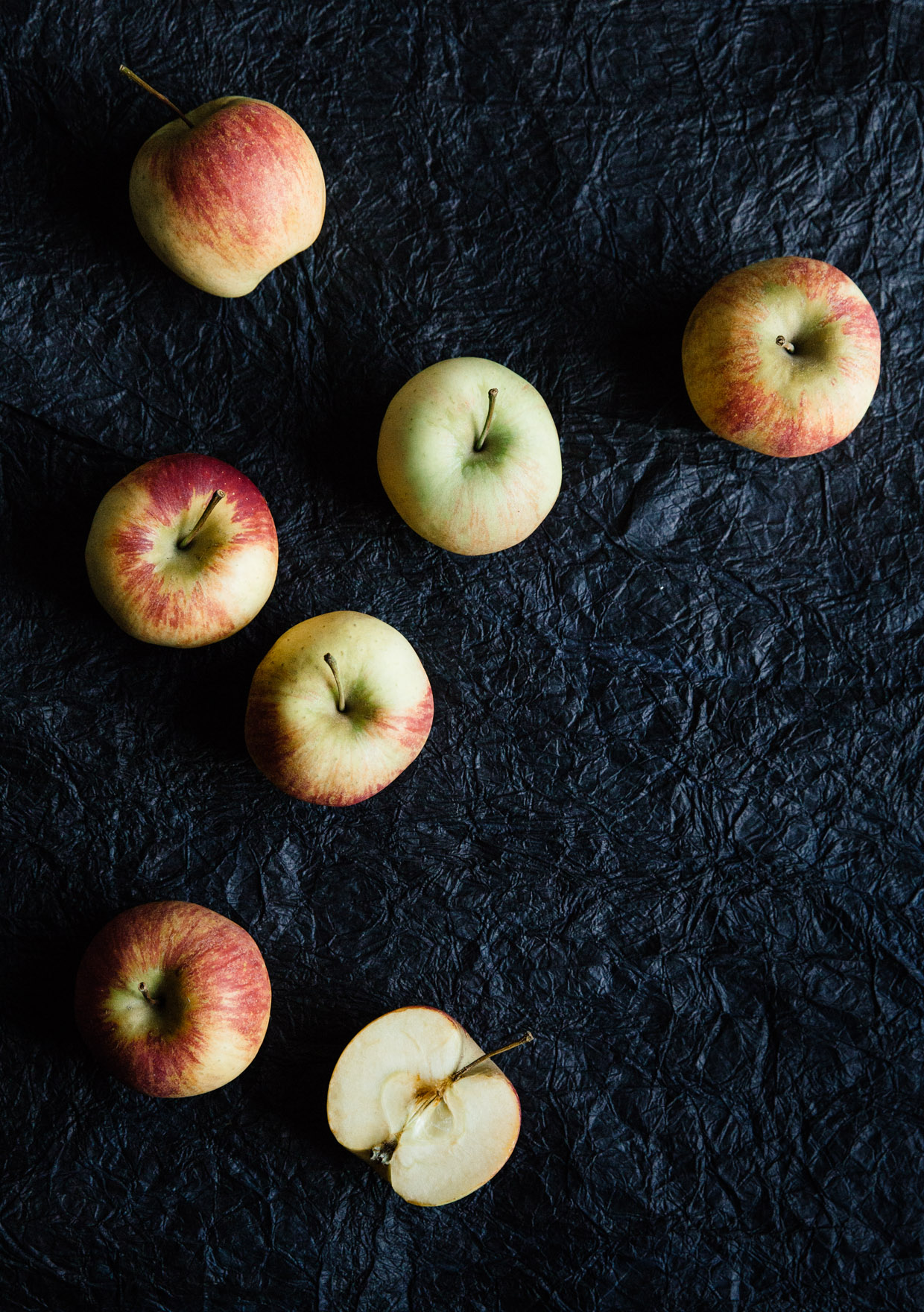 A few weeks back, I asked her for the recipe and sure enough, the following day it arrived on an email, written in her usual manner: the ingredients written in a one-liner, in no specific order, the flour missing from the list and the rest mentioned nonchalantly, in no specific measurements: a couple apples, 250 grams butter or maybe less, cinnamon, some nutmeg and cloves (but mostly cinnamon), a bit of baking powder and a cup of milk. I was to mix together everything in a bowl until fluffy, place the batter on a cake pan and cover the top with apple slices carefully, arranging them like fish scales. And then finally finish off everything by sprinkling sugar and more cinnamon by hand. Last few words: 'I hope I haven't forgotten anything, good luck, mom'.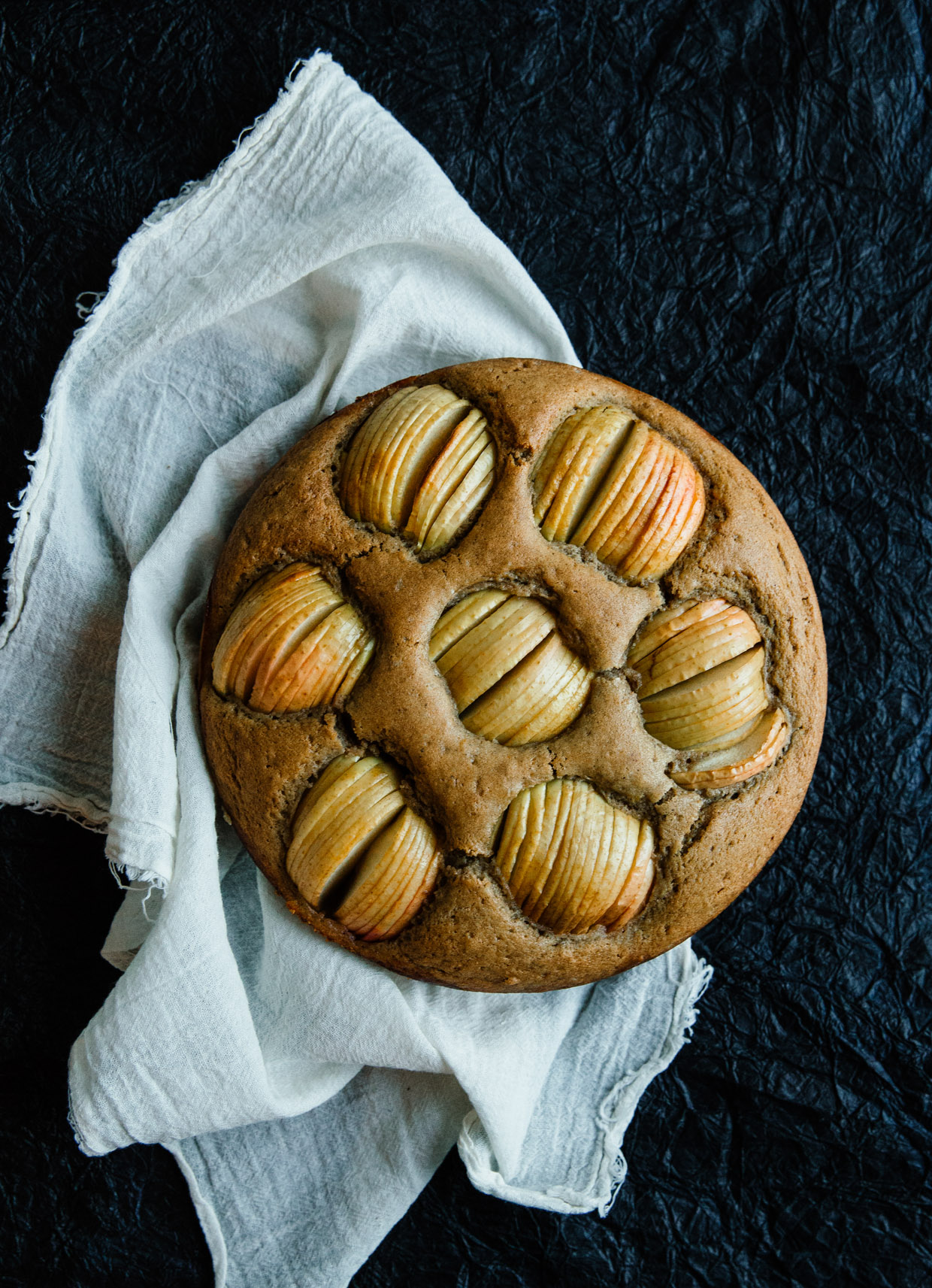 I went through other recipes, measured and adjusted ingredients and ended up with this version, which is somewhat close to the original, but not quite there: the butter is browned for a hint of nuttiness and toasted hazelnuts are added for texture; I used almond milk, which we always have in hand and demerara instead of caster. A heaping teaspoon of allspice and extra cinnamon, as I should. I rewrote everything neatly, in a list,  measured again and again. I checked oven temperatures and beat first the sugar and butter and then added eggs one at a time. And then I realised that regardless of how many cakes and pies and other desserts I've made -way more than my mom, who very rarely bakes- hers, everything by her, always tastes better.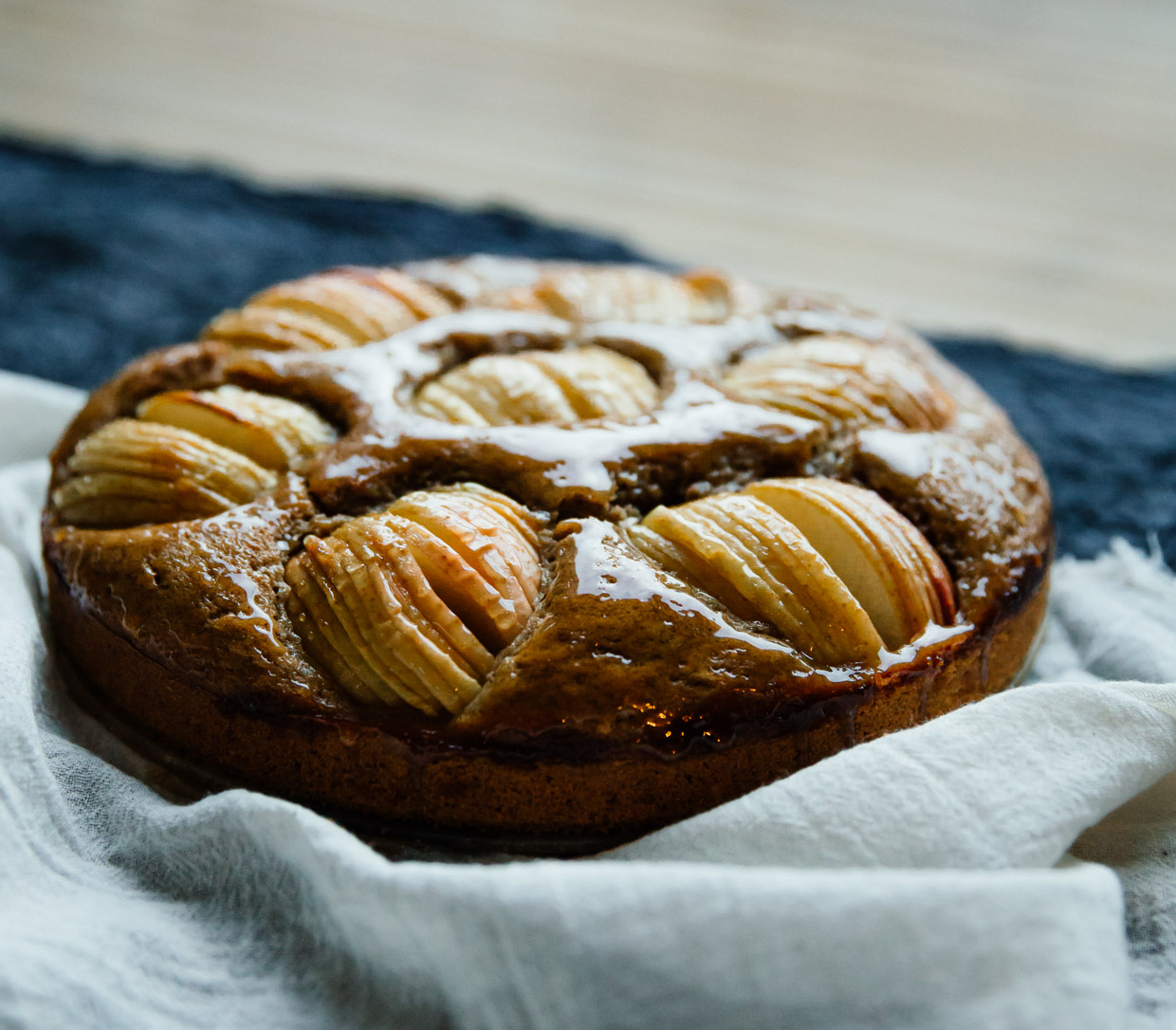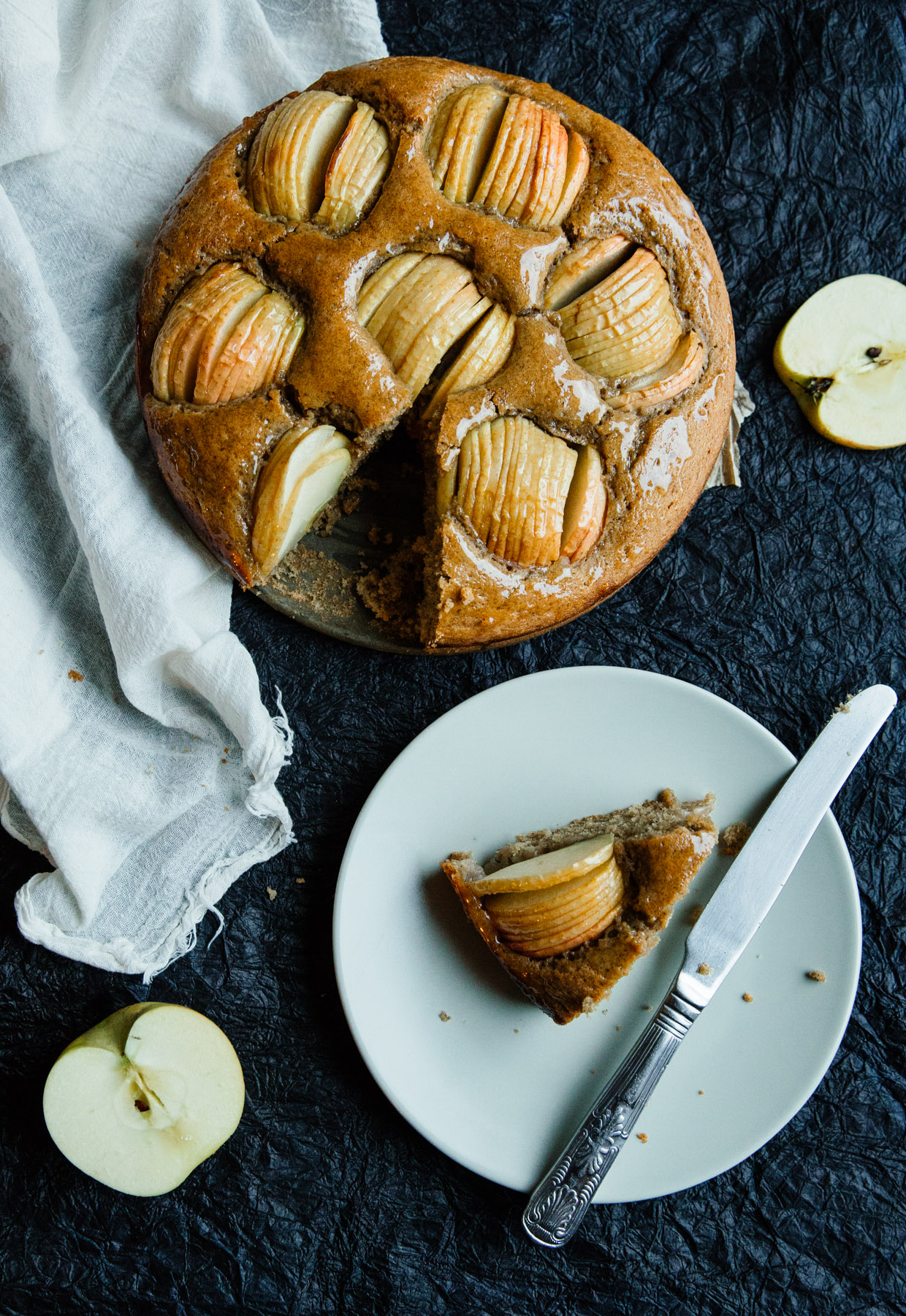 Brown butter & hazelnut apple cake
WHAT
 125 gr unsalted butter, browned 
150 gr demerara
3 medium eggs
zest from 1 lemon
1 1/2 teaspoon vanilla extract ,
250 gr AP flour
2 teaspoon baking powder
1/2 teaspoon salt
1 teaspoon all spice
1 teaspoon ground cinnamon
50 gr toasted hazelnuts roughly chopped
3/4 cups almond milk 
3 large apples, washed, cored and thinly sliced
to serve:
2 tablespoons honey, warmed over low heat until runny
icing sugar and ground cinnamon
HOW
180 C (160 FAN), grease pan & line with parchment.
Place the butter in a small sauce pan and melt over medium heat' continue cooking until lightly browned and smelling nutty, swirling the pan from time to time; it will take about 8', but keep a close eye (and nose) on it, as it can burn easily. Once ready, remove from the pan, place in a small bowl and allow it to cool.
Beat the cool butter & sugar and add the eggs one at a time, beating well between each addition, until fluffy. Add the lemon zest and vanilla extract and combine.
Combine flour, baking powder, spices & salt and add to the mixture.
Add hazelnuts and then milk slowly and mix well with a spatula.
Slice the apples very thinly and arrange on top of the batter.
Bake in the preheated oven for about 40' or until an inserted skewer comes our clean.
Allow to cool for 15', then remove from the tin and place on a wire rack to cool completely.
Brush with warm honey or icing sugar and cinnamon- or do both.