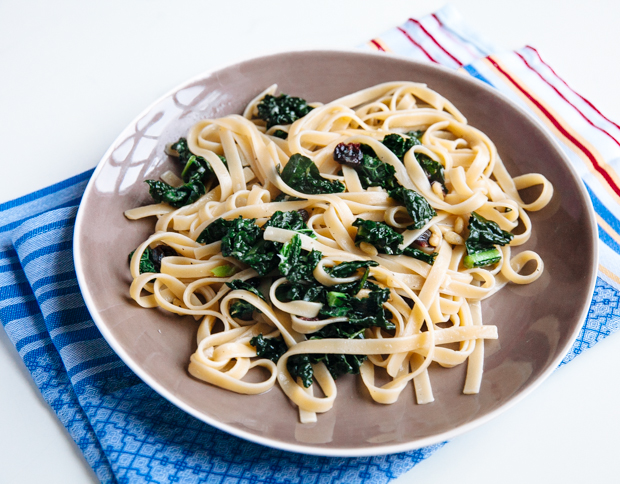 Last Friday night I arrived back home in Athens for the holidays. Ever since, I've been in the midsts of a tornado of love, affection, confrontation and laziness. Along with my sister, I've also been caught up in a semi-frantic, absolutely childish, totally satisfying holiday mode, which includes blow up candycanes, so many fairy lights, very moderate wine drinking, beautiful festive flowers, gift buying and wrapping and lots and lots of menu and party planning.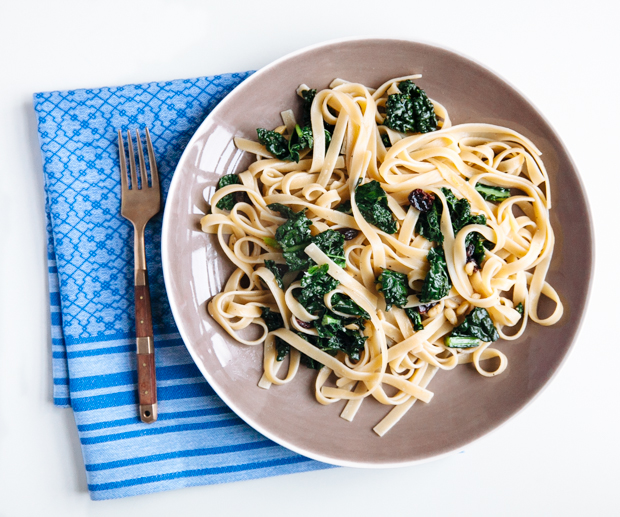 Alkyoni, being the cool minimalist that she is, is the balancing act for my over-enthusiastic, often annoying Christmas freak. If it weren't for her, I would easily turn hers and my parents' house into my version of Santa's workshop, while drowning in endless lists of food and gift wrapping supplies. During the holiday madness and while planning elaborate meals for our extended family and friends, we snack on crudites, delicious dips and quick lunches- and this pasta dish is one of my favourites.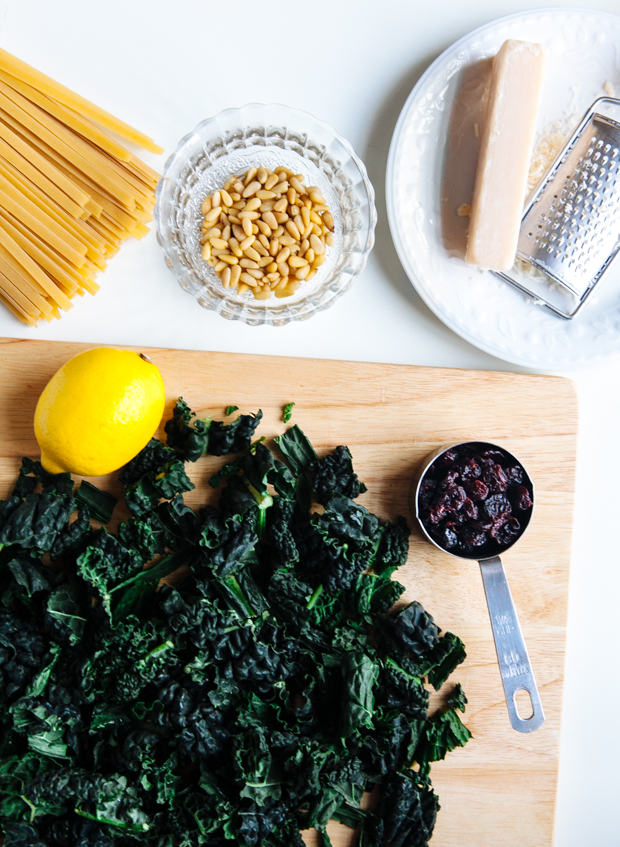 I love cavolo nero and during the winter, I can't have enough of this deep green, almost black, crunchy kale variety. I've used it in soups and stews, but I mostly love it in simple pasta dishes. Along with some garlic, lemon zest, pine nuts and grated parmesan, it makes for a perfect, almost instant meal. This time, I've also added some dried cranberries for an extra pop of color, and a touch chilli oil for a bit of heat. If the holidays, with all the shopping, running around, planning and whatnot, make you equally frantic and hungry, this is a grreat go-to dish: light and delicious and, most importantly, highlighting this gorgeous winter gem.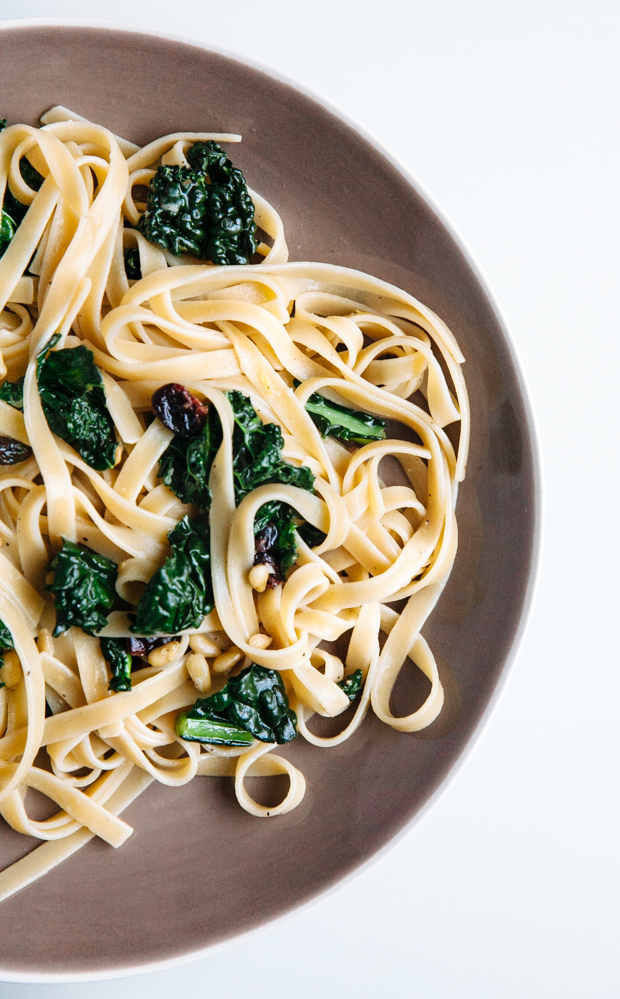 INGREDIENTS (enough for 4)
1 pack dried or fresh  tagliatelle
3 tablespoons chilli oil
3 garlic cloves, grated
1/3 cup dried cranberries, soaked in warm water
zest from one lemon
1/3 cup lightly toasted pine nuts
5-6 cups cavolo nero, washed, dried and cut in ribbons, hard stems removed
1/2- 1 cup grated parmesan
Cook the pasta in very salted water, according to pack instructions (if you're using fresh pasta, cook it after you 're finished cooking the greens). Reserve 3/4 cup of the pasta water (although you'll probably not use it all).
Heat the chilli oil in a large pan over medium heat and add the garlic, cranberries and pine nuts; cook for a couple of minutes until fragrant and add the cavolo nero and lemon zest. Season generously with black pepper and a little salt and cook until tender, about 5 minutes. Turn the heat off.
Drain the pasta and add it to the greens, along with half of the parmesan and some pasta water- enough to create a light, creamy 'sauce'. Mix well, with the pan still on the stove.
Adjust the seasoning if needed and serve immediately, with extra parmesan cheese if desired.
Was