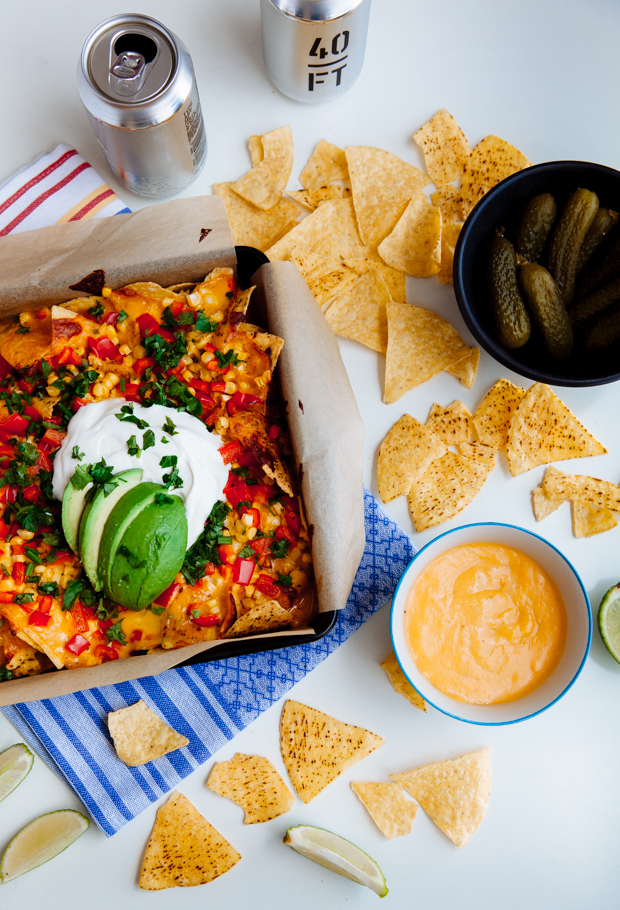 Baked nachos is one of my favourite things in the world.  Yours too?  Hi, nice to meet you.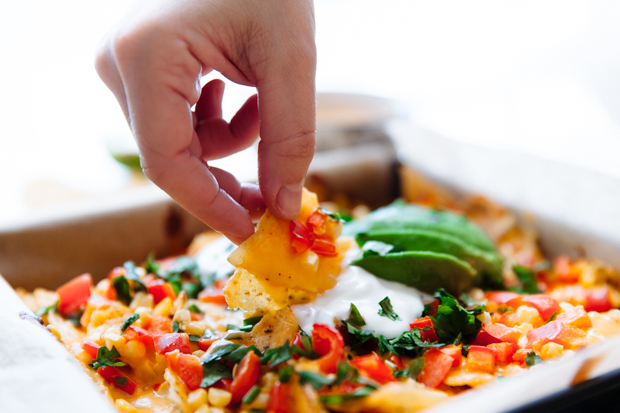 Tortilla chips are grand, melted cheese is king- and the two combined is one of this things dreams are made of.  My first encounter with them was at a movie theater.  I'm usually a pop corn kinda gal, but once I tried nachos, I was fell in love with the crispy, crunchy chips, the non-descrip orange cheesy substance poured all over them and messiness of it all.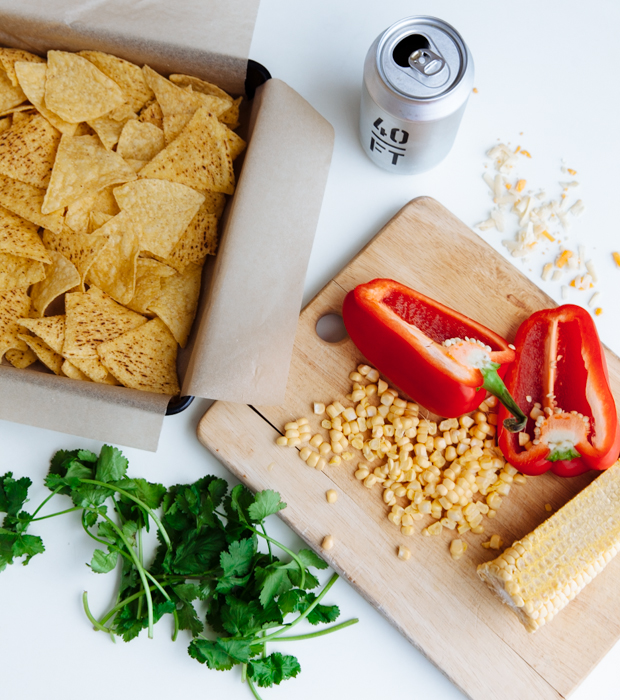 I haven't had nachos at the movies for a while now, but since tortilla chips seem to be always available in our house, I decided to make nachos at home.  But wait, these are not just any kind of nachos!  Ever since I interviewed 40ft and after a perfect tour of their Dalston brewery, I've been kinda obsessed. Even though I'm not a huge beer drinker, I've developed a (still) healthy obsession with their Pale Ale. So, simple math here, I decided to marry my two loves, the old, persistent & comforting nacho one and the newfound & exciting Pale Ale one into a cheesy deliciousness.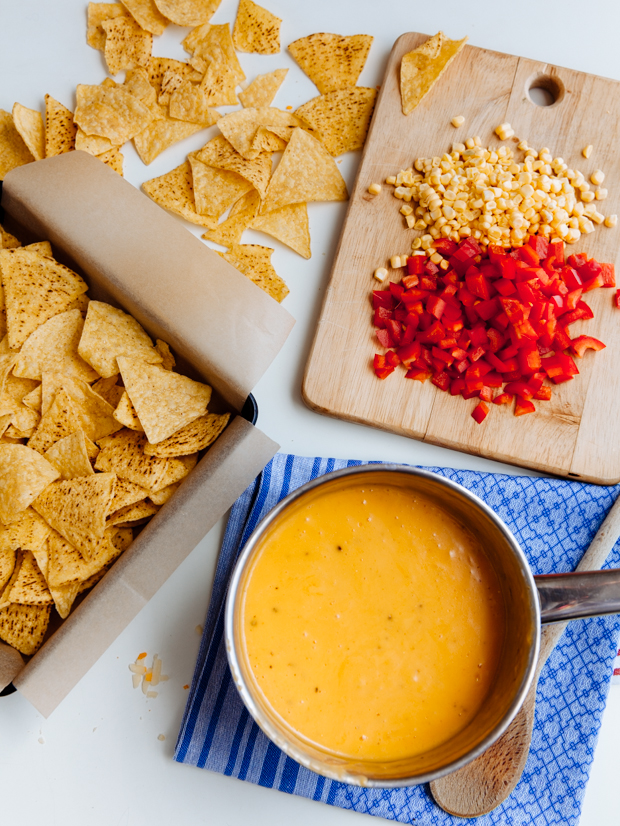 All you need for the perfect baked nachos is a great cheese sauce; this one has extra mature cheddar, sweet and strong red Leicester and lots of beer. The 40ft Pale Ale I'm using here is perfect: strong, yet not overpowering, made with four kinds of hop- the British ones giving it its earthy and spicy notes, while the California ones being responsible for its tropical notes. Adding it to the mix makes a cheese sauce to end all cheese sauces. Honestly. All these complex and delicious flavours, some milk, tons of cheese and lots of freshly ground pepper- you really can't go wrong here.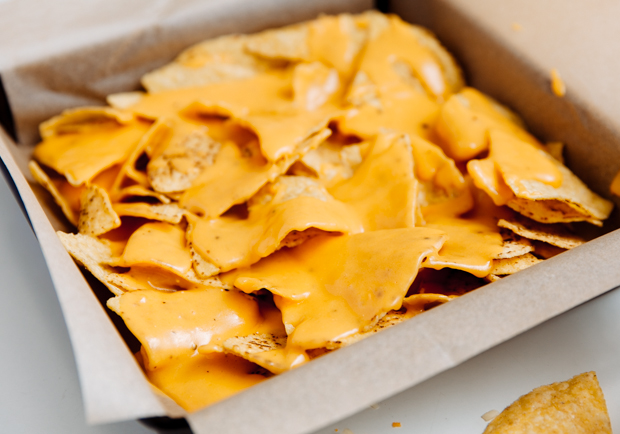 Layer your tortilla chips (don't go for a fancy, artisan and super expensive variety; I highly recommend the M&S ones- they're delicious and fairly light), drizzle some of the sauce  and repeat. Add some bits and pieces on top- I decided to take it easy with a sweet and crunchy red bell pepper and some fresh corn, to allow the beer cheese sauce to shine.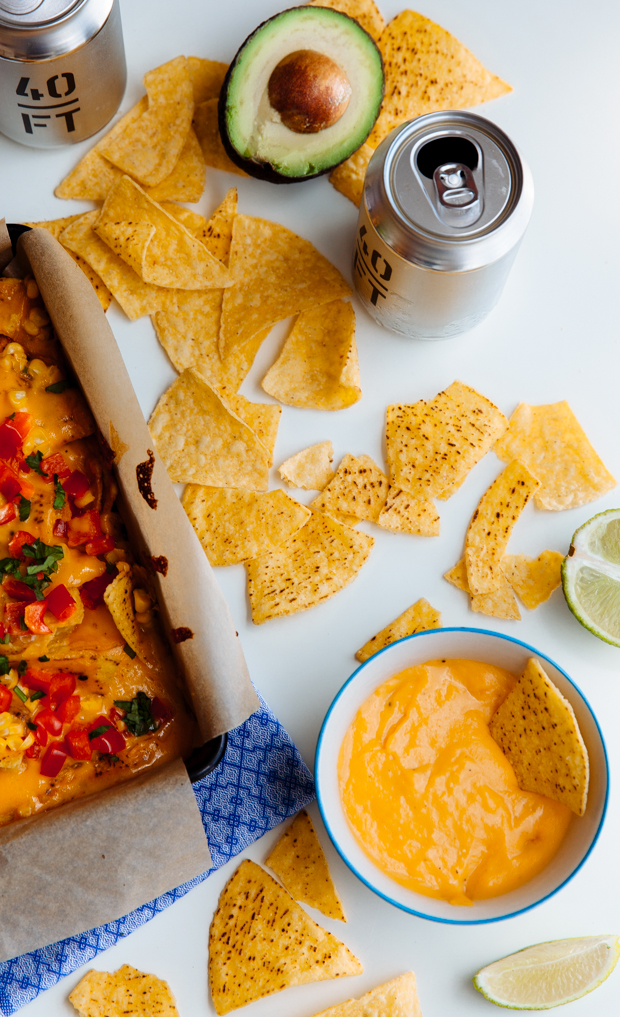 Bake until perfectly crispy and golden and serve with avocado & lime slices, fresh coriander, pickled gherkins and sour cream. Have a beer or two, maybe some more chips laying around to dip in the extra sauce, have a party. It's the middle of the week, you deserve it.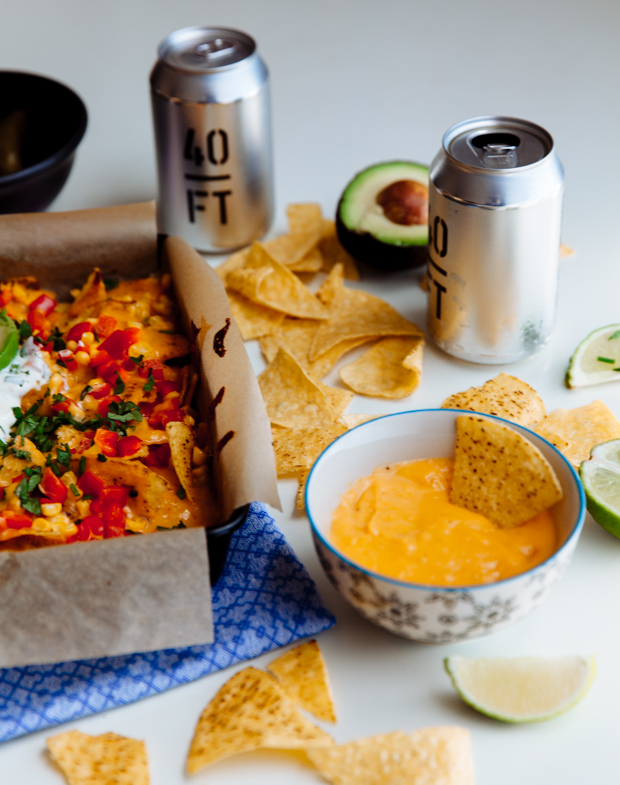 Beer & cheese baked nachos
lightly salted tortilla chips
4 tablespoons unsalted butter
4 tablespoons all purpose flour
1 1/2 cups 40ft Pale Ale
1 cup half fat milk
250 gr extra mature cheddar, grated
150g gr red Leicester, grated
freshly ground black pepper to taste
1 red bell pepper, roughly chopped
1 fresh corn, chuked
to serve: 1 avocado, pickled gherkins, fresh coriander, sour cream & lime wedges
Turn the oven on to 190C (170C for air). Layer a baking dish with parchment paper and then with tortilla chips.
To make the cheese sauce: melt the butter in a medium pan over medium heat; add the flour and stir to incorporate. Add the milk and beer and whisk until just bubbly. Lower the heat, add the grated cheese and whisk until melted and thickened.
Drizzle some of the sauce on top of the chips (if you're like me, your first instinct will be to drown them in that cheese heaven- don't; just coat them lightly, otherwise they'll get soggy). Repeat with another layer of chips and top with a little more of the sauce. Top with the peppers and corn and bake for 10′.
Remove from the oven; top generously with fresh coriander and lime juice and serve with avocado slices, sour cream and gherkins.