Flaky, buttery and aromatic, these feta, thyme & pistachio scones are perfect on their own, or served with a spicy yogurt and a mild, fruity chutney.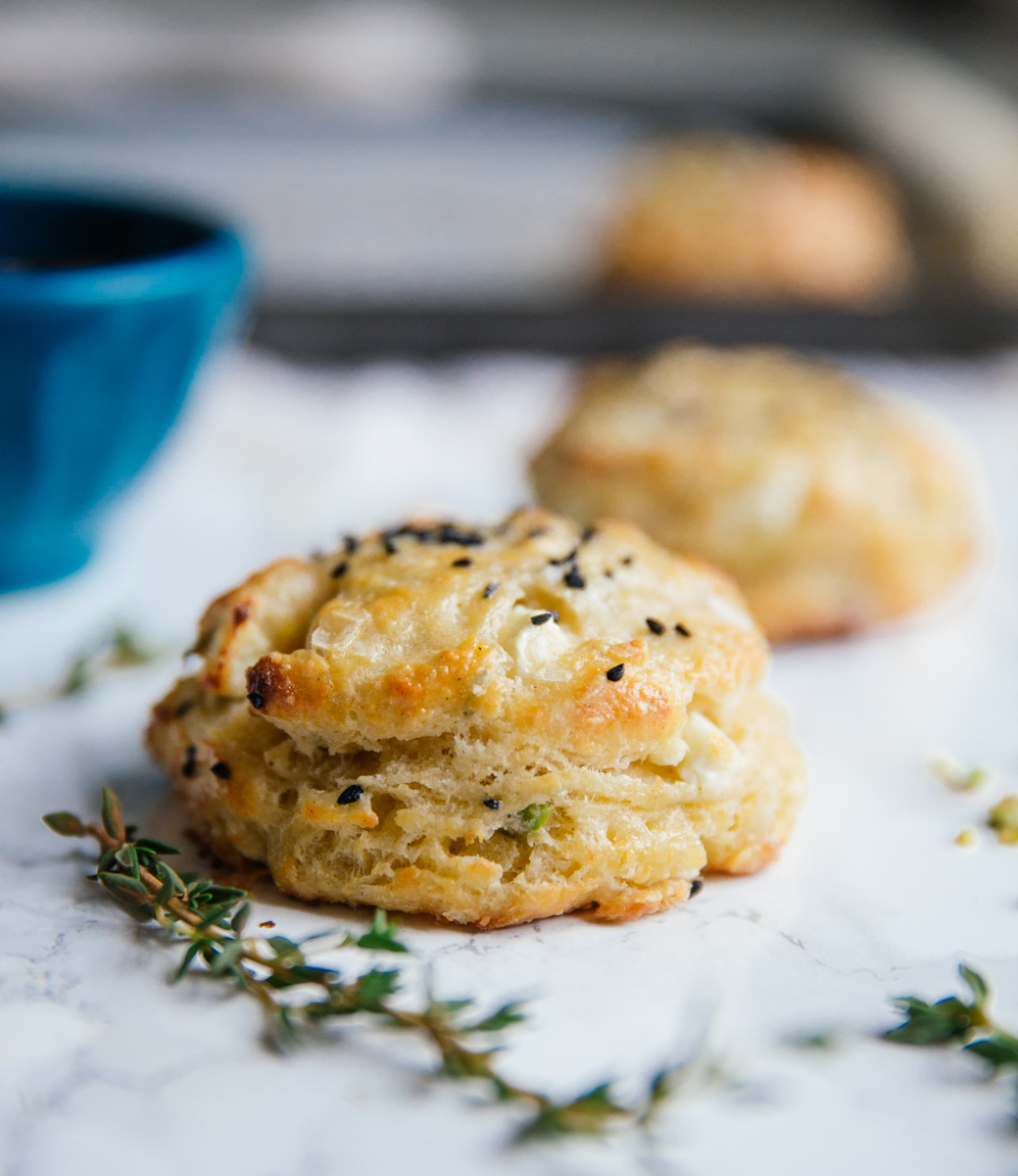 Quite a long while ago, while discussing American biscuits, I elaborately and somewhat clumsily confessed my love for scones. Since then, my passion has turned into a deep affection, one that I have for not too many dishes and foods. There's comfort there and bittersweet memories, there's lots of crumbs and an aftertaste which is always sweet and always lingers a little while.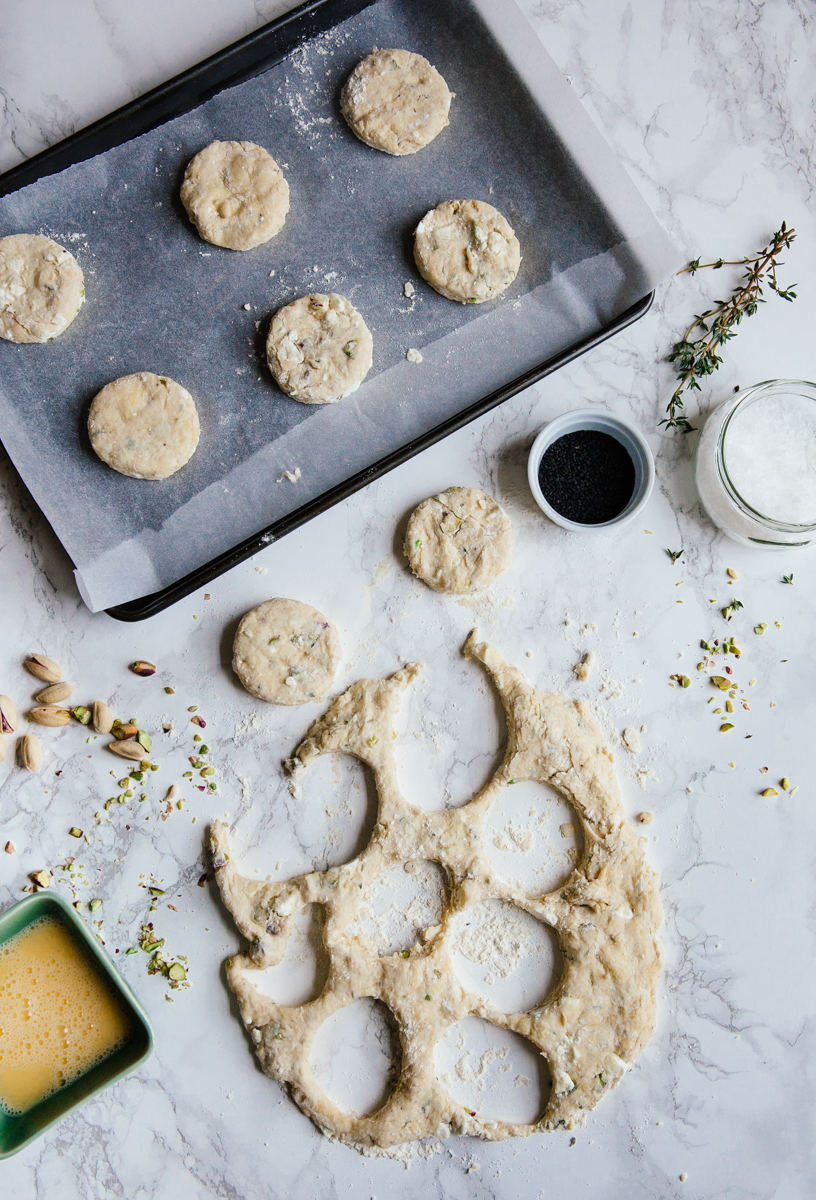 I came to think about scones again a couple weeks back, when reading about the different pronunciations of the word. Between scone as 'cone' and scone as 'gone', the differences among the two and what they signify, I found my self both fascinated and thinking fondly of scones. It had been too long since I last made a batch- and oh how I'd missed them!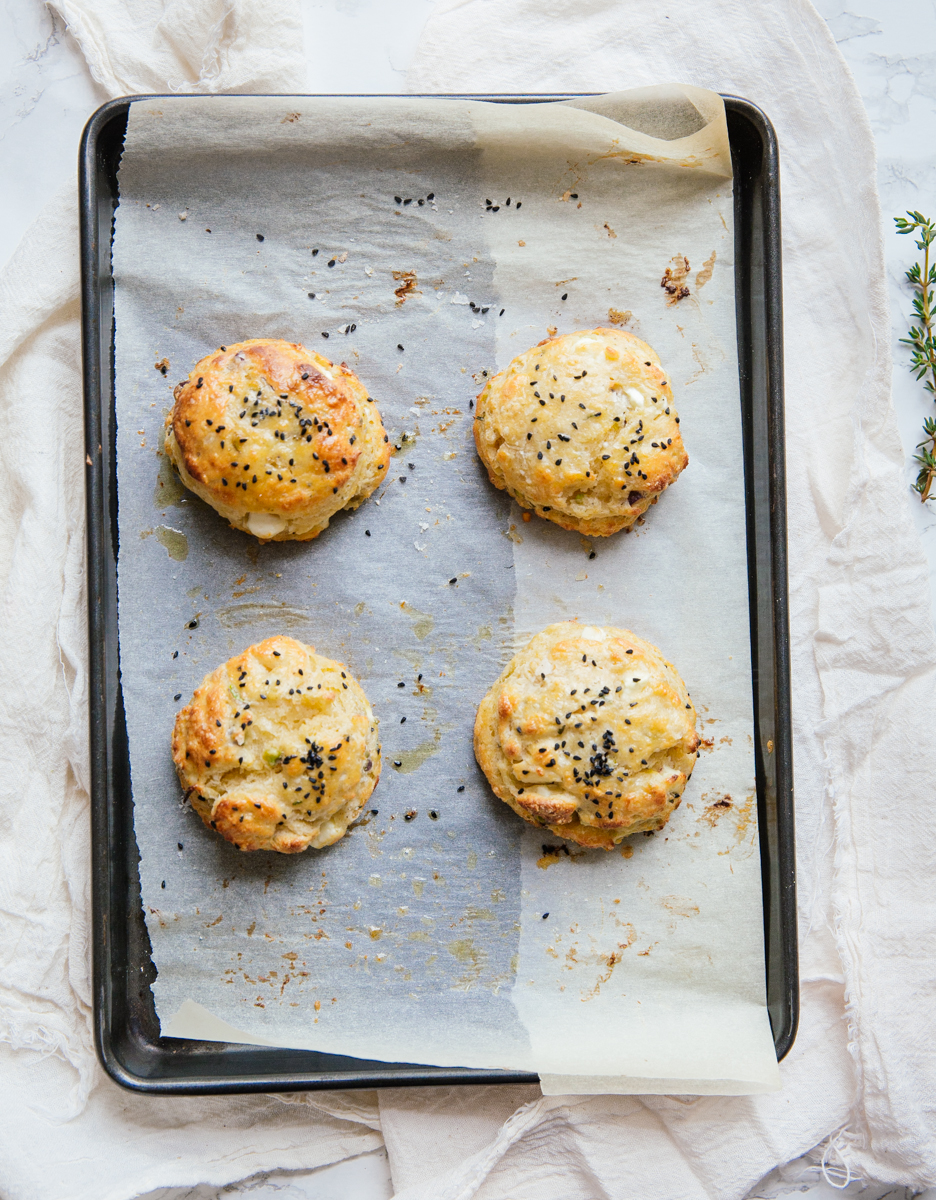 I am not sure why I went the savoury way- possibly guided by my fridge, as I most often do, or a craving, which I tend to follow enthusiastically. As I very much love a pastry adorned with herbs and, quite regularly as it seems, salty, crumbly feta cheese, I went that route. I started with those humble usual suspects, which none the less never fail to impress me: dry ingredients, butter, always very very cold, flour, silky yogurt & milk and lots of black pepper; and then for the stars du jour: lots of fragrant thyme and big crumbs of feta.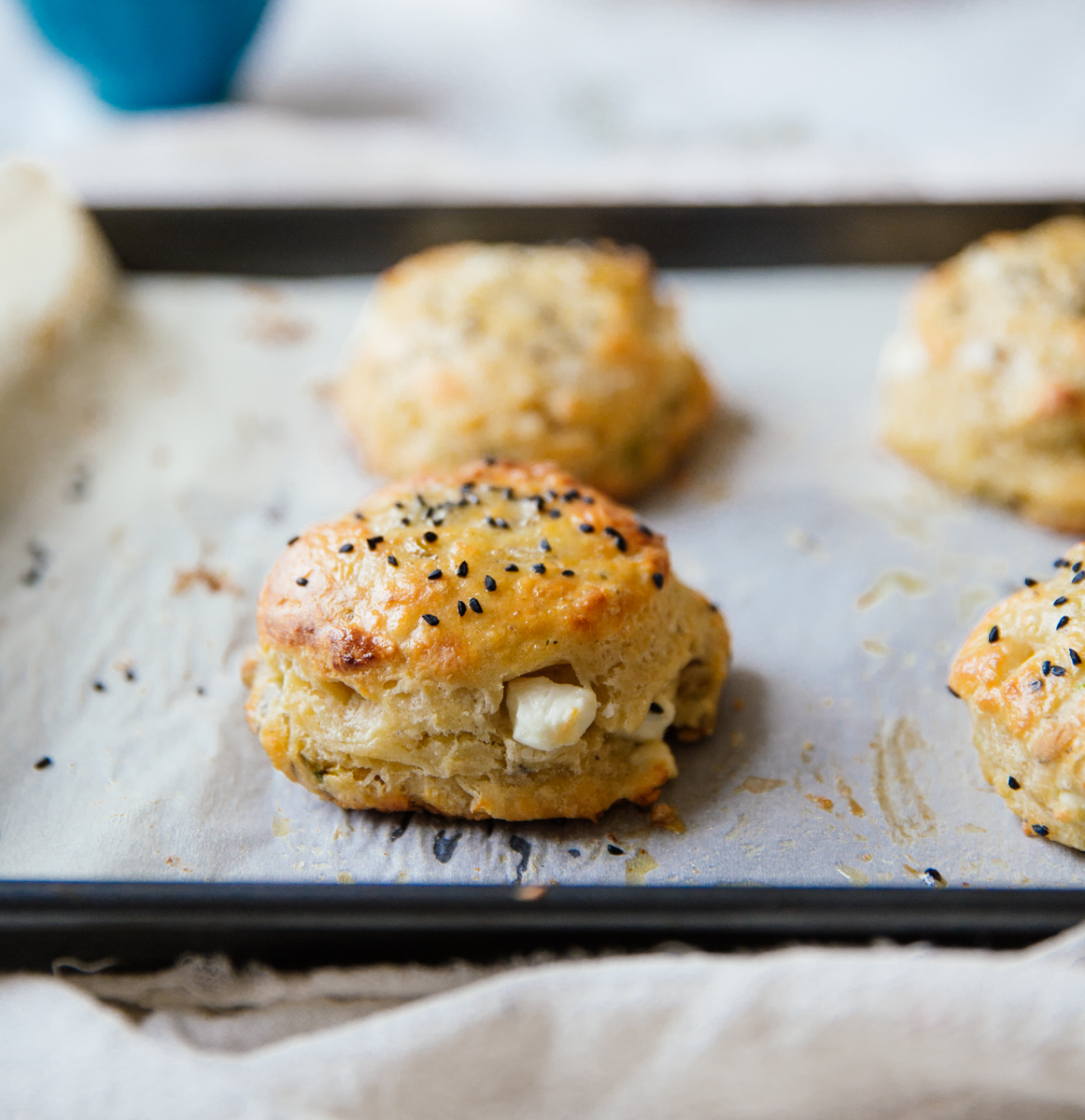 And since I can seldom resist a crunchy addition to most of the dishes I make, or simply crave [be in salads, my favourite couscous dish, the most delicious addition to almost everything, the carrot cake to end all carrot cakes (honestly)]- we also have the very royal pistachios here: lightly toasted, roughly chopped and generously added to make these scones extra special.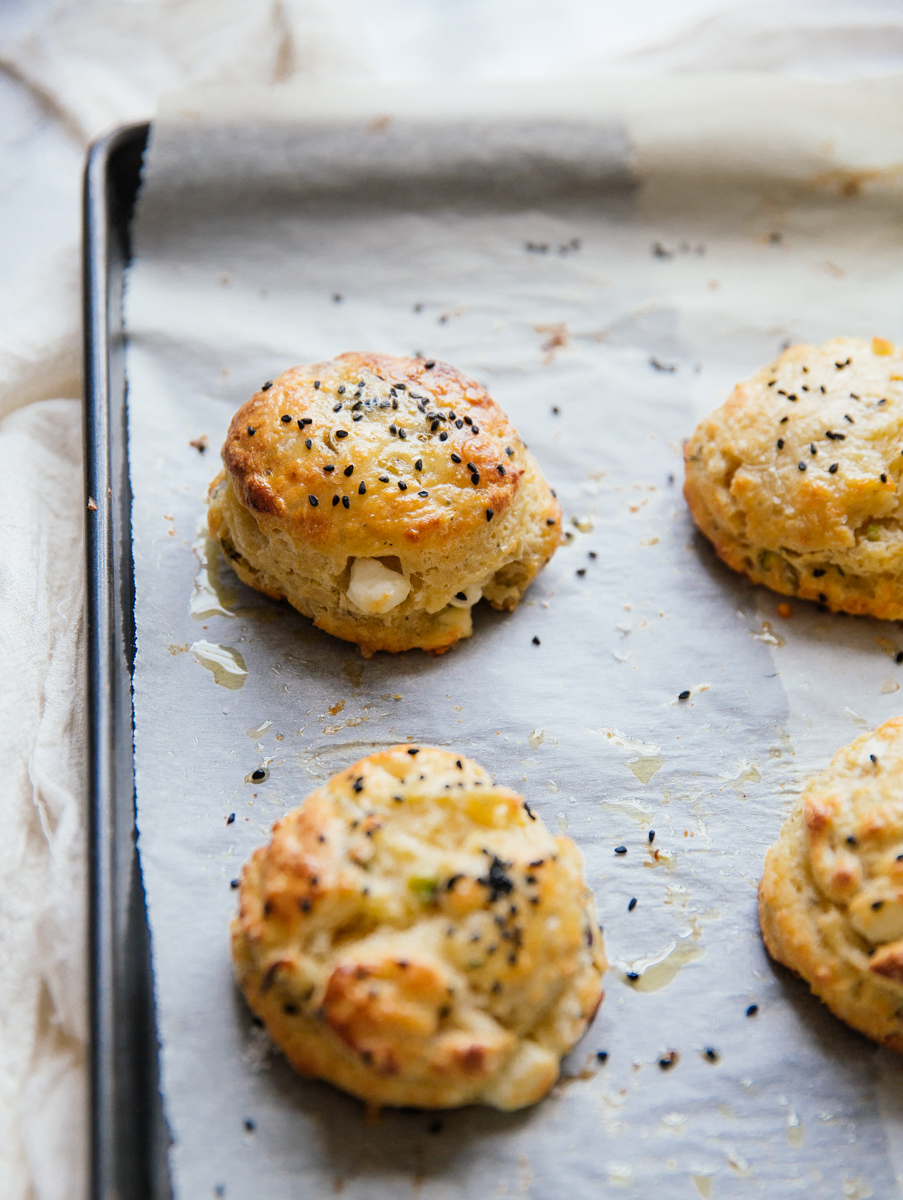 And they really are: buttery and flakey, pillowy and crunchy at the same time, topped with delicate sea salt flakes and delicious nigella seeds, they are just perfect on their own, on the go, on repeat. Should you wish to make a meal out of them, they'll keep great company with a green leafy salad, alongside a mildly spicy chutney and a thick yogurt, topped with sweet paprika and a drizzle of fruity olive oil.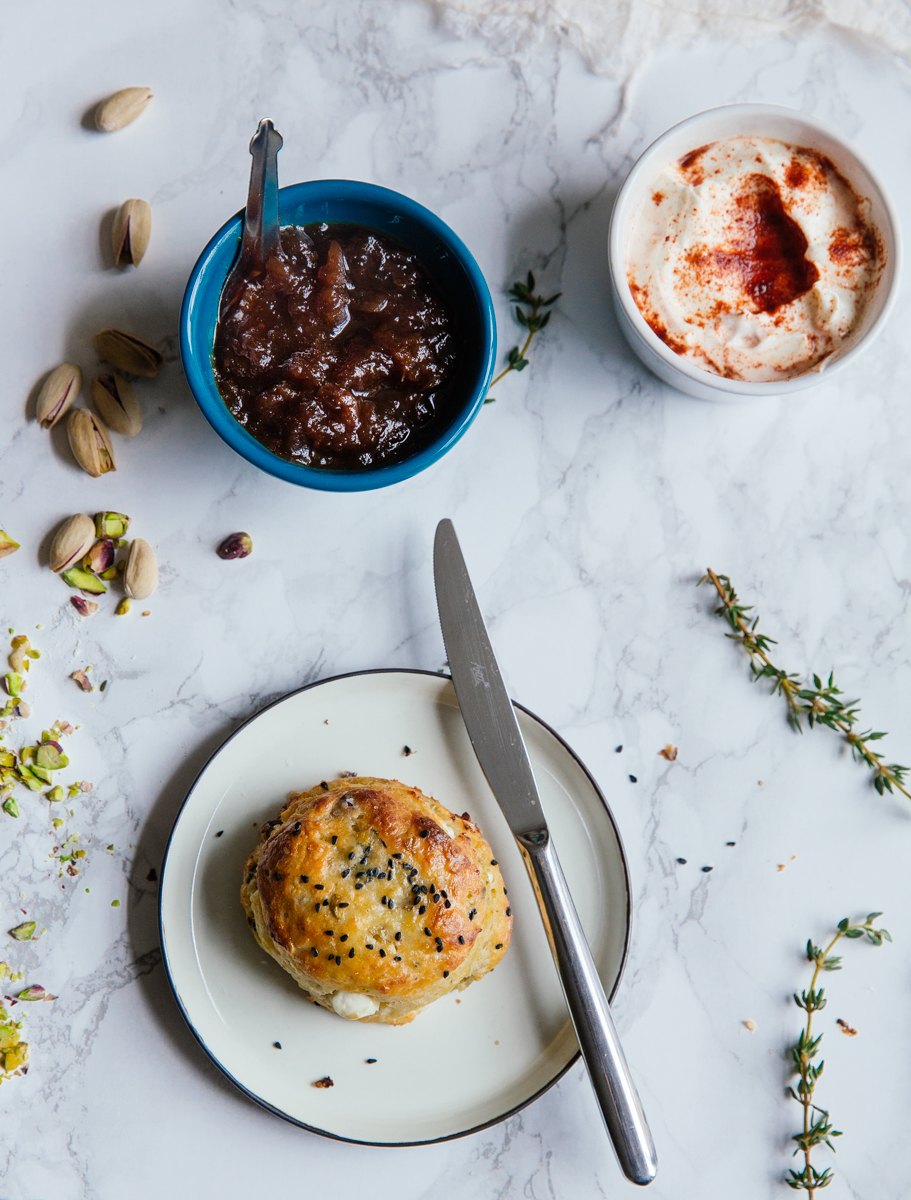 Feta, thyme & pistachio scones
WHAT
1 1/2 cups all purpose flour
1 1/2 teaspoon baking powder
a pinch of salt
freshly ground black pepper to taste
85 gr unsalted butter, very cold & cubed
1 medium egg
1/2 teaspoon honey
1/2 cup half fat Greek yogurt
2 tablespoons almond milk (or any other)
80 gr feta, crumbled
1 heaping teaspoon fresh thyme, leaves picked
1/4 cup unsalted pistachios, toasted & roughly chopped
egg wash: 1 medium egg & 2 tablespoons water
to finish: nigella seeds & sea salt flakes
HOW
Preheat the oven to 200ºC (180ºC Fan) and line a baking sheet with parchment paper.
Place the flour, baking powder, salt and black pepper in a food processor and pulse to combine; add the cubed butter and pulse a few more times until the mixture is crumbly and small bits of butter are still visible.
Place in a large bowl, make a well in the middle and add the egg, honey, yogurt and milk and bring together using a fork.
Add the feta, thyme and pistachios and combine again, working quickly. The mixture will be quite wet and sticky.
Flour a work surface and add your mixture, flouring it lightly all around. Using a rolling pin, roll out to a 3cm thickness and cut round pieces, again working as fast as possible and avoiding touching your dough too much.
Place on the baking tray, brush with some egg wash and sprinkle with nigella seeds & sea salt flakes.
Bake in the preheated oven for 10-12′, until puffed & golden, rotating halfway through if necessary.
Remove from the oven and let cool on the tray for 5′ and then on a cooling rack for another 5′. Serve warm or at room temperature, along with some paprika yogurt.