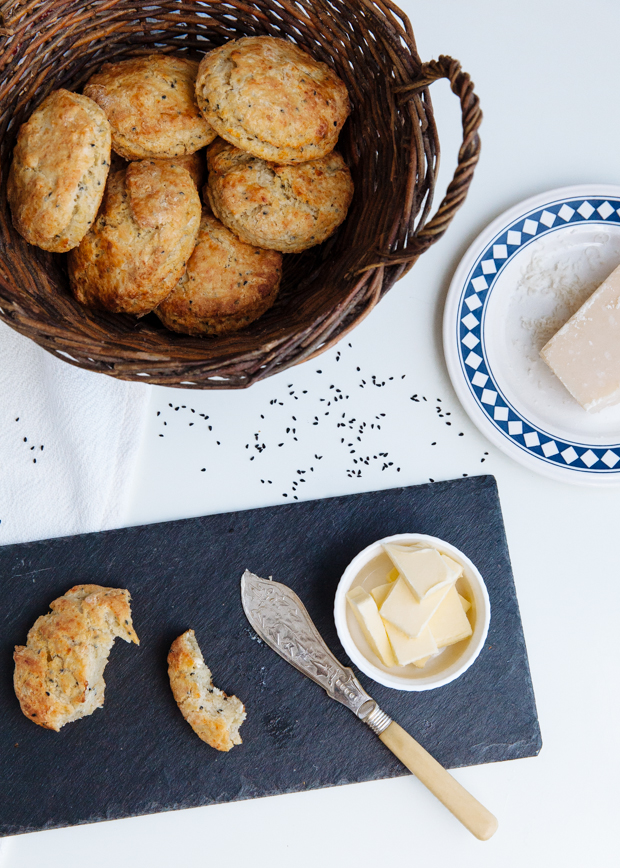 Soon after I moved to London, I discovered scones. Once I did, I celebrated this discovery by religiously consuming a scone once a week, every Saturday morning right before work. I was hooked: rich, not too sweet, crumbly and buttery, scones were pretty much the sole reason I was only moderately miserable having to wake up early of a freaking Saturday.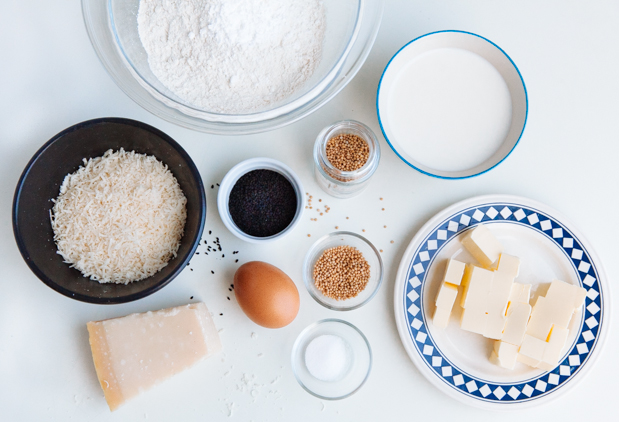 I eventually stopped working on Saturdays (hooray!), but my love for scones remained. It actually got a little worse, as I started making them myself. But even when I wasn't baking them (I took a break as soon as I realised that if there were scones in the house, I would probably eat all of them on my own in two days tops, no.joke.), I was constantly on the lookout for my next favourite variation: cafés, supermarkets, fancy bakeries, you name it, I did not discriminate, I'd try them all.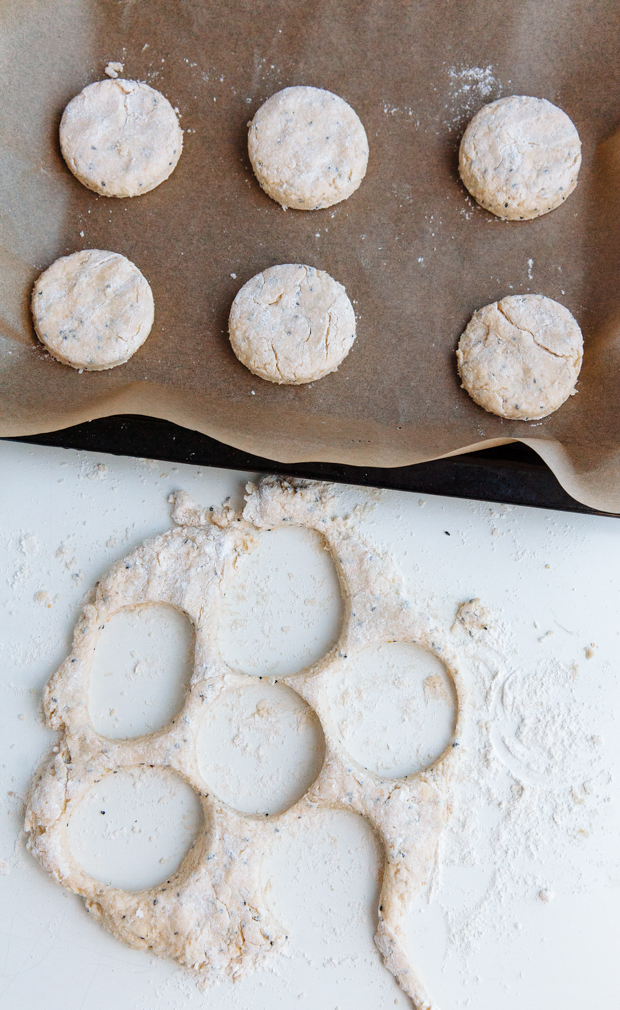 It's been a while since I've made or bought a scone. I think I reached a point in my 'research' (ha!) where I've had enough. A few weeks ago however, I started thinking about them again, albeit indirectly, while reading a book where biscuits were mentioned (American biscuits that is, not the British equivalent of a cookie). Words describing or even mentioning food in books, always have affect me: I start picturing them, first in the context of the actual story I'm reading and soon after in the context of my kitchen, my table and my plate. Likewise in this case, biscuits haunted me; I wanted to learn more, I wanted to taste them.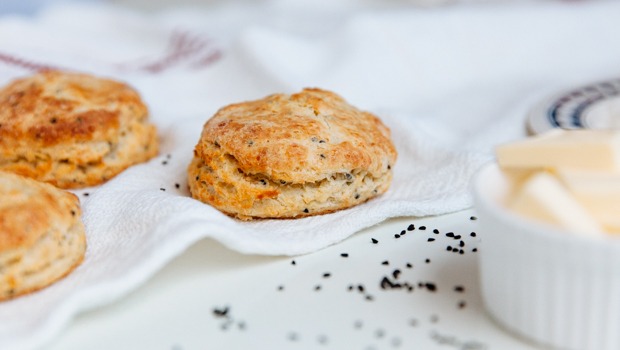 A couple days of research provided the following: biscuits are actually a lot like scones- not the same thing, but quite similar. Both have butter in them (hi there, gorgeous!), both are a beautifully puffed up quick bread. Biscuits however are usually made with buttermilk, require more butter, thus acquiring their beautiful flaky layers, but usually have no eggs. They're not sweet, so perfect to accompany lots of savoury dishes. Scones on the other hand, have eggs, less butter (they make up for it though after they're out of the oven, as they're usually served with a hefty amount of butter on the side), and the end-product is more crumbly, more cake-like and considerably sweeter.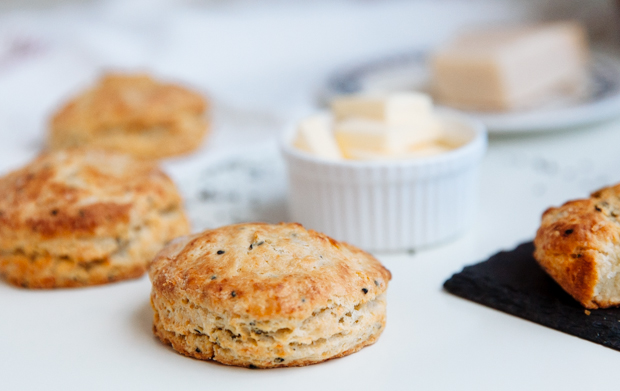 So, biscuits, let's get to know each other better, shall we? Let's start with good ol' plain flour, baking powder and soda and a good pinch of salt; let's move on to the good stuff next: buttermilk of course, lots of butter, ice cold, to help us with our flakey layers and killer taste; let's cheat a little and add an egg as well, in honour of scones and all the wonderful times we've had. Finally, let's go the savoury, cheese way, the best way possible: one full cup grated parmesan, lots of nigella and mustard seeds for crunch, flavour and looks (never forget looks) and a couple grinds of black peppers for some subtle heat.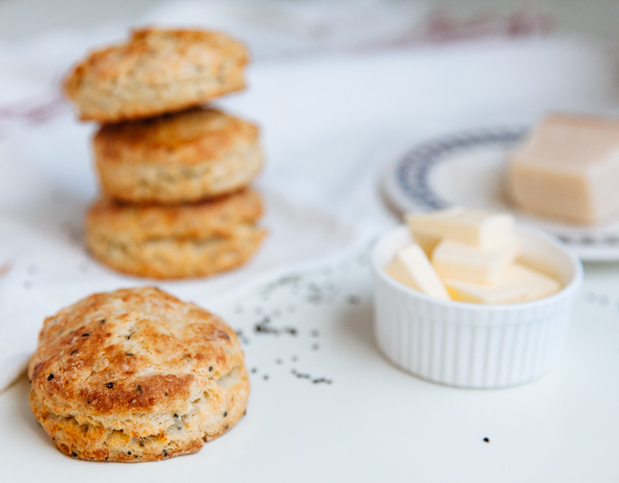 Now, look at these golden brown beauties! Not quite as puffed up as most biscuits (I still have a long way to go, lots of 'research' awaits ahead for which I couldn't be happier), but flakey and lacking the usual crumbliness of scones. So, not a scone, but just as delicious. Savoury, cheesy and buttery, probably not for breakfast (although I've never met a cheese breakfast I've said no to), but absolutely perfect served with lots of unsalted butter- in honour of scones and all. More butter?!? Please! You know you want to!
INGREDIENTS
1/3 teaspoon mustard seeds
2 1/2 cups all purpose flour
1/2 teaspoon table salt
2 teaspoons baking powder
1/2 teaspoon baking soda
110gr very cold unsalted butter, cubed
1 cup grated parmesan
1 tablespoon nigella seeds
1 cup buttermilk (or, when I've ran out of the stuff, like in this case, mixing 1 cup whole fat milk with 1 tablespoon lemon juice and letting it sit for a couple minutes also works wonderfully)
1 medium egg
extra buttermilk or milk for brushing
Preheat the oven to 200C (180C air) and line two medium baking sheets (or one large) with parchment paper.
Add the mustard seeds to a small pan over medium low heat for 2-3′ until fragrant. Remove from the heat, let cool and crush in a mortar.
Add the flour, salt, baking powder and soda in a food processor and pulse a couple times to combine. Add the cold butter and pulse again, until the butter is incorporated and the mixture resembles coarse breadcrumbs.
Add the parmesan, nigella seeds and crushed mustard seeds; in a small bowl, beat together the buttermilk and egg, add to the dry ingredients and fold quickly until the dough just comes together.
Turn the (very wet) dough onto a floured surface and pat gently and very quickly (you don't want the butter to get warm) into a large circle.
Quickly cut out biscuits using a cookie cutter or a sharp-edged glass and transfer to the baking sheets.
Brush with buttermilk (or milk) and bake for 20′, or until the biscuits are puffed and golden brown.
Remove from the oven and let cool before serving with more butter.