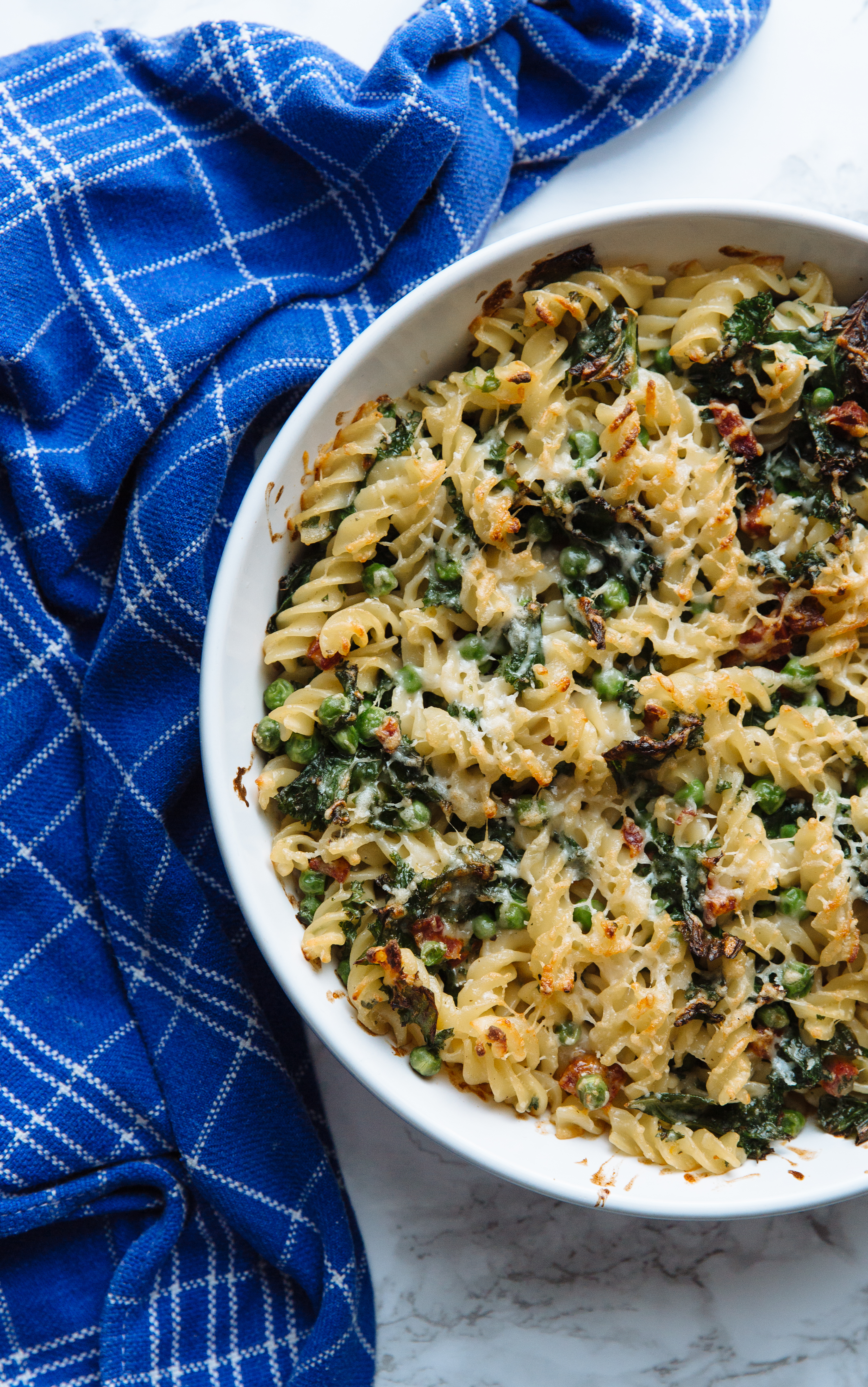 Let's start the week with the absolute best food in the planet: pasta (duh!). Ever since I was a kid I loved everything about pasta: all the varieties and their versatility, how they're basically the perfect canvas for different sauces and ingredients, textures and layers. From a perfectly green, salty and nutty pesto, the elegance of a squid ink sauce, or the wonderful simplicity of a one pot dish, pasta is king. As part of a tuna salad, in a jar or featuring the best summer ingredients, to more wintery versions, featuring dark colours and no frills. And of course, my all time favourite version: covered in a cheese sauce and baked until bubbly, golden brown and delicious. If I had to choose one comfort food, it would be this. Every time.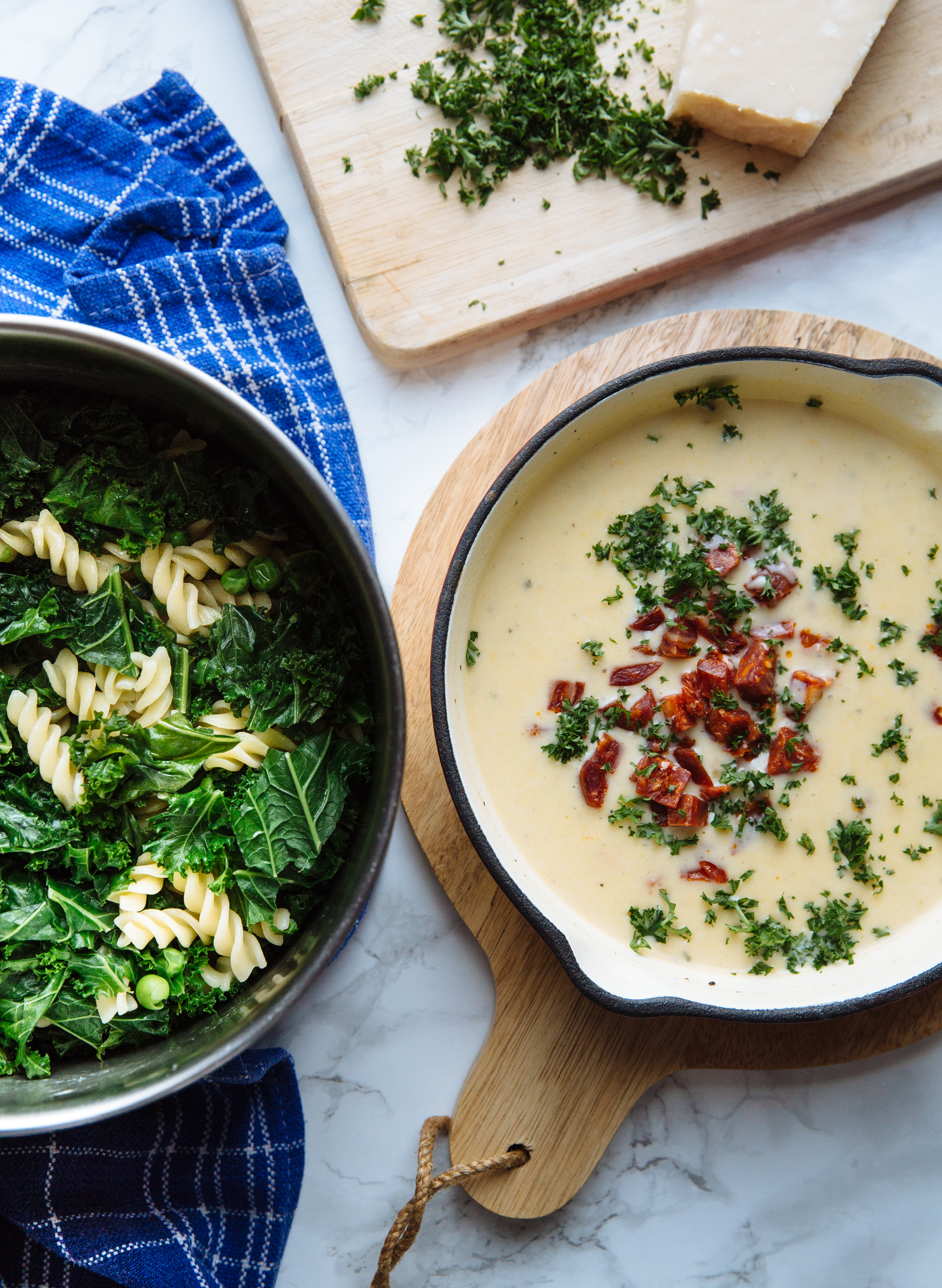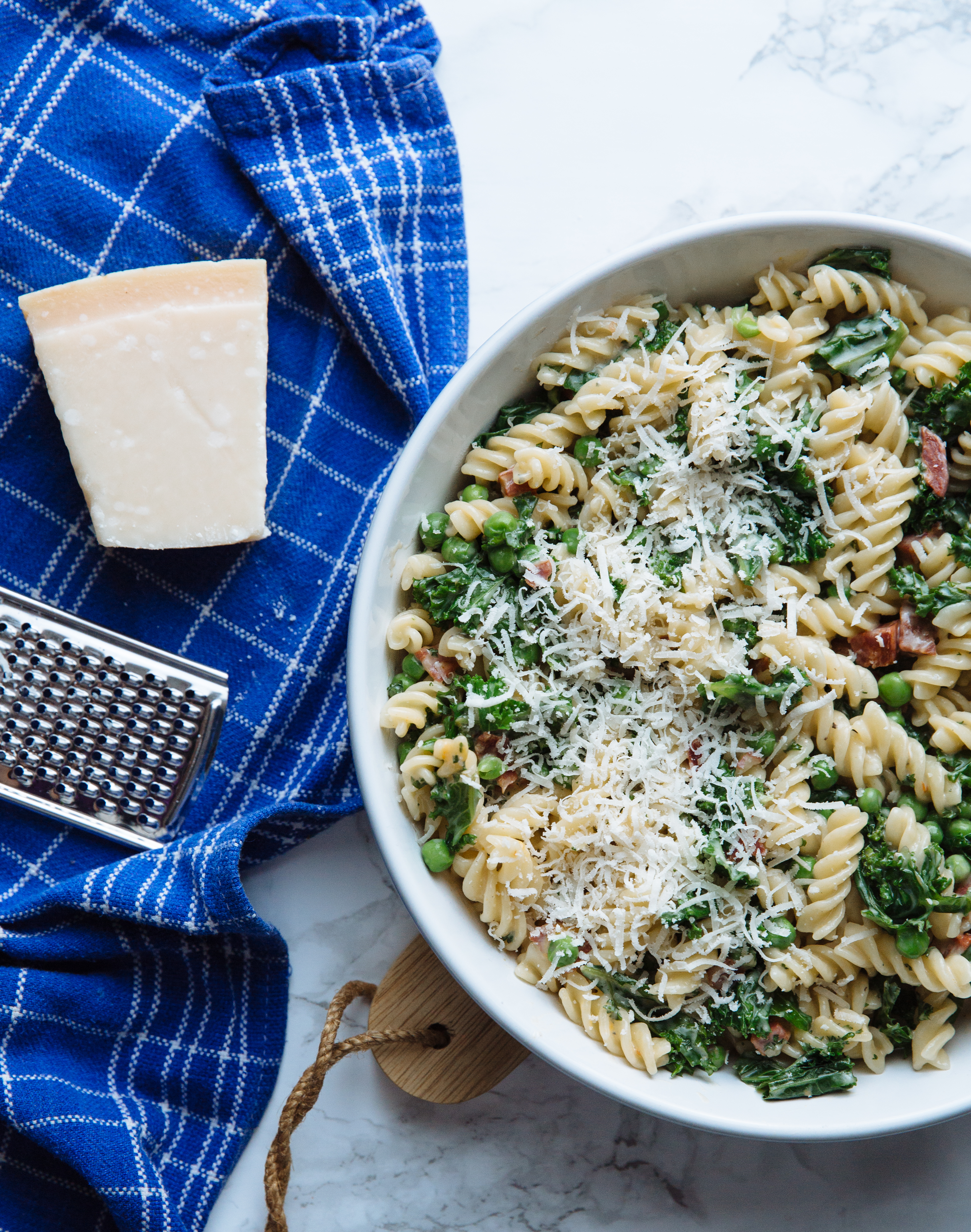 This time of the year, and especially this year, we need all the comfort food we can get our hands on. The days are short, the weather is cold yet the whole world seems to be on fire. So we really, really need some comfort. Kale, peas, blue cheese, chorizo and lots of parmesan. Simple, easy, delicious and comforting. A homey, humble and delicious pasta bake is certainly not the answer to all the questions, but it's a good place to start. A simple gathering with loved ones, over comfort food made with simple ingredients and prepared leisurely yet thoughtfully is also a great place to start. So let's start there.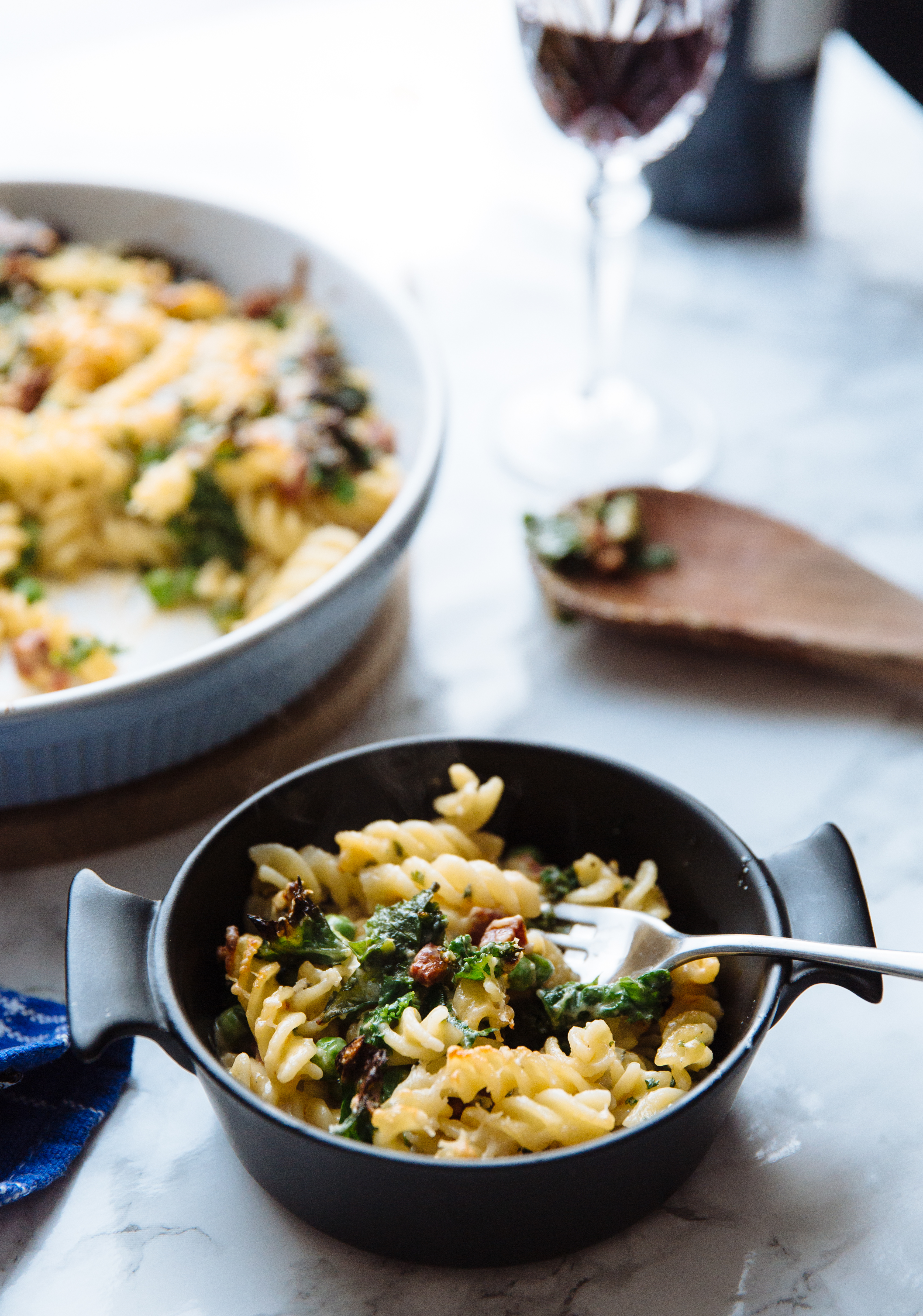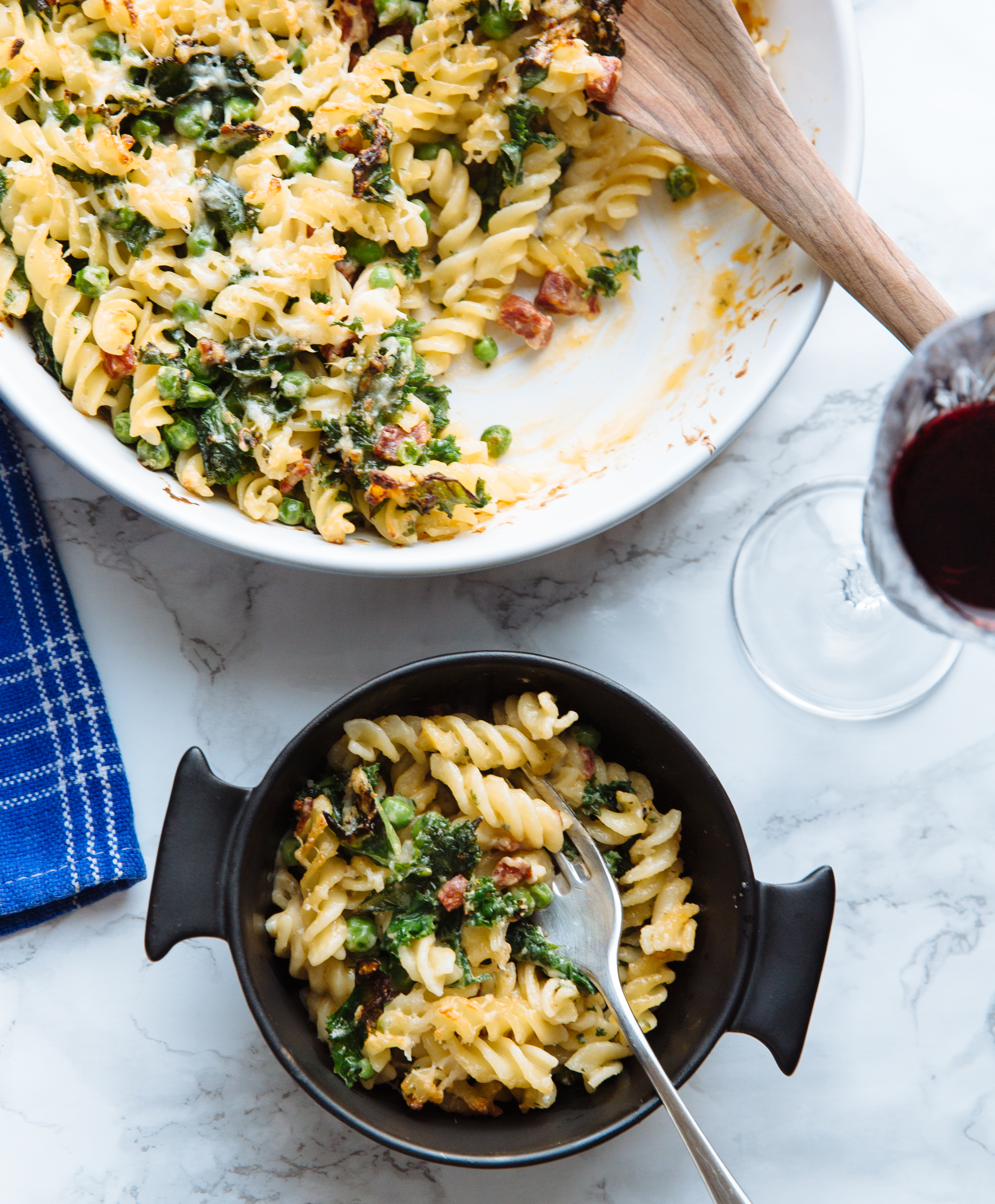 Chorizo, pea & kale pasta bake
INGREDIENTS
200 gr fusilli
3 cups kale, washed
1/2 cup frozen peas
200 ml half fat milk
2 tablespoons all purpose flour
2 tablespoons unsalted butter
70 gr blue cheese, crumbled
60 gr chorizo
2 tablespoons parsley, minced
salt & freshly ground black pepper to taste
1/3 cup parmesan, grated
METHOD
Preheat the oven to 220C (200 C for fan).
Cook the pasta in salted water until al dente.
While the pasta is cooking, make the sauce: melt the butter in a sauce pan, over medium heat. Add the flour and whisk to incorporate. Add the milk one tablespoon at a time, whisking to incorporate and allowing the sauce to gradually thicken. Add the cheese and chorizo and remove from the heat. Add the parsley, check for seasoning and add salt & pepper as needed.
Right before draining the pasta, add the kale and peas, cook for about 2′ and then drain thoroughly. Return to the pot and add the sauce. Stir well to coat the pasta and transfer to a baking dish.
Sprinkle with parmesan cheese and bake in the preheated oven for 15′.
Allow to cool for about 10′ before serving.