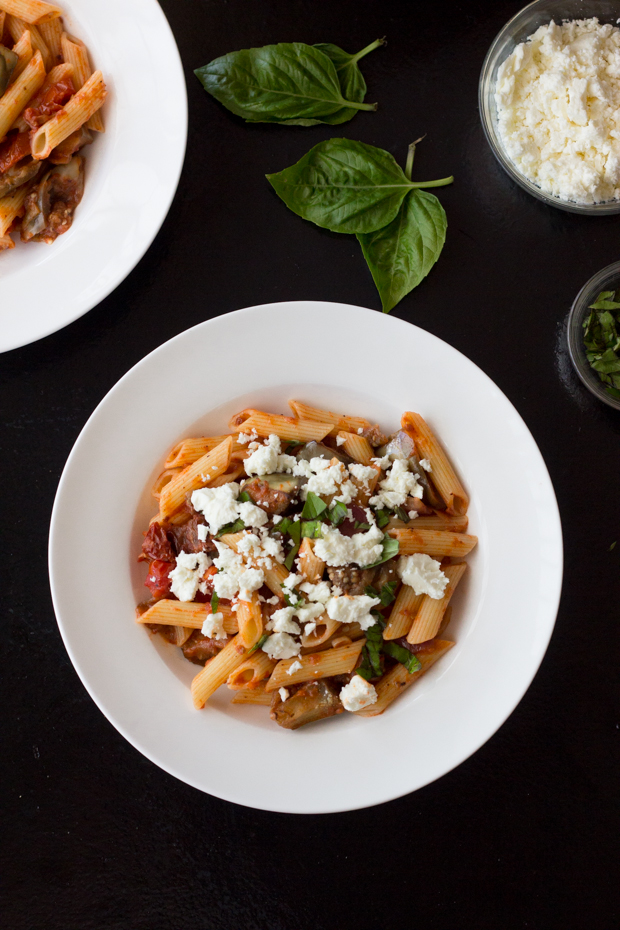 Aubergines are probably my favourite summer vegetable. The ones I find in London, somehow often seem not quite right. That's probably because I'm so used to a specific kind: the kind that comes straight from our garden, chubby and shiny, sometimes a little bruised, always in different shapes, always so beautiful.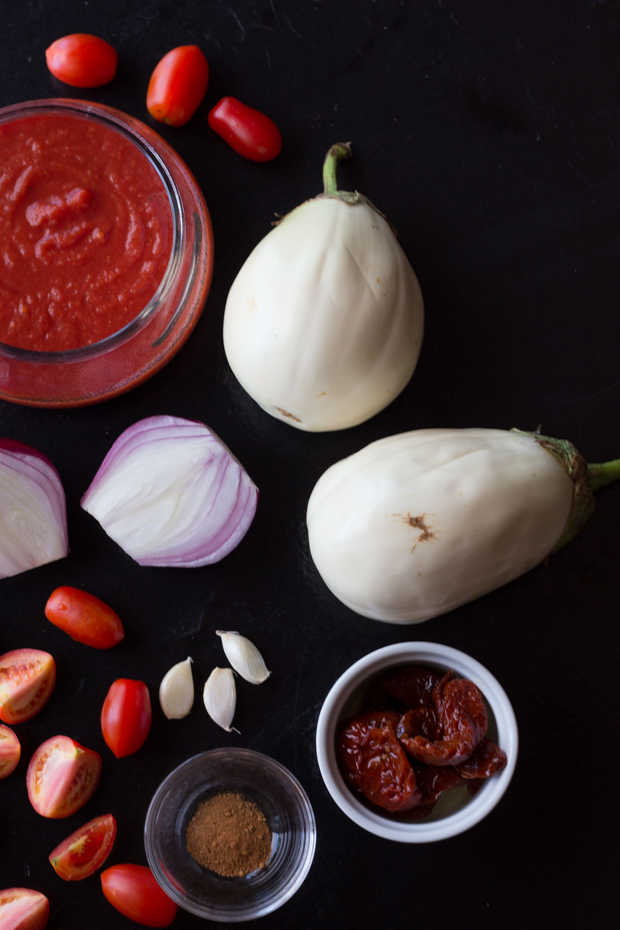 These purple (or in this case, white) stunners are a staple in my summer meals; usually paired with a simple tomato, garlic and onion sauce and lots of fresh herbs, baked, fried or grilled, their flesh and skin softened, almost melted, they are perfect every time.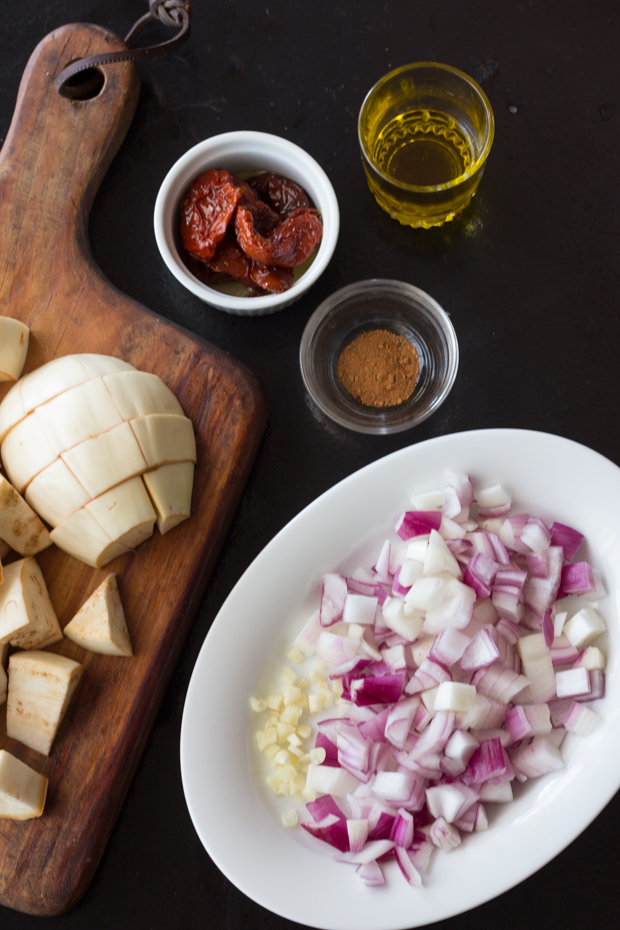 I've cooked and eaten a couple aubergine meals since I came back, but this one is my favourite yet. It's a pasta dish, so no shock here; it's also stupid easy to make and highlights not only aubergines, but also two other summer staples: tomatoes and basil (both also from our garden!).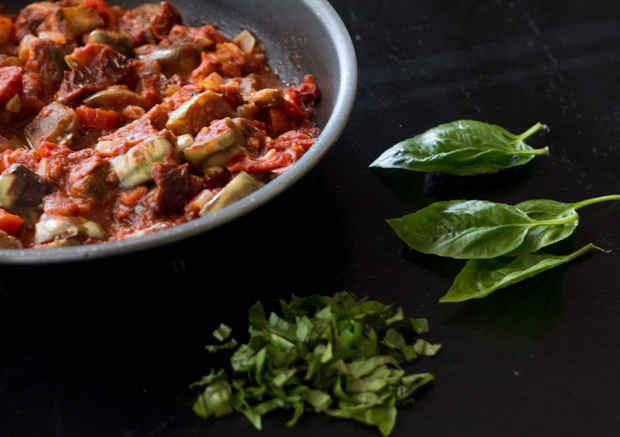 Aubergines are lightly fried until soft and beautifully browned; then it's time for the sauce: olive oil, garlic, onion, cinnamon and a touch of sugar to balance out the tomatoes (some from a can, some fresh, some sun dried, for extra texture and deliciousness) and lots of black pepper. In go the aubergines and our pretty summer sauce is ready to dress al dente penne.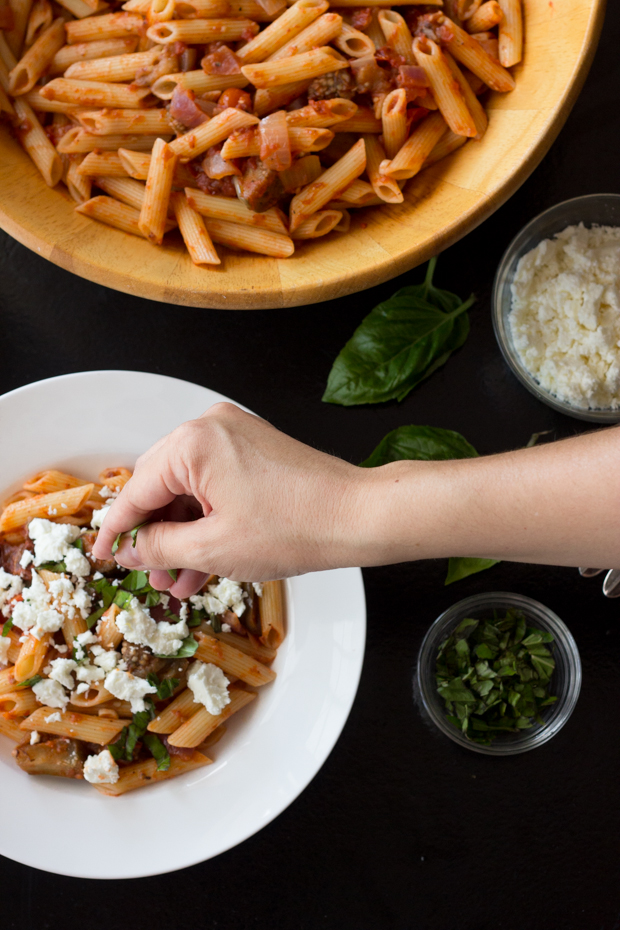 Bursting with summer flavours, full of smooth aubergine pieces and chunky sun dried tomatoes, a little sweet from the cinnamon and spicy from the pepper, perfect when finally paired with salty feta crumbles and fragrant fresh basil. Summer on a plate.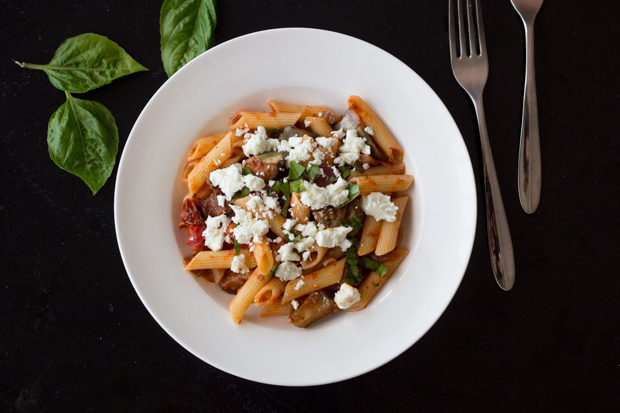 INGREDIENTS (makes enough for 6)
5 tablespoons olive oil
2 medium aubergines, cut in medium-sized pieces (about 3cm)
1 large red onion (or two medium ones), thinly sliced
3 garlic cloves, minced
1 1/2 cups tomato sauce
1/2 cup mini tomatoes
1/4 teaspoon cinnamon
1/2 teaspoons caster sugar
1/2 cup sundried tomatoes, roughly chopped
1 pack penne
to serve: fresh basil, torn or roughly chopped
about 1 cup feta, crumbled
Heat 2 tablespoons olive oil in a heavy-based pan over medium heat; add the aubergine pieces and cook until beautifully browned, slightly charred and softened- about 10′
Remove from the pan and set aside. In the same pan, add the remaining 3 tablespoons olive oil and then the chopped onion and minced garlic; cook until softened, about 7′ and then add the tomato sauce, chopped pomodori and sundried tomatoes, cinnamon and sugar. Add the aubergines, toss to combine, add plenty of freshly ground black pepper and season with sea salt (bear in mind however that you'll be adding feta at the end, so don't go too heavy handed). Lower the heat and cook for 15-18′, until the sauce is quite thickened.
Meanwhile, cook the pasta in plenty of very salty water according to pack instructions, until al dente. Drain, place back on the pot and mix with the cooked sauce.
Serve warm with torn basil leaves, feta crumbles and extra black pepper if needed.