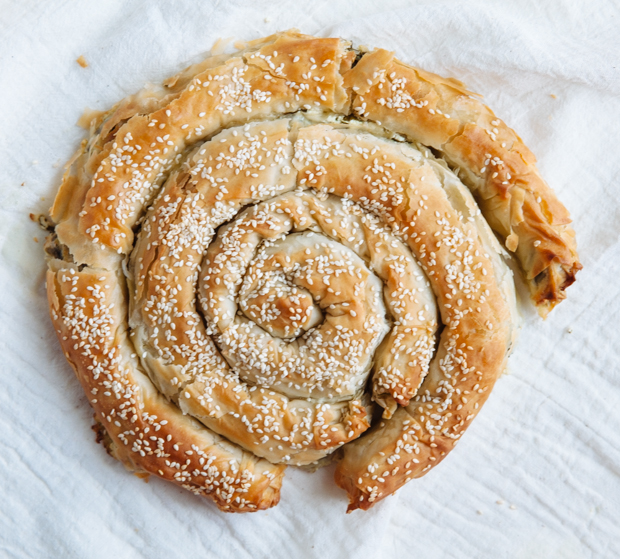 I left home when I was 18; I've been gone many years and food, as much as it is important to me, is not at the top of the list of things I miss. I miss my sister most of all and my parents too; I miss the frequent arguments we used to have and the almost instant truces that followed -although, in keeping with the family tradition, we still have plenty of those every time I go back. I miss the gorgeous house I grew up in and its beautiful balconies, filled with flowers, herbs and small trees and the views to the Acropolis and Lycabettus hill.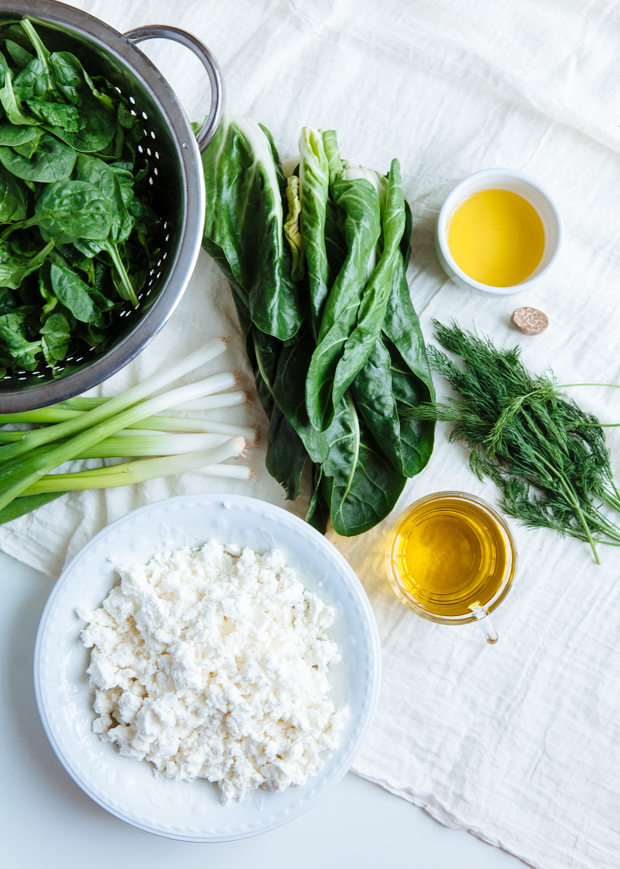 I'm quite accustomed to this bittersweet melancholia and over the years, I've managed to handle it quite successfully. However, and even though I miss my mom more than I miss her food, from time to time, I'll make something of hers; and all the emotions will come flooding in, and I will simultaneously feel like I'm 15 again and have never left, and that I've been gone for so long, maybe too long. There lies the power of a meal; it requires and employs all our senses, opening the door to so many sentiments and memories, as overwhelming and tangible as the ingredients we're touching, smelling and tasting.
This pie is one of those dishes. My mom makes a lot of pies and they are always simple, beautiful and delicious, bursting with flavours which stick to your tongue and your memory for long after a meal is over. This combination is my favourite: filled with fresh spinach and swiss chard, tossed with lots of salty feta cheese, some ricotta, lots of aromatic and delicate dill, a pinch of grated nutmeg and freshly ground black pepper, all wrapped in olive oil-brushed delicate phyllo pastry. I hope it fills up your tummy and your heart the same way it does mine and overwhelms you with love for your mom.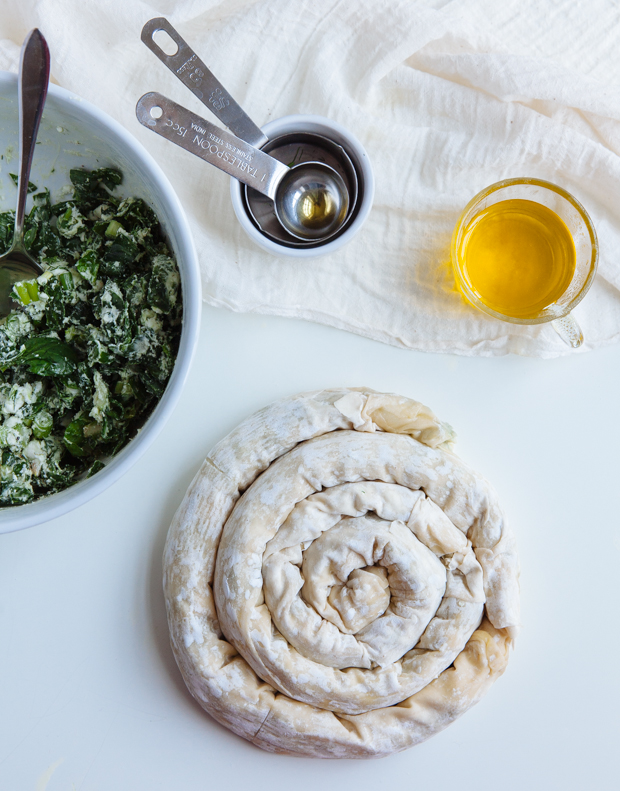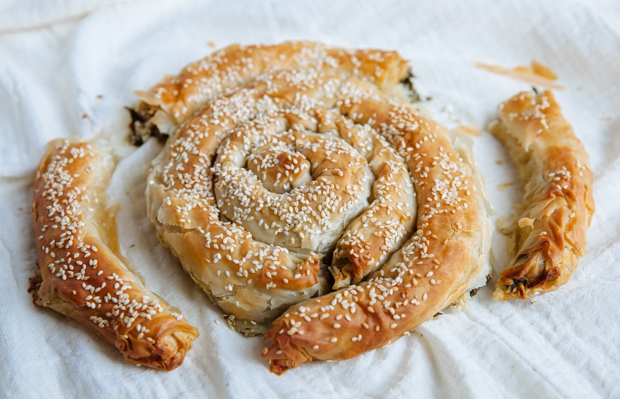 INGREDIENTS
4 cups packed fresh baby spinach, washed & drained
3 cups packed swiss chard, washed, white parts removed, cut in thick pieces & drained
7 green onions, thinly sliced
2 cups feta cheese, crumbled
1 cup ricotta
1/3 cups fresh dill, finely chopped
1/4 teaspoon grated nutmeg
1/4 cups toasted pine nuts
lots of freshly ground black pepper
kosher salt to taste (depending on how salty the feta you're using is)
3 tablespoons olive oil (for the greens)
2 packs phyllo pastry sheets (6 sheets each, 12 sheets in total), thawed and kept in the fridge
1 cup extra virgin olive oil (for the sheets)
about 1/3 cups sesame seeds for sprinkling
Combine the spinach and swiss chard leaves and green onions in a larger bowl; add the feta, ricotta, dill, nutmeg, pine nuts, black pepper and 3 tablespoons olive oil, toss and press them down using your hands. Set aside for 15', allowing all the flavours to blend and the leaves to soften.
Preheat the oven t 190C (170C air), line a large baking pan with parchment paper and take one pack of phyllo sheets out of the fridge.
Flour a working surface and roll out one phyllo sheet; keep the long side in front of you and lightly brush with olive oil (carefully so the sheet doesn't tear). Roll out a second sheet on top as before and brush with olive oil.
Leaving about 4cm margin on the side in front of you, add enough of the filling to cover the width of the sheet, leaving also about 3cm margin on both ends.
Start rolling the sheet away from your, lightly pressing, so the filling is packed. Then, roll inwards to create a spiral and cover with a slightly damp towel.
Continue with the other 4 sheets, using two at a time and remembering to brush each with olive oil. Each one you finish, roll around the previous one, to enlarge the spiral.
Brush with olive oil, sprinkle with sesame seeds and bake for 20-25', or until golden brown.
Take out of the oven, let cool and serve (I prefer pies at room temperature, but you can also eat them warm).
To make the second one, repeat as before.
*These freeze very well. Follow the process stopping before the final brush with olive oil and sesame sprinkling; carefully wrap in parchment paper and plastic wrap and place in the freezer. Thaw in the fridge the day before, brush with olive oil and sprinkle sesame seeds before baking (may need an additional 5' in the oven).