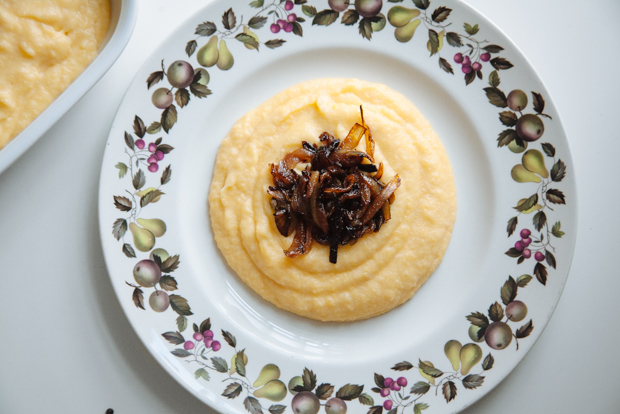 Mashed potatoes is one of these dishes, that can easily go from spectacular to 'what-the-hell-is-this-I'm-eating'. I mean, it's not terribly exciting, appearance and texture-wise, but at the same time, just because it is so plain in its main ingredients, it allows for lots of  improvisation and additions.
A few Sundays ago, I was having brunch at Lantana: smoked salmon, pickled beets, tiny roasted potatoes and a creamy horseradish sauce. The latter just stuck with me, and I have been since waiting for an opportunity to whip up something similar and season appropriate.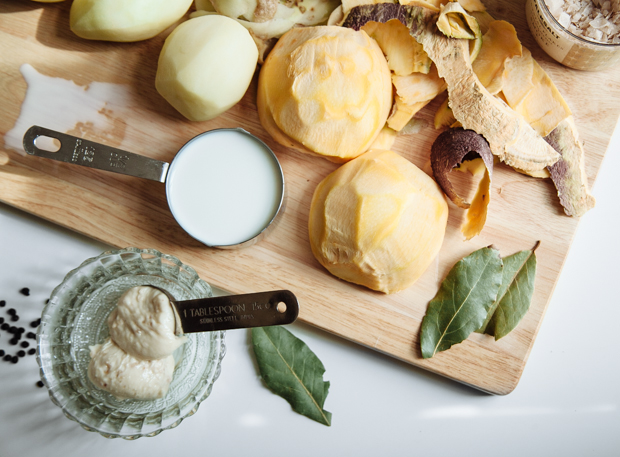 So I bought a jar of horseradish and for a few days was just adding it indiscriminately to almost everything I ate. Eventually, I decided to actually make something with it: the mash I came up with is very straightforward, yet packs strong flavours: potatoes are paired with sweet swede and mashed with a little milk, horseradish sauce and flavoured with bay leaves, smoked sea salt and lots of black pepper. There's also braised onions on top- their sweetness paired with the pungent, creamy mash makes for quite an interesting autumnal dish. So interesting in fact, that the grilled salmon I had prepared to go with it, did not even make it to the plate.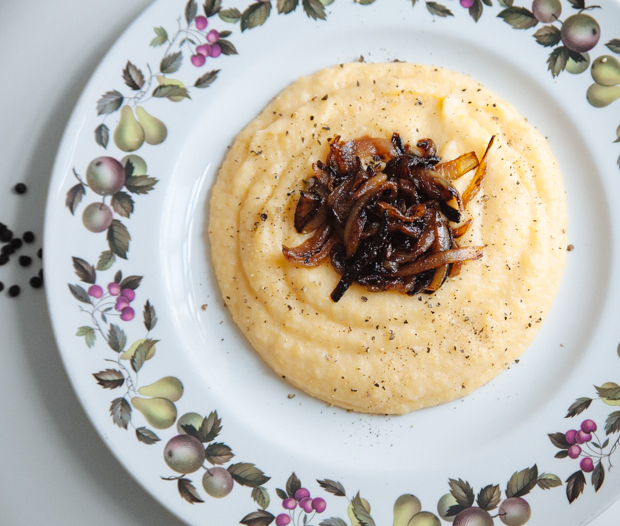 INGREDIENTS
3 medium potatoes, peeled
1 large swede, peeled
1/2 cup milk
3 tablespoons horseradish
4 bay leaves
Cut the peeled potatoes and swede into medium sized cubes. Place in a medium pan, cover with salted water and boil until tender. While the potatoes are boiling, braise the onions (see recipe below)*.
Drain the potatoes and swede and mash with a potato masher.
In a small sauce pan, combine milk, horseradish and bay leaves over medium heat and bring to a light simmer.
Remove bay leaves, and add the milk mixture to the potatoes, stirring well to combine. Add sea salt and season generously with freshly ground black pepper.
* Braised onions
2 large yellow onions
butter, olive oil, water & apple cider vinegar, 1 tablespoon each
Peel the onions and cut into medium-sized slices.
Melt the butter and olive oil in a non-stick pan, over medium heat. Add the onions and stir to coat.
Cook for about 20′, or until the onions are quite brown, soft and sticky. Make sure to stir them every few minutes.
Once the onions are cooked, pour water and vinegar to deglaze the pan. Stir the onions, scraping down the edges of the pan.
Cook for another 5′, or until most of the liquid is absorbed, and remove from the heat.
Serve big dollops of the mash, topped with the onions. (Pairing with grilled fish or meat optional.)