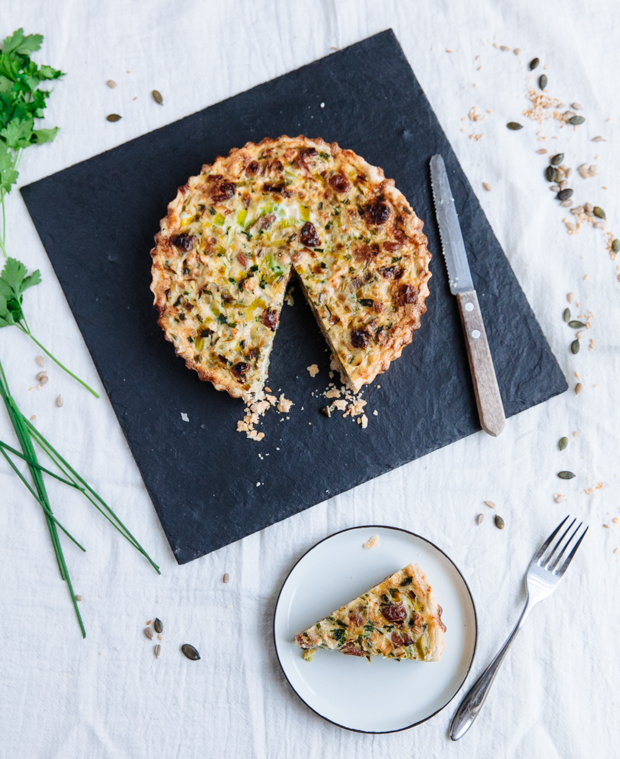 Tarts are one of my favourite things to eat, throughout the year and at all times of the day. To begin with, I love the different textures: the crumbly, at times crunchy exterior, usually bursting with buttery deliciousness and the usually soft, even juicy filling. And then there's the endless variety of that soft juicy filling: sweet or savoury, fruity and sticky, sweet or a little sour, cheesy and herby- practically everything can be turned into a delicious tart. Ain't that grand?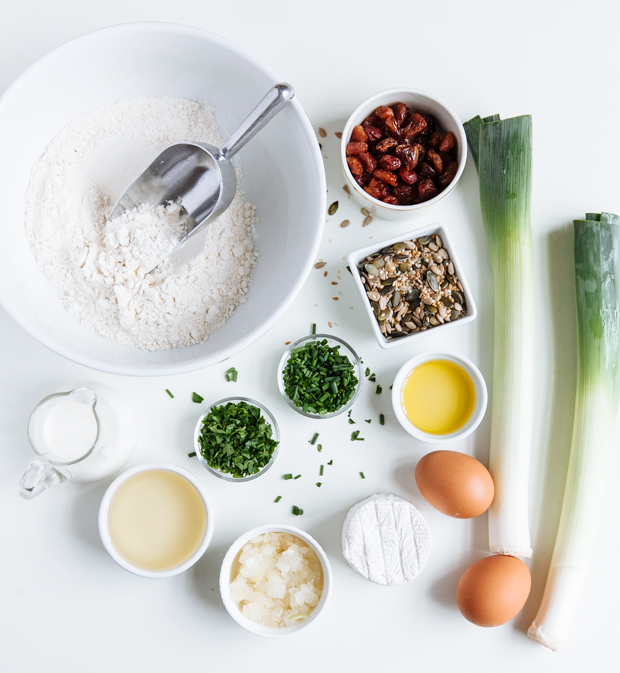 It sure is- especially since you can enjoy most tarts both hot and cold. I don't know about you, but I prefer most dishes at room temperature, even cold: pizza straight out of the fridge? I'm yours forever; barely thawed cookies? Yes please; cold noodles? Love'em! I also prefer dishes that allow lots of room for improvisations and can accommodate almost any damn thing you have in hand. Most of all, I'm all for food which is easy and quick to make, but ends up on the plate looking polished and fancy. And tarts are exactly all that.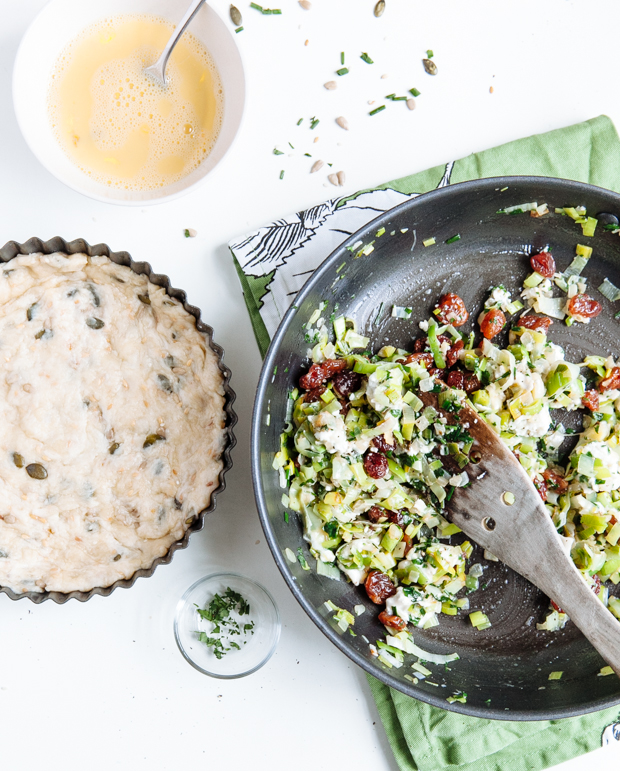 This leek, cherry & goat cheese tart was inspired by a recipe my mother sent me a couple weeks back. The original recipe looked pretty straightforward (and pretty delicious), but I've made some tweaks here and there to make things more interesting and colorful.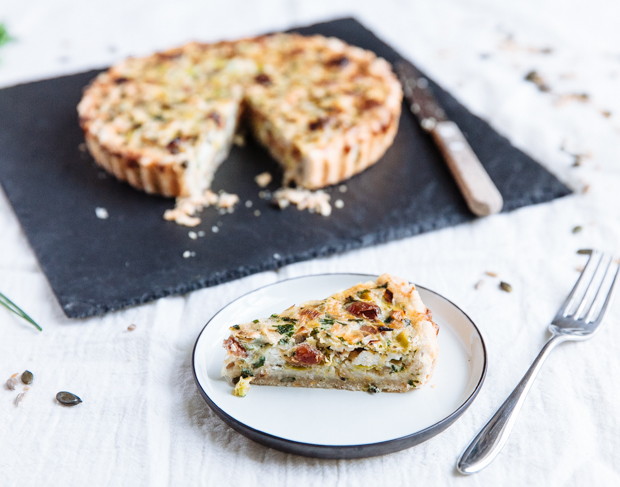 I played around with the dough a little bit and added lots of mixed seeds for crunchiness and some sour cream for extra flavour. I also switched things up on the filling: leeks would be perfect on their own, as they are one of my favourite vegetables to cook; they have a subtle sweetness which I find irresistible and pair really well with cheese. I intensified their sweet flavour with dried cherries (which I love using in savoury dishes) and then balanced this out with a good amount of salty goat cheese. And to finish things off, some fresh and fragrant chives and parsley, salt, plenty of black pepper and a couple beaten eggs for fluffiness.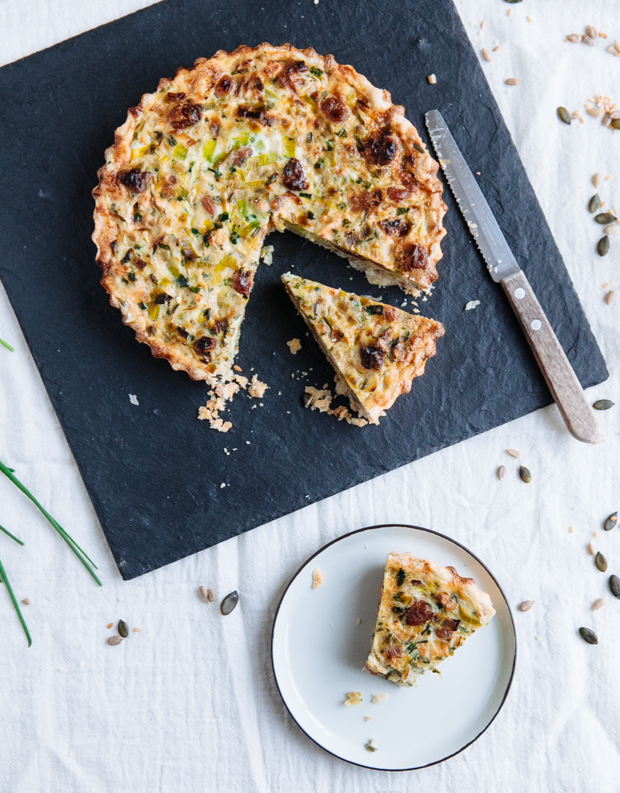 And there you have it. Filled with so much goodness, so many flavours and different textures, savoury and a little sweet, smooth and a little crunchy, this leek, cherry & goat cheese tart will have you set for breakfast, lunch and/or dinner. That's the endless allure of tarts, that's their beauty. Please go make this in honour of food that's quick and easy and delicious.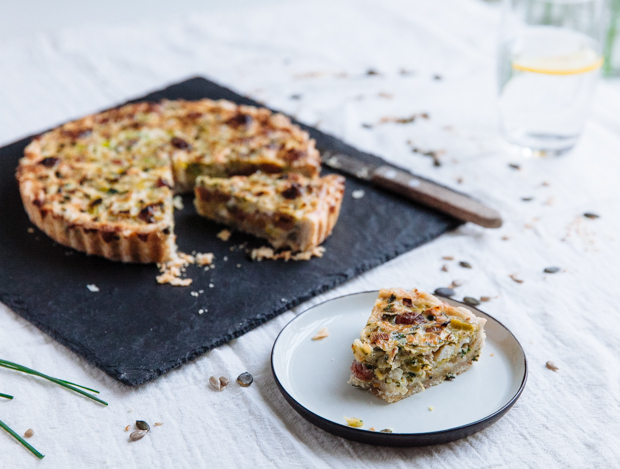 p.s. Should you need more convincing that tarts are, like, the gift that keeps on giving, check these out: zucchini, beet & manchego, swiss chard, almond & cream cheese, red pepper, raisin & feta, raspberry, chocolate chip cookie & mascarpone and turmeric, apple & tahini.
INGREDIENTS
For the crust*:
1 3/4 cups all purpose flour
1/2 cup mixed seeds (I used sesame, sunflower and pumpkin)
1/4 cup vegetable oil
1/4 cup half fat milk
1/4 cup sour cream
For the filling:
2 heaping cups sliced leeks
1/2 cup chopped onion
2 tablespoons olive oil
2 tablespoons chives, minced
2 tablespoons parsley, minced
1/2 cup dried cherries
50 gr goat cheese, crumbled
2 medium eggs, beaten with 1/2 tablespoon milk
salt & pepper
To prepare the crust, combine the flour and seeds and add the vegetable oil, milk and sour cream. Mix well with a spatula, until the mixture comes together in a soft dough. Set aside.
Preheat the oven to 180C (160C for air), generously oil and flour a round baking pan with a removable bottom and set it aside.
Harm the oil in a medium heavy-based pan over medium-high heat and sauté the leeks until soft, about 5′. Add the onions and cook for another couple of minutes. Remove from the heat and add the minced chives and parsley, cherries and crumbled cheese. Add salt and pepper, taste and adjust the seasoning accordingly. Add the beaten eggs & milk and stir well.
Line the baking pan with dough, pushing it down with your fingers so it spreads and covers the sides evenly. Pour the mixture over the dough and even the surface with the back of a large spoon.
Place in the preheated oven and bake for about 40′, or until filling is set and lightly browned.
Remove from the oven and allow to cool until easy to handle. Carefully remove from the pan, place on a serving plate and serve hot, at room temperature or cold.
Store in the fridge for up to 4 days or freeze for up to a month, defrosting thoroughly before serving (if serving hot, warm up in a preheated oven for about 15′).
*If you have any leftover dough, flatten, wrap with cling film and freeze until needed. Defrost thoroughly before using.