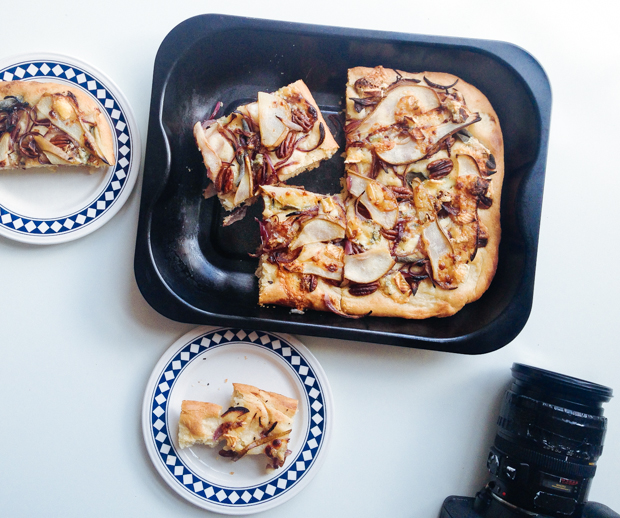 Pairing fruit with cheese is often my go-to approach when making savoury dishes (have I mentioned this before? Probably. Talking about cheese is one of favourite pastime activities). I especially like to use pears, as I often find them to be overly sweet on their own. 
Another favourite pastime activity of mine is making bread. It's soothing, relaxing and contrary to, say, knitting (which, as I hear, is also relaxing), you can eat what you make. That's why I don't knit.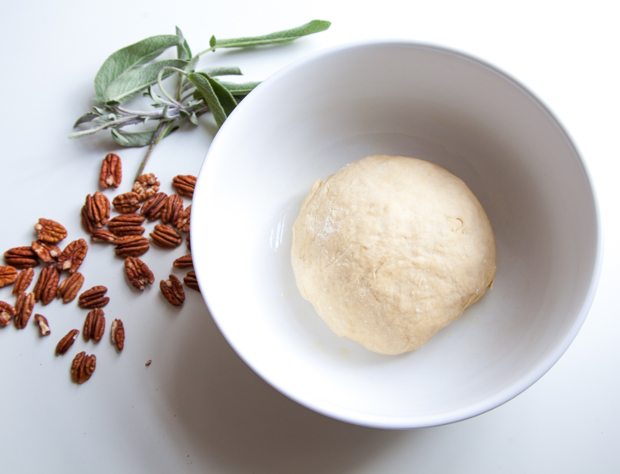 Focaccia is one of these things that you make once and then want to make again and again; while it still requires a bit of time (the dough needs to rise for a total of 2 hours), it is also super easy and versatile. You can experiment with a variety of toppings (different vegetables, fruit and cheese combinations, nuts for texture, or even meat), garnish with fragrant herbs and the end result will be a fancy-looking crowd pleaser.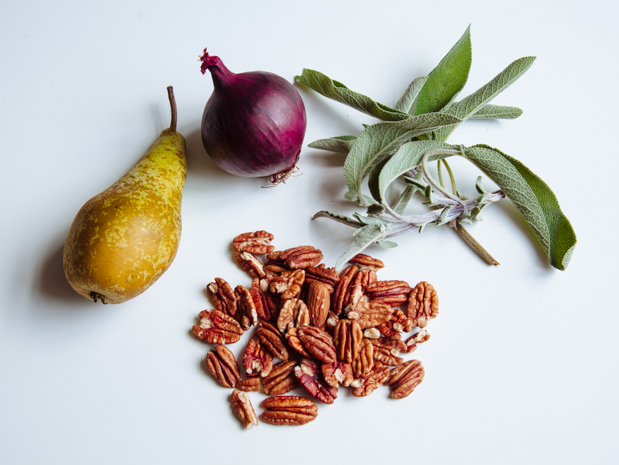 This focaccia (a slight variation of a Food & Wine recipe) is sweet and salty, pillowy and crunchy. The sweetness of the pear is complemented by the saltiness of the cambozola (a crossover between camembert and gorgonzola, with a subtle, buttery taste) and paired perfectly with some softened red onion and fresh sage, while the added toasted pecans also give a delicious crunchy texture.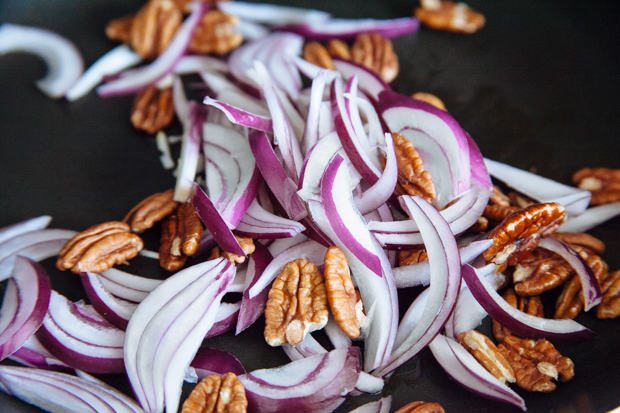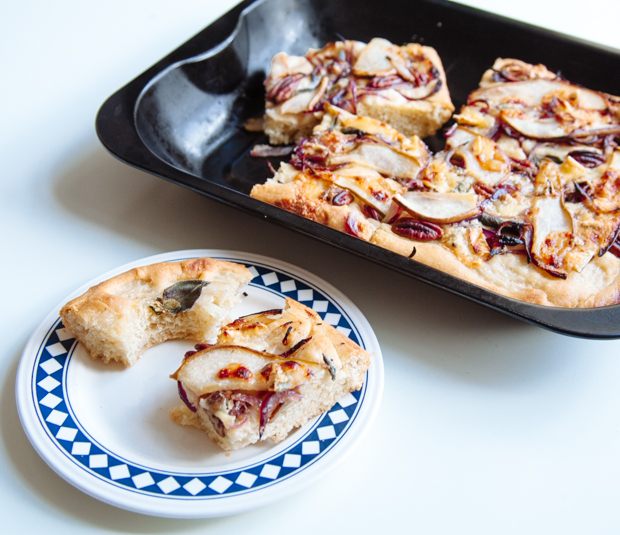 INGREDIENTS
For the focaccia:
1 cup warm water
1 pack active dry yeast
1 teaspoon honey
2 ¾ cups all purpose flour
½ cup & 1 tablespoon extra virgin olive oil
1 teaspoon salt
For the topping
one medium red onion, thinly sliced
1 pear, cored, cut in half and thinly sliced
½ cup cambozola cheese, cut in small pieces
8- 10 medium fresh sage leaves
1/3 cup pecan halves
2 tablespoons olive oil, divided
Combine yeast, water and honey, stir and set aside for 5'.
Add 1 cup flour and 1/2 cup olive oil. Mix and set aside for another 5'.
Add the remaining flour and salt and combine. Shape into a ball and transfer to a lightly oiled bowl; cover with plastic wrap and let rise for 1 to 1 1/2 hours.
When the dough has risen, stretch onto a lightly oiled baking pan, making sure it covers the whole of the pan.
With your finger, poke holes on the surface and drizzle with 1 tablespoon olive oil. Cover with a tea towel and let rise for 20'.
In the meantime, turn the oven on to 230C. Heat 1 tablespoon olive oil in a shallow pan and add the onions. Cook on medium heat for 10', or until soft. Set aside.
Roast pecan halves in the oven for 2-3′ carefully, so they don't burn. Take out and set aside.
Once the stretched focaccia has risen, top with the onions, followed by the pear slices, pecans and sage leaves, making sure to cover the dough evenly. Finish off with the cambozola pieces, lightly covering the pecans to keep from burning.
Drizzle with olive oil and bake for 15-20', until golden brown. Take out of the oven and let cool slightly before cutting into largish pieces.