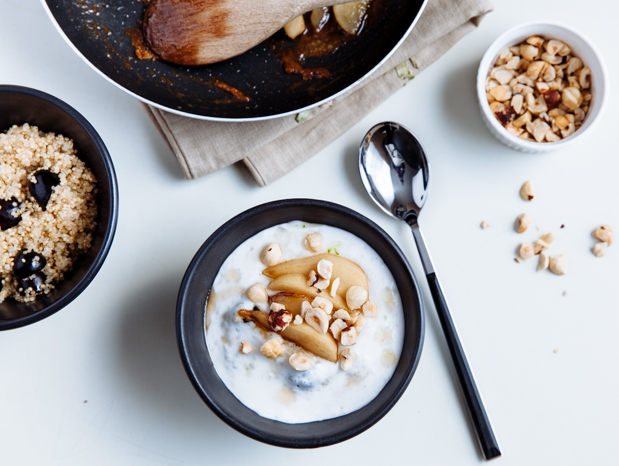 It's been a little over week since I've been back and I'm still struggling. I'm not worried though- it's only part of my usual back-to-school drama, which I live out to the fullest, with frequent outbursts, cursing on the weather, the traffic, the boots and layers I now have to live in and everything else, really.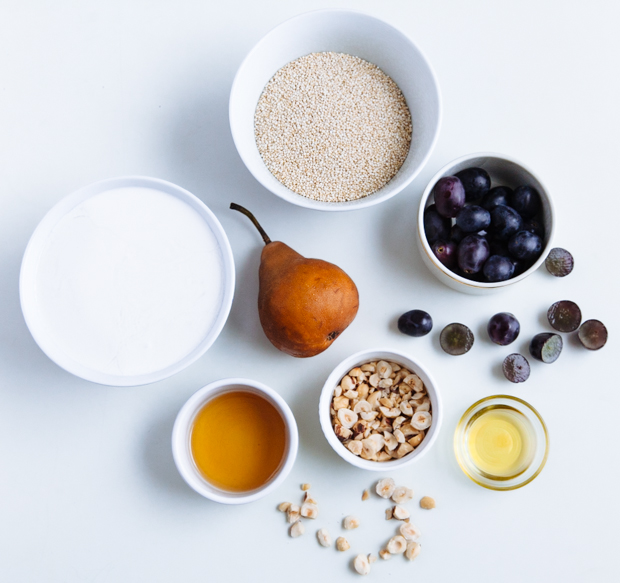 My moodiness is significantly helped by my significant other and friends who experience the same symptoms (yet manage to display them much more decently and subtly than me). It's also helped by my lovely, tiny kitchen. Being back there gives me so much comfort and enough drive to once again brave London with all its overwhelmness and charm. It helps me slowly start structuring my schedule once again, falling back to a routine, one that I desperately need after two months of utter bliss and utter laziness.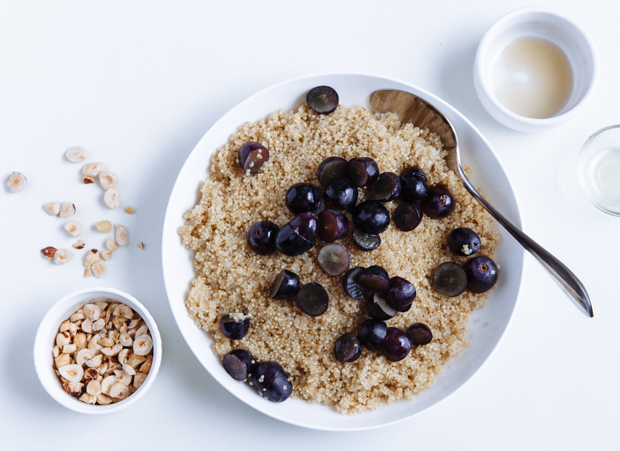 And it all starts in the kitchen for me. And to be more specific, it all starts with breakfast. It's no secret that it's my favourite meal of the day, but apart from that- that's where it's all at, is it not? The beginning of our day, comfort and deliciousness, all in that first bite. During my holidays, breakfast was late and long and it often consisted of different variations of a carb fest and/or a junk food overload. I loved it- but honestly, coming back, I've been craving healthier options.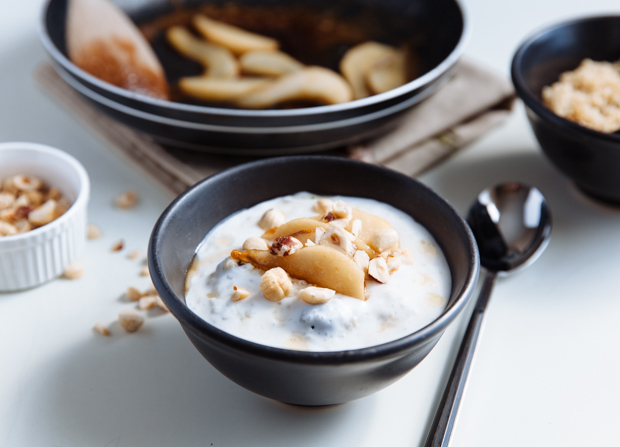 This coconut quinoa is exactly that: healthy and wholesome and comforting, with super quinoa, delicious coconut milk, sweet grapes and pears, intense maple, a touch of smooth olive oil and lots of crunchy toasted hazelnuts; at the same time, it's slightly decadent as well, which is also exactly what we need to brave this lovely season of comebacks and this overwhelmingly charming city.
INGREDIENTS (for 4 medium sized breakfast bowls, halfway filled)
1 cup washed and drained quinoa
1 cup red grapes, washed and halved
3 tablespoons maple syrup
1 1/2 tablespoons extra virgin olive oil
1 small pinch of table salt
1 can full fat coconut milk
2 1/2 tablespoons cornstarch
2 1/2 tablespoons water
2 pears, cored, peeled and sliced
1 tablespoons demerara sugar
1 tablespoon unsalted butter
1/3 cup toasted hazelnuts, coarsely chopped
to serve: 3 tablespoons maple syrup, combined with 1/4 teaspoons lime zest
Add the quinoa to a small pot of boiling water and cook for 5′. Drain, place in a large bowl and combine with the grapes, olive oil, maple and salt. Set aside.
Quickly rinse that same pot and pour in the coconut milk. Bring to a boil and immediately remove from the heat. Add in the dissolved cornstarch and whisk quickly until incorporated and very smooth.
While the coconut milk is coming to a boil, prepare the pears: place them in a small frying pan and combine with the butter and sugar over medium heat. Cook until the butter is melted, the sugar dissolved and the pears sticky and golden brown- about 10′.
Assemble the breakfast bowls: add a couple big spoonfuls of the grape quinoa to each bowl, drizzle with coconut milk and top with some of the caramelised pears, chopped hazelnuts and a generous drizzle of lime maple.