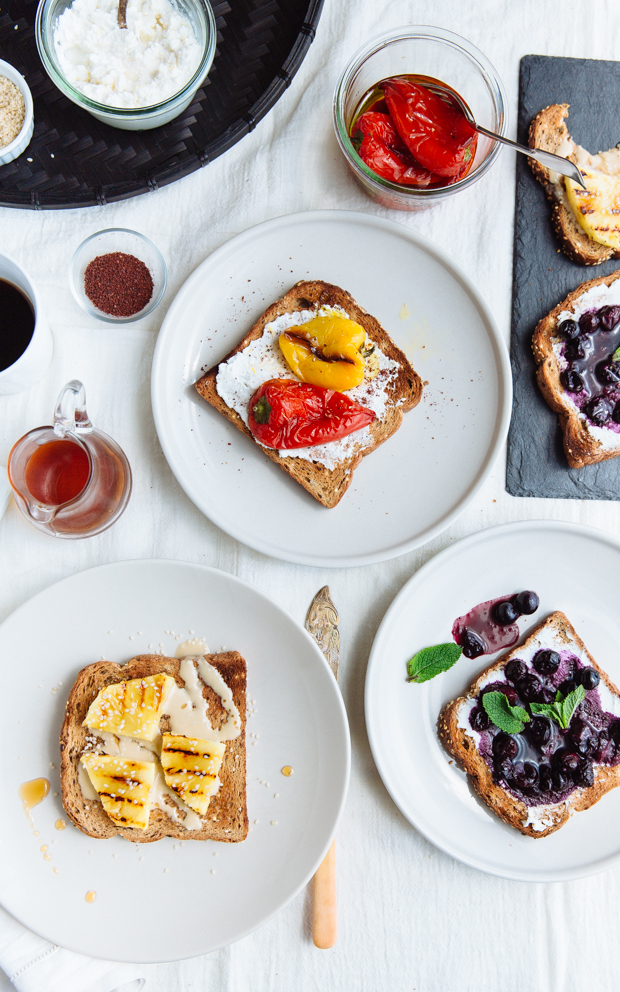 One of the things rarely found in our kitchen is bread. Don't get me wrong- I LOVE bread, both making and (even more) eating it. The main reason for its absence is simple: bakeries are not the same here as back home. Seriously, Greece seems to have a bakery in almost every corner; each is filled with every type of bread and any sweet and savoury dough-y thing imaginable*, making it very hard to resist and not buy a fragrant loaf or a bag of delicious treats. In additional to that, Mike, who loves treats of any kind (especially the chocolate and peanut butter kind) is quite indifferent when it comes to bread. He never asks for it nor buys it, so it's easy for me to follow his lead.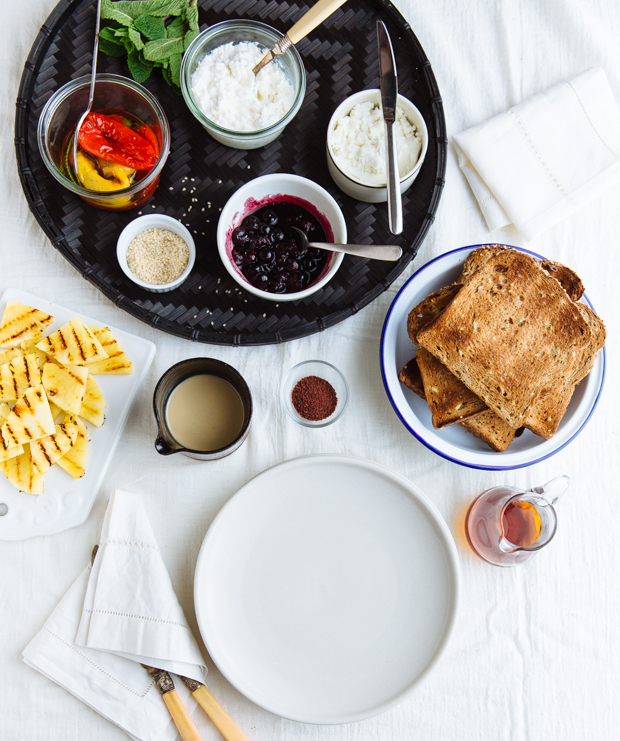 Having said that, the love (for bread) is there. And even though I miss Greek bakeries and their goods, there still are lots of delicious loaves to be found here and many great things to do with them. And by great, I don't mean fancy. On the contrary, I mean the humble toast. Right? I mean, the smell of freshly toasted bread alone it heaven and too damn difficult to resist. Plus, it's the perfect canvas for a delicious quick bite.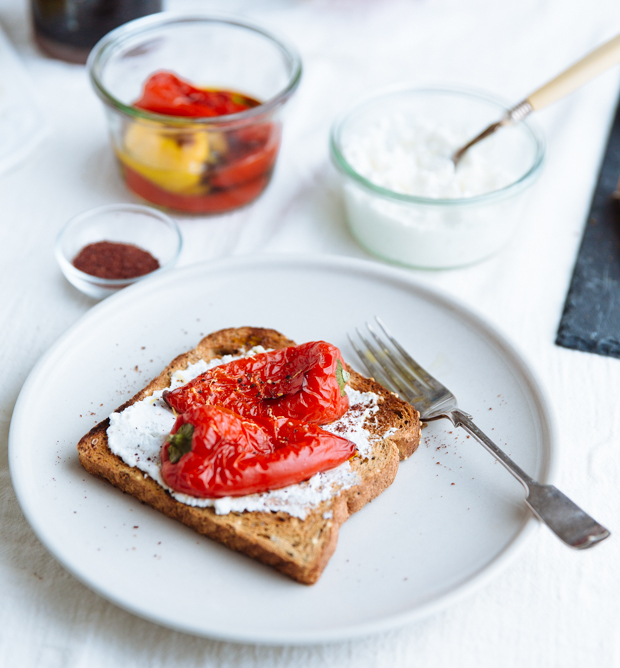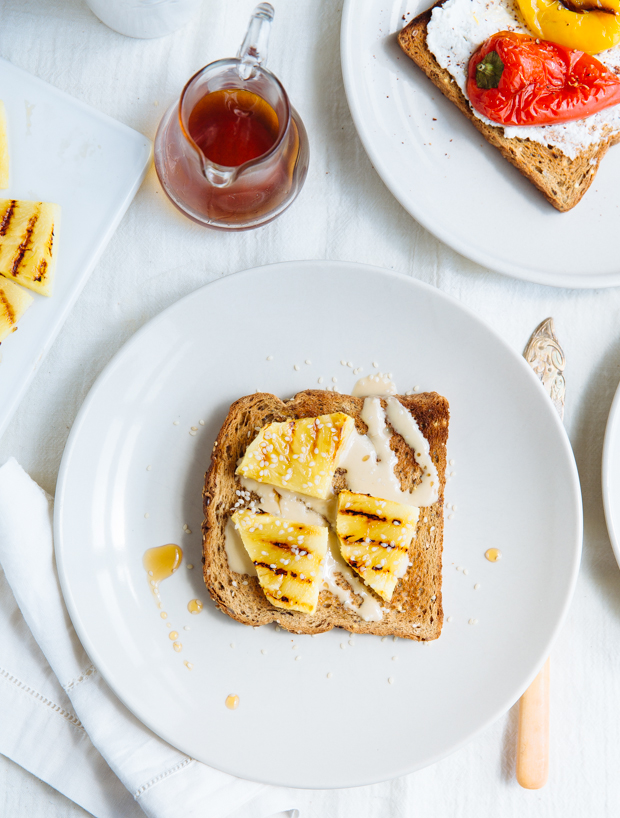 You can really go whichever way you like here- I went with three delicious combos, a savoury, a sweet and an in-between one, but really, the sky (and your pantry and fridge) is the limit. Creamy ricotta folded with lemon zest and topped with mini peppers, roasted with sumac and sea salt; juicy, sweet pineapple grilled with a touch of coconut oil and perfectly paired with nutty tahini and a touch of maple; finally, blueberries cooked into a sauce and combined with goat cheese and fresh mint.
All things easy, pretty and tasty. That's the way to go when it comes to toast. And life, really.
*In fact, every summer, we make a point of finding the best bakery in every island we visit. There's lots of serious research happening, lots of dedication, testing and evaluation. It's no joke, we take it pretty seriously.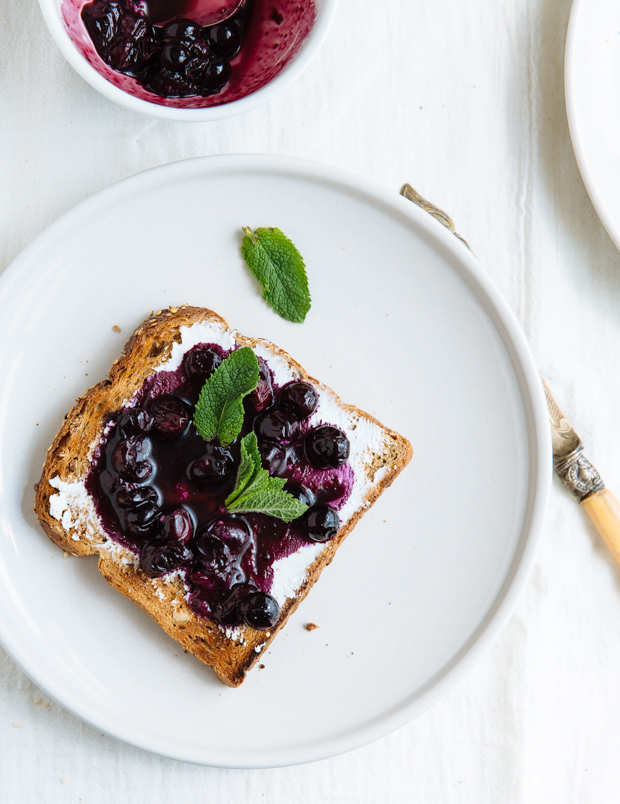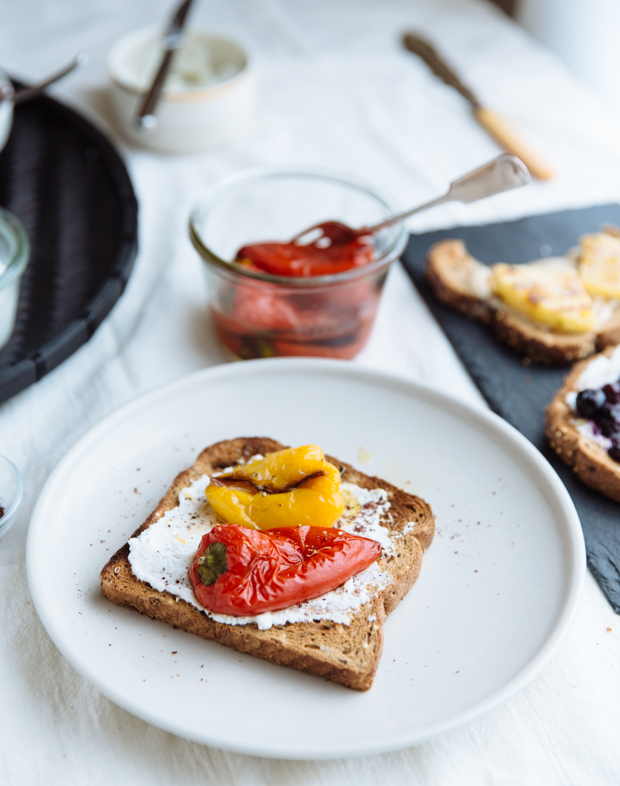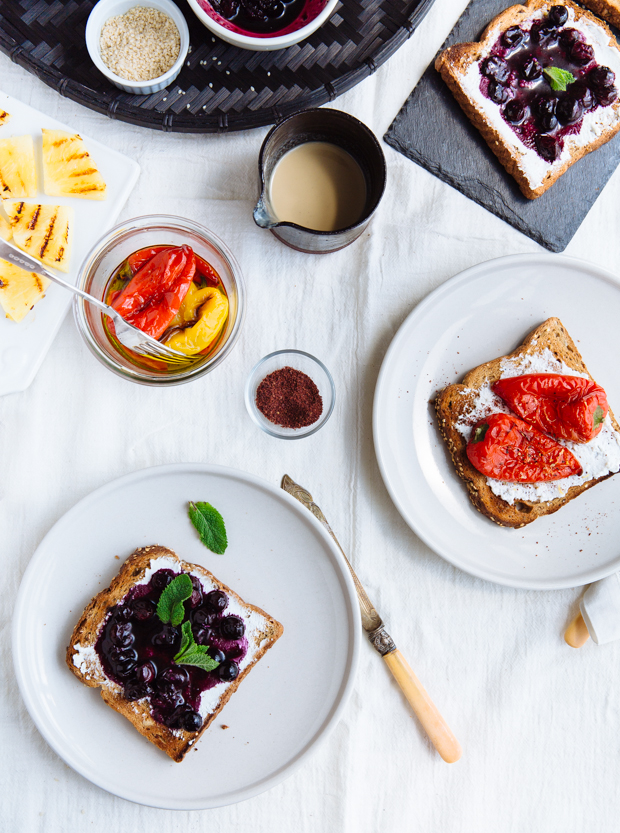 Toast 3 ways
INGREDIENTS
sliced bread (toast right before serving)
1/2 cup ricotta, mixed with 1 teaspoon lemon zest
6 mini peppers
olive oil, sea salt and sumac- to taste
3/4 cups blueberries
1 1/2 tablespoons water
1 scant tablespoon honey
2 mint leaves
1/2 cup goat cheese
1 small pineapple, peeled, sliced and cut in triangles
coconut oil
1/2 cup tahini
maple syrup
sesame seeds (to serve)
METHOD
Turn the oven on to 190C (170C for air); wash the peppers and place in a small baking dish, along with some olive oil, freshly ground black pepper, sea salt and sumac. Prick each pepper with a fork and roast until tender, about 20′. Remove from the oven, set aside to cool and then place in a small bowl, along with about 1/2 cup olive oil.
Turn the grill on to high; brush the pineapple slices with coconut oil and cook until golden brown- about 10′.
Place the blueberries, water, honey and mint in a small sauce pan over high heat. Bring to a boil and then reduce to a light simmer, cooking until the mixture becomes lightly syrupy- about 10′.
To serve: spread ricotta on a couple slices of freshly toasted bread and top with two peppers and a sprinkle of sumac.
Generously drizzle tahini over a couple more slices and top with pineapple slices, a drizzle of maple and a sprinkle of sesame seeds.
Finally, spread goat cheese on your toast and top with the blueberry sauce and extra fresh mint.