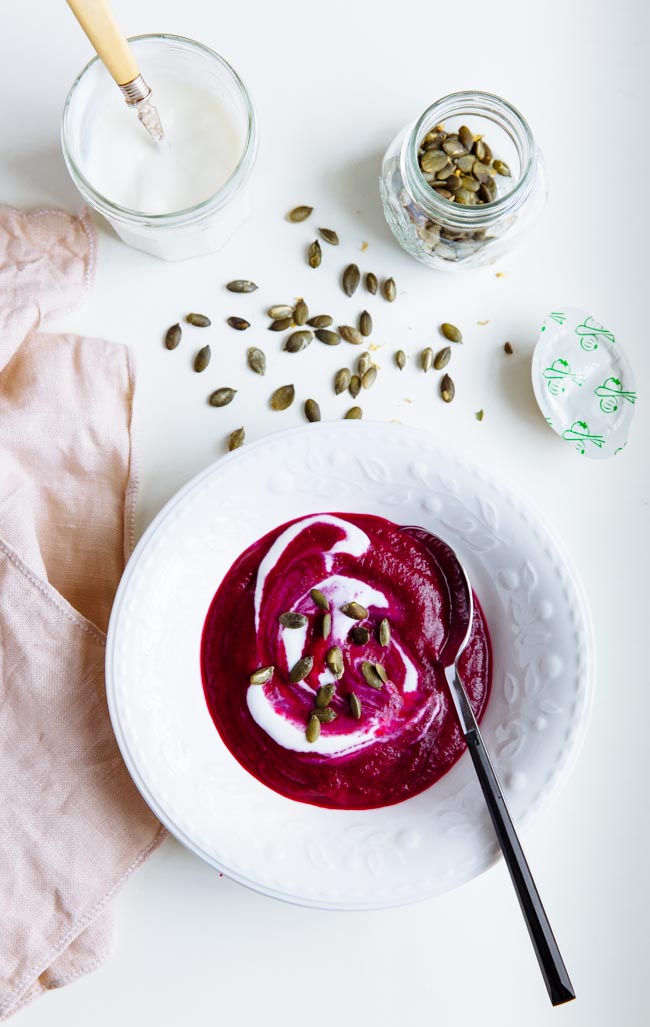 We're on official countdown to Christmas, are we not? And apart from everything else that comes with it, I'm also craving comfort food. Like, lots of comfort food. Like, hot, delicious comfort food, exciting enough to match the pre- Christmas spirit, but also quite simple, so we don't exhaust ourselves just yet. You know where I'm going with this, right? Straight into a big bowl of soup.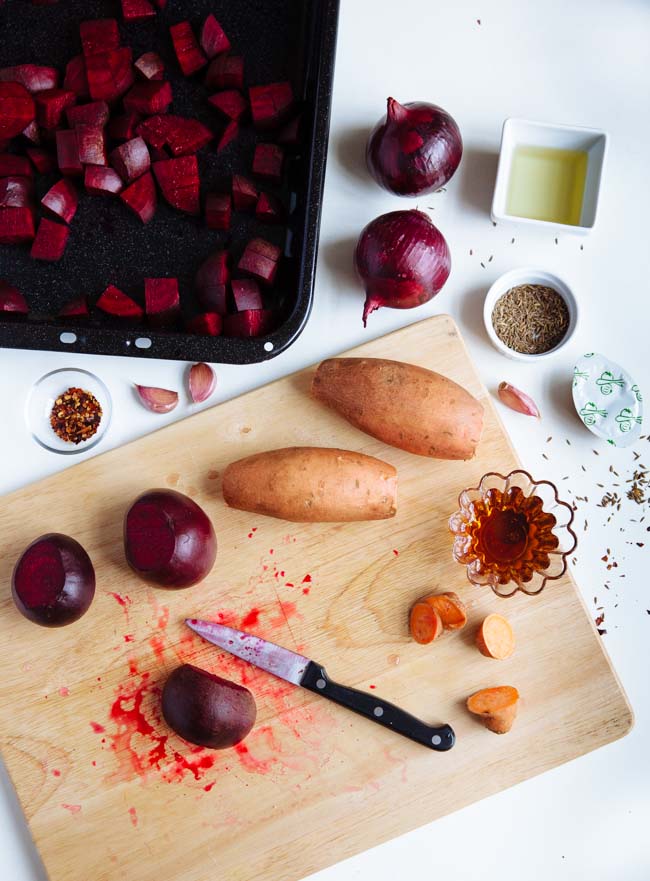 Thank heavens for soup, for how easy, versatile and comforting it is, how pretty and cool and uncomplicated. Today's answer to all our prayers is delicious, velvet smooth and so freakin' beautiful. I mean, how can it not be with all those gorgeous beets in there? Beets? Not only deliciously sweet and earthy but also striking. Hands down the prettiest root vegetable.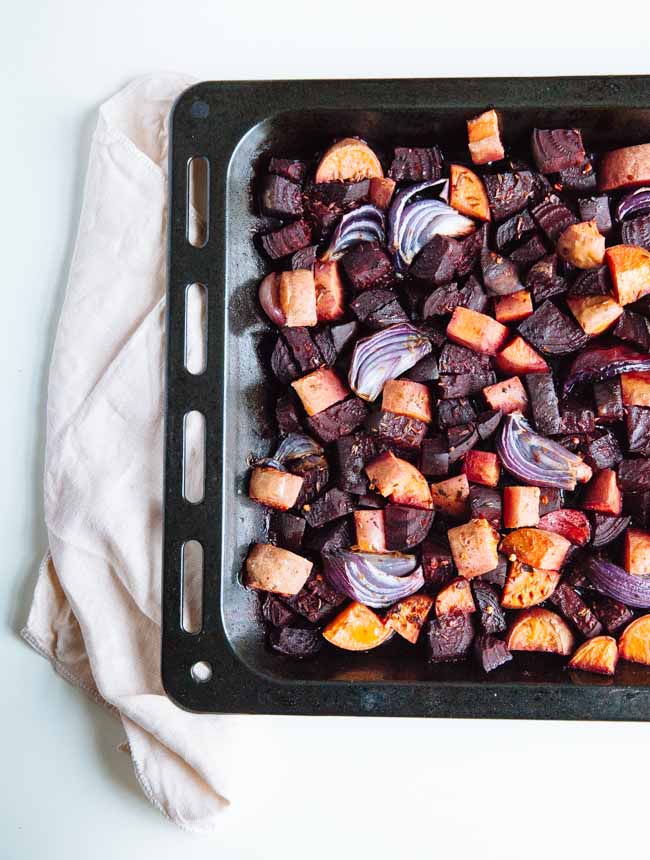 Two winters ago, while planning our menu for New Year's Eve, I was set on making a beet soup; my mom had reservations, as beets are not loved by everyone, and suggested we went the more crowd-pleasing pumpkin route. Whaaaa? Pumpkin? No sir (m'am)- I've had enough of pumpkins; let's go all deep fuschia and blow everyone away.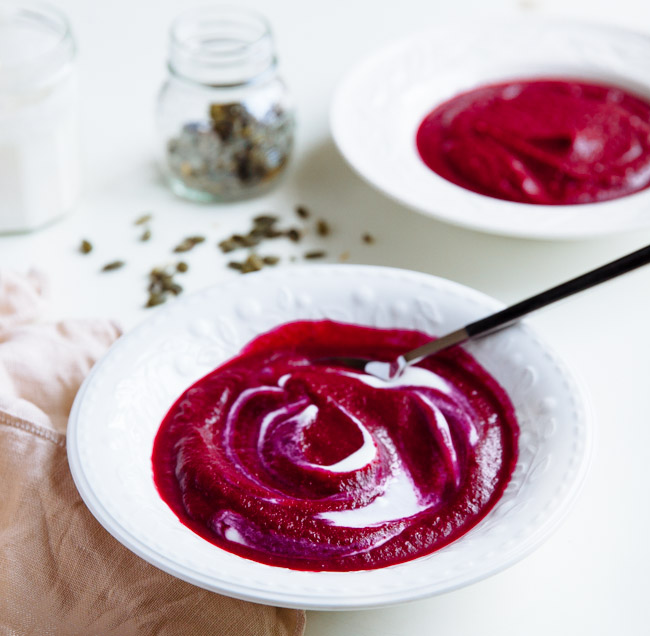 My mom, who's had years of experience with her two strong-willed  and opinionated (aka pains in the ass) daughters gave up and agreed on the damn soup. Sure enough, it turned out a disaster. See, my laziness had surpassed my excitement, so I had decided to use pre-boiled packaged beets. The ones I got were drenched in vinegar but, consumed as I was by the culinary triumph that was playing up in my head, I didn't notice. I just chucked all of 'em beets into the pan and called it a day. Too sour, too intense, too messy- that was my soup.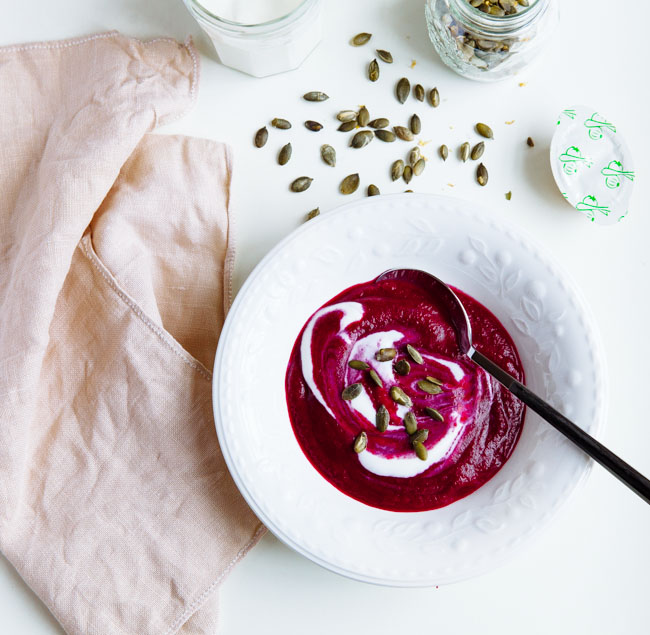 Still, it had the most gorgeous colour, which is just as well, as there were lots of leftover to look at. Mostly because of that gorgeous colour, I never gave up on beet soup. This time, I added delicious sweet potatoes- love the two together in any way or form, especially when they're baked into delicious chips. I roasted everything along with red onions, garlic cloves, lots of cumin, chilli flakes and a good drizzle of heavenly maple syrup until almost crispy, nicely glazed and crazy fragrant. I then boiled everything with lots of Knorr vegetable stock and to balance off the sweetness, finished  things off with buttermilk and salty, zesty pumpkin seeds. Indeed, thanks heavens for soup. And beets and motherly advice. Happy Friday everyone!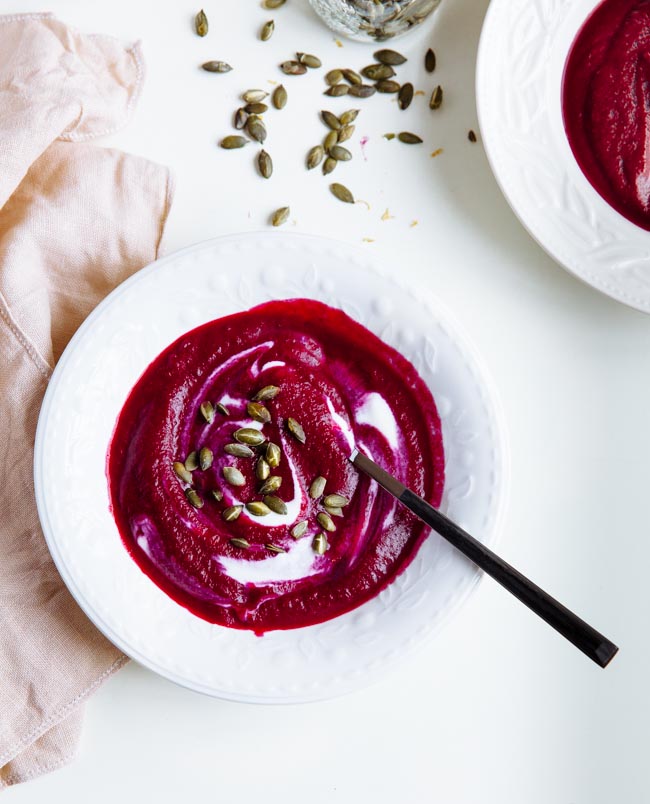 Cumin maple syrup roasted beet & sweet potato soup
6 large beets, washed & scrubbed
3 medium sweet potatoes, washed & scrubbed
2 medium red onions, peeled
3 medium garlic cloves
3 heaping tablespoons olive oil
1 heaping teaspoons cumin seeds
1/4 teaspoon chilli flakes
a big pinch sea salt flakes
3 tablespoons maple syrup
6 cups Knorr vegetable stock*
sea salt to taste
2-3 tablespoons buttermilk
to serve: 1/4 cup pumpkin seeds, a pinch of sea salt flakes, zest from 1/2 small lemon
extra buttermilk (optional)
Preheat the oven to 150C (130C for air). Line a small baking sheet with parchment paper and arrange the pumpkin seeds in a single layer. Sprinkle with sea salt and lemon zest and toast for about 7′, until crunchy and nutty smelling (keep an eye on them so they don't burn). Remove from the oven, set aside and increase the temperature to 190C (170C for air).
Cut the washed beets & potatoes into medium-sized cubes. Quarter the onions, break their layers down and lightly smash the garlic cloves.
Place all the vegetables in a large baking tray; top with the olive oil, cumin seeds, chilli flakes and salt and toss with your hands to coat them evenly.
Roast for 20′. In the meantime, pour the stock into a small sauce pan and keep it simmering over very low heat.
Turn off the oven, remove the tray and drizzle the maple syrup over the roasted vegetables evenly. Put back in the oven for 5′.
Remove from the oven and tip into a large pan. Cover with the simmering stock and bring to a boil. Toss a couple times, then lower the heat to a low simmer.
After 20′, turn the heat off. Set the pan aside to cool slightly and then blend with a hand blender until you have a very smooth consistency.
Add two tablespoons buttermilk, fold to combine, adjust the seasoning if necessary and simmer one last time over very low heat for a couple minutes.
Serve with the roasted pumpkin seeds and an extra drizzle of buttermilk.
*This is another recipes made with delicious Knorr stock, as part of the BHMA Gourmet Food Blog Awards. All opinions are my own.