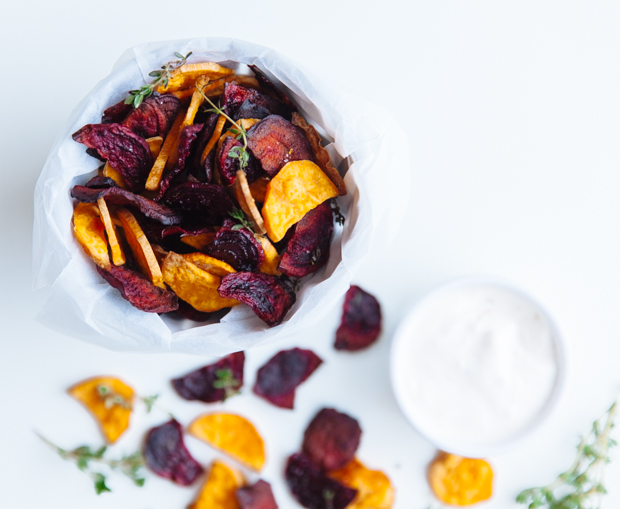 February is my second favourite winter month. It may be lacking December's wow factor (what with Christmas, presents and general jollyness and holiness), but there's something about it, don't you think? Even though it often is much colder than January, the days grow a bit longer little by little, signifying the slow coming of spring.
So for this first February post, beets and sweet potato chips are just perfect: satisfying and comforting for these still frosty days and nights, yet bright and colourful- because spring is on it's way!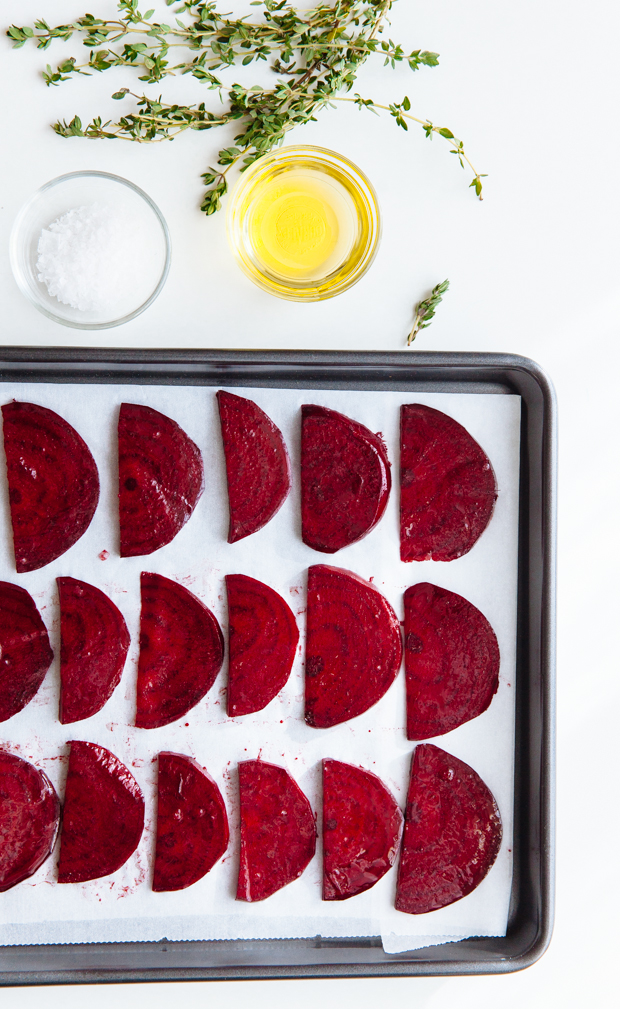 Deep red beets and dark orange sweet potatoes are cut thin and tossed with extra virgin olive oil and salt flakes and baked until crispy and lightly browned. When cooled down, they crisp up even more and all they need is extra salt, some black pepper and a good sprinkle of fragrant lemon thyme leaves. So you got sweet and salty chips, a velvety and a spicy and lemony dip to go with it- you (almost) got spring on a plate!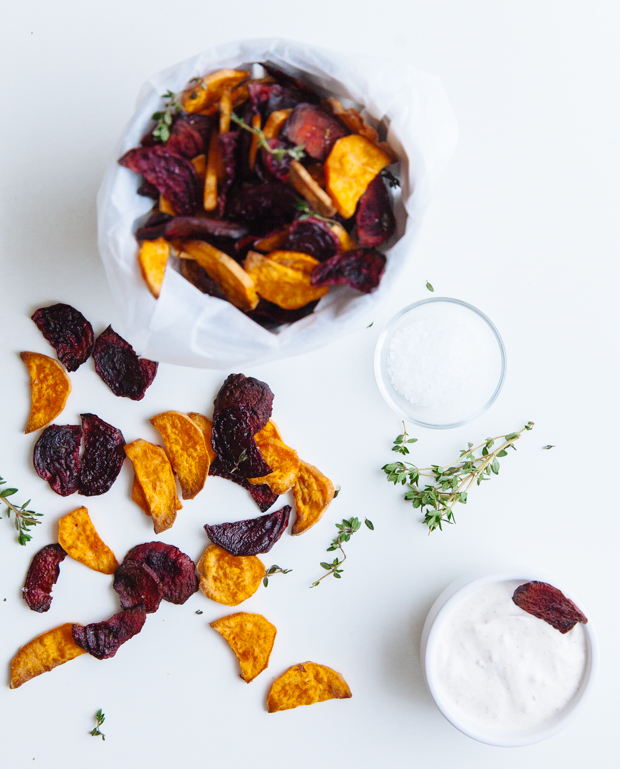 INGREDIENTS
6 large beets, washed and scrubbed
2 large sweet potatoes, washed and scrubbed
2 tablespoons extra virgin olive oil
salt flakes
a few lemon thyme leaves
for the harissa dip
1 cup full fat Greek yogurt
1 teaspoons lemon zest
2 1/2 tablespoons harrissa paste
1 tablespoon extra virgin olive oil
a pinch of table salt
To prepare the harris a dip: add all the ingredients in a food procession and pulse until incorporated. Put in an airtight container and keep in the fridge until ready to serve.
Preheat the oven to 170 C.
Using a mandolin or a very sharp knife, thinly slice the beets and sweet potatoes. Toss in olive oil and sprinkle generously with salt flakes.
Place in two baking sheets lined with baking paper and bake stacked on two racks, on top of the other for 20'.
Rotate the sheets and their position on the racks bake for another 20', or until lightly browned. Let cool and sprinkle with extra salt and lemon thyme leaves to taste. Repeat with the remaining slices and serve with the yogurt & harissa dip.