Honeyed kumquats are a real treat, especially for breakfast, served with thick yogurt & fragrant thyme over crunchy toast.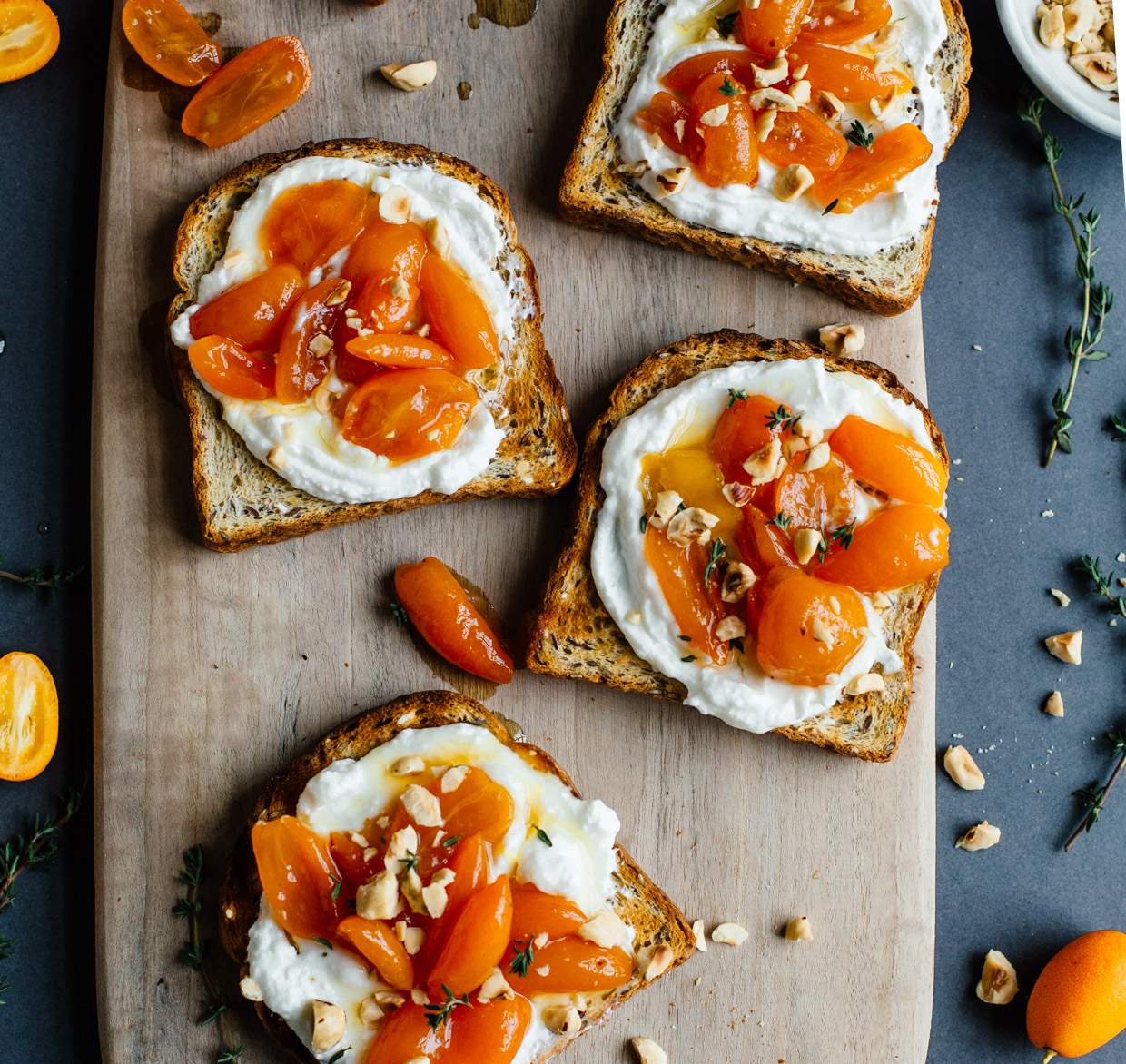 I've gone back and forth before deciding what to do with the heaps of kumquats from my parents minuscule trees. While your suggestions inspired both research and tremendous appetite, I found it almost impossible to settle on a recipe. While I was trying to make up my mind, I must have eaten a third of them, with no preparation at all, pith, seeds and all. I just find them so very delicious, impossibly fragrant, lightly bitter and with a lovely texture. I've added them to salads in place of oranges and in warming, creamy oats and, before deciding anything else, I knew I had to make my mom's delicious kumquat marmalade. And yet, I didn't. See, they were so pretty, so bright and shapely I refused to chop them down. Instead, I made a preserve of sorts.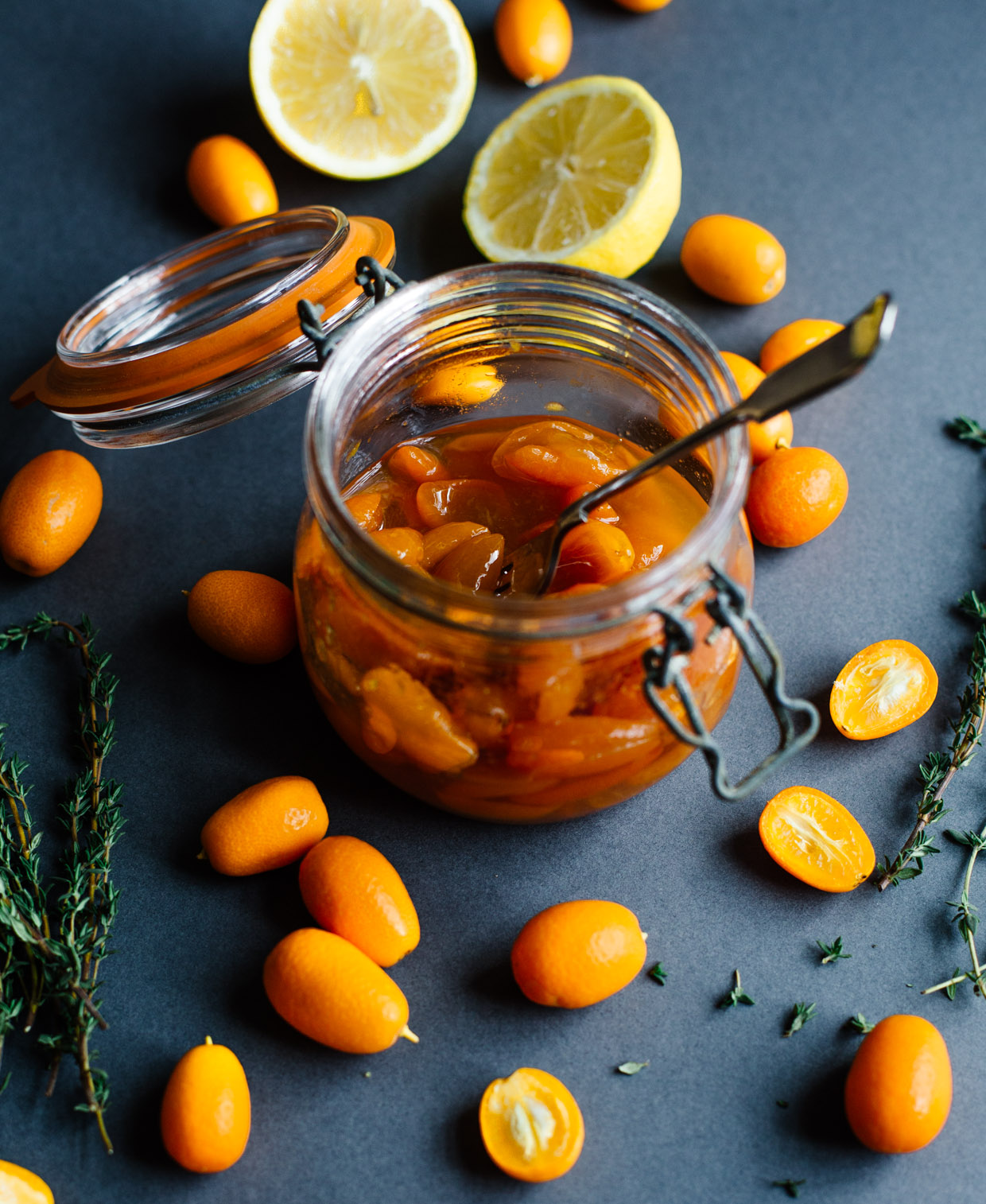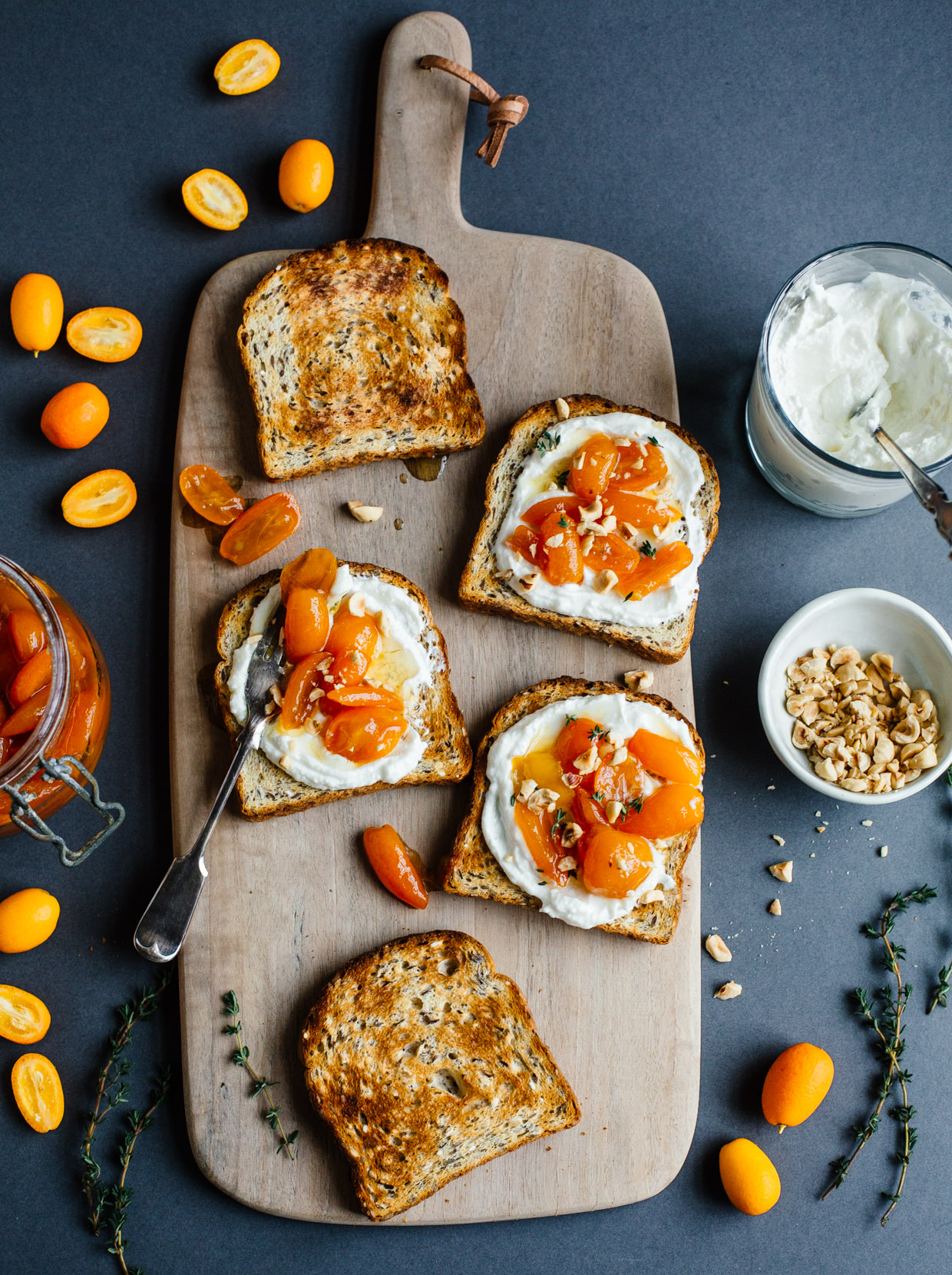 Water, delicious, thick honey, a touch of sugar and lemon zest and heaps of kumquats, halved and left in all their beauty. It came together in almost a heartbeat and filled the kitchen with the all too familiar scent of marmalade or jam, that of boiled sweetness and fruit. The syrup is as thick as it should be and discreetly sweet and the chubby, amber beauties are soft, glossy and, if that's even possible, even prettier than before.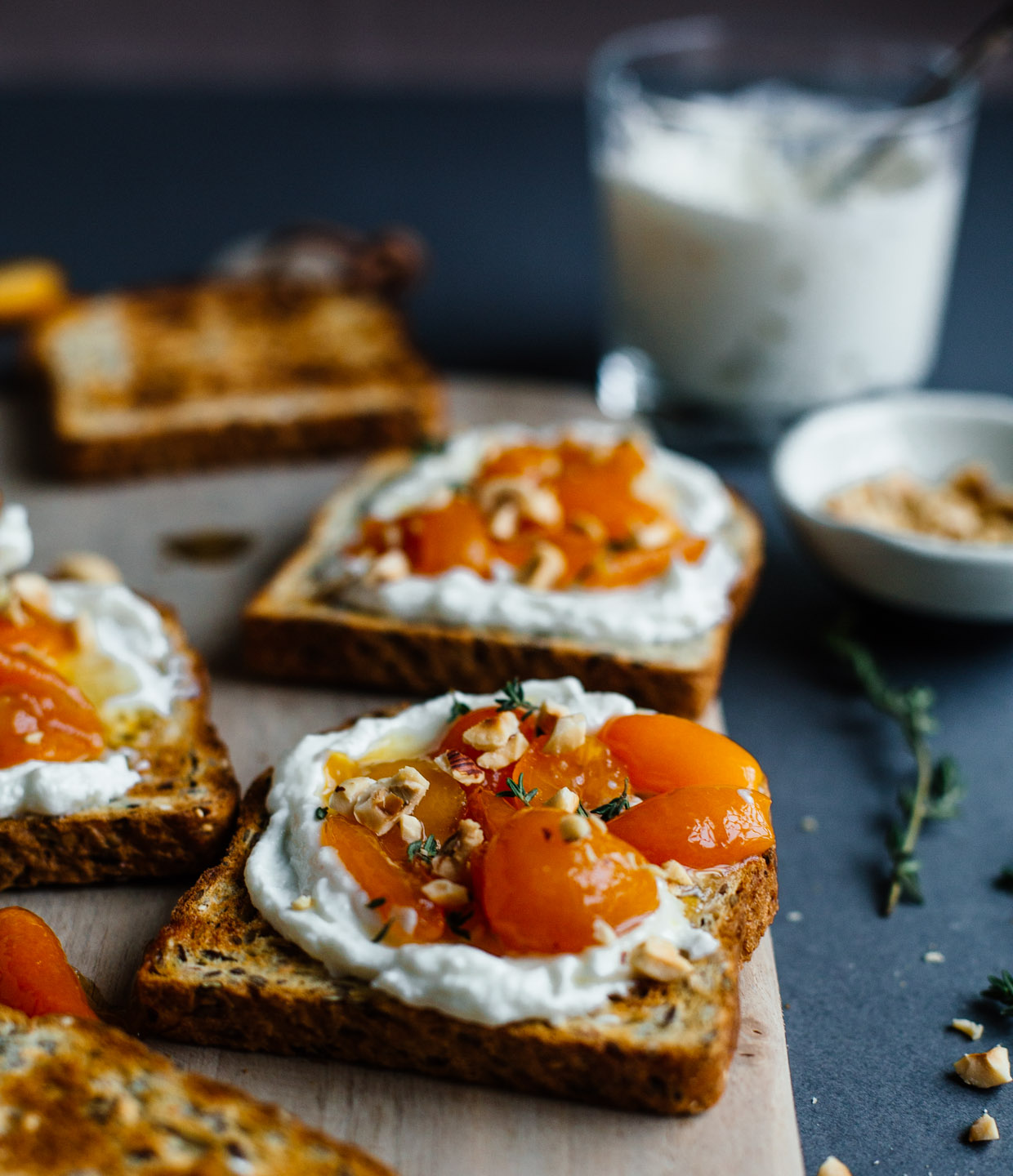 I've mostly had these for breakfast, thought they'd make an excellent sort of spoon dessert, alongside strong coffee. Topping crunchy slices of toast is probably my preferred way to go: the thick, lightly sour yogurt balances the sweetness perfectly, while the fresh thyme adds a subtle aroma and an almost savouriness. And of course, we'll need to add some nuts- right?- and toasted hazelnuts work just a treat here.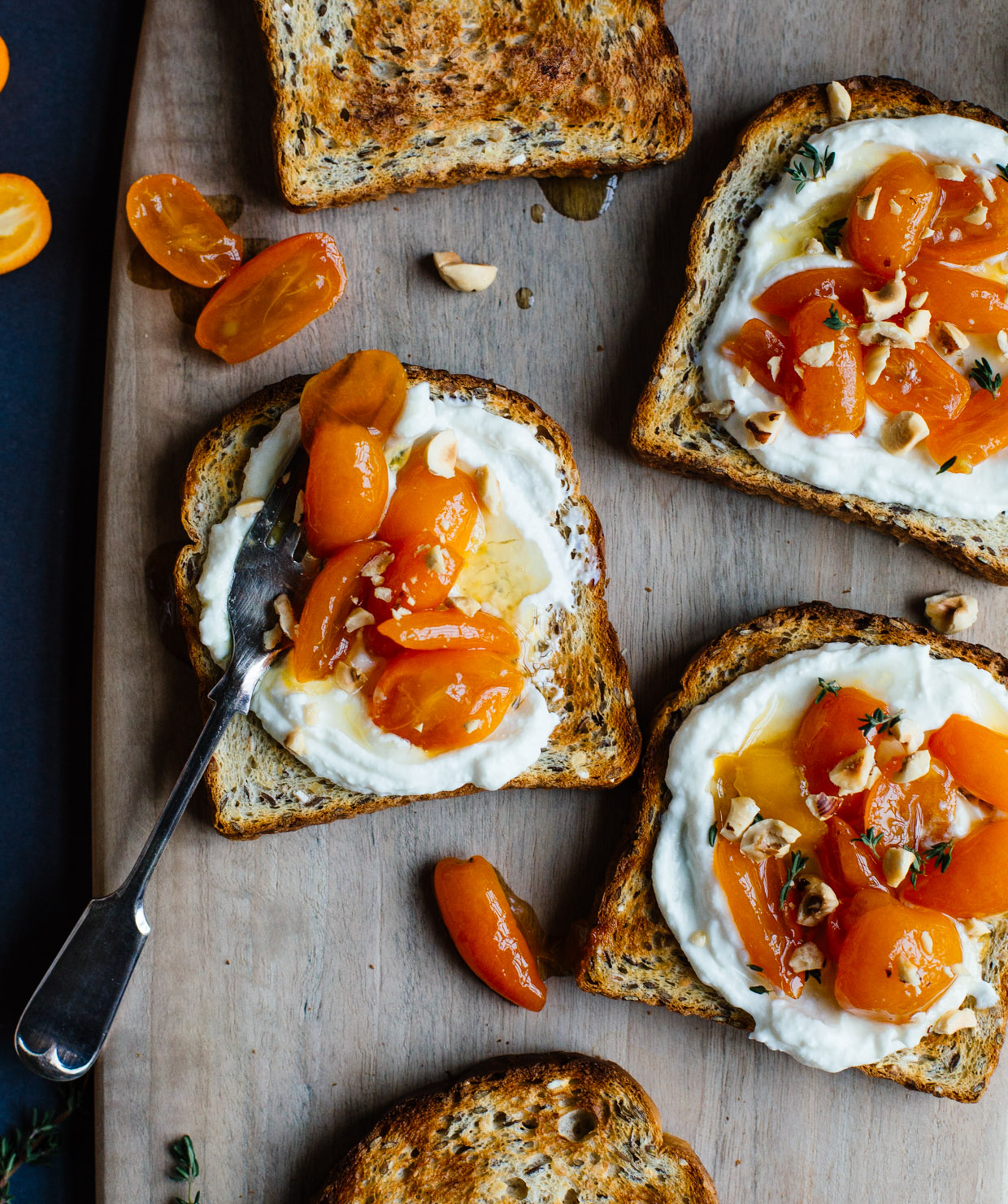 Honeyed kumquats, yogurt & thyme
WHAT
450g kumquats, washed, leaves & stems removed
250ml water
130g runny honey
25g caster sugar
1/2 lemon, rind only
to serve:
1/2 cup half fat Greek yogurt
thyme springs, leaves picked
1/4 cup toasted hazelnuts, roughly chopped
HOW
Cut the kumquats in half lengthways and, using a sharp paring knife, remove the seeds. You may need to dig in a bit, but try not to over handle the fruit, as you want to keep its shape intact.
Bring the water, honey and sugar to a boil, add the fruit and lemon rind, toss well and bring to a boil again. Lower the heat to a simmer and cook until the kumquats are soft and the syrup thickened, about 20-25′.
Remove from the heat and put into sterilised jars. Allow to cool completely, seal and keep in a cool, dark place. Once opened, keep in the fridge for up to a month.