This barley salad with orange, fennel & black olives is great both as a refreshing side dish or a light main for those hectic pre-holiday days.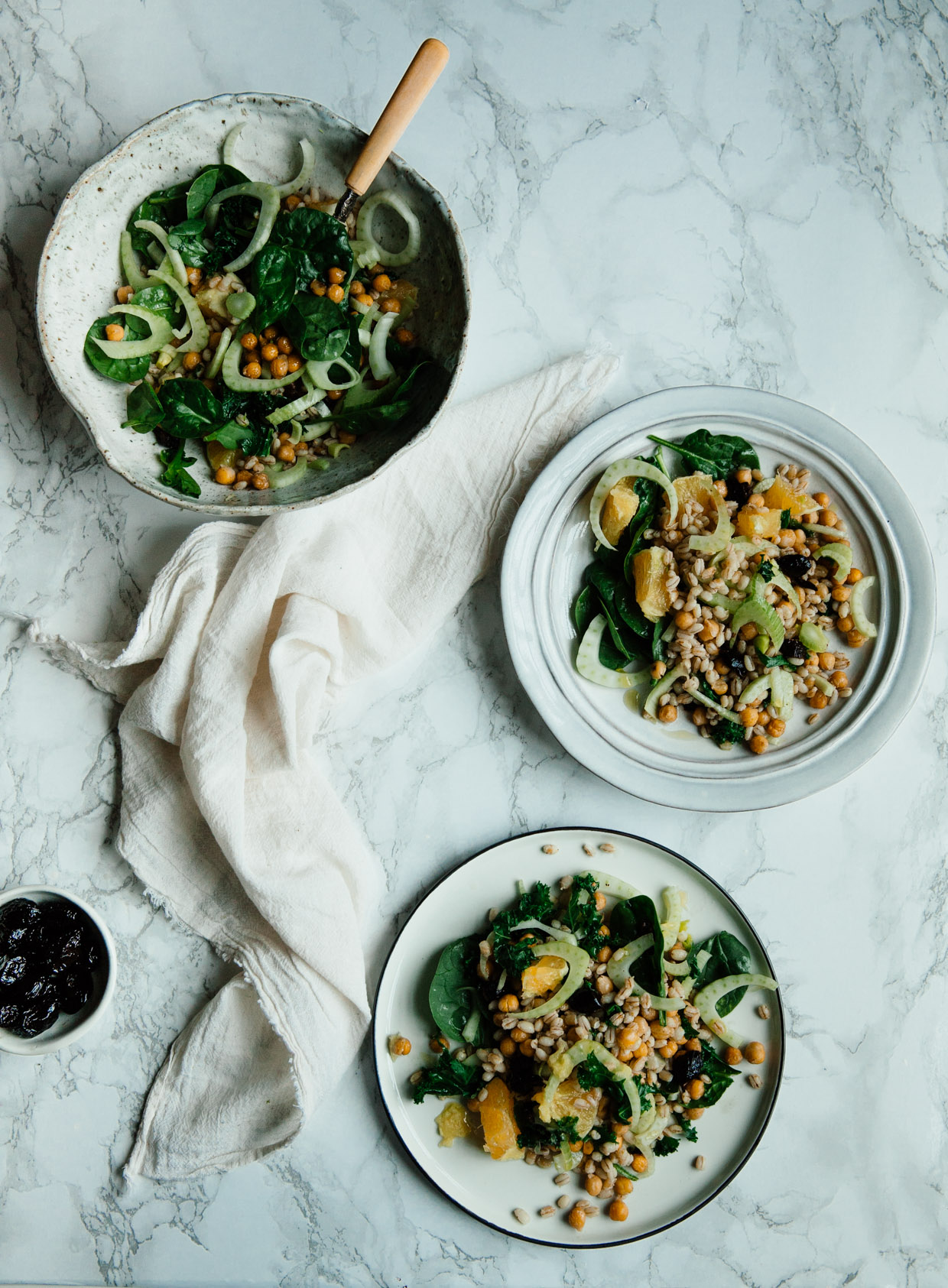 It happens almost every year, around the same time: before the holidays, just when the weather starts getting wintery and the lists of things to do a little longer, as the light each day fades a little earlier. It happens and I am now almost at peace with the almost bizarre combination of feeling at once exhausted and filled with energy. I find myself under the covers often before 11pm, barely able to read more than a page (even though I have this in hand and it is pure pleasure), yet most mornings I get up excitedly, well rested and impatient. There's meals to plan and gifts to be considered (thought I wait till the 1st of December to do any holiday shopping), cards to be made and outfits to be put together for upcoming festivities. I love all of the above and that too, that weird and exhausting and exhilarating amalgam of  energy and slumber.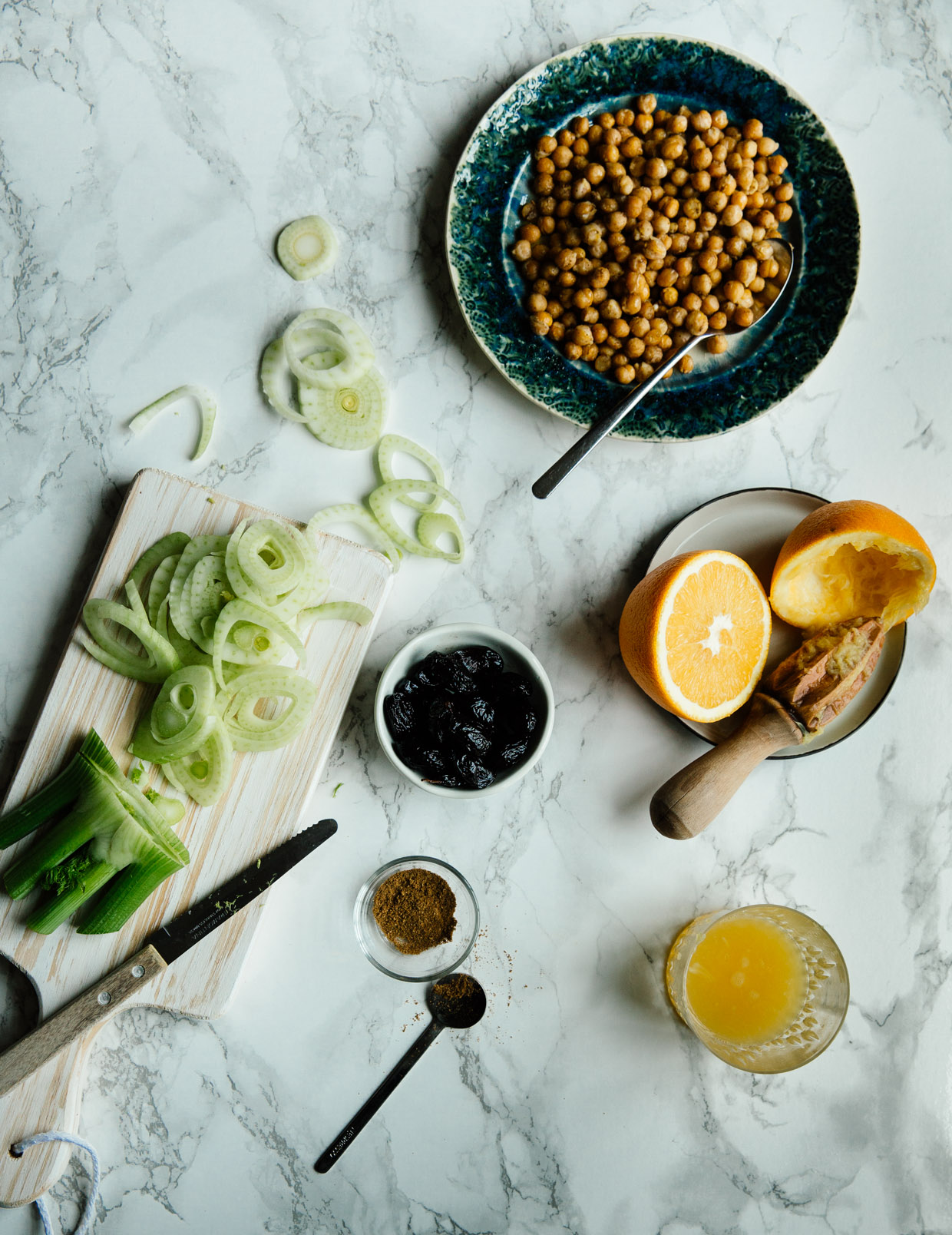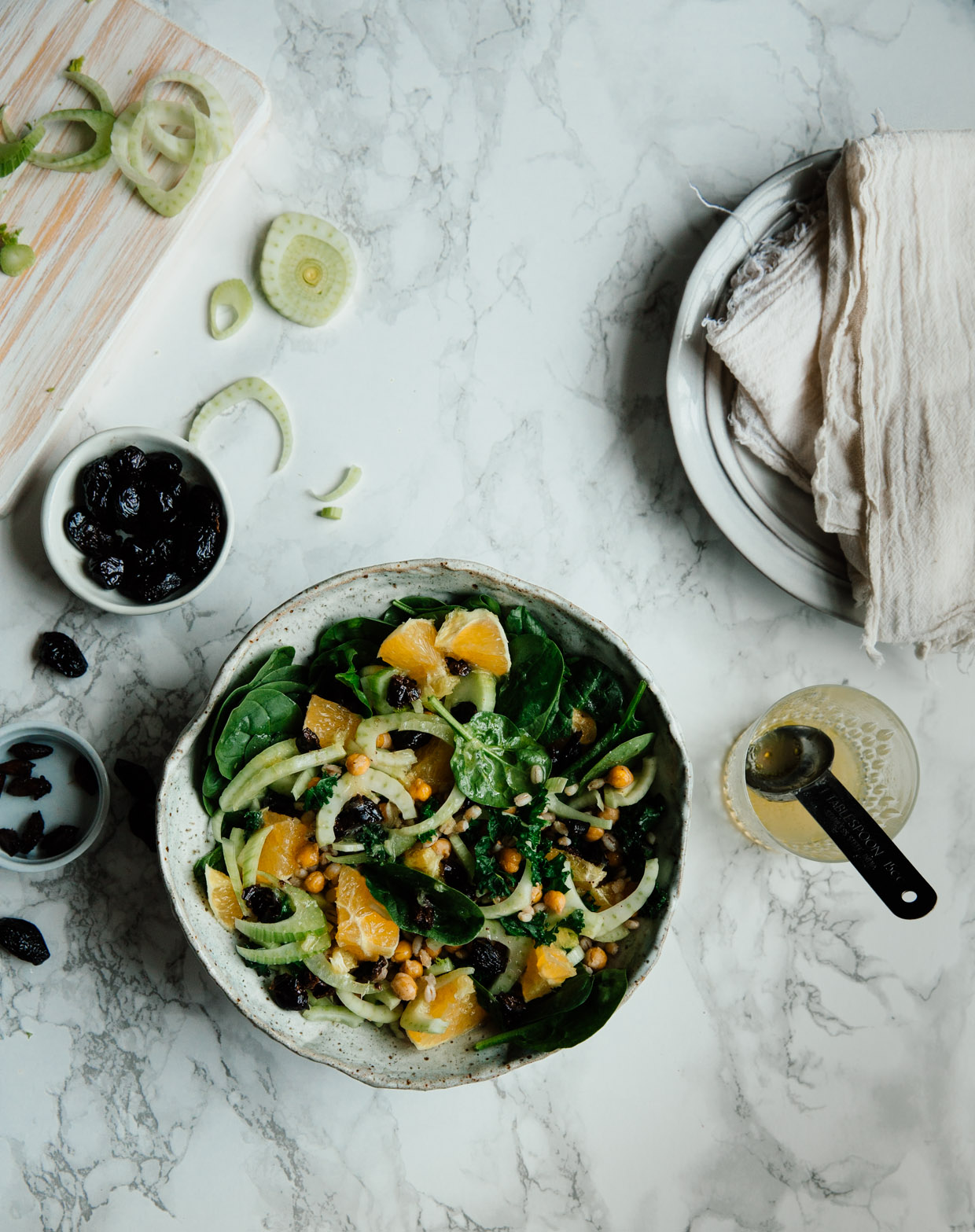 In that light, the meals I gravitate towards most these days are light and bright and flavourful- but mostly light. While I'm testing brownies with all the spices and chorizo popcorn for an upcoming project, the last thing I crave is a heavy meal. While I'm tasting chocolate with Cocoa Runners and trying different versions of cheesy mash, I long for some balance. And it often comes in the form of a very seasonal, very bright and colourful salad: it may be featuring bright and chunky squash or be filled with bold & bright winter colours, but almost always it strikes a balance between being utterly satisfying and filling, without being too heavy or too much.
This barley salad with orange, fennel & black olives, today's bright star, is all of the above: bright in beautiful yellows, oranges and greens thanks to crunchy chickpeas, juicy orange and fresh fennel, kale & spinach. The always so cool fennel is nicely balanced by the warm saltiness of the olives and the barley is the perfect canvas for them all: sturdy and filling but quite muted as well, it holds everything together, along with delicious extra virgin olive oil, a good pinch of salt, a very generous squeeze of orange and a hint of lemon juice too.
Breath in, breath out. 'Tis the season.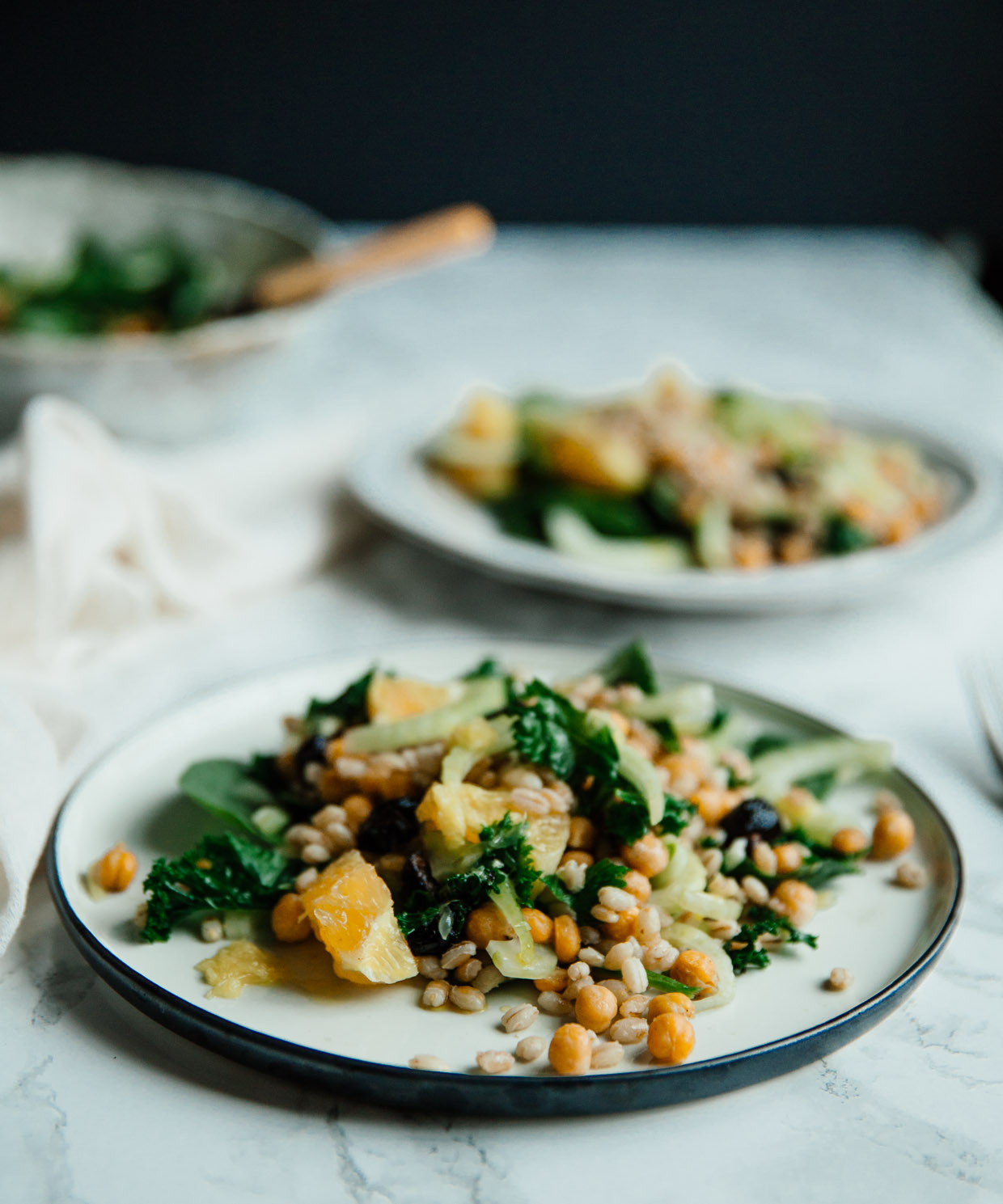 Barley salad with orange, fennel & black olives
WHAT
1 cup barley
1 can chickpeas
4 tablespoons olive oil, divided
sea salt flakes & freshly ground black pepper
1 teaspoon ground garam masala
1 fennel, washed and thinly sliced (harder parts removed)
1 orange, halved
2-3 big handfuls fresh baby spinach or steamed kale, or a combination of the two
zest of 1/3 lemon
sea salt flakes & freshly ground black pepper to finish off
10-12 black olives, pitted and sliced (or left whole) 
HOW
Preheat the oven to 180ºC (180ºC FAN).
To cook the barely, rinse very well under cold water and place in a small pan along with 2 cups of water. Bring to a boil and cook for 10′. Then turn down the heat to low and cook for about 30′, or until soft but not mushy.
Rinse the chickpeas and combine with 2 tablespoons olive oil, the salt, pepper and garam masala and place on a large baking tray.
Roast in the preheated oven for about 20′. Remove from the oven and set aside to cool.
Place the cooked barley on a large serving plate or bowl and top with the crunchy chickpeas, sliced fennel, half of the orange and greens.
Combine the remaining 2 tablespoons of olive oil with the juice of 1/2 orange and 1/3 lemon and drizzle over the salad. Season with sea salt and black pepper to taste, add the sliced (or whole) olives and toss very gently to combine just before serving.