Celebrating Father's Day with a very crunchy and very green fresh pea, watercress & egg tart. Easy, quick, pretty and perfect for all handsome men out there.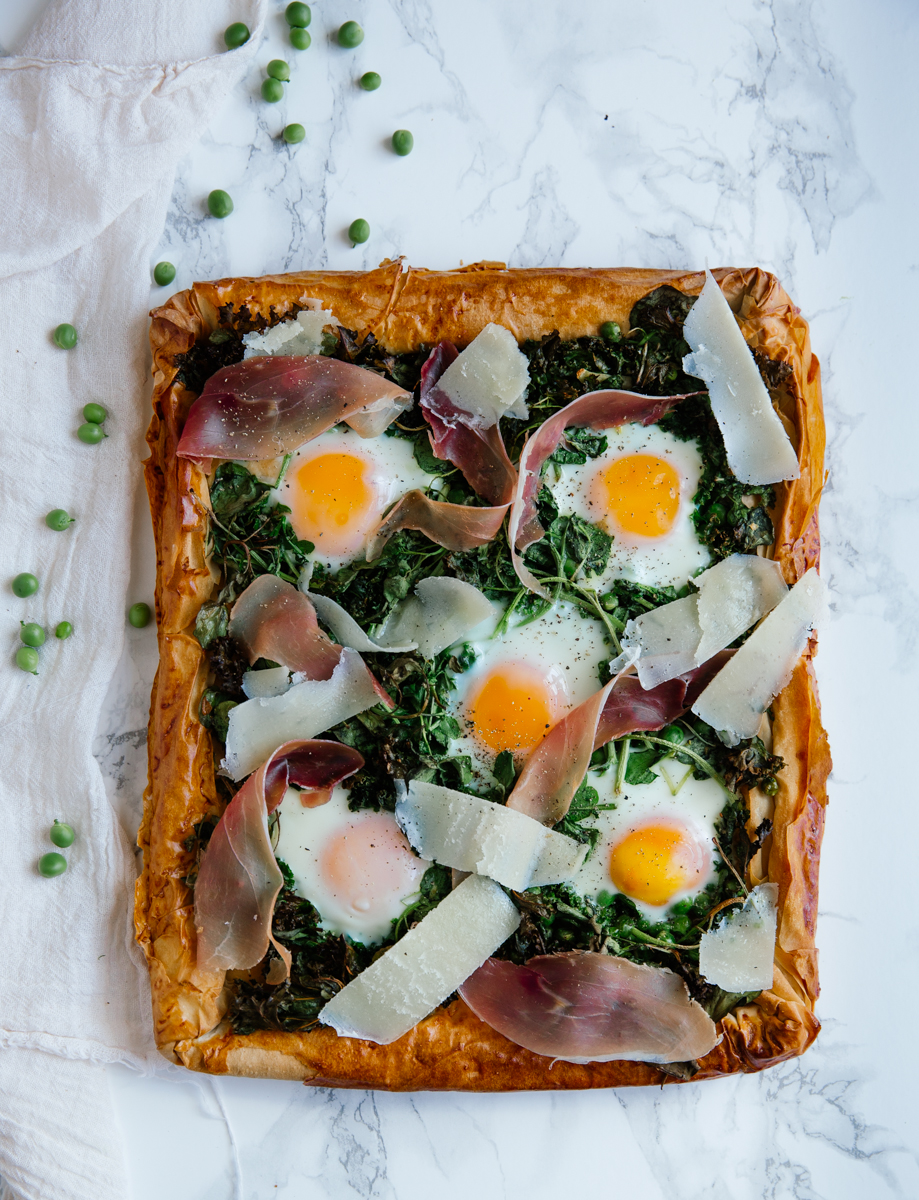 Father's Day always comes at one of my favourite times of the year: it's early summer, the weather is usually, hopefully, enticingly warm in the mornings and perfectly cool at night; work is slowly winding down and summer plans are slowly, or frantically, unfolding. And amongst all that, there's this day and the additional charm it brings with it to celebrate.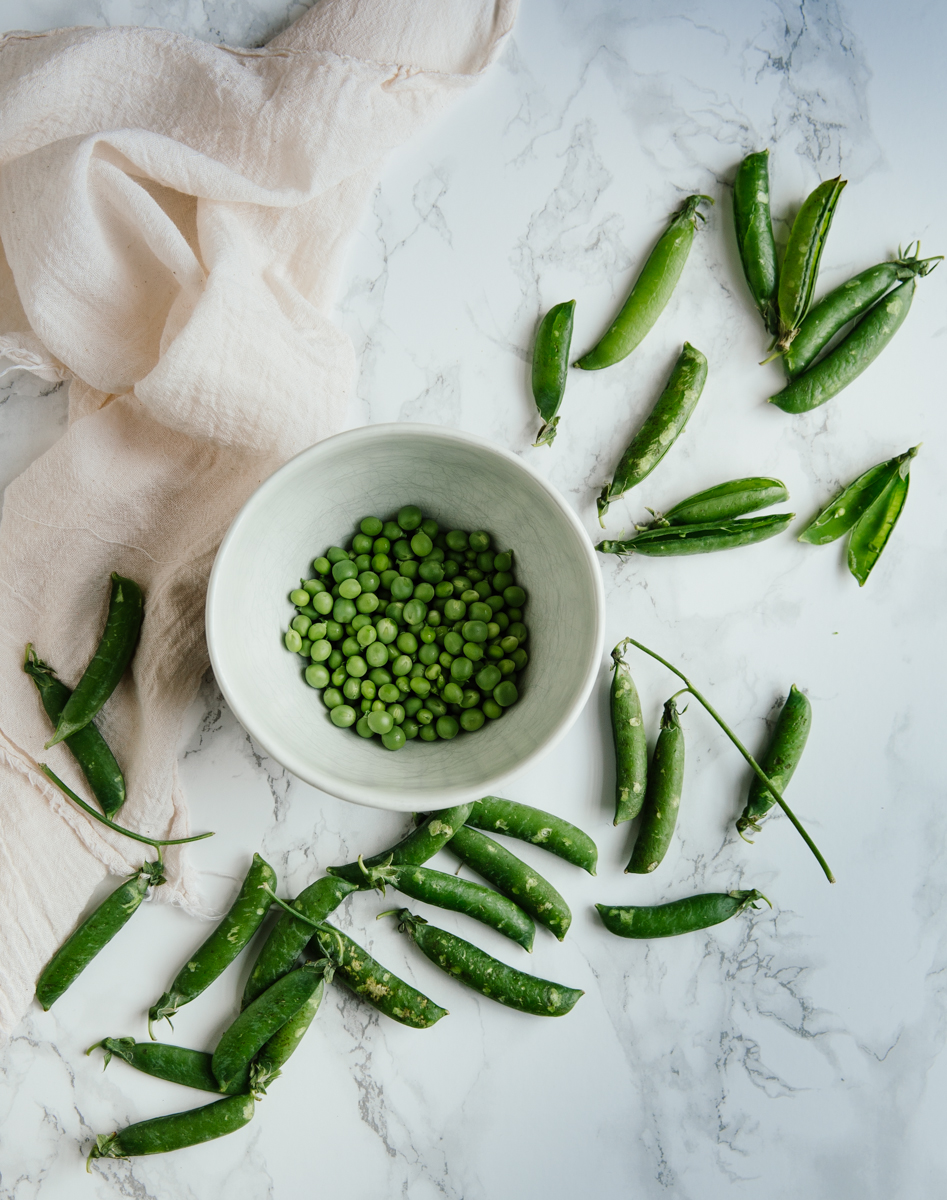 Speaking of charm, my father has it in spades; he is full of charisma, contradictions and, sometimes, himself. He is by far one of the most inspiring, intimidating, tender, stubborn, generous and prolific people I've ever encountered- and he's been that ever since I can remember to this day.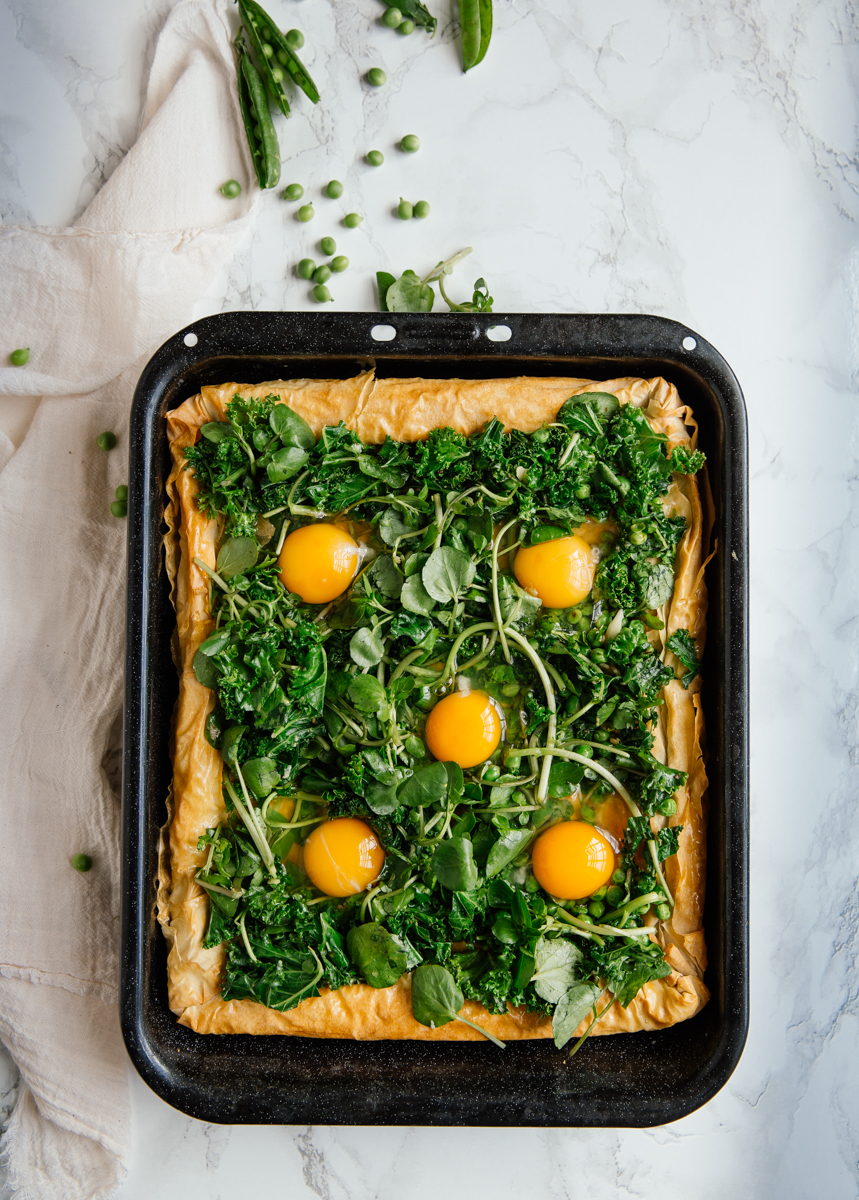 I've only seen my father prepare food oh maybe three times in all these years- and every time there was much too much ado about it; he did however use to bake the most delicious bread and occasionally prepares salads, with tomatoes and cucumbers neatly arranged inside a bowl and then buried under a small mountain of onions. He likes simple, seasonal, fuss-free food; leftovers, olives, figs and fish and chips; and above all eggs.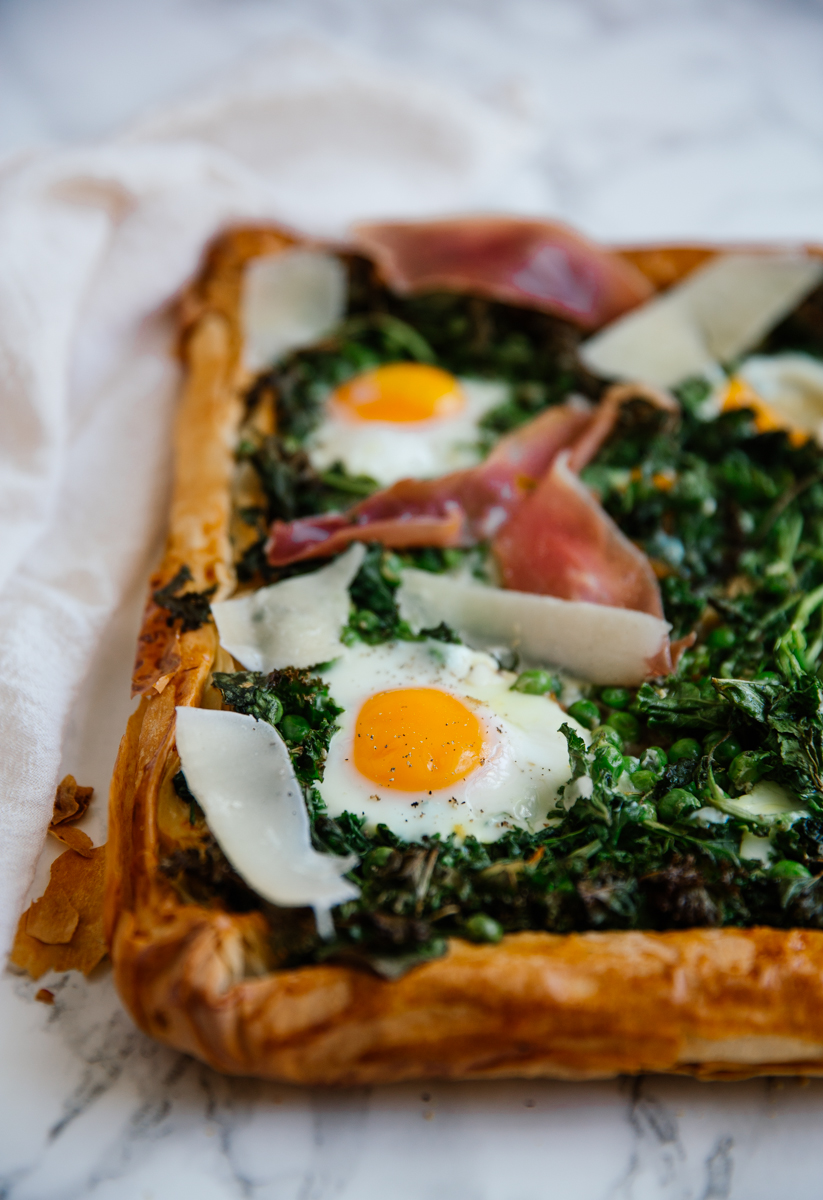 It's no wonder I've made yet another egg dish for this year's Father's Day; and as my dad also LOVES pies, I combined the two, along with two of my favourite seasonal British beauties: fresh crisp peas and peppery watercress. A crunchy bottom and a very green, very slightly charred top, with organic just cooked eggs, nestled neatly between the greens. Serve with torn prosciutto slices and Grana Padano flakes for saltiness, sprinkle generously with freshly ground black pepper and dig in.
And love your dad, always- jokes, silence, stubbornness and all.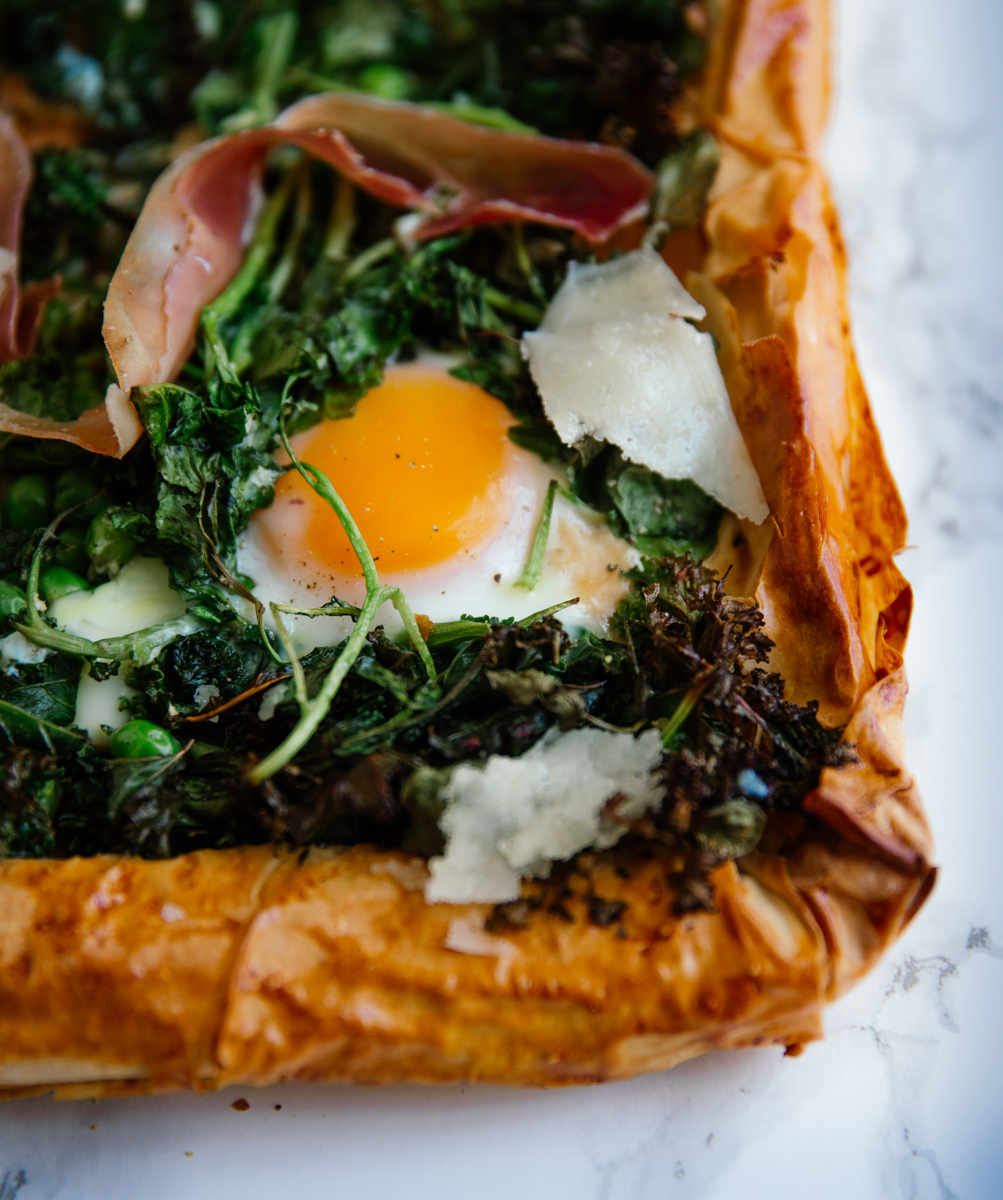 Fresh pea, watercress & egg tart
WHAT
8 phyllo pastry sheets
1 tablespoon polenta
2 tablespoons extra virgin olive oil (for the sheets)
150 gr fresh peas
2 big handfuls kale, washed and patted dry
2 big handfuls watercress, washed and patted dry
2 medium garlic cloves, grated
zest from 1 lemon
sea salt & freshly ground black pepper to taste
2 tablespoons extra virgin olive oil (for the pan)
5 large organic eggs
3-4 prosciutto slices, torn
Grana Padano shavings
additional sea salt, black pepper and olive oil to taste
HOW
Preheat the oven to 180ºC (160ºC); grease a pan and line it with parchment paper.
Take the phyllo sheets out of the fridge and cover with a damp tea-towel while you work with them, so they don't dry out. Line the first sheet on the pan, drip a pastry brush in the olive oil and flick lightly all over the sheet and then sprinkle with a little polenta. Repeat with the seven remaining sheets.
When you've used them all, tuck the edges inwards to create a border for your tart. Prick the sheets with a fork and bake in the preheated oven for 10′, until crunchy and golden brown.
While you allow the pastry to cool out of the oven, prepare the filling: heat a large non-stick pan over medium heat and add the grated garlic, kale, watercress, lemon zest and salt and pepper. When the leaves are lightly cooked and the garlic fragrant and soft (about 10′), remove from the heat and drizzle with the olive oil.
Spoon onto the cooked pastry, distribute evenly and make five wells for the eggs. Crack the eggs first into a small bowl and then into the well, to catch shell pieces- if any.
Sprinkle with sea salt and freshly ground black pepper and bake for about 10′, until the whites are just set.
Remove from the oven, top with the prosciutto slices and cheese shavings, adjust the seasoning if necessary and serve.