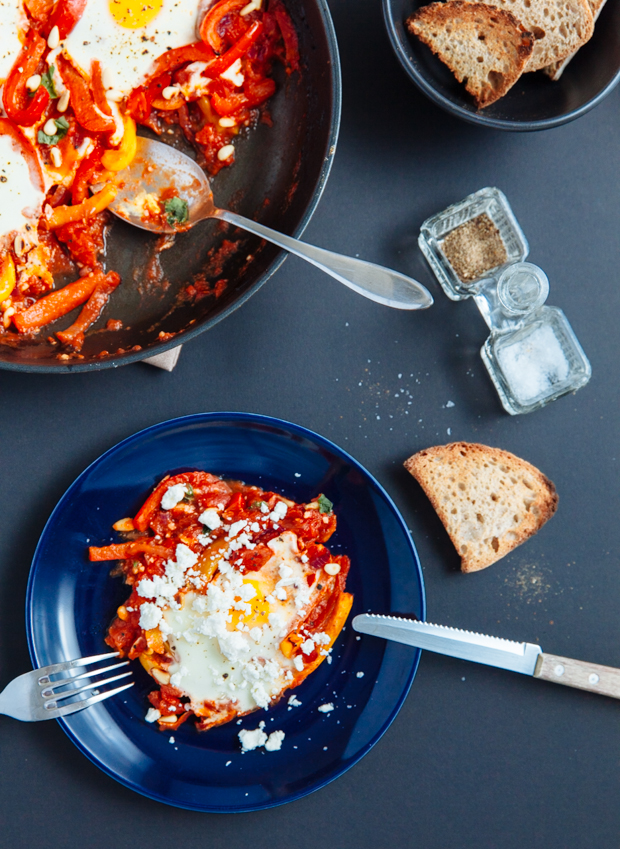 My father is quite rarely mentioned here. He almost never talks about food- he barely discusses the recipes I share on the blog, although he's told me over and over again that he likes the stories I write. Sometimes, he also comments on mistakes he finds- which doesn't surprise me at all. When I was in College, I had once written him a super heartfelt, emotional letter, to which he replied in an equally heartfelt and emotional manner, while also enclosing in the envelope my own letter, with corrections on it.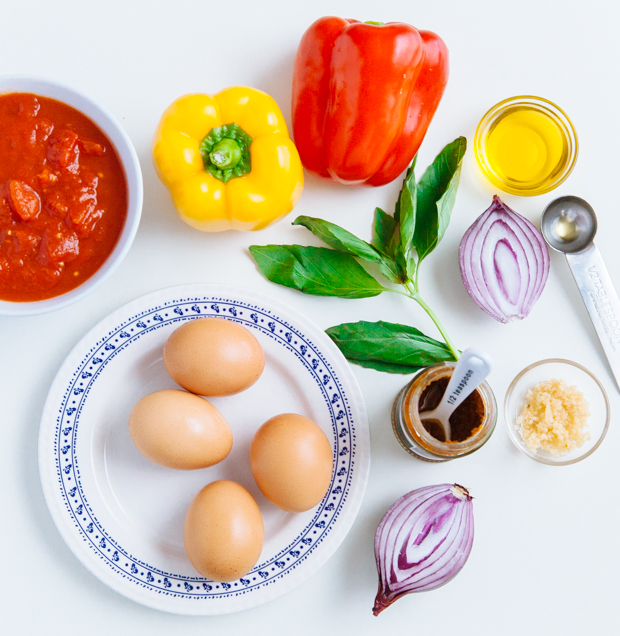 That's my dad. Never talks about food, money, the weather, never ever gossips (much to the disappointment of my mom, who loves gossip almost as much as she loves dessert), never ever makes small talk. When we talk on the phone, we exclusively discuss politics and books. He loves history, he's equally sarcastic and optimistic about current political affairs and lives for books. He loves to read, writes beautifully and contributes weekly to the main decoration of the house I grew up in: rows and rows and rows of books.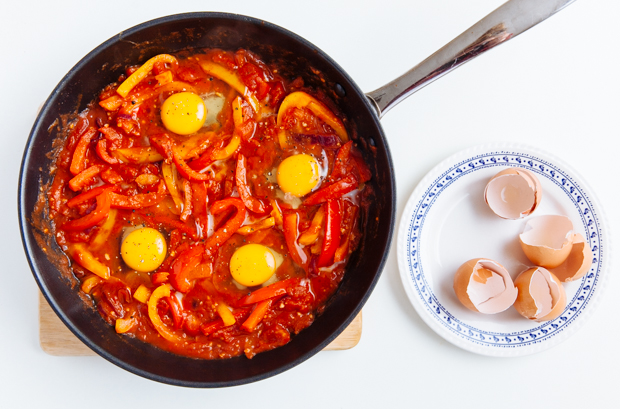 He is a difficult person; stubborn and ironic, oftentimes harsh, abrupt and hurtful. He's also brilliant and creative, very ballsy and hard working, emotional, generous and mostly exceptionally polite. He inspires and annoys those around him in almost equal measures and reserves for my mom, the love of his life, both his most tender and tiring sides.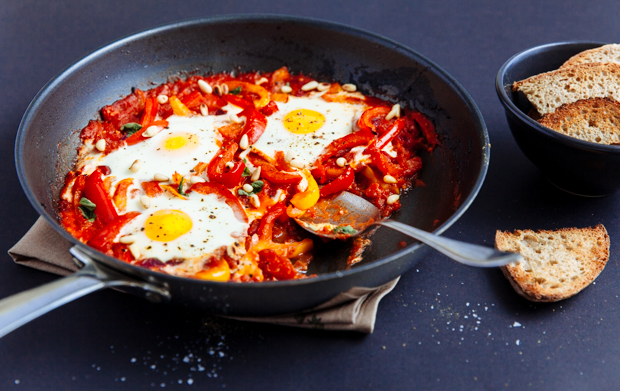 Today's dish is for him: it's simple and colourful, tasty and wholesome, just like the food he likes to eat. Eggs are his favourite (I'm confident he could live on them alone if he did any cooking, but he's unfortunately at the mercy of my mom, who loathes eggs), and so is harissa, which he adds to almost everything he eats.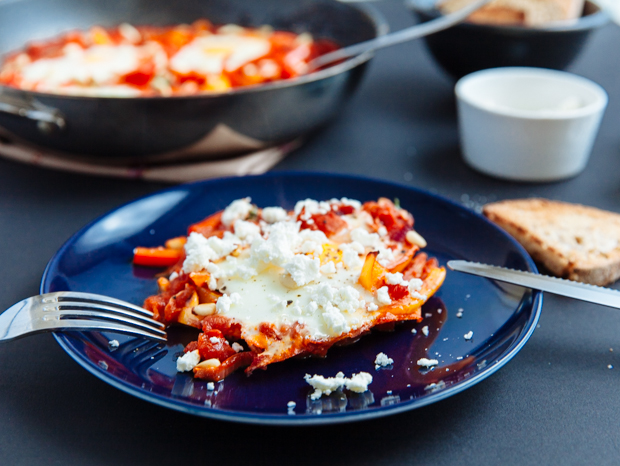 Eggs in a simple tomato and basil sauce is probably the single dish my father loves to talk about, as it reminds him of the dish one of his closest friends- a great cook and brilliant man, who passed away too soon- used to make.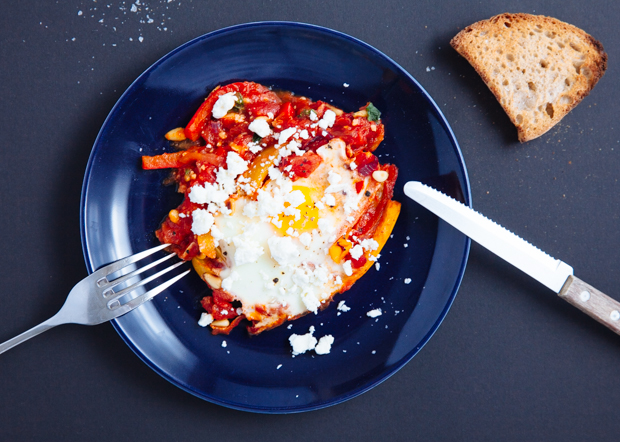 Eggs and harissa for my dad who, growing up, I thought was the most interesting and inspiring man I knew. All the eggs in the world for him, because I still think the exact same thing, all the time, after all these years.
INGREDIENTS
2 tablespoons olive oil
1 small red onion, thinly sliced
1 red bell pepper, thinly slices
1 yellow bell pepper, thinly sliced
1/2 tablespoon minced garlic
1 can chopped tomatoes
1/2 teaspoon harissa paste
1/4 teaspoon honey
4 medium eggs
to serve: basil leaves, torn
1/3 cup feta crumbles
Preheat the oven to 200C (180C air).
Heat the olive oil in a large pan over medium high heat and cook the onion for a few minutes, until soft; add the sliced peppers, cook for 5′, then add the minced garlic and cook for another minute or so.
Combine the harissa paste with the chopped tomatoes and add to the pan; turn the heat down to a low simmer, stir in the honey, season generously with sea salt flakes and cook until the sauce has thickened, about 10′.
Remove from the stove, make 4 holes in the sauce and crack one egg in each.
Transfer the pan in the oven and cook for 10-12′, until the egg whites are just set, but the yolks remain quite liquid.
Remove from the oven, scatter the torn basil leaves on top and serve hot with feta crumbles and sliced bread.