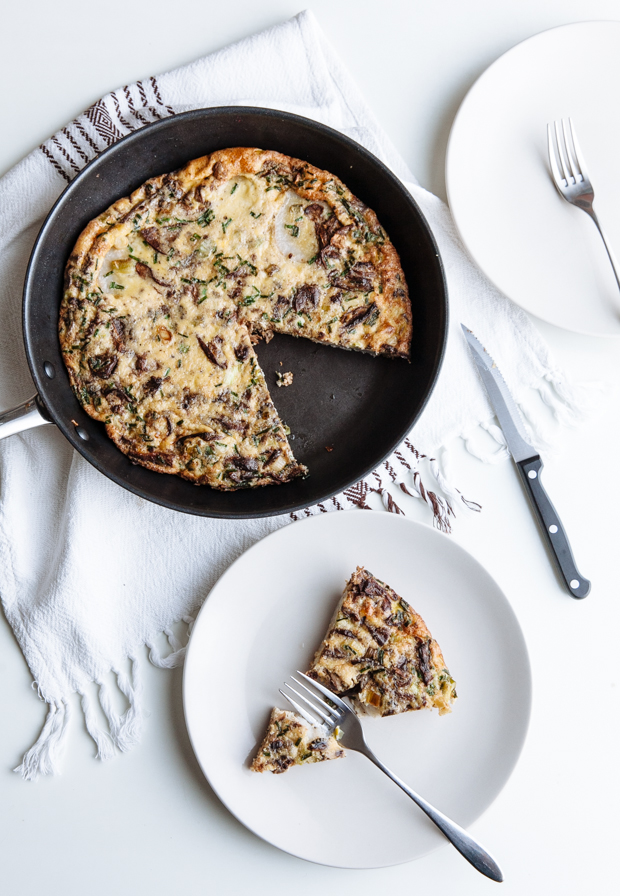 Before I walk you through today's delicious porcini, eddoe & chive frittata, let me first provide some context: one of my favourite culinary discoveries is the versatility of eggs. Yup, plain ol' eggs. I know, I know, big whoop for many of you already familiar with this magical wonderland. But for someone who's grown up with a father who doesn't cook and is absolutely, madly, forever and ever in love with eggs and a mother who is a nothing short of a miracle worker in the kitchen and despises eggs absolutely, madly and for ever, things can get a little tricky – egg-wise.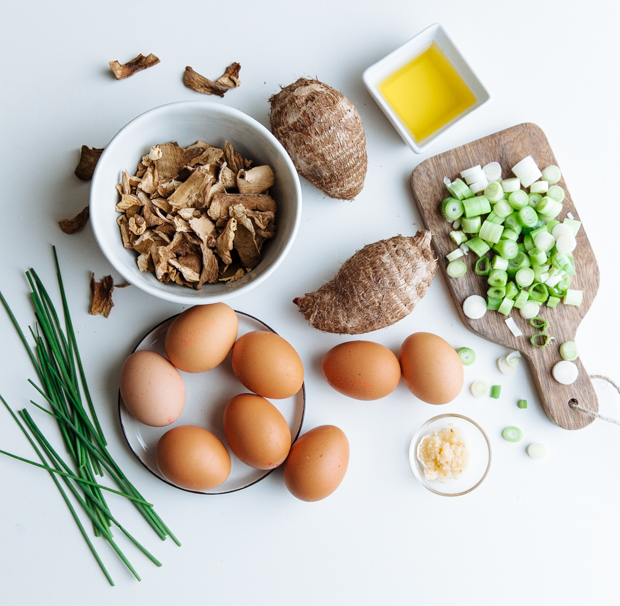 For many years, I knew eggs only to be used in recipes in an assisting capacity. When making an appearance on their own, they'd almost always end up looking like a mess. Like, literally: my mom only made one egg-centered dish, her own non-enthusiastic interpretation of an omelette, which  was basically eggs scrambled hastily with random bits and bobs thrown in there. So when I started cooking, eggs were nowhere to be found. I didn't buy them, didn't cook with them, didn't eat them. Like almost never. And then I moved to London. And became almost, kinda, a little obsessed with eggs.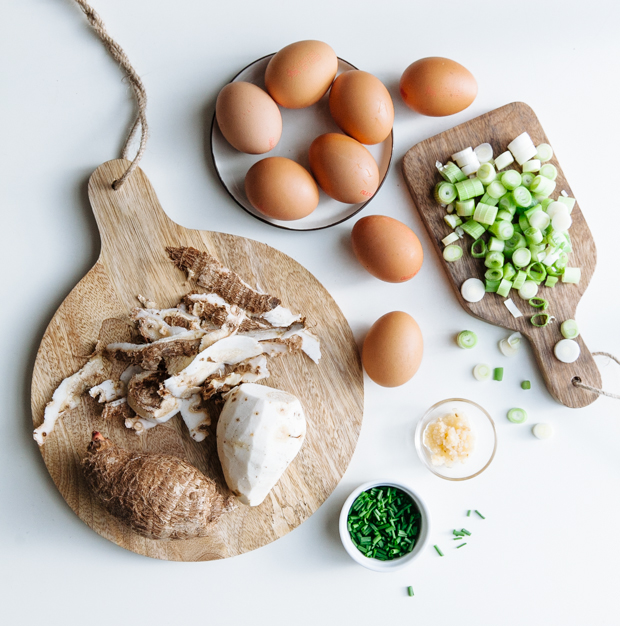 Oh happy day! Discovering all the beautiful dishes one can make with eggs (deviled! baked!), along with all the magical ways in which eggs can transform a recipe was a such a revelation to me- no joke! I was hooked- much to my dad's delight (and my mom's indifference) and nowadays there's absolutely no way in hell there won't be eggs in the fridge and on the plate at least a couple times a week. Poached eggs are usually my go to, but I've also been really getting into omelettes and frittatas.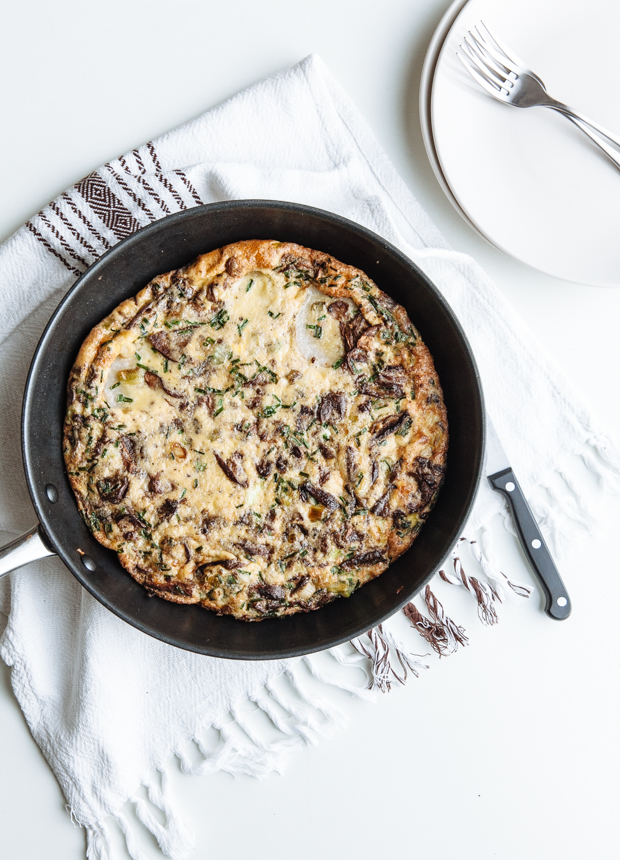 The former I keep for casual, everyday meals, whereas frittatas tend to appear when I'm craving a fluffier, more filling dish, featuring a number of delicious extras. Here, I've used porcini and eddoes, a combination which came together quite randomly, but has quickly become a favourite one. Porcinis are always a treat and can completely transform any dish, from a simple risotto, to an all butter puff pastry pie; eddoes on the other hand are quite a recent discovery. I first picked them a few months back intrigued by their peculiar appearance and once I used them, I was hooked. Raw, they're a little slimy, but when cooked, they are quite similar to a potato in texture and tasty, but with a slightly sweeter, nuttier taste.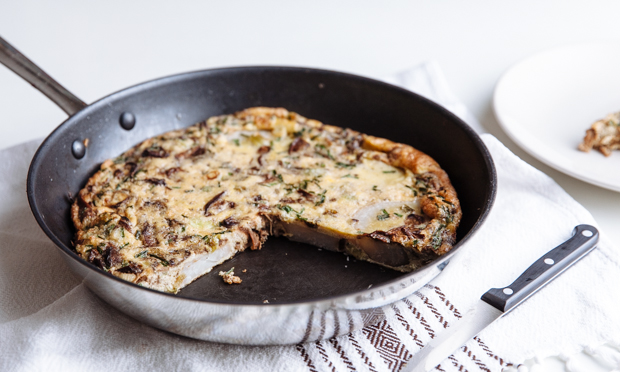 As such, they complement the intense procini flavour perfectly. Along with the addition of fresh green onions, some garlic and lots of minced chives, and combined with a whole lotta eggs, they make for a delicious frittata, salty and only very slightly sweet, fluffy and pretty. Yay for eggs, the gift that keeps on giving!
INGREDIENTS
500 gr porcini
3 large eddoes
2 tablespoons olive oil, divided
3 large spring onions, roughly chopped
1 1/2 teaspoon minced garlic
2 1/2 tablespoons chives, minced
8 large eggs
2 tablespoons milk
sea salt and freshly ground pepper to taste
Soak the porcini in plenty of room temperature water for 30′.
Peel the eddoes with a small sharp knife and run under plenty of water. Slice quite thickly and place in a pot of salted boiling water. Boil until just fork tender- about 12′, drain and set aside.
Preheat the oven to 180C (160C for air).
Place the eggs in a large bowl and beat well. Add sea salt flakes to taste and plenty of freshly ground black pepper and set aside.
Warm a large non stick frying pan over medium-high heat and add 1 tablespoon of the olive oil. Fry the onions for about 5′, until soft and add the minced garlic. Fry for another 2′, add the chives and add to the beaten eggs, mixing to combine.
Drain the porcini, reserving their water* and run them under plenty of cold water. Strain and gently pat dry.
Add the remaining tablespoon of olive oil to the pan and then give the eddoes a quick fry, for about 2′ on each side, until golden.
Pour the beaten eggs & onions over the eddoes and place in the preheated oven. Cook for 20′, until the eggs are cooked, golden brown and puffed.
Carefully remove from the oven, allow to cook slightly and serve.
*You can use the leftover water from the porcini in risottos, sauces or to make stock. Before you use it (or store in the fridge for future use), strain through a coffee filter or kitchen towel to get rid of any leftover grit.