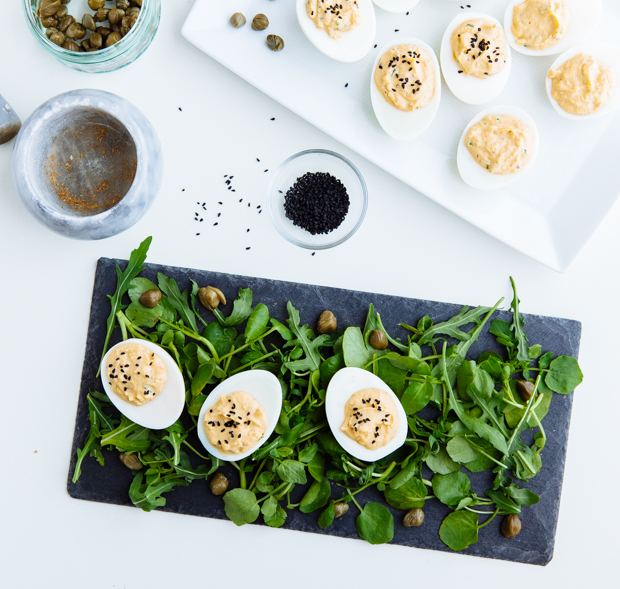 I have a love and hate relationship with eggs; up until a few years ago, it was just a hate one. Any eggs I'd buy would always go bad- the only good thing that came out of that egg-hating period was that I mastered the technique of how to know if your eggs are still edible, after all the time they've spent in the fridge, looked down on and condemned to obscurity. I have this down to a t.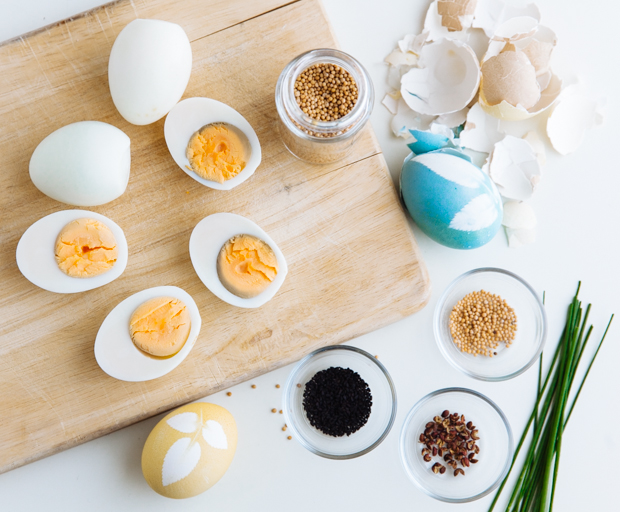 And then something happened; brunch happened. And I realised I had to give eggs a chance; and by doing so, I was introduced to the magical world of egg possibilities: fried, sunny side up, scrambled, poached, omelettes, you name it, I'd try them all. Hard boiled have always been my least favourite ones- it's not so much the flavour that didn't impress me (although a hard boiled eggs is really not the most exciting taste you'll ever come across), but rather the whole blandness of 'em. Not much texture, not much pizzazz, not much really going on. But. But… deviled eggs is a whole other ball game. And a super simple, customisable and delicious one at that.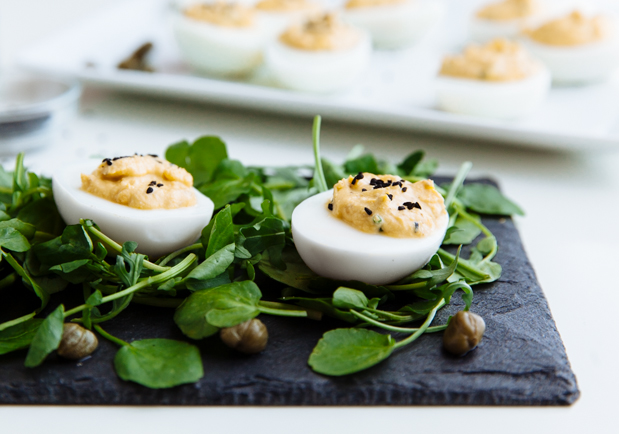 I discovered deviled eggs a couple years back, during an Easter holiday, with just too many hard boiled, beautiful painted eggs in hard (around that same time, I also discovered the beauty of homemade chocolate sauce from leftover chocolate eggs; that's when I also discovered my inability to actually manage to have any leftover chocolate eggs in hand to make said sauce, but that's neither here, nor there). This year, with a dozen of these pretty ones sitting in the fridge, there could not be a better time for a new version of deviled eggs. You have your average, non fancy at all hard boiled eggs; you have your spices, fresh herbs, some mayonnaise (or yogurt, which I always prefer, even though I love mayonnaise) and mustard, a good pinch of seasoning and some acidity. If you've got all these, you have a super delicious, even exciting eggy snack. How about that?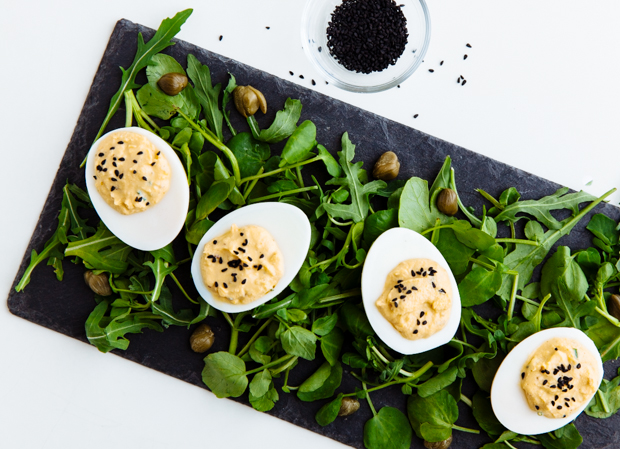 Bright yolks are mixed with Greek yogurt, fragrant and spicy sichuan peppercorns and mustard seeds, beautiful fresh chives and a splash of vinegar; the soft mixture is spooned into the sliced egg whites, sprinkled with nigella seeds and served with watercress and rocket leaves and a good handful of capers for an extra kick of acid. Eat, repeat, love your eggs.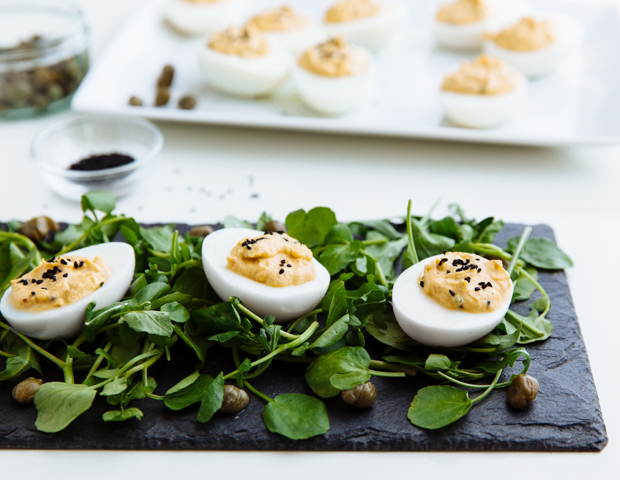 INGREDIENTS (for 6 eggs)
6 hard boiled eggs
1/4 teaspoon sichuan peppercorns
1/2 teaspoon mustard seeds
3 tablespoons half-fat Greek yogurt
1 tablespoon chives, thinly chopped
a splash of vinegar (about 1/2 teaspoon)
salt to taste
to garnish: nigella seeds
to serve: watercress and rocket leaves, capers
Place the sichuan peppercorns and mustard seeds in a small pan and warm over medium heat until fragrant, about 3'. Remove from the stove and let cool. Crush and set aside.
Peel the eggs and cut them vertically; carefully, scoop the yolks out of the whites into a small bowl, wiping your knife in between. Wipe the egg whites clean of any leftover yolks and set aside.
Add the yogurt to the yolks and mash with a fork, until smooth; add the crushed peppercorns and mustard seeds and chopped chives and mix well. Add salt and a splash of vinegar and spoon carefully back into the empty egg whites (you can also do this by adding the mixture into a piping bag).
Garnish with nigella seeds and a serve with fresh watercress and rocket leaves and capers.