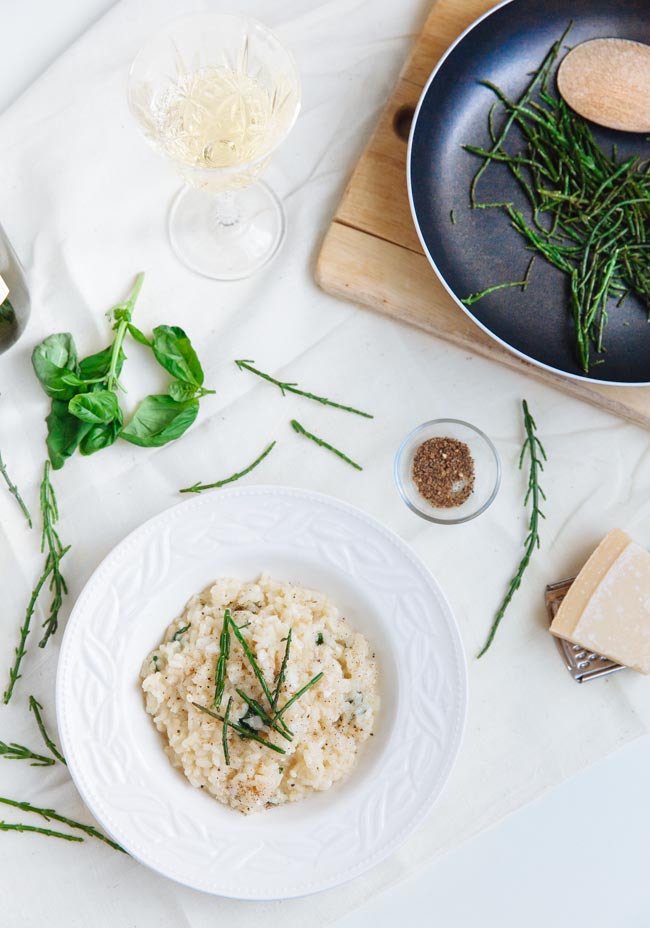 I don't cook risotto very often, which is weird, considering how much I love it. A few years ago, I used to make it almost once a week. It was my Saturday dish, the main reason I'd wake up in a moderately good mood at 7am for 5 years straight, go teach and then come back, beat yet anxious to cook and get lost in what I considered then the absolute comfort food: delicate, buttery carbs, a couple vegetables, lots of black pepper and a hefty dose of parmesan. I still consider it utterly comforting and delicious. I just don't make it as often. Still, when I eat out and I spot risotto on a menu, it's almost always what I'll order. And every time, right before that first bite, I long for the familiarity and comfortness, that sense of simple, unpretentious deliciousness.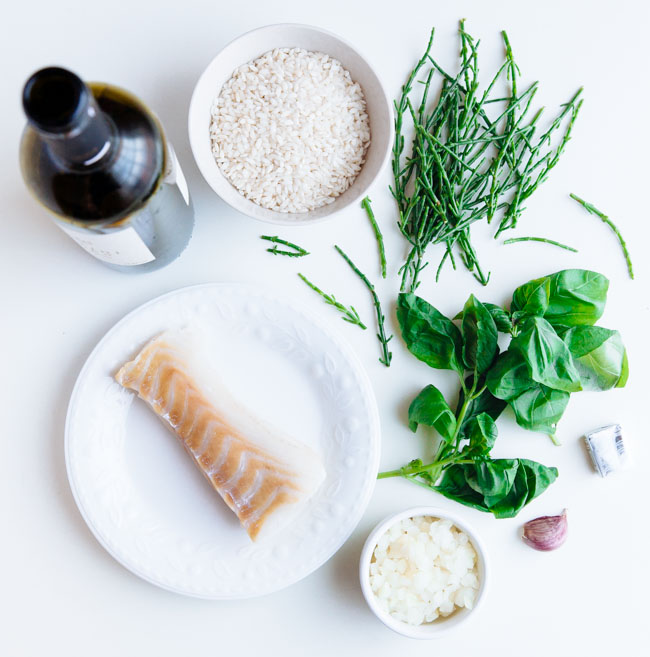 My favourite version is as plain as it gets. This cod, samphire & basil risotto is a close second: few ingredients, tons of taste, perfect texture. I've had it once, at my friends Yuko and Murat's place. Murat and I used to be in the same MA and we quickly became friends. Soon after, I met his beautiful girlfriend, Yuko. When we realised we lived only a couple blocks away, dinners at each other's house became an almost weekly ritual. Both were fantastic cooks, but Yuko's risotto stole my heart the first and only time I had it. After all these years, I remember how blown away I was by its simple yet powerful taste. I had immediately asked for the recipe and it's the one I've used here, with only a few tweaks and additions.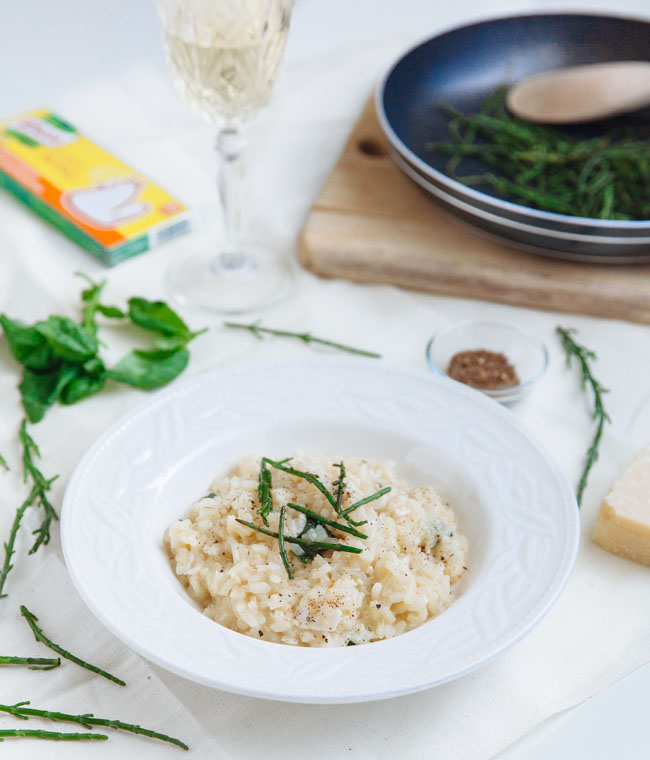 Arborio, onion and garlic; a couple knobs of butter, white wine and delicious chicken stock- all the familiar, humble ingredients of risotto. And then a couple extras, to complement our beautiful creamy and sticky rice: one small fillet of good quality white fish, lots of fresh basil for tons of aroma and a good handful or samphire. That last ingredient is not in the original recipe, but I couldn't help but adding it. I absolutely love samphire: its slightly crunchy texture and subtle taste of the sea reminds me of summers spent with my aunt and uncle at their island house, going on boat rides, stopping at small hidden beaches and cutting samphire straight from the rocks, quickly rinsing them at home and eating them on their own or in salads.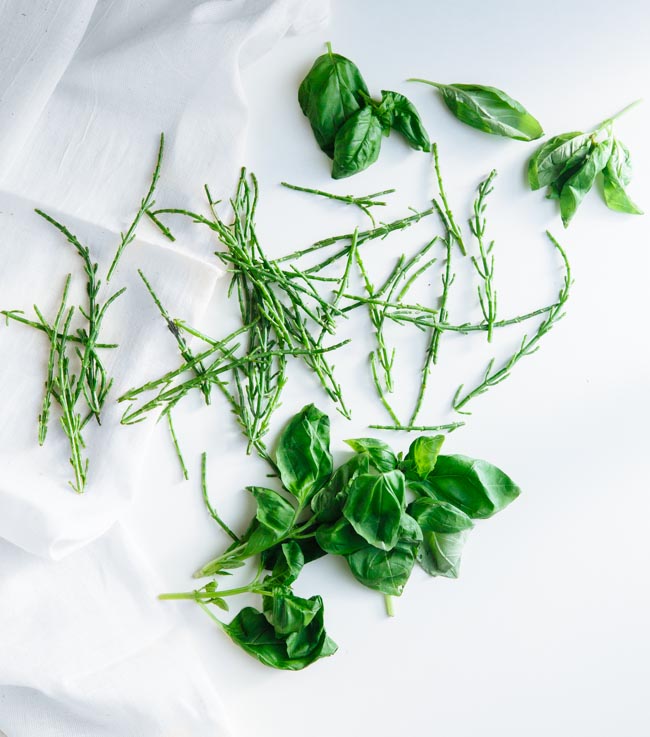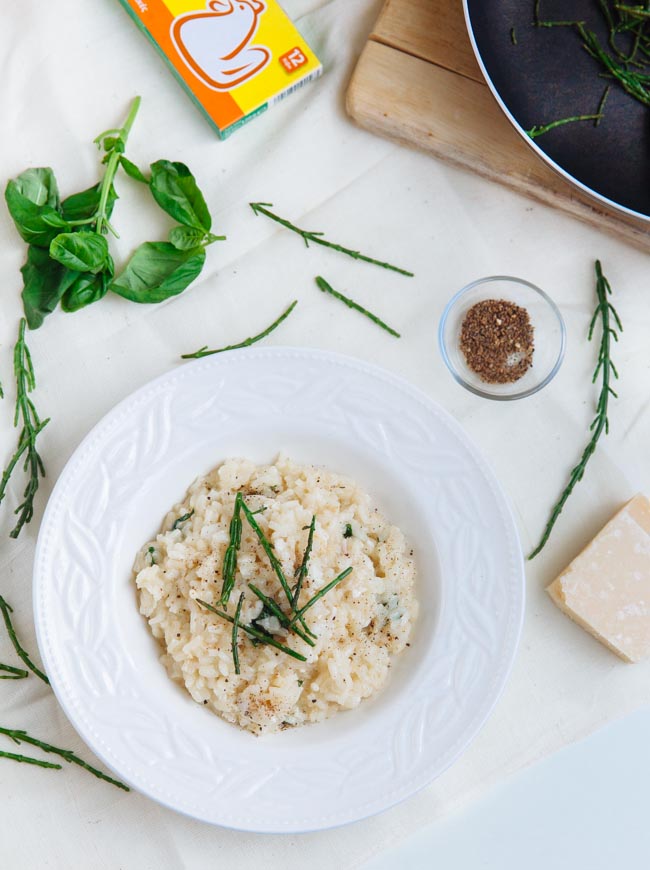 It's perfect here too, adding to the flavour of the fish and giving the dish a unique saltiness and subtle sourness, pairfect with the earthy, buttery and wholesome rice. Top with parmesan cheese and freshly ground black pepper and breath. It's Monday but as long as there's risotto, it will be OK.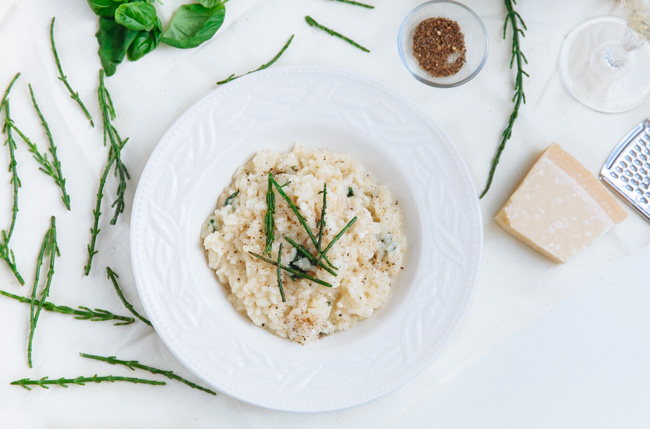 Cod, samphire & basil risotto
1/2 cup samphire leaves, washed and dried
1  tablespoon butter
1 small cod fillet
1 tablespoon extra virgin olive oil
1 medium onion, chopped
1 garlic clove, minced
1 cup white wine
600 ml Knorr chicken stock*
1 cup arborio rice
20 basil leaves, torn
1/4 cup grated parmesan
freshly ground black pepper
Heat the olive oil in a small pan over high heat; when it is melted and sizzling, add the samphire leaves and cook until crispy and aromatic- about 4'.
Heat a medium non-stick pan over high heat and add the samphire and cook until crispy- about 5. Remove and set aside.
Reduce the heat to medium, add a tablespoon of butter and cook the fish until lightly brown- about 5'.
Add the wine and cook for another 5'. Remove the fish, ret aside and break into small chunks.
Add the stock into the pan and let it simmer along with the wine.
In large frying pan, add the olive oil and cook the onion and garlic until soft.
Add the rice and cook until almost transparent- about 7'.
Add 1/4 of the stock & wine and stir gently until the liquid is absorbed.
Keep adding the remaining liquid in equal doses, stirring in between until the liquid is absorbed each time. Along with the last pour of the liquid, add the fish and stir gently.
When the liquid is almost absorbed, add the torn basil, parmesan and a good dose of freshly ground black pepper.
Serve immediately with bits of the crispy samphire on top and extra parmesan if needed.
*As for this post, Knorr is used as part of the Vima Gourmet Food Blog Awards. The stock is delicious and all opinions are my own.