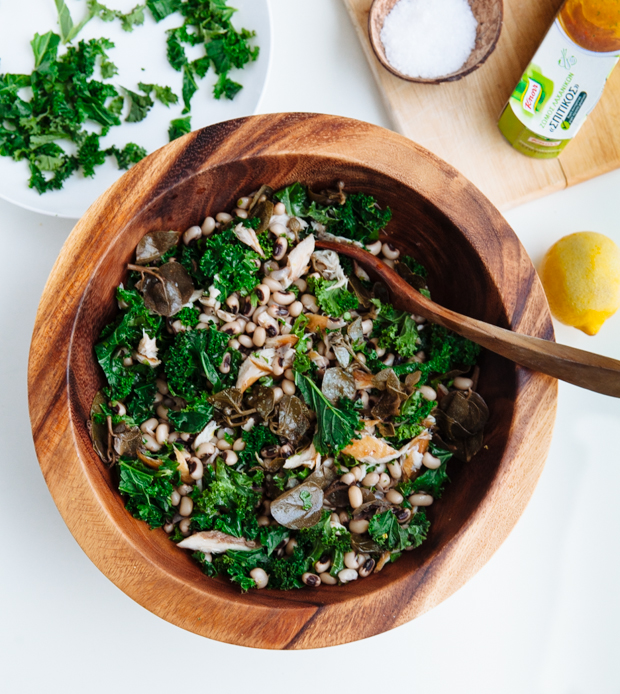 I first had this dish two summers ago at a tiny restaurant in a tiny village in Milos island. We had arrived there on a hot, hot, hot afternoon, following my mom's directions and her very fond memories of the village she had visited with my dad while she was pregnant. After a very brief stroll around, during which I was constantly repeating over and over again how hungry I was (it's kinda like my mantra), we started looking for a place to eat. We randomly stopped by that minimally beautiful little restaurant and ordered almost everything on the menu. And what a menu it was: all fish and vegetables, super seasonal and local. And when the food arrived and we had our first bite, we were in love (at least I was).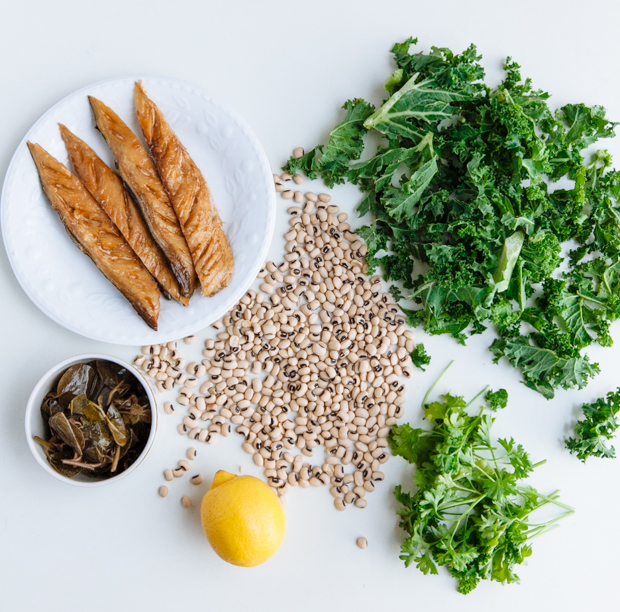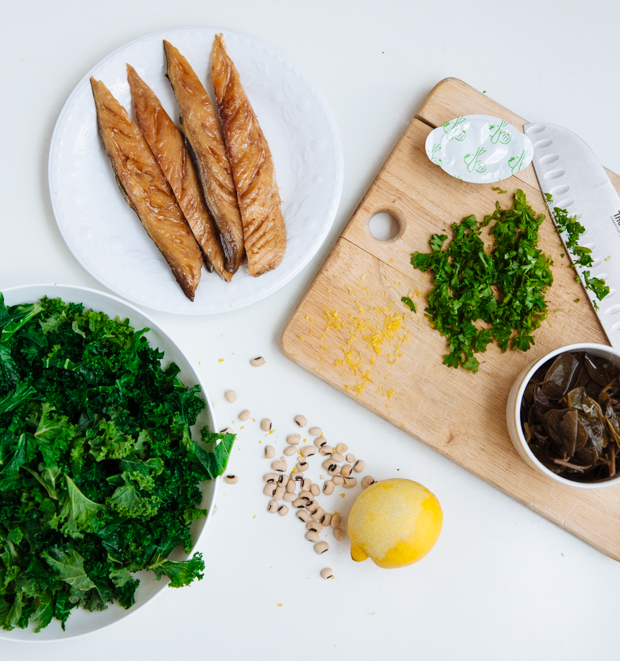 My favourite of the bunch was a simple, refreshing and breathtakingly beautiful dish of black eyed beans, barely cooked salty fish, capers and fresh herbs. It was absolutely phenomenal and upon our return in Athens that summer it appeared on heavy rotation on the table.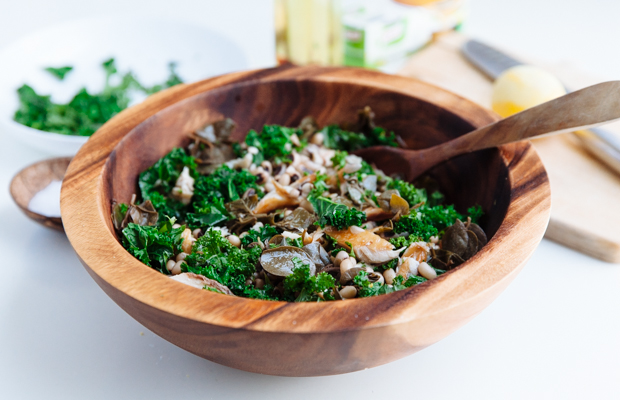 It's been awhile since I've had the original, but I think I've managed to replicate the taste pretty accurately. There's few ingredients here, but all complement each other and result in a dish that is simple (both in preparation and taste) but so satisfactory. I haven't made it in a while- I have been favouring lentils lately but a few days ago, black eyed beans came up in the conversation I had with a friend (does this happen to you too, taking about black eyed beans? No? Well…). Also, Knorr one of the sponsors for the BΗΜΑ Gourmet Food Blog awards, sent me more delicious stock than I know what to do with (seriously, it's so much, I've been gifting stock cubes left and right, I'm like a Knorr Santa Claus, you guys!)*. But all this stock in my fridge and the black eyed beans conversation got me thinking. And cooking.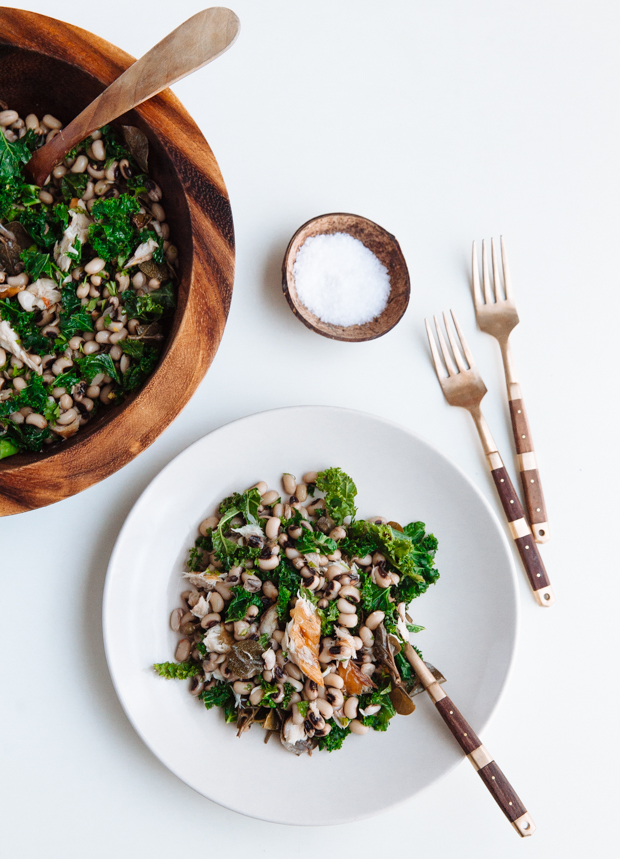 Black eyed beans cooked in a delicious broth until soft but still holding a slight bite; smoked mackerel, hands down one of my favourite fish, perfectly delicious and fatty as is it humble; crunchy and slightly bitter kale lightly steamed, so that it holds its beautiful colour and texture; sour, salty and delicious caper leaves that a friend brought me from Greece, a touch of fresh parsley, lemon and orange zest and juice and extra virgin olive oil. And that's it. That's it. Summer in a dish in the heart of autumn. Bring it on wind and rain and whatnot. We got this.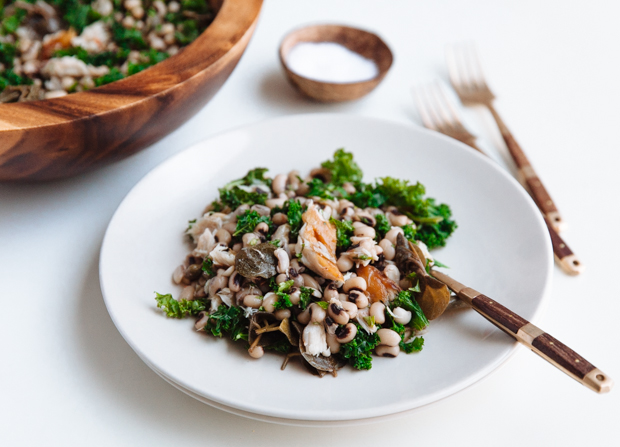 Black eyed beans, smoked mackerel & caper leaves
1 heaping cup black eyed beans, soaked overnight
1 vegetable Knorr pot
4 heaping cups fresh kale, hard stems removed, lightly steamed
4-5 smoked mackerel fillets, skin discarded
1/3 cup caper leaves (or capers) 
1 1/2 tablespoons fresh parsley, minced
3 tablespoons extra virgin olive oil
zest from 1/2 small lemon & 1/3 orange and their juice
sea salt flakes to taste
Rinse the beans and add to medium pot along with plenty of filtered water and the vegetable pot; bring to a boil and cook for 10′. Reduce the heat to a mild simmer and cook for another 25′ or until the beans are softer but still holding a slight bite. Drain, rinse, place in a large serving bowl and set aside.
Break the mackerel fillets into small chunks and add to the beans, along with the steamed kale, capper leaves and about a tablespoon of their brine.
Toss well and dress with the olive oil and lemon & orange zest & juice. Season with sea salt, toss well and serve.
* I was not compensated for this post; all opinions are my own.