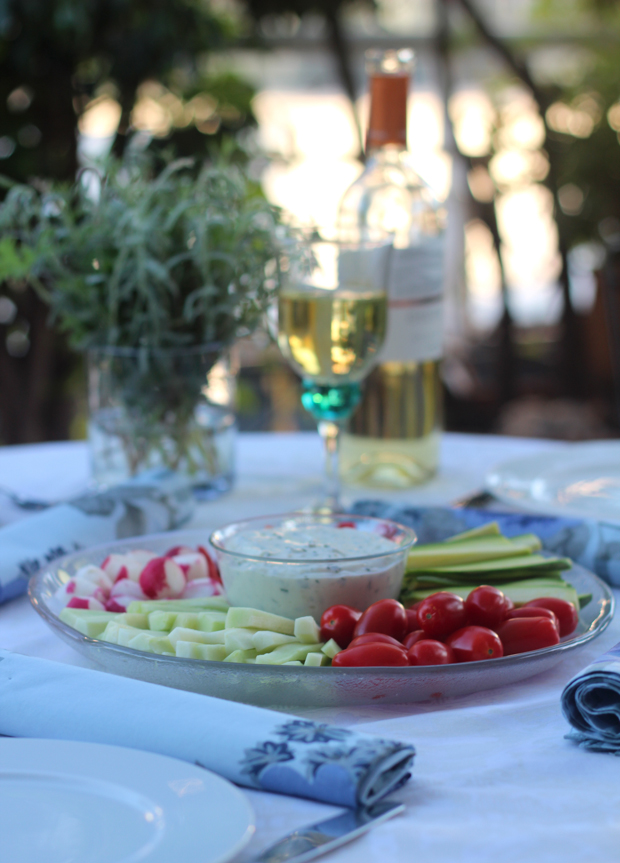 You know how some people love to spend their summer nights hitting a super loud, super hip and cool and whatnot super club? Damn, those people! Honestly, I can't think of a better way to spend a (hopefully not too hot) summer evening than over a relaxed, delicious dinner al fresco. I don't have a balcony or garden in London and it's precisely these beautiful, casual warm nights I miss the most; so naturally, it's also those I try to enjoy as much as possible now that I am back home. Like this one, which the annoyingly talented Ms Gertrude Gary Milk of teapot.gr and I prepared at my parents' balcony. We set the table, she took the photos, I cooked the food and together we ate and drank everything but the props. No biggie- we can do this all summer long. All we need is a camera and lots of homemade grissini.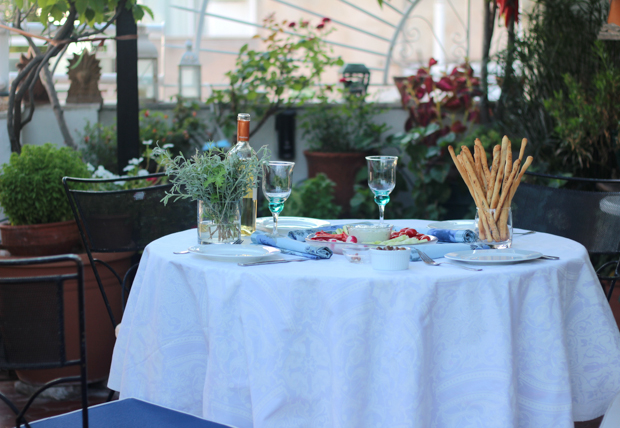 Very little is required for a casual dinner al fresco- in fact, you need to put in even less preparation than you would for an indoors meal. Your balcony or garden take center stage and you really can't get a better decoration or background than outdoors plants.
Add to these a simple, beautifully laid table with just a couple special touches (like replacing paper napkins with linen and instead of the usual flower vase, displaying an array of freshly cut herbs), lots of chilled wine and a few of your friends- and you have the perfect night. (And you can even go dancing afterwards! Win-win.)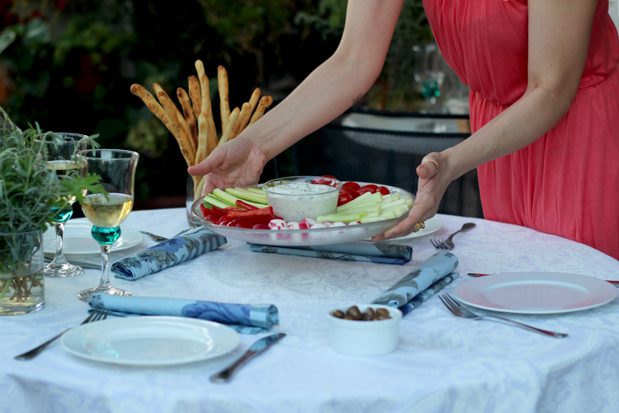 You also need very little in the ways of food; I don't know about you, but the summer heat usually overwhelms me so I almost always crave food that's fresh, delicious and as light as possible. A beautiful plate of sliced seasonal vegetables (think peppers, radishes, zucchini, cucumber and tomatoes) served with a refreshing quick dip, along with a small bowl of crunchy olives would be perfectly satisfying- and it looks so pretty too!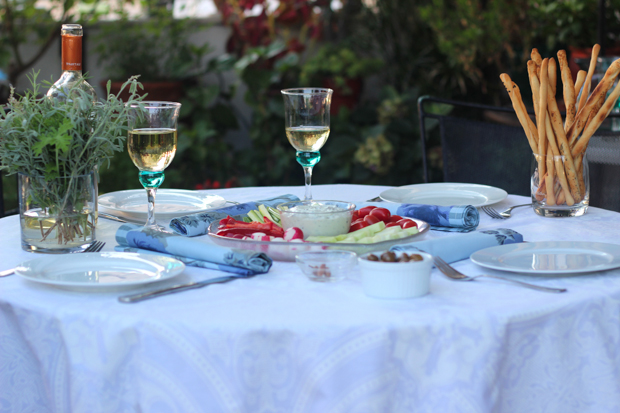 You'll also be needing a main course, but the less is more summer rule applies here too; simple is key, as is not spending too much time in the kitchen. As with other casual dinners, opt for a seasonal dish you're familiar with. I made one of my all time favourite ones, that I've been making since my early twenties: a gloriously simple dried mushroom risotto. Nothing fancy, everything delicious- after all, that's the whole spirit of dining al fresco, is it not?
p.s. Don't forget the mosquito repellent. Seriously though.