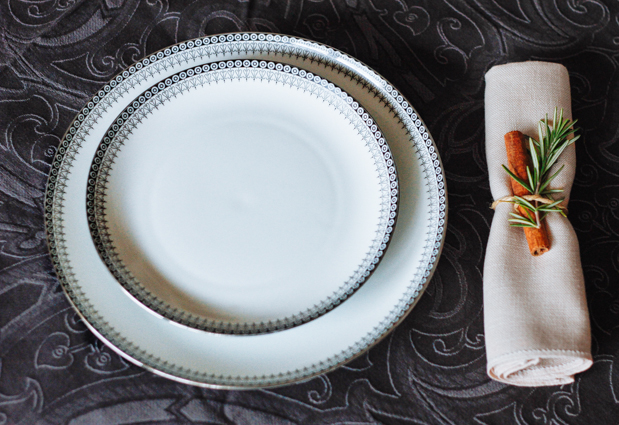 Throwing dinner parties is one of my favourite things. My parents always had people over and since I was little, I've found the whole process to be very exciting and satisfying. The gatherings I had at my late teens and early twenties were quite different from the ones I enjoy now (there was way too much drama, alcohol and processed food back then), but what's stayed the same is my excitement (and occasional nerves) during preparations.
As much as it is fun however, the whole process can also be quite daunting and stressful, so I thought I'd share some tips that have over the years allowed me to enjoy dinner preparations almost as much as the dinner itself. They are by no means groundbreaking nor coming from a professional chef or party planner, merely from someone who loves to eat and cook and has hosted many dinners over the years (most of which quite successfully). In the next couple of days, I will also share two recipes, one for an appetiser and one for a dessert.
– Put some thought into the people you're having over and whether they'll gel well together. My father's list of guests for a successful dinner party includes close friends as well as a selection of the following: an asshole, a political extremist, a few wannabe artists, a religious extremist and a couple people with loose morals. It's safe for him to be witty about this, as my mom can make anyone feel at home- so unless you're such a host/hostess, disregard his suggestion. Actually, disregard it anyway. I'm very lucky to have Mike as a sidekick, who is the nicest, most easy-going person I know and can strike up a long conversation with anyone (and I mean anyone, from the taxi driver to the butcher), so while I take care of the decor and food, he takes care of our guests.
– What I mostly pay attention to at a dinner party is the atmosphere (yes, even more than the food). The living room and/ or dining room should feel inviting and comfortable, but not overly pristine. Have the rooms tidy and clutter-free and keep the lighting on the low side; light a couple (unscented) candles, decorate with fresh flowers and put on some uplifting yet mellow music; it will not only make your guests feel welcome and at home, but will also get you in the mood for a great night.
– Have some wine and appetisers (such as olives, some hummus or a cheese platter) ready for when your guests arrive. Presentation is key: you want to show that you've made an effort with plating the food, without however everything looking too perfect to touch. So lay everything casually, add a couple special touches (such as the simple cinnamon/rosemary napkin holder pictured) and spend some time chatting with your guests and nibbling on the starters, before going back to the kitchen to put any finishing touches on the rest of the food.
– Even though the food is not the reason why you have friends over, it certainly is a basic component. Make sure you have most things ready before your guests arrive, so you don't have to run back and forth, chopping vegetables and stirring pots. For an informal dinner, and especially if you're not feeling super confident and/or are stressed for time (and perhaps money), I would recommend preparing one or two simple appetizers, a main course, a salad and a dessert. In order to plan the meal, I first look at what I already have in the fridge and pantry: you may want to dazzle everyone with an intricate dish, but cooking for more people is also a great opportunity to use up vegetables, fruit and cheese you already have, or even a special ingredient you have sitting on your cupboard for a while.
– For the main course, I would recommend preparing something you're more or less familiar with, preferably with crowd-pleasing flavours and textures. I would also go for a dish which can be made ahead, so you don't have to spend much time in the kitchen, testing, adjusting and adding ingredients. Dishes made in the oven, like roast meat or fish, a fancy mac and cheese, or a one-pot dish would make great choices, as they can be made ahead and reheated just before serving time.
I would love to know- which are your tips/ strategy for throwing a relaxed and fun dinner party at home?