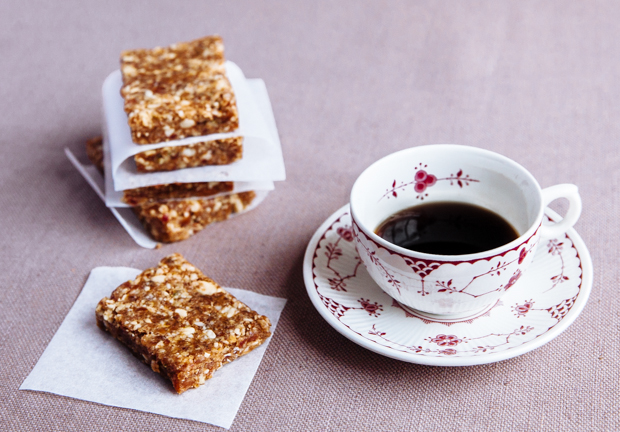 A couple months ago, I told you all about how breakfast is my favourite meal of the day. Seriously; I never ever skip breakfast; it doesn't matter if it's 6 in the morning, frantically trying to catch a flight, or hangover silly after two glasses of red wine. There has to be breakfast and it has to be good.
Sadly, my significant other does not share the same urge nor love for it. Almost every morning, I watch him as he walks into the kitchen like a stoned panda, gazing at the cupboards in hopes that their contents will automatically reveal themselves to him and breakfast inspiration will strike. I also see him frantically getting ready to get to work, searching for some sort of breakfast he can grab to have on the go. And on both occasions, the zen morning person in me turns into a barking maenad, who lists all the breakfast options available and expresses despair at his inability to find them himself.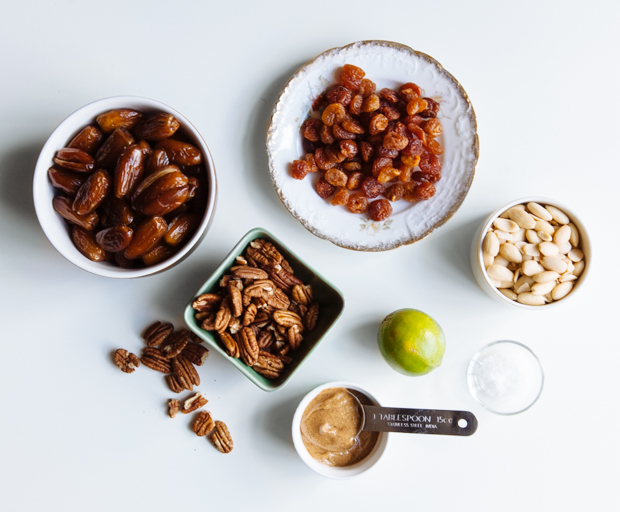 The other day was no different, but after he left, apple in hand, I was simultaneously stricken by both remorse and inspiration: I wanted to come up with some sort of breakfast, which would require no preparation at all and would pack enough flavour and energy to fill him up for a few hours, while also being easy to grab and go. So in everything goes: juicy and caramel-like Medjool dates, sweet and tangy dried cherries, almonds and pecans for texture, almond butter to tie everything together and, for my last trick! some grated lime zest for freshness and a few sea salt flakes to cut through the sweetness and add a final punch of flavour.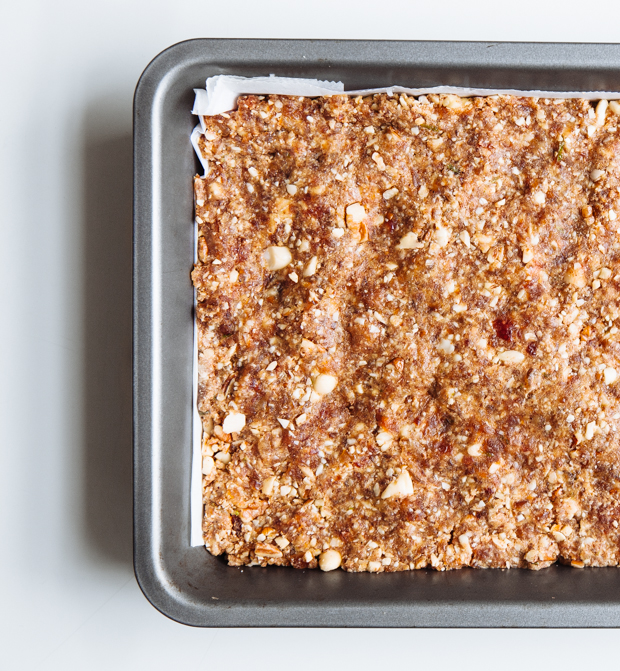 This is as flavoursome and wholesome a breakfast as it can be: I've sang the praises of Medjool dates before (here and here)]: high in carbohydrates, but containing almost no fat, and also rich in fibre and potassium, they provide a lasting hit of energy and act as the delicious glue that holds your bars together. Almonds and pecans are rich in minerals, so perfect for a healthy metabolism, while the fat they contain is good both for your heart and your energy. (Same goes for the almond butter, just make sure you use one that contains only nuts and no additives.)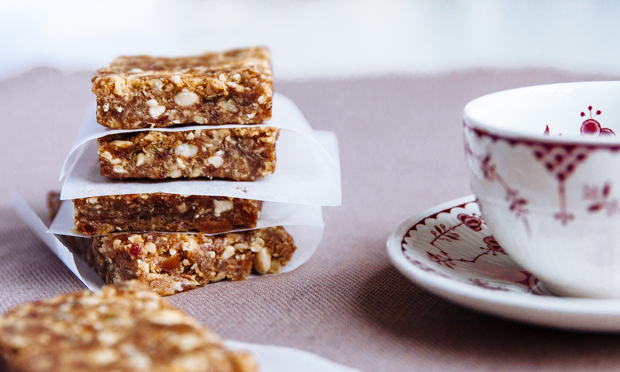 INGREDIENTS
3 cups Medjool dates, pitted
1 cup dried cherries
3 tablespoons almond butter (or any other nut butter)
1 cup blanched almonds
1 cup pecans
zest from 1 lime
sea salt flakes, to taste
Line a baking sheet with parchment paper and set aside.
Place the nuts in a food processor and pulse a few times until crushed, but not powdery (you need some bigger pieces left for extra crunchiness).
Cut the dates in half and add to the nuts, along with the dried cherries, almond butter and lime zest. Pulse until the mixture resembles a chunky paste, concentrated into a ball.
Place on the baking sheet and flatten with your hands, pressing down to create an even surface.
Sprinkle generously with sea salt flakes, cover with foil and refrigerate for a couple hours, before cutting in pieces.
Will keep in an airtight container in the fridge for up to 5 days.