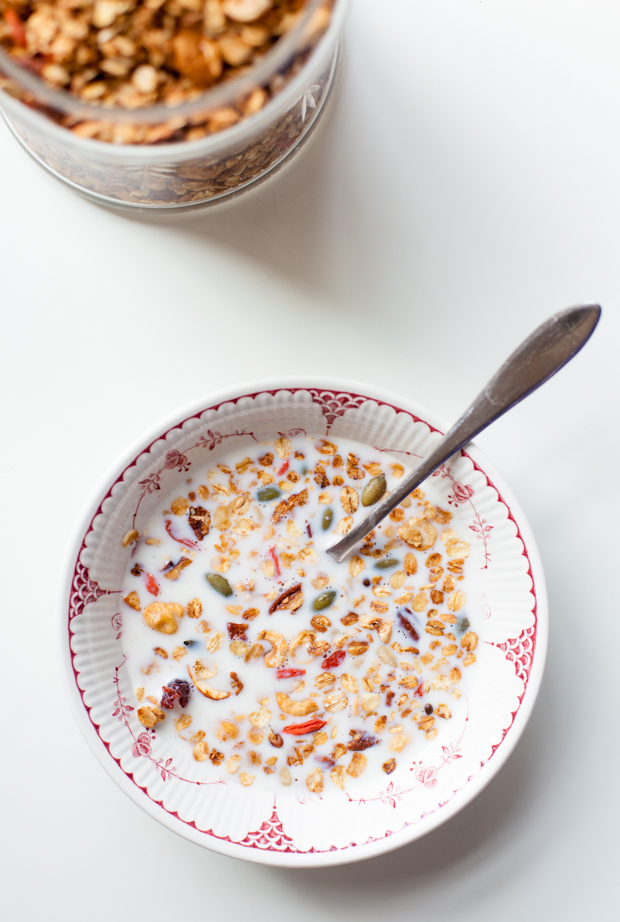 This week is all about breakfast; my favourite meal of the day, my favourite thing to make and eat.
"Breakfast is everything. The beginning, the first thing. It is the mouthful that is the commitment to a new day, a continuing life… Somewhere, someone is starting breakfast and thinking, 'Today will be better than yesterday'…Wherever, whenever breakfast comes, it's a mouthful of stoic optimism.",  writes A.A. Gill in 'Breakfast at the Wolseley'. 
When I was little, my dad would force my sister and me to always have breakfast before leaving for school. As I was always waking up grumpy, being told to do anything, even eat, was driving me up the wall. Yet, I had to sit at the table with my family and have a bite and, for the teen drama queen that I was, it felt like torture.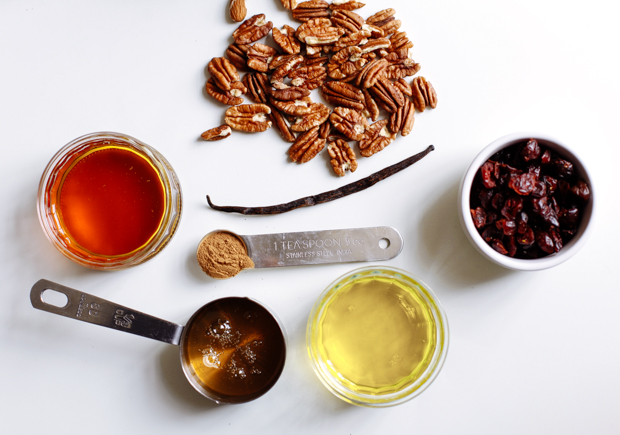 In fact the only breakfast I was excited about was our Saturday one: my dad would take me (or my sister, or both of us) to a nearby bakery, where we'd buy an impressive variety of baked goods. The best part of that shopping spree was the pain aux raisins, which I always shared with my dad on our way home.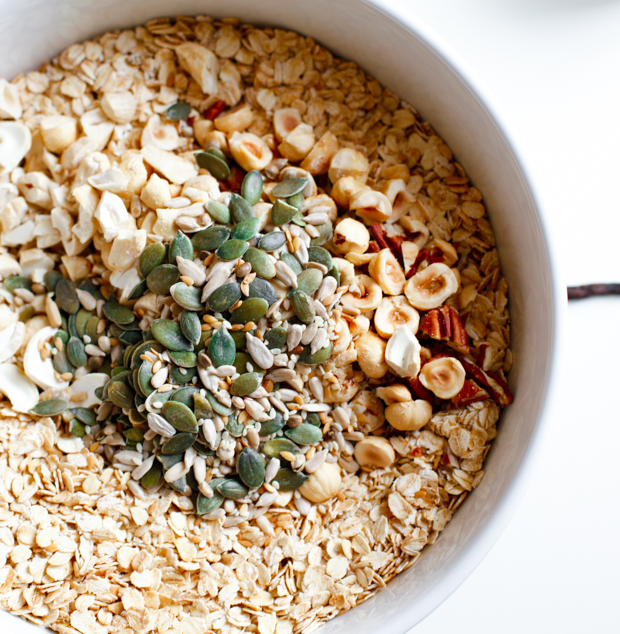 I don't remember exactly when I started actually enjoying breakfast, but now I love it so much, I can have it three times a day- and I often do. It can be as simple as oats with fresh fruit and yogurt, or something more elaborate, like eggs and bacon, fluffy pancakes or grilled cheese with juicy vegetables or fruit.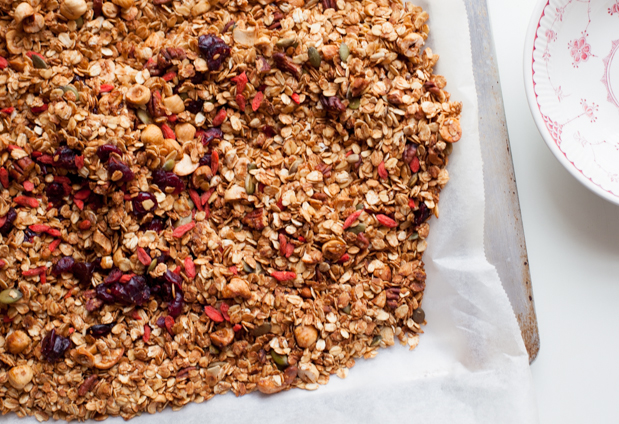 During the week, when I've got lots of running around to do and not much time to do it, I usually have a big bowl of granola with almond milk or Greek yogurt, right after my workout (when I work out) and before I dash out the door. I always make a variation of Joy's amazing recipe, using any kind of nut and dried fruit I have in the kitchen. It's well worth making a big batch, as it can last for… well, for as long as you make it last.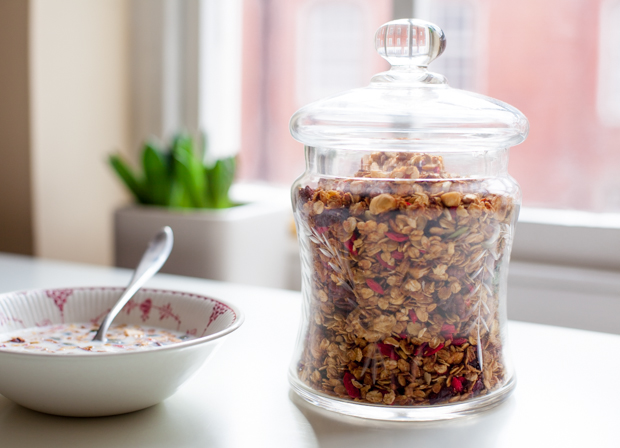 INGREDIENTS
2 cups nuts (I used 1/2 cup blanched hazelnuts, 1/2 cup pecans and 1 cup cashews, but any kinds will do)
6 cups oats
1/3 cup seeds (I used a mixture of pumpkin, sunflower, sesame & linseeds)
1 1/2 teaspoon ground cinnamon (OR 2 teaspoons ground ginger)
a generous pinch of salt
1/2 cup goji berries
1/3 cup dried cranberries
1/3 cup unsweetened coconut flakes 
1/3 cup honey
1/3 cup coconut oil
1/3 cup maple syrup
seeds from one vanilla pod
Preheat oven to 180C (160C for air).
Mix oats with nuts. Add the cinnamon (or ginger) and salt. Toss and set aside.
Place honey, coconut oil and maple syrup in a small pan and warm over medium heat, until the honey dissolves and they are all mixed together. Remove from the heat, extract the seeds from the vanilla pod, add and stir well.
Pour over the oat and nut mixture and toss well to coat.
Line a baking sheet with paper and spread the mixture to a single layer.
Bake for 20-25, rotating halfway through and tossing nuts. Repeat with the remaining mixture.
Let cool slightly and add dried fruit and coconut flakes.