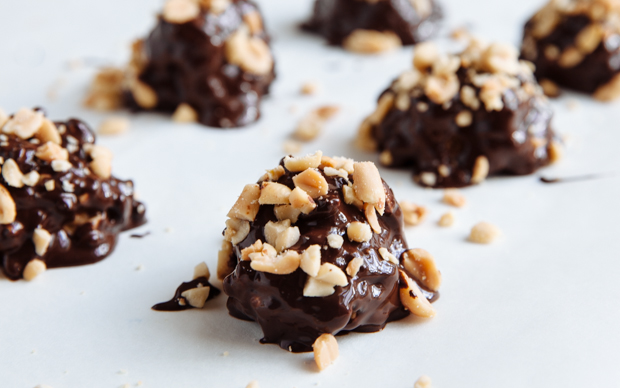 I love chocolate and peanut butter separately, but there was a time I used to think that the combination of the two was a bit too much- for me at least. Boy, was I about to change my mind.
Enter my friend Claudia and her glorious peanut butter chocolate balls. I first tasted them when she brought them over at a friend's dinner party. Among all the delicious desserts available, they stood out. They killed me- and condemned the humble brownies I had made to eternal oblivion.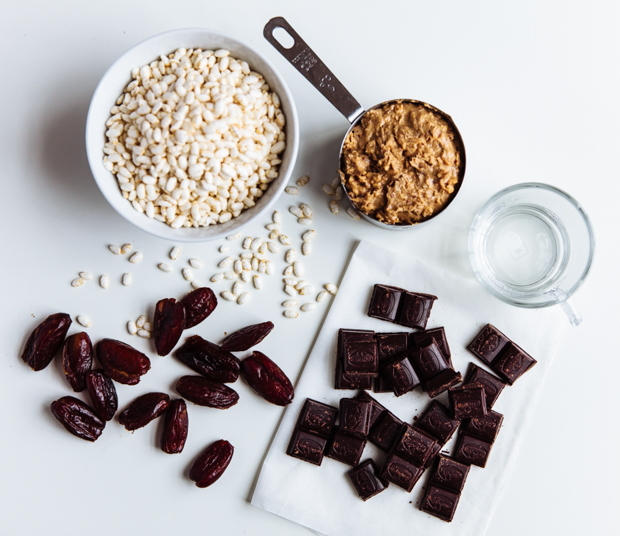 Her version is very simple, super tasty and quite rich, as it calls for butter and powdered sugar. As I made these for a friend who has to be on a very clean diet, I went on a slightly healthier route and substituted the butter for coconut oil, the sugar for mashed dates (my favourite healthy sweet snack and a perfect substitute for sugar, trust me) and the regular rice puffs for wholemeal gluten free ones.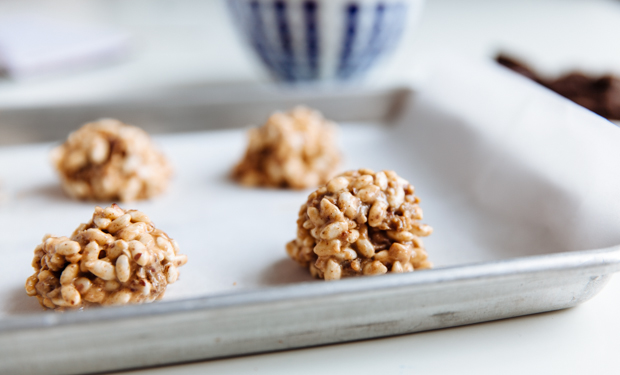 You guys, you HAVE to make these! They are super easy, super tasty and super guilt free (if you feel guilty when having sweets- I rarely do). And they hit all the right spots: crunchy texture, caramel-like sweetness, chocolate goodness- triple check! And to top it all up, additional crunchiness and a hit of salt from salted crushed peanuts. Game on.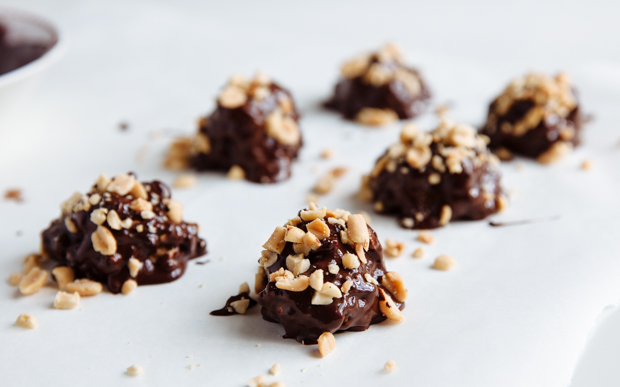 INGREDIENTS
1/2 cup crunchy peanut butter (try to get a hold of a jar that only lists crushed peanuts in the ingredients, no added sugar, oils etc)
1/2 cup dates, mashed
2 tablespoons coconut oil, melted
2 cups rice puffs
250 gr dark chocolate (70 % cocoa)
1/3 cup crushed salted peanuts
Line 2 trays (big enough to fit in your fridge) with parchment paper. Set aside.
In a large bowl, add the peanut butter, dates, coconut oil and rice puffs; bring together with your hands to mix all the ingredients well.
Shape into small or medium sized balls and place onto the baking sheet (the balls will feel quite loose, but try to give them a round shape and neat them up a bit- they will firm up when refrigerated).
Place in the fridge until firm to the touch (1 to 2 hours).
Before taking them out of the fridge, melt the chocolate: cut in small pieces and place into a heatproof bowl; sit the bowl over a pot of simmering water and let it melt, stirring frequently.
Let the melted chocolate cool slightly and get ready to coat the cold peanut butter balls (warning: this part can get quite/ really messy, but, hey, there's peanut butter and chocolate involved, so no complaints).
Line your work surface with a large piece of parchment paper and have the melted chocolate close by.
Take one tray out of the fridge; place the chocolate balls (in their parchment paper) onto the large parchment paper. Start dipping each ball into the melted chocolate, covering them completely (you need to work fast, as the warm chocolate may slightly loosed the balls). Place each chocolate ball back into their initial baking sheet and tray and sprinkle with the crushed peanut.
Put back in the fridge and repeat with the second tray.
Refrigerate again until firm and keep in the fridge until ready to serve.