Celebrating this year's Mother's Day with this a dessert as sweet and pretty as my mom: a strawberry, basil & lime cream cheese tart!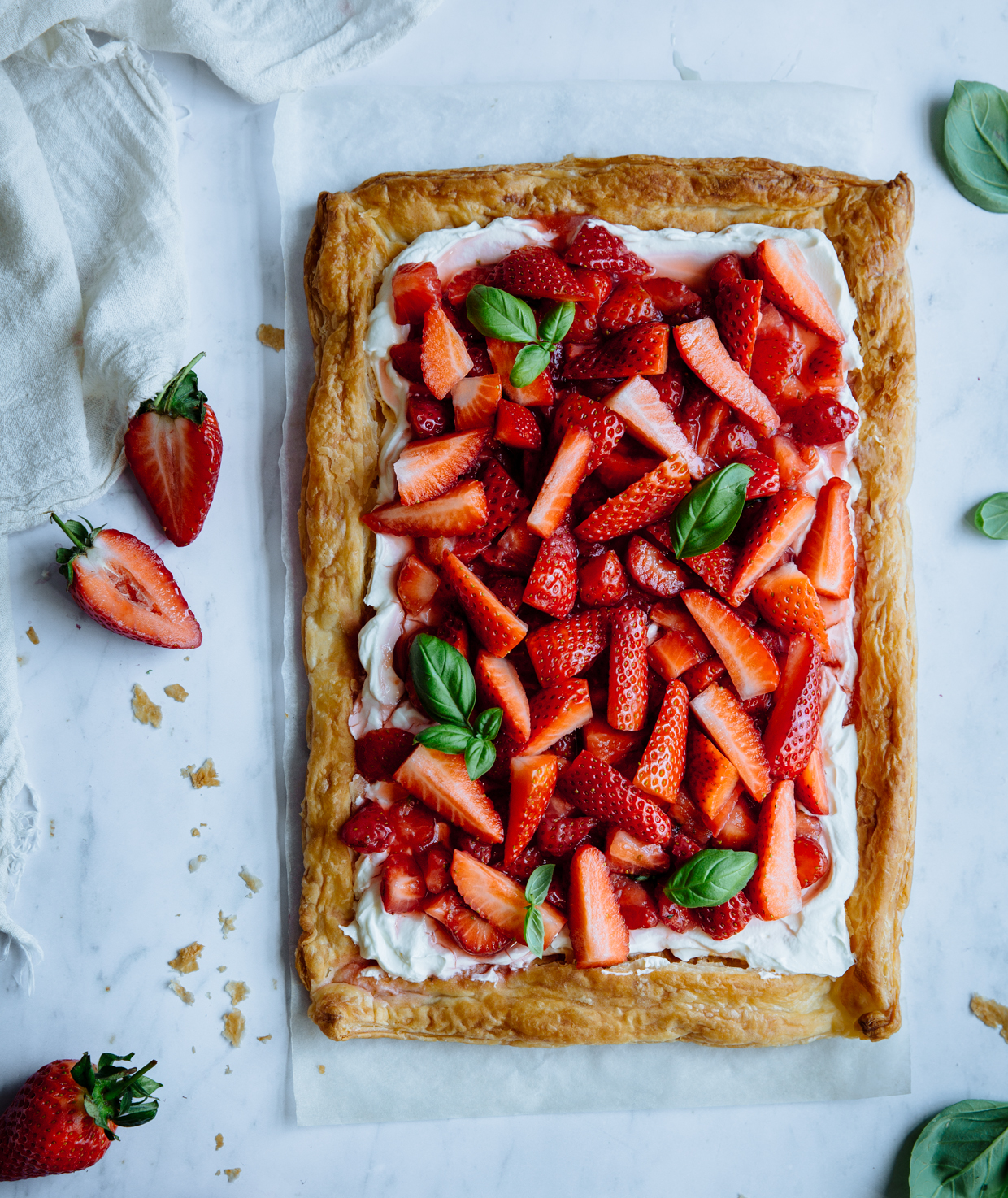 Mother's Day(s) are always bittersweet for me; they are a celebration, of course, but also a reminder of how much I miss my mom. It's been many years since I left home, I should have been used to the distance by now; I haven't. Instead, the longing to see her and my dad has been lingering, at times mellower and others stinging as hard as that first night I spent alone in my first apartment.
I've written here about my mom time and time again. The impact they've have on me in general and my cooking and eating habits specifically is very lasting and one I carry with great pride. Even though my childhood and adolescence have not been idillic (and I believe they rarely are, to be frank),  they have been full. Of experiences, stimuli and opportunity, discipline and freedom, tension and drama- but also lots of love.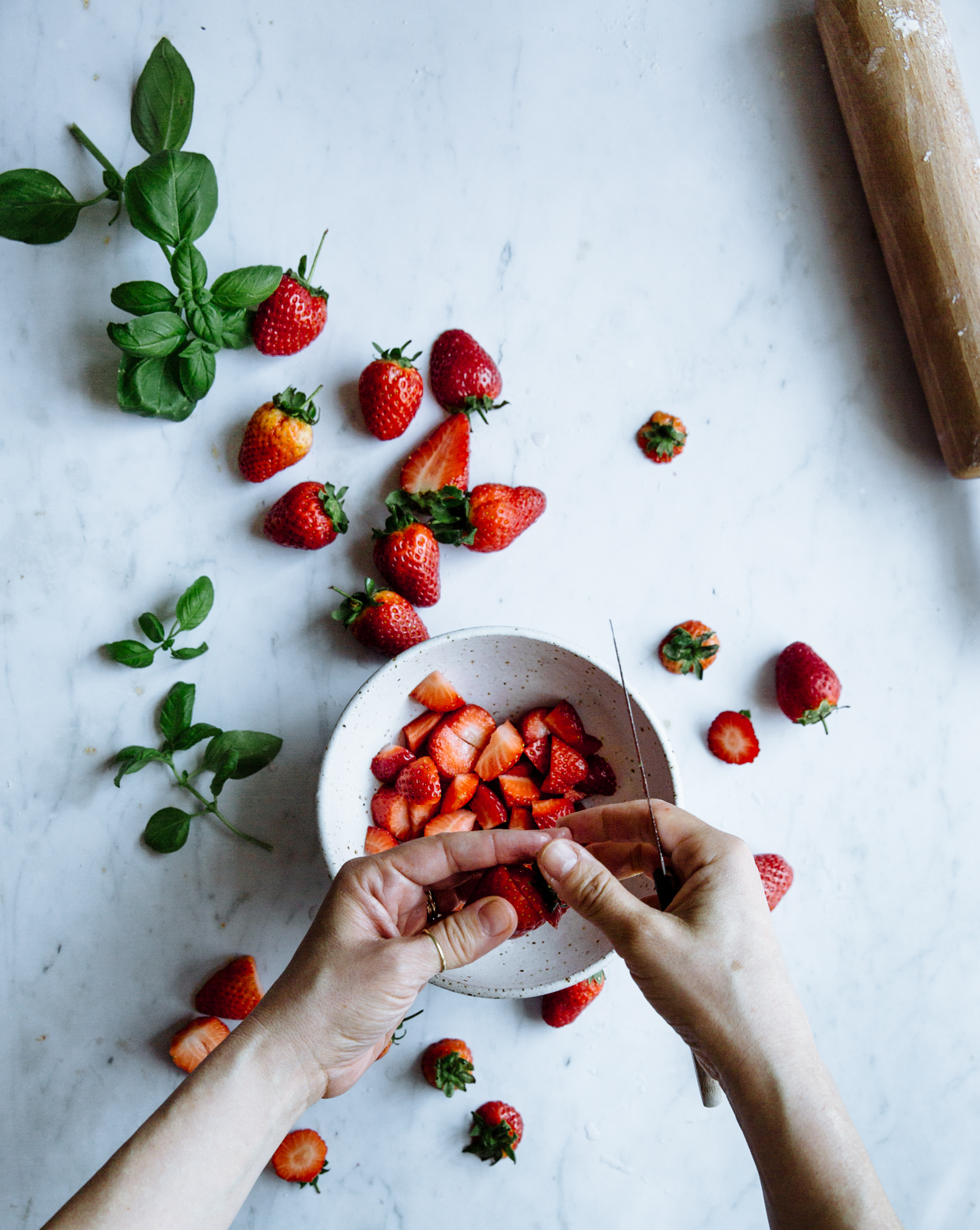 Also food, glorious food, which have always been both not a big deal and a focal point in our home. Meals were always nutritious yet indulgent, simple with a hint of genius. Mom always walks into the kitchen with a plan, but also adds a dash of this and a pinch of that, inspired by years of experience, an impressive appetite and true love for ingredients. Most Fridays, she calls to tell me about a beautiful vegetable or fruit she picked from the farmers market and when her little tomato plants, kumquats or loquat trees have their first fruit of the season, she can barely contain her enthusiasm and pride, snapping away out of focus photos.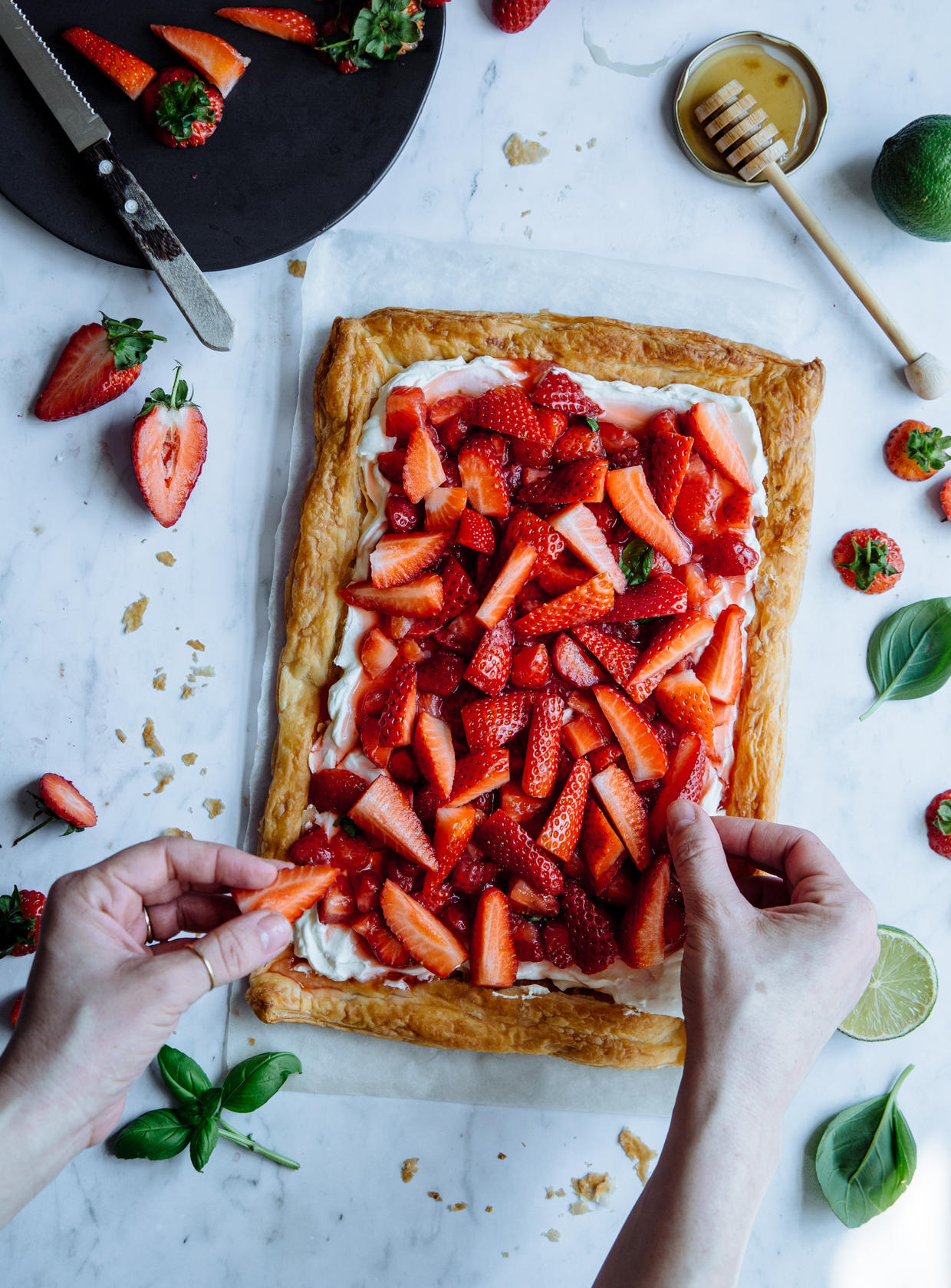 This tart would be right up her alley: sweet and juicy strawberries, roughly chopped and tossed with fragrant basil (which can be found in impressive abundance back home come warm weather) and lime juice and zest (my mom loves a hint of sourness in most things; she actually halves lemons, squeezes a bit over dishes and eats the rest of the fruit, separating the flesh from the skin with her nails, not even a knife, and devours it instantly, squinting because of the acidity and always smiling happily. What a weirdo.). And to elevate all this freshness crispy, flakey buttery puff pastry, quickly baked until golden and topped with cream cheese and yogurt (dairy is king in our family- I am always jealous of and very very content with the selection one can find in my parents fridge at any given time).
So this is for you mom: it's sweet and a little tart, made almost in no time and barely requiring measurement. It's also very pretty, like you, and made me so happy putting it together, like you've taught me.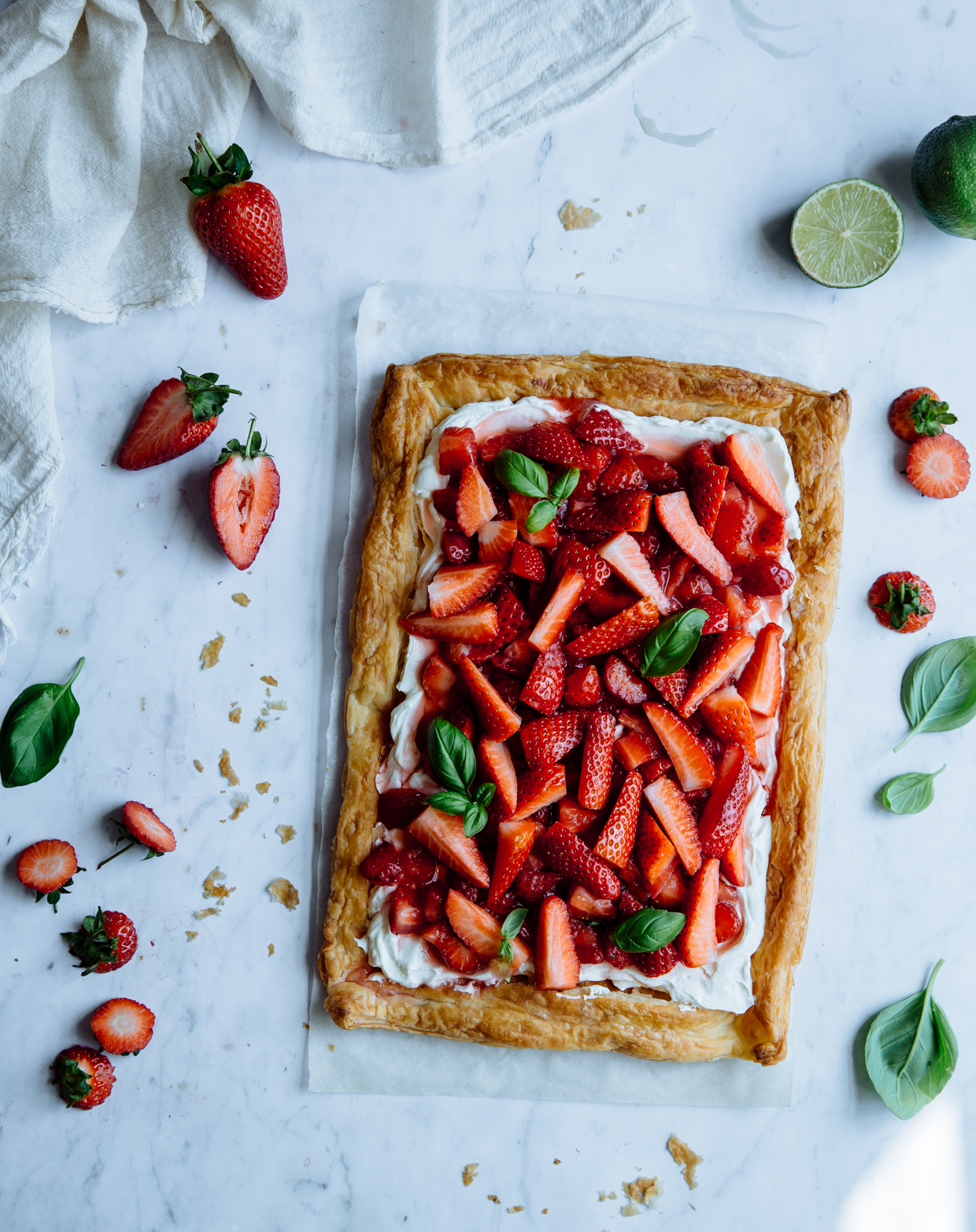 Strawberry, basil & lime cream cheese tart
1 pack good quality all butter puff pastry
400g fresh strawberries, washed and hulled- divided 
4 basil sprigs, lightly bruised
juice and zest from 1 small lime
1 tablespoon good quality floral honey
filling:
1 pack (250g) full fat cream cheese
300g full fat Greek yogurt
to serve: extra basil leaves
HOW
Roughly chop half of the strawberries and combine with the basil sprigs, lime juice and zest and honey. Toss well and leave to the side.
Preheat the 200ºC (180ºC FAN); roll out the pastry on a piece of parchment paper fitting your baking sheet. Gently score along the sides with a sharp knife, to create a border (don't go all the way and cut through the pastry) and poke holes with a fork all over the pastry. Dust very lightly with some icing sugar and bake for about 15′, until golden. If the pastry puffs during baking, gently tap it with the back of a spoon to deflate it. Leave aside to cool completely.
While the pastry is cooling down, combine the cream cheese and yogurt and fold well until smooth (you can use a spoon or a mixer, if you don't mind the extra washing up).
To assemble the tart: spoon the cream cheese & yogurt over the cooled pastry and spread carefully. Top with the strawberry mixture, spooning them and their juices gently over the cream.
Finish of with the remaining strawberries, quartered vertically, and basil leaves.
Serve immediately- the tart does not hold well, so you may as well finish it in one go. I know my mom would have no problem whatsoever doing so.
As they can never be enough deserts for (my) Mother's Day, here's a couple more: