It may be September (already!), but there's still time to give these delicious roasted aubergine & smoked mackerel crostini a try.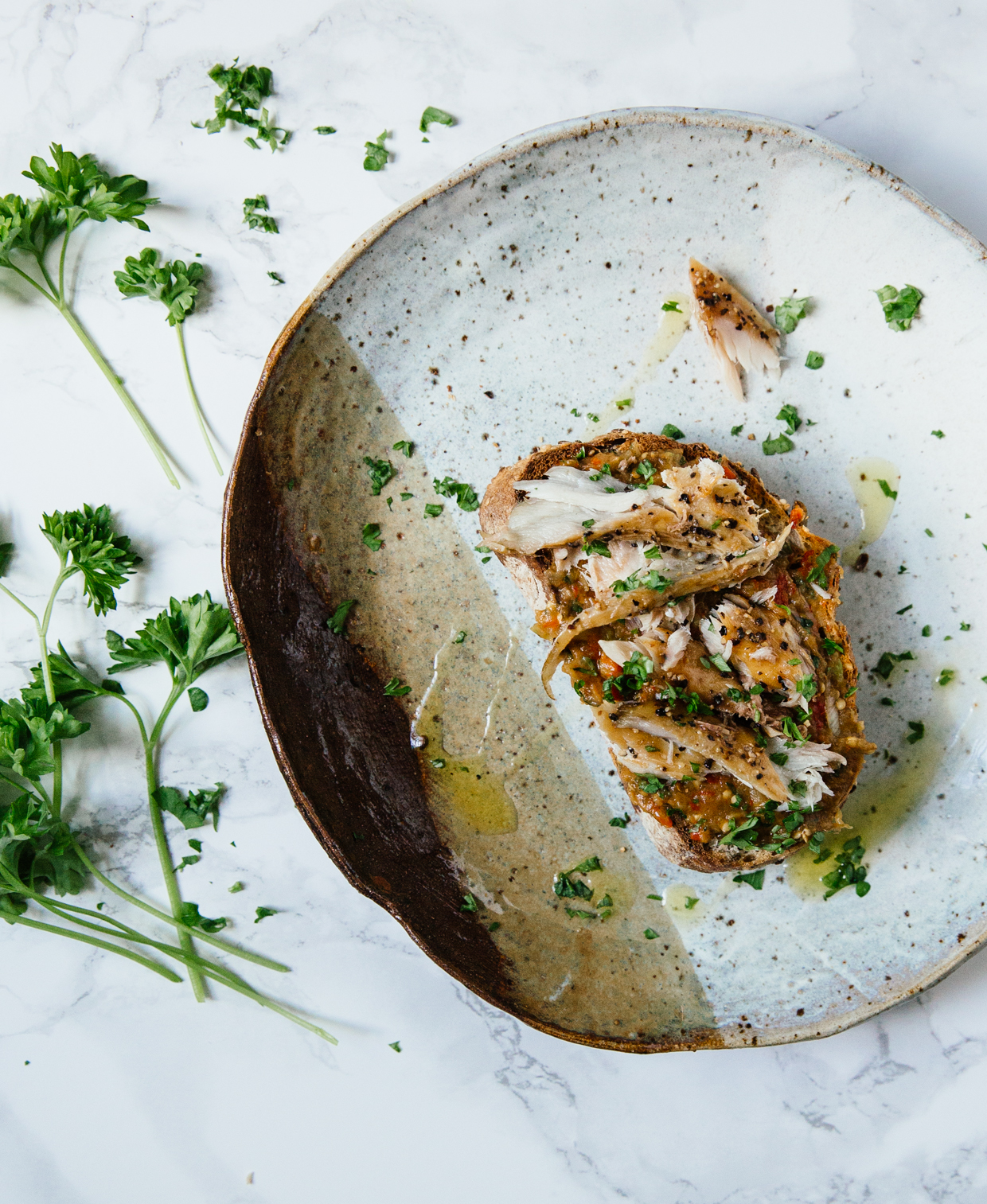 These past few days I constantly find myself in an in-between seasons frame of mind- does this ever happen to you? The gloominess of my beloved London has made me half-heartedly embrace autumn, and I am almost delighted to look for apples again and reach for heavier jackets. At the same time… I miss my slight tan, lightly breezy nights, our garden and its abundance of gifts– most of all, I miss my loud family and our summer dishes . When I was packing my bags back home, my mom managed to sneak in 7 long and chunky aubergines from our garden. Honestly, I couldn't hope for a better treat: aubergines are my favourite summer vegetable, second only to tomatoes; and I am convinced that the ones we grow are the most delicious of them all. Pickled they make one of the best appetisers; cooked in a thick tomato sauce along with spicy sausage for one of my favourite rustic Greek dishes, spetzofai; tucked inside a whole loaf of bread with lots of cheese they are indulgent and special; and of course they are perfect for a quick summer pasta. Whichever way, aubergines are truly, definitely, always hard to resist.
Upon arriving in London, I found them and marvelled at them for a good half a day (that shinny skin and perfect colour!) and then did what I mostly love to do with them: I made melitzanosalata, an intensely delicious Greek dip which is much beloved in our home because of our aubergines and the constance abundance of garlic in our meals.  I roasted the precious beauties till very charred and almost falling apart; along with them in the oven went a long red pepper and a fat garlic clove. And then fresh parsley, salt & peppers a touch of olive oil and some vinegar to finish things off.
Since it was almost dinner time, we had this with big chunks of smoke mackerel and even bigger chunks of toasted bread, to scoop up the dip. They paired so all together and reminded me of the meals that I mostly love: made with few good ingredients, often improvising, hitting almost all the notes and consisting of different textures: crunchy bread, smooth aubergines, meaty chunks of mackerel. I couldn't get enough and I hope you won't either.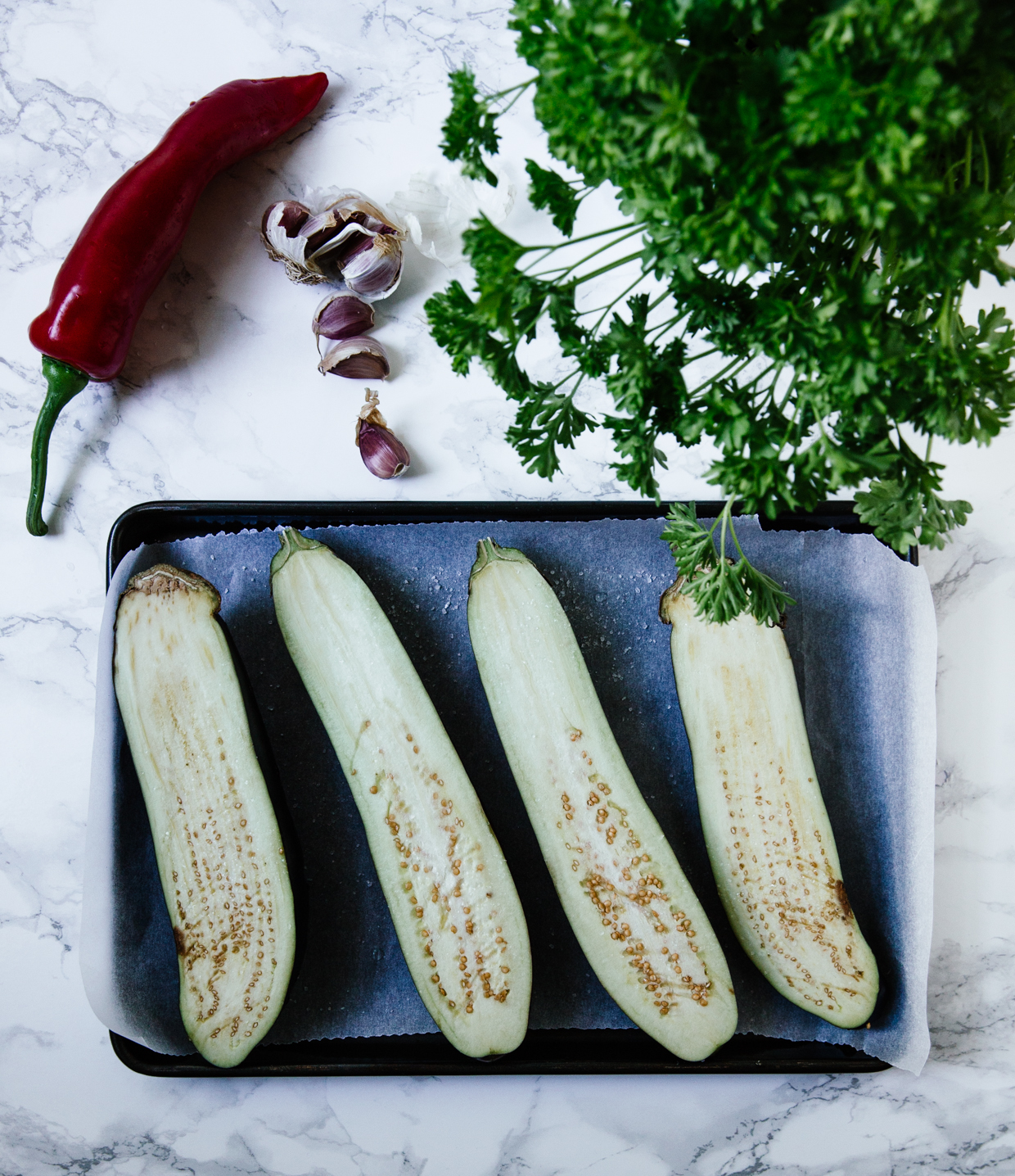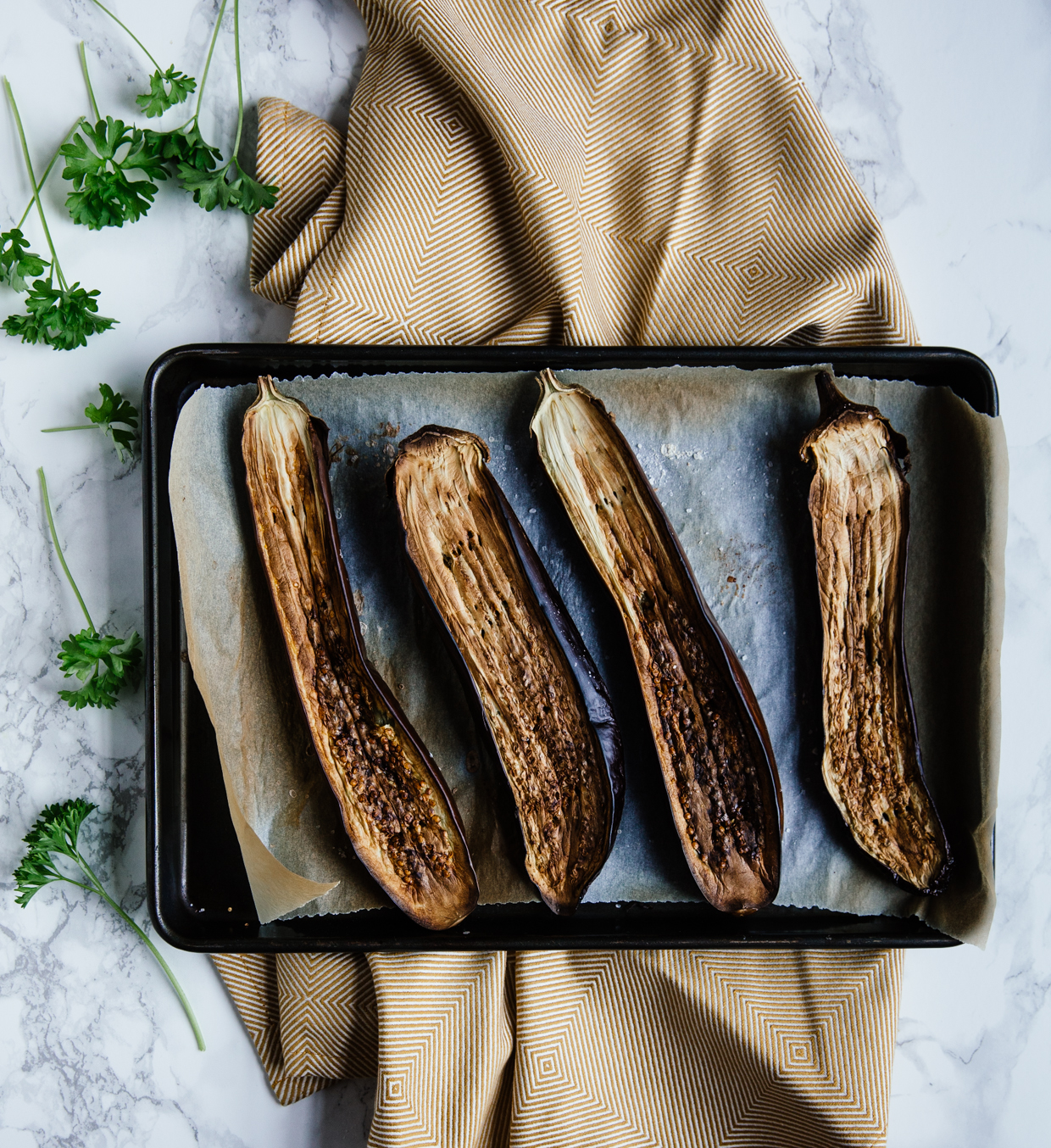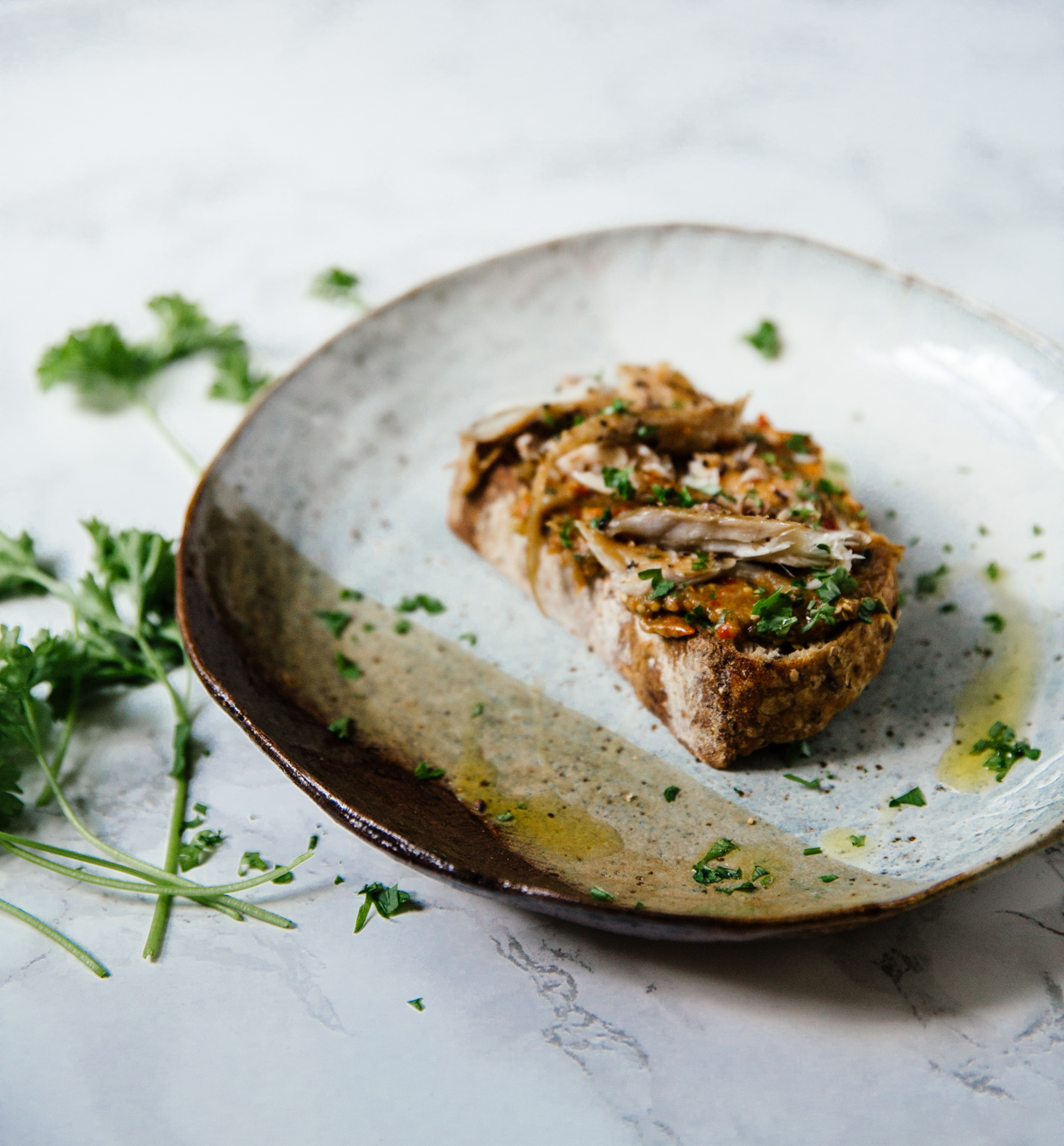 WHAT
2 large aubergines (about 500gr)
1 medium long red pepper
1-2 garlic cloves
2 tablespoons fresh parsley, finely chopped
1 1/2 tablespoons extra virgin olive oil
1 tablespoon apple cider vinegar
salt & pepper to taste
8 medium-sized bread slices
2 large smoked mackerel fillets, broken in chunks, skin removed
to serve: additional fresh parsley & extra virgin olive oil
HOW
Line a baking sheet (big enough to fit your vegetables) with parchment paper; cut the aubergines and pepper in half lengthwise and remove the seeds from the pepper. Place on the baking sheet and grill in a preheated oven (or a grill if you have it)- allow about 20′ for the aubergines and garlic and 12′ for the pepper. They all should be soft before removing from the oven.
Place the pepper on a plate and cover with cling film for about 10′ (this will help you remove the skin) and set the aubergines aside until cool enough to handle.
Remove the skin from the pepper and mash with a fork, along with the garlic; scoop out the flash from the aubergines and place in a sieve. Press it down with your hand (and preferably a tea towel) to release any juices (which you'll then discard, as they are quite bitter).
Put everything in a food processor, along with the parsley, olive oil and vinegar and pulse to a thick paste; add seasoning, taste and adjust if needed.
Grill or toast the bread slices and place on a serving plate.
Generously spread some of the aubergine dip on each slice and top with mackerel chunks. Sprinkle with some additional chopped parsley and finish off with a light drizzle of extra virgin olive oil.