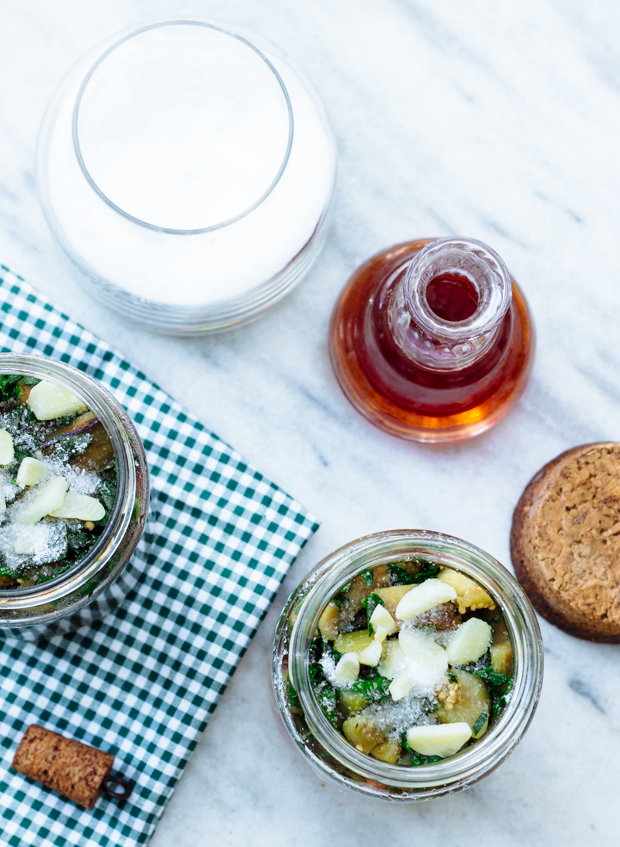 This week is devoted to the last days of summer. It's an homage of sorts to that glorious season and all its fresh and delicious vegetables, their colour and smells. This summer has truly been unforgettable: it was long and relaxing, filled with family, refreshing naps, layers of sunscreen, blinding sun, friends, weddings, so much laughter and lots of food.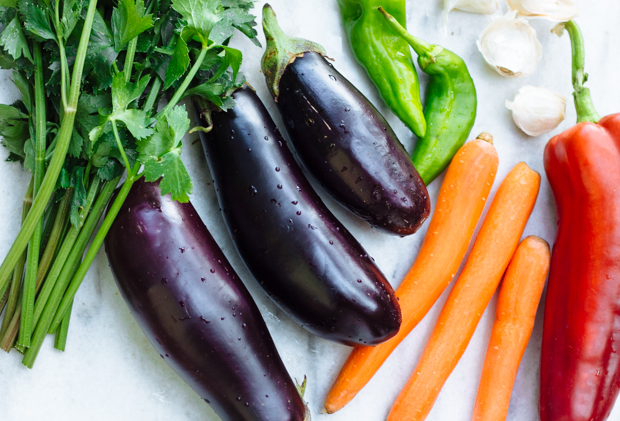 I've just returned to London and regardless of my excitement about being back to this beast of a city I've grown to love so much, many of these things are now missing. I'm on the verge of finding my current state depressing but I really can't bear to; the past couple of months have been so satisfying and abounding all-consuming moments, I'd like to think they will help me remain in high spirits for quite some time. Autumn is also quite special for me: it is the host of many birthdays (mine and my sister's, my significant other's and lots of friends'), Halloween is around the corner and most of all, it brings an abundance of mighty, beautiful ingredients I haven't tasted or cooked with in a while.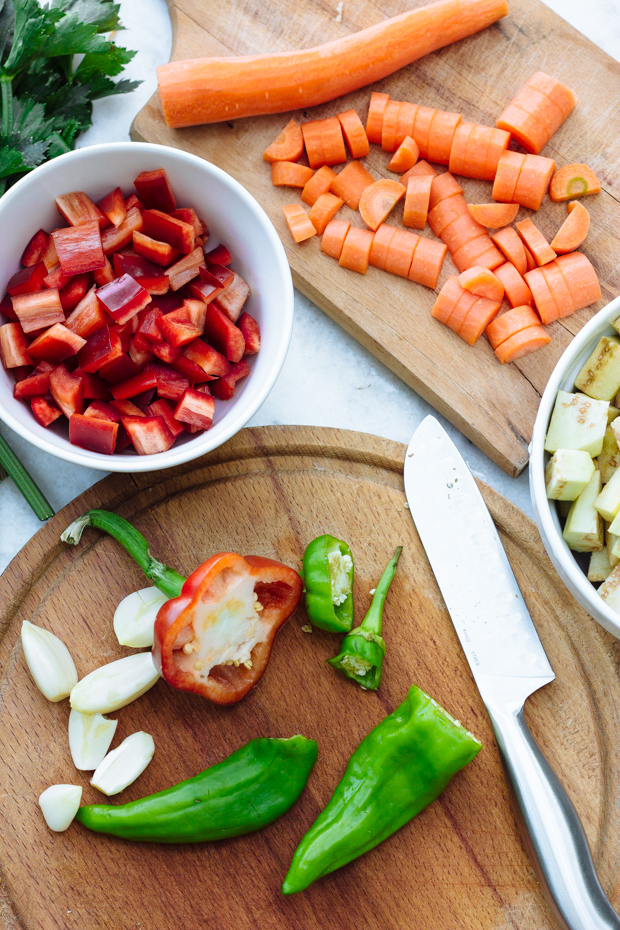 While I'm planning new recipes and marking new markets and restaurants to visit, I'm still holding on to summer, for just a little while longer. I'm holding on to its carefree perspective and to some of its produce: vibrant, juicy, refreshing and gorgeous, fitting of the season and emotional stand. This recipe is an end-of-summer staple for my family. My mother gathers the few remaining peppers and aubergines from our garden, throws in some carrots, celery and lots of garlic and turns them into super delicious, colorful and salty pickles.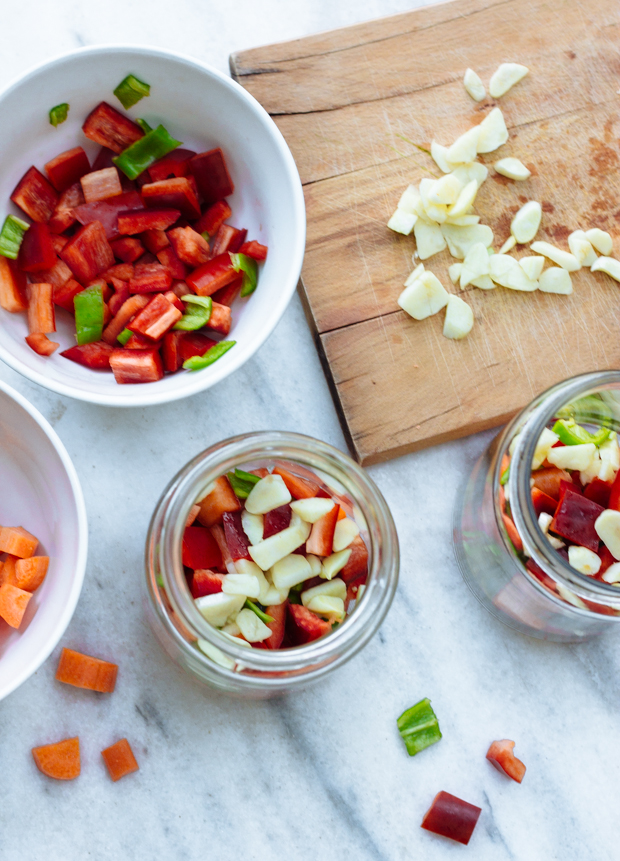 I truly love all pickled food; I love the strong flavours and the difference it makes to any dish it's added to. Although I'm usually happy with good quality store-bought versions, the ones made at home are always my favourite. This version is so easy to make, it lasts for a long time and also makes for a great appetiser along with marinated olives, chunky pitta bread and a couple stiff drinks. So here's to summer and fall, here's to bright, crunchy vegetables, here's to more gatherings with friends over delicious food, here's to being back at school with an attitude.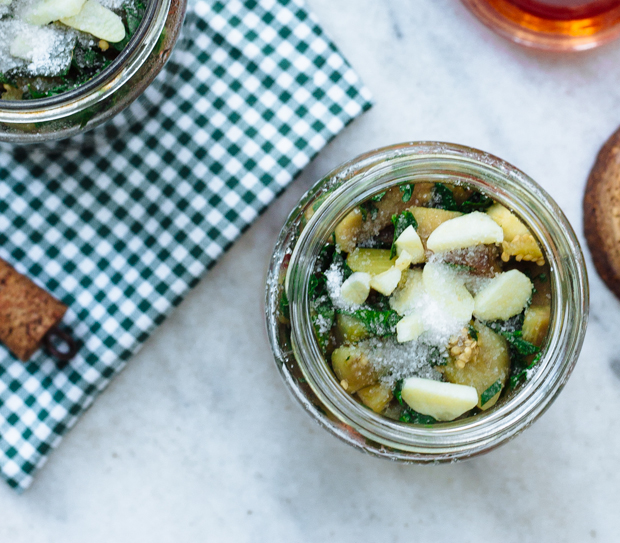 INGREDIENTS (for two large jars)
4 long aubergines, washed
4 celery stalks, thoroughly washed
1 teaspoon table salt
4 bell peppers of various colours (not green ones), washed
3 medium carrots, washed and peeled
6 large garlic cloves, thinly sliced 
plenty of apple cider vinegar
sea salt flakes
Set two large sterilised jars on the side.
Fill a medium pot with water and bring to the boil.
Peel the aubergines, leaving some purple stripes, quarter lengthwise and cut in 2cm pieces. Place in the boiling water for 2′, or until just tender.
In the meantime, prepare the rest of the vegetables: halve the peppers, discard the seeds and cut in 1cm cubes and cut the celery stalks and carrots into 2cm pieces. Combine the carrots and peppers and set aside.
As soon as the aubergines are ready, drain and immediately combine with the celery pieces and 1 teaspoon of salt.
Have your jars ready and begin layering the vegetables: start with a layer of carrots and peppers, top with garlic slices and some sea salt and then the aubergine and celery pieces. Continue like so, topping each layer with garlic slices and sea salt flakes and finishing off each jar with garlic slices.
Fill up each jar with 3/4 vinegar and 1/4 water. Seal and place in the fridge for 3-4 days.
Serve big tablespoons of the mixture with extra virgin olive oil drizzled on top.
The vegetables will keep in the fridge for up to 2 months.