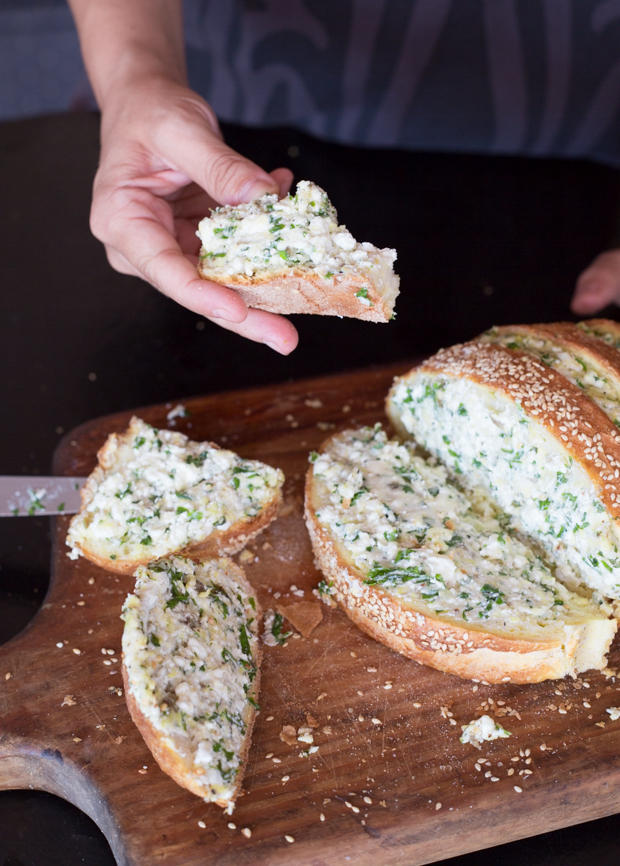 Every September, I'm dreading the whole back to school transition: until my work schedule is all figured out and most of my boring everyday affairs are in order, I'm constantly in a mild frantic state. At the same time, I love going back to parts of my routine, especially those involving exercising, eating and cooking. Even more so, I'm looking forward to the activity which involves the latter two, plus our friends: casual dinners at home.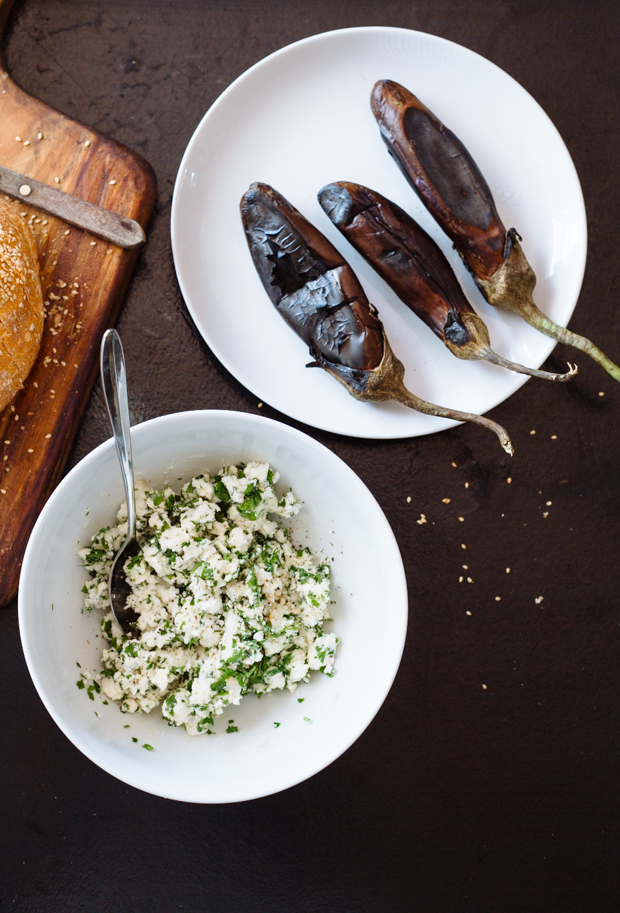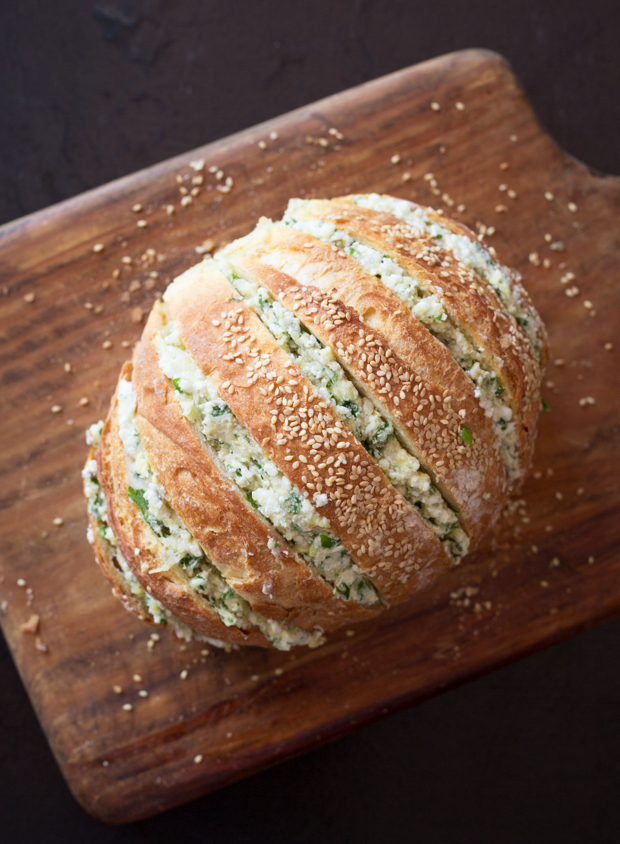 One of my favourite things to make is a stuffed loaf- from a classic garlic & parmesan to this one, it really does not get easier and more delicious than this. When I first made this aubergine, garlic & feta stuffed loaf back home, I used the most delicious aubergines from our Friday farmers market, parsley from our pots and the best hand model ever, my sis. I'm now really looking forward to making it for our friends too, once we're back from California and just in time to catch the summer's last aubergines.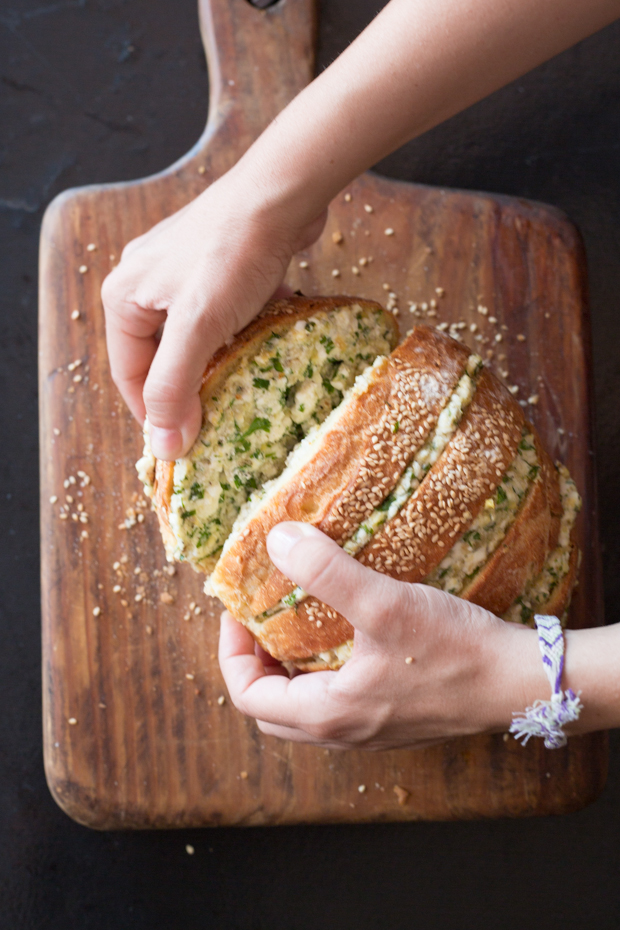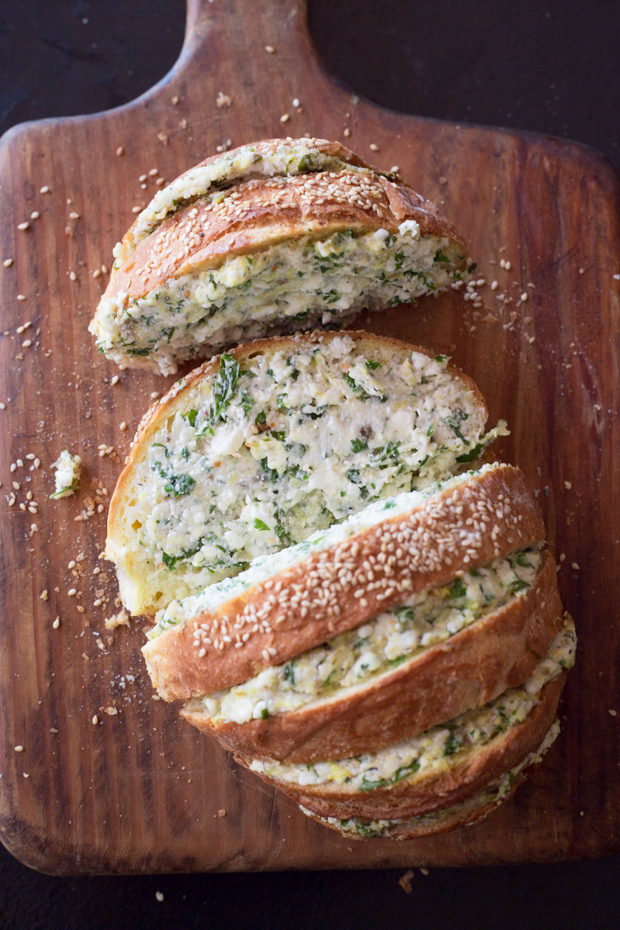 So, grab your favourite loaf (crunchy on the outside and soft on the inside is best) and get ready: aubergines, grilled for that perfect smoky flavour and mashed with garlic- a match made in heaven; salty feta and cream cheese for smoothness, lots and lots of fresh parsley, freshly ground black pepper and extra virgin olive oil too. Just perfect for stuffing our chubby, crusty, pillowy loaf and then our friends.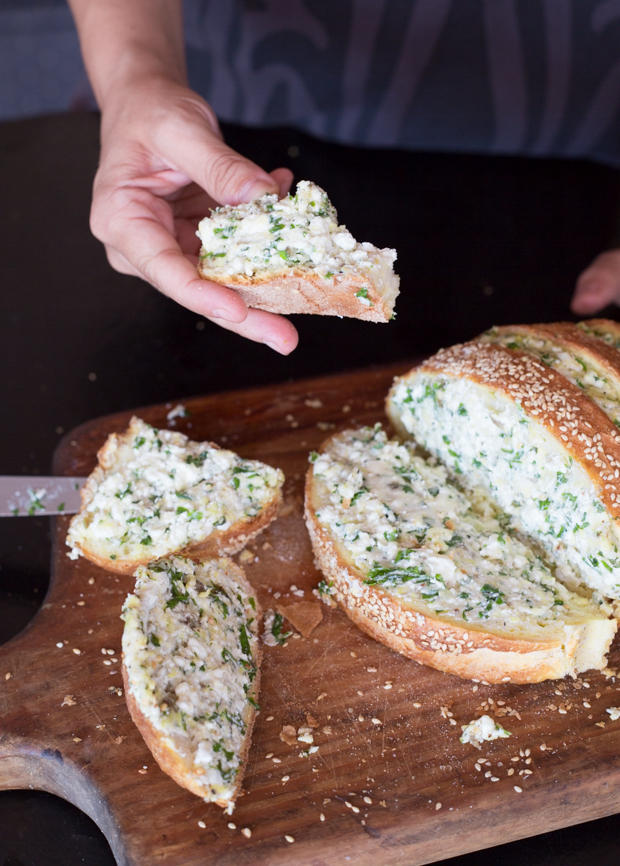 Aubergine, garlic & feta stuffed loaf
INGREDIENTS
3 small aubergines (or 1 medium)
3 garlic cloves
2 1/2 tablespoons fresh parsley, minced
1 1/2 cup feta cheese, crumbled
4 tablespoons low fat cream cheese
1 tablespoon extra virgin olive oil
sea salt flakes and freshly ground black pepper, to taste
METHOD
Preheat the oven to 200C (180C for air) and line a baking sheet with parchment paper.
Prick the aubergines with a fork and grill them until soft (you can do this on a grill, placing them on top of a hob or in the oven). Peel the skin off and mash the flesh using a fork.
In a medium bowl combine the aubergine mash with the rest of the ingredients.
Slice the loaf thickly (not all the way down) and spread the mixture between the slices.
Drizzle with some extra olive oil, wrap in foil and bake for 20′. Remove the foil lower the heat to 180C (160C for air) and bake for an additional 10′, or until your loaf is a lovely golden brown.
Remove from the oven and serve right away.