One of my favourite chocolate desserts, this spicy avocado cocoa mousse is everything: delicately sweet, smooth and lightly spiced up with pink peppercorns.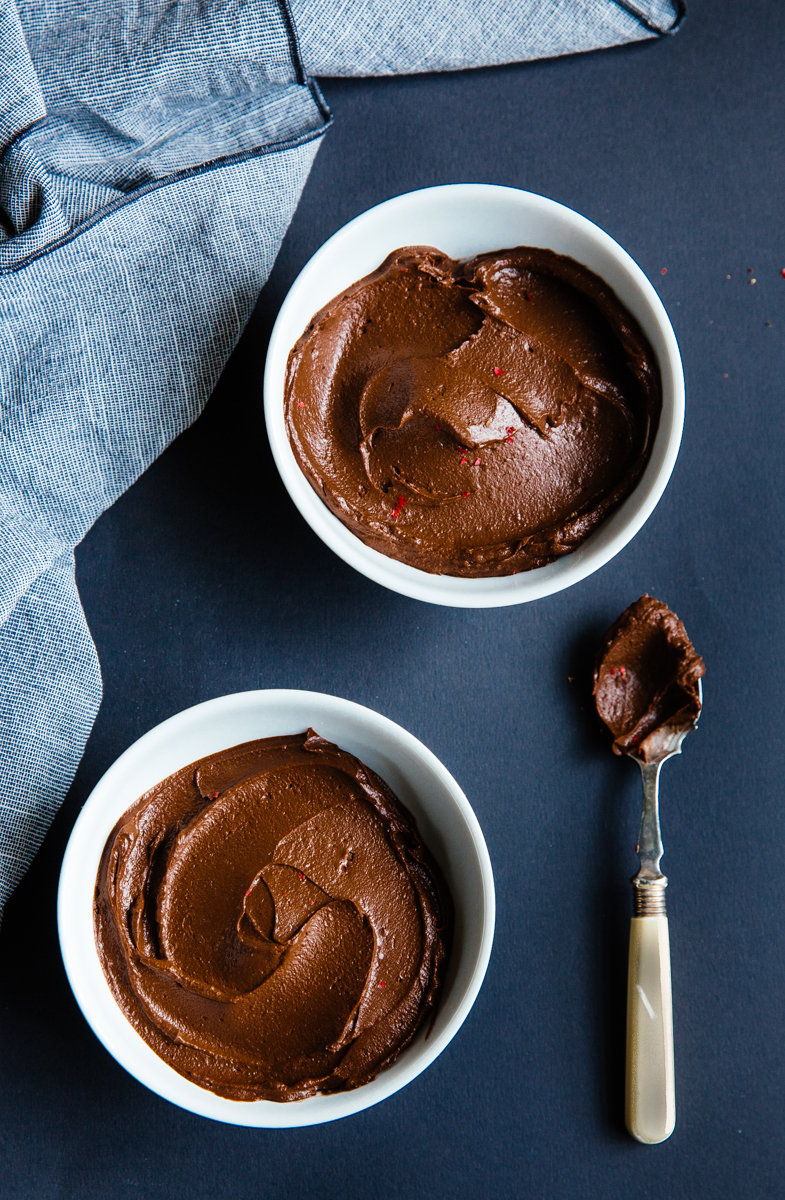 Sharing this mousse was somewhat of an aftermath; the initial plan was much different and included an abundance of sweet and savoury Greek gems, all from Oliveology, on of my favourite Borough Market stores. And then things happened and plans changed- much more than plans changed actually. And  for a few days, I was not up for much.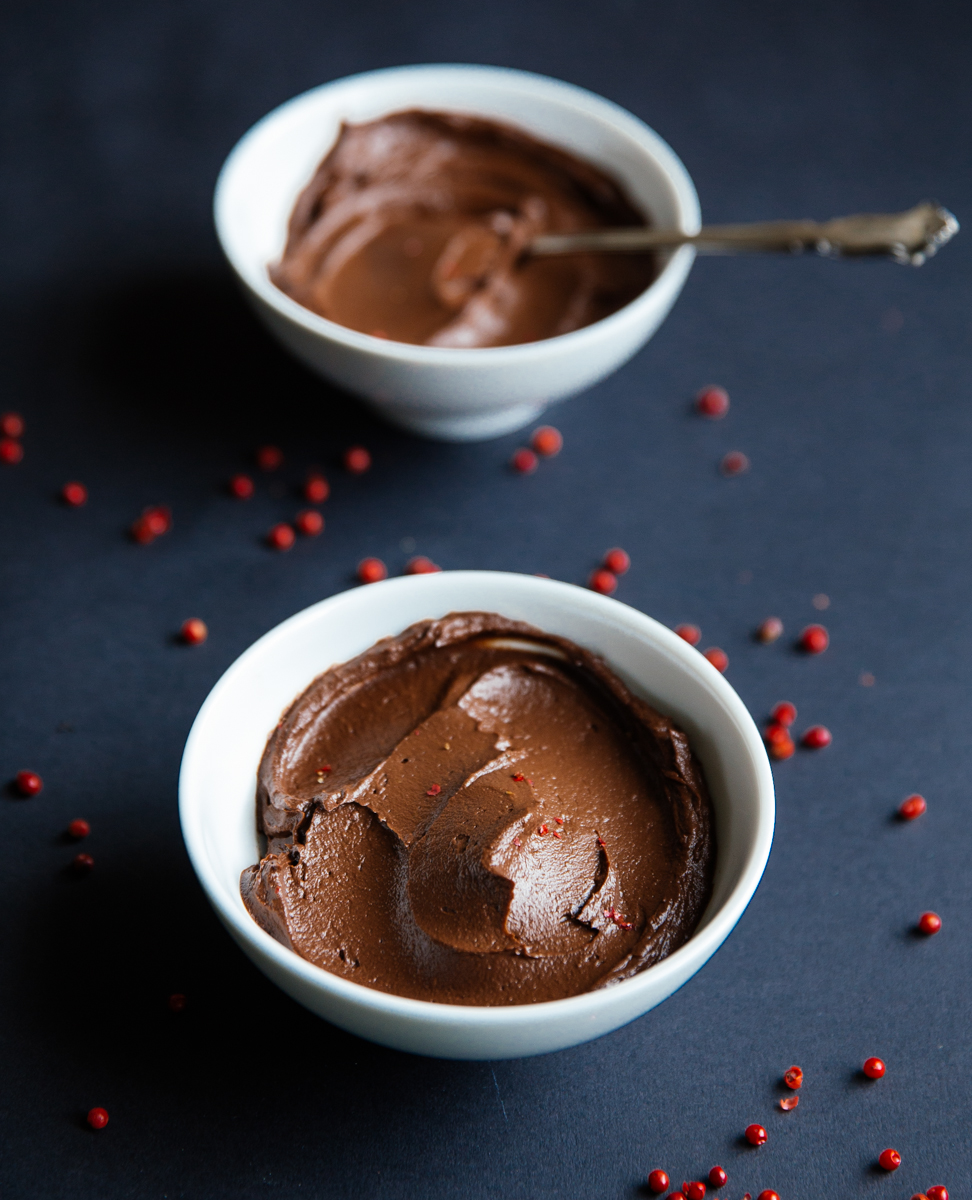 Surprisingly, what I was up for was cooking. A lot. I spent the better part of very early mornings and late evenings in the kitchen, testing, tasting, being quiet, frowning a bit, cursing a lot and smiling too. I made a risotto and a spicy cinnamon ice cream; a polenta cake and a couple versions of baked eggs. I broke lots of eggs, chopped heaps of herbs and ate hungrily standing over my countertop. It felt necessary. And good.
This mousse has been happening for over a year now, time and time again and I am still as smitten with it as I was the first time. Very smooth, very flavourful yet mildly sweet. Ripe, chubby avocados, a splash of almond milk, lots of unsweetened cocoa powder, a few good drizzles of sweet honey and sea salt flakes for balance. And lastly, my favourite part: freshly cracked pink peppercorns- they are stunningly delicious in any case and simply irresistible here. So there it is: bittersweet, barely salty and lightly spicy. One of my favourite desserts, one of these past few days' little comforts.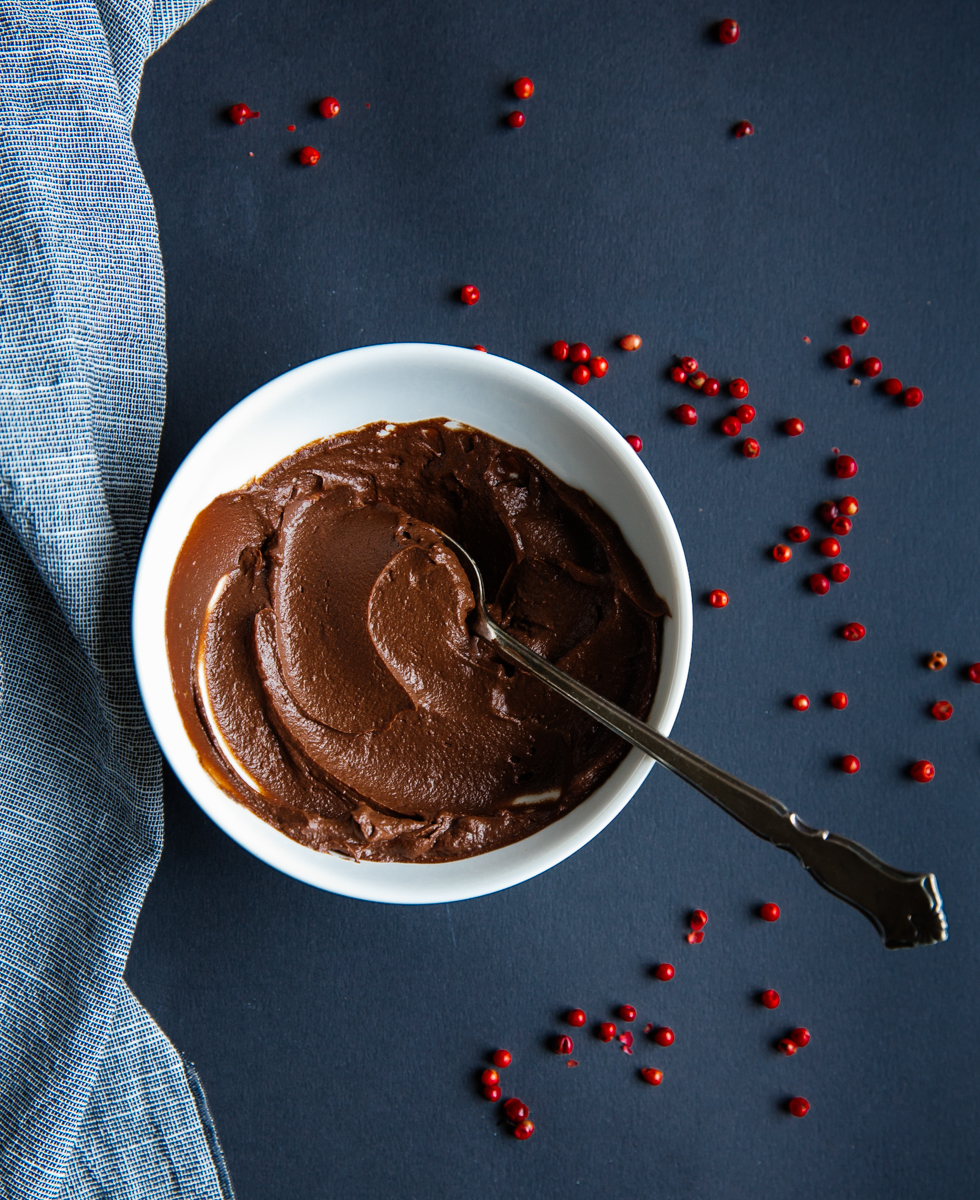 Spicy avocado cocoa mousse
WHAT
3 large ripe avocados
4- 4 1/2 tablespoons honey (depending on how sweet you want the mousse)
1/2 cup & 2 tablespoons unsweetened cocoa powder
2 tablespoons almond milk
1/2 teaspoon sea salt flakes
1/4 teaspoon freshly ground pink peppercorns
HOW
Combine all the ingredients in a food processor and pulse until they come together in a very smooth paste, scraping down the sides when needed.
Scoop into small serving bowls and refrigerate for at least an hour, covered with cling film.
Serve as is or topped with nuts and/ or fresh fruit.