Perfect for this time of year, this asparagus & tuna pasta salad is colourful, delicious and irresistibly light- it's an ideal lunch or dinner for spring.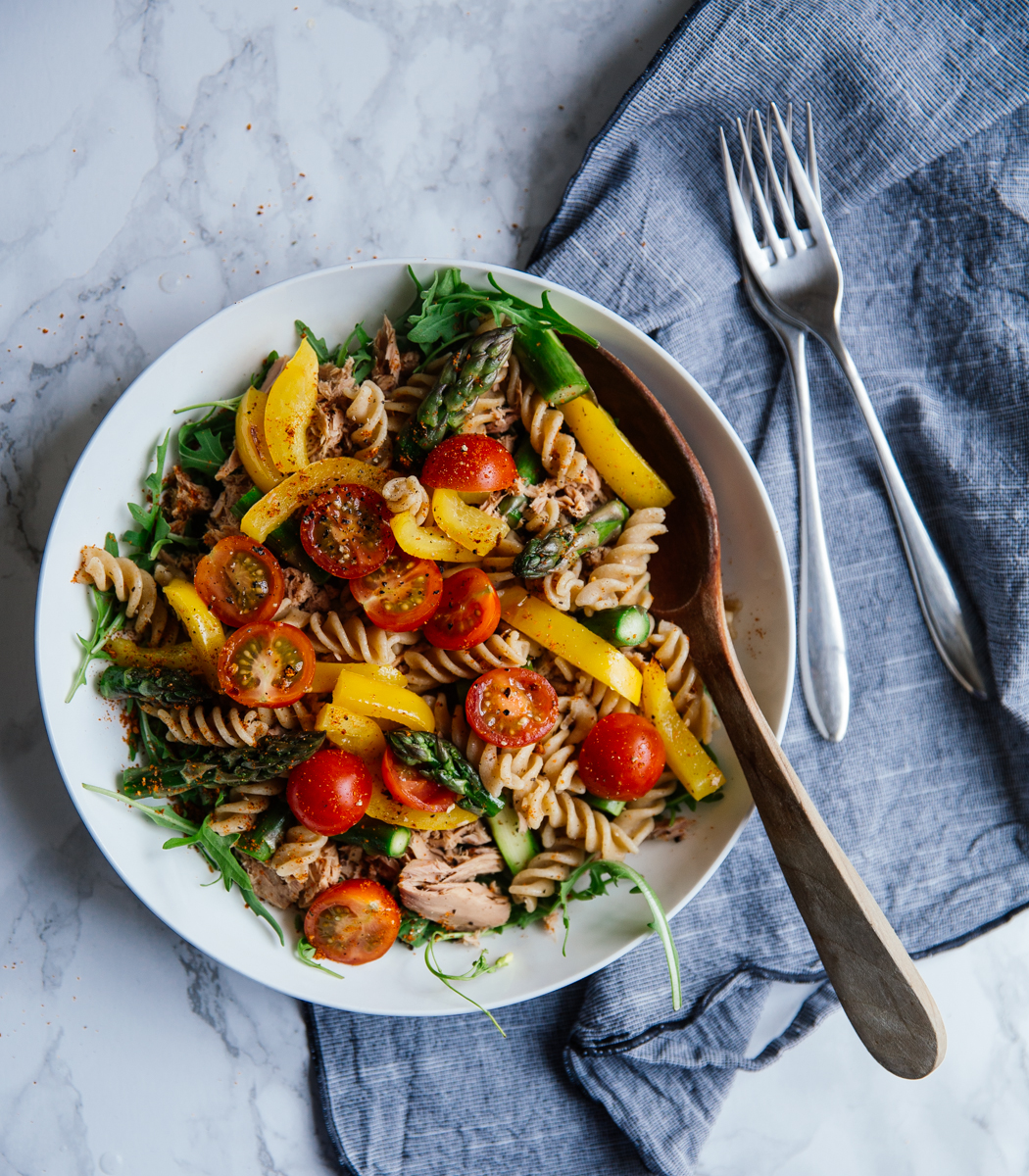 It seems like every year, I am somehow oblivious to the infinite charms of asparagi. Autumn passes and then winter too and I never think about them, nor do I miss them. And then spring arrives, irresistible and thirsty, bearing gifts of almost unbearable beauty: berries and crunchy cucumbers, delicate greens and, always seemingly to my surprise, asparagus. A little crusty, yet delicate too, requiring so very little and giving back so very much.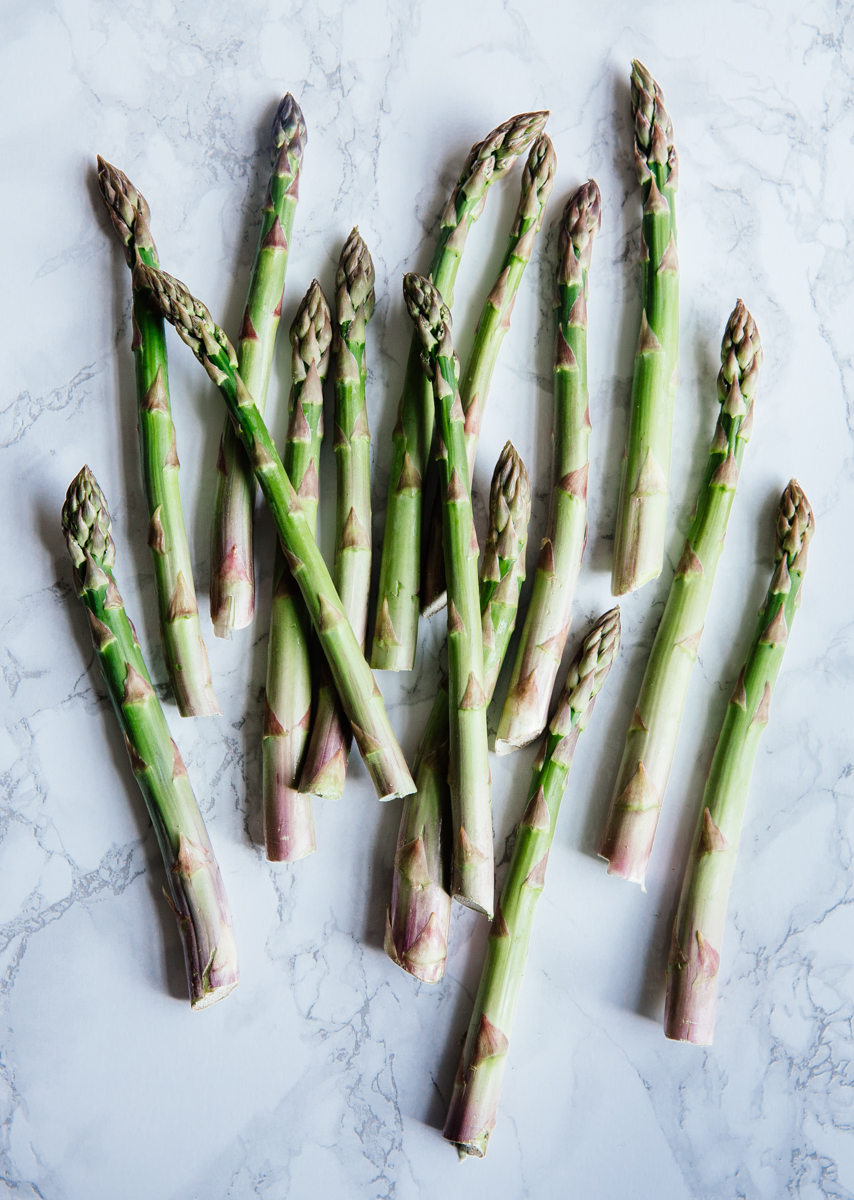 At first, I buy them almost reluctantly, as if I would never know what to do with them. I let them be for a day or so (they really are stunning too- this I never fail to notice) and then, suddenly, unexpectedly, I grow impatient and can barely wait: they need to be added in the simplest of salads or most definitely accompany eggs. In any case, the dish needs to be simple, so that asparagus is king. It needs to be quick too, as I can barely wait now, suddenly up from what seemed like a year's worth of slumber.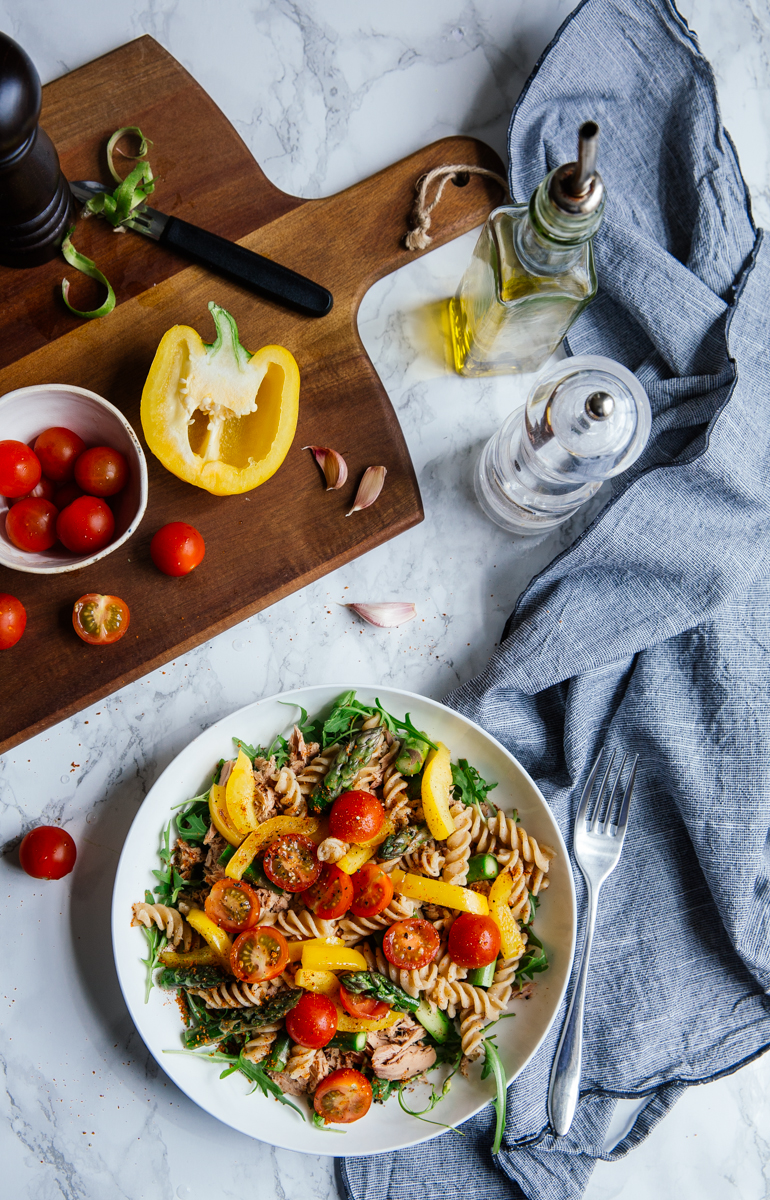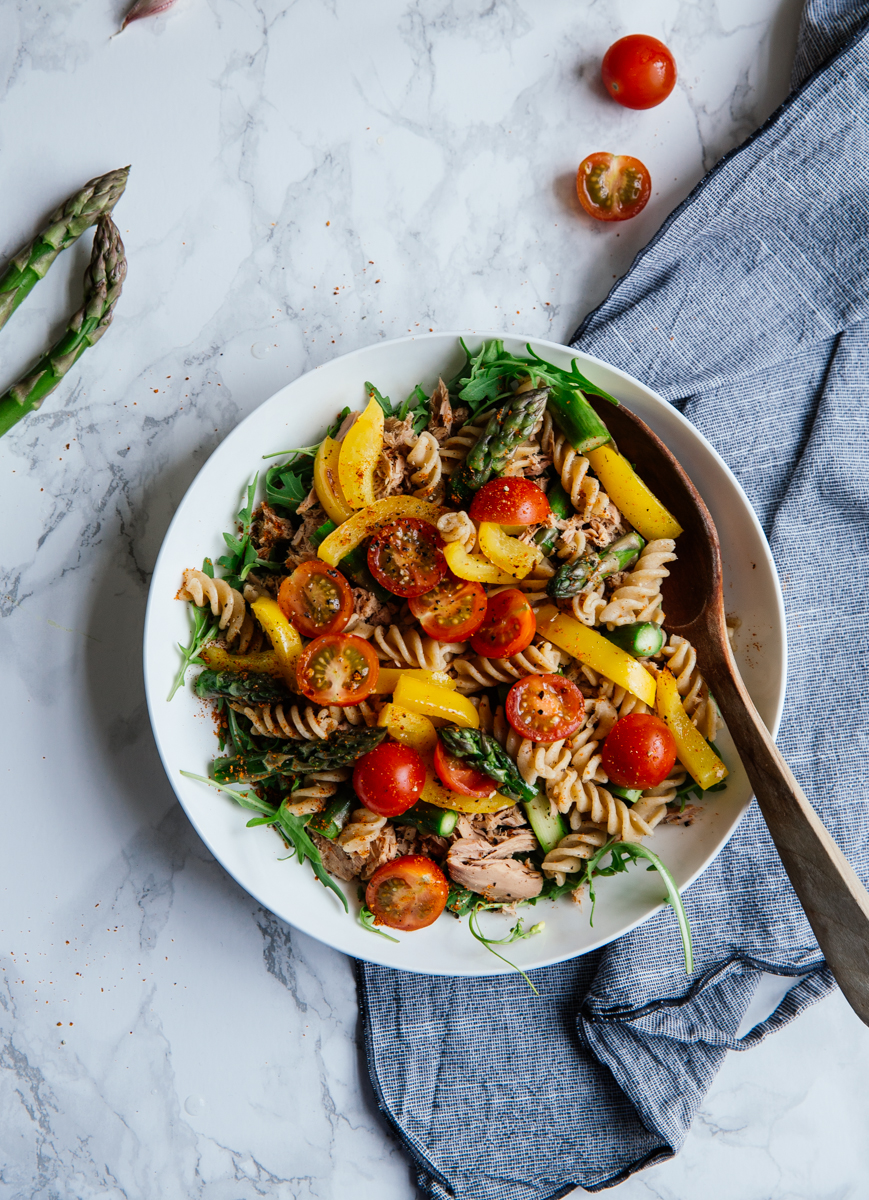 So the simplest pasta salad it is; one I've had alsmost every day for about a week. One that essentially keeps good company to this majestic spring treasure: all the components are humble, yet precious: fresh, plump wee tomatoes, crunchy peppers, sour cappers and peppery, delicate rocket- all the makings of a delicious, spring salad. And for some extra, albeit not sine qua non substance, some chunky flakes of good tuna. All tossed together, along of course with the main attraction, the barely cooked, barely touched really, beautiful asparagus. Bright yellow olive oil and a touch of vinegar, a good sprinkle of sea salt flakes, some black pepper and a touch of mild paprika too. And there we have it, a perfectly simple, perfectly easy spring salad, perfectly highlighting asparagus and its delicate beauty.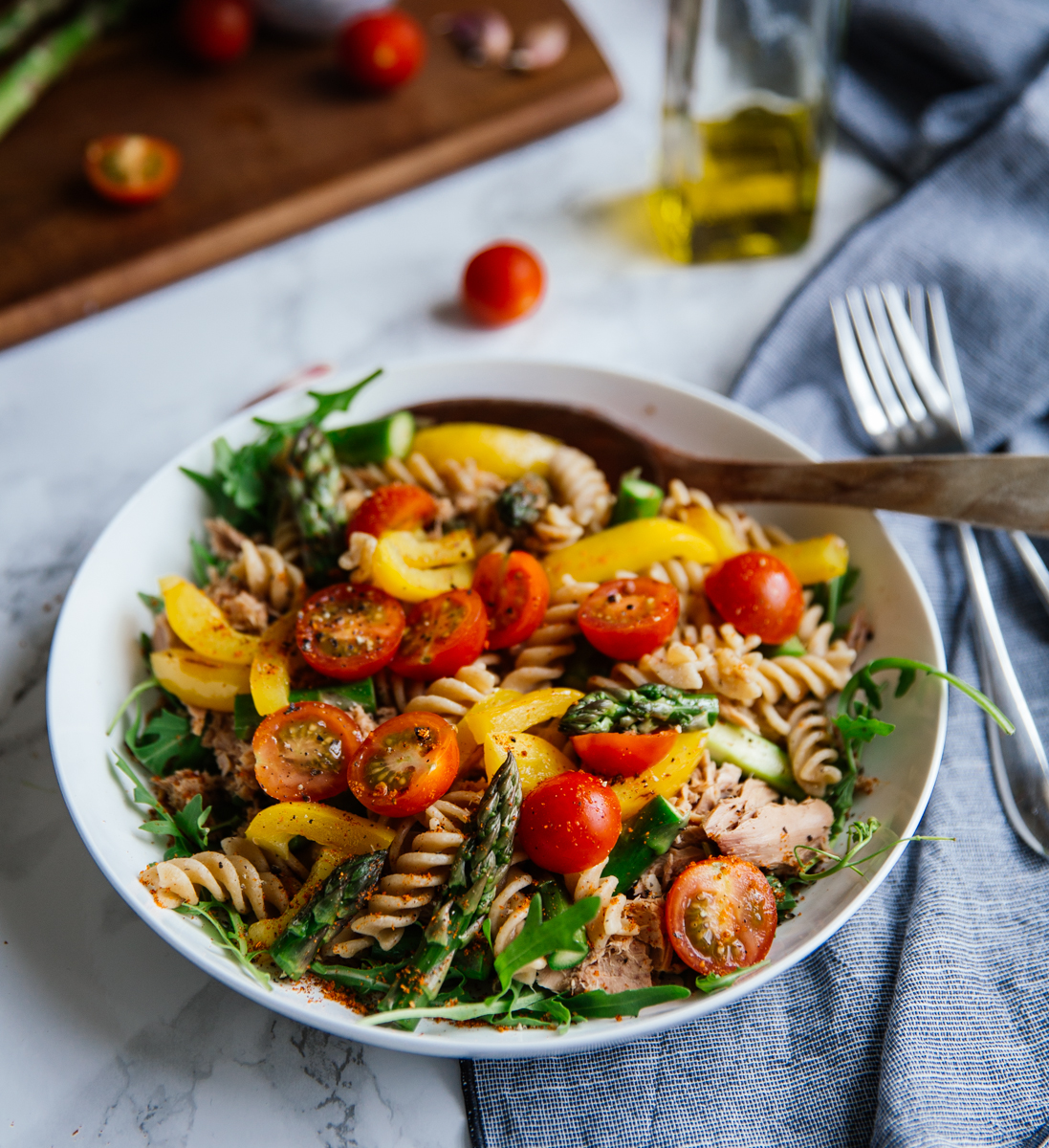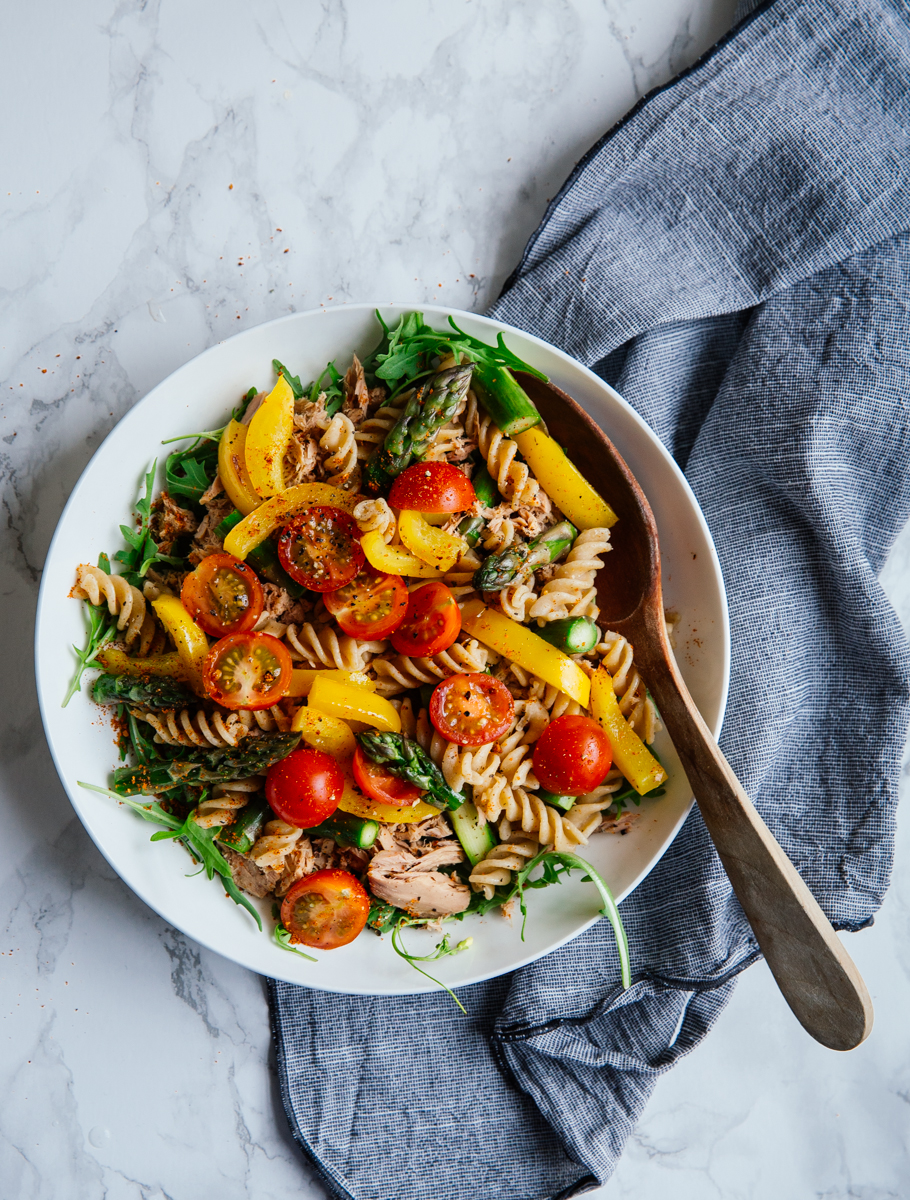 Asparagus & tuna pasta salad
WHAT
3 cups wholewheat fusilli
8 asparagus, trimmed, ends discarded
1/2 yellow bell pepper, sliced
2 tablespoons extra virgin olive oil, divided
1 teaspoon minced garlic
12 cherry tomatoes, halved
3 tablespoons capers (optional)
1 big handful fresh rocket
1 can tuna in spring water
sea salt flakes & freshly ground black pepper to taste
1/2 teaspoon mild paprika
1/2 tablespoon apple cider vinegar
HOW
Cook the pasta in plenty of salty water until al dente.
Warm a frying pan over medium/high heat and add the sliced peppers and halved asparagus; cook until lightly soft and charred- about 7′. Add one tablespoon olive oil and the minced garlic, toss and then remove from the heat and set aside.
Drain the pasta, but not very thoroughly- try to keep it more on the wet side.
Combine the cooked pasta with the tomatoes, cappers (if using), rocket and tuna.
Add the cooked asparagus & peppers and finish off with salt, pepper & paprika and remaining tablespoon of olive oil & vinegar. Toss gently to combine and serve (warm or cold).