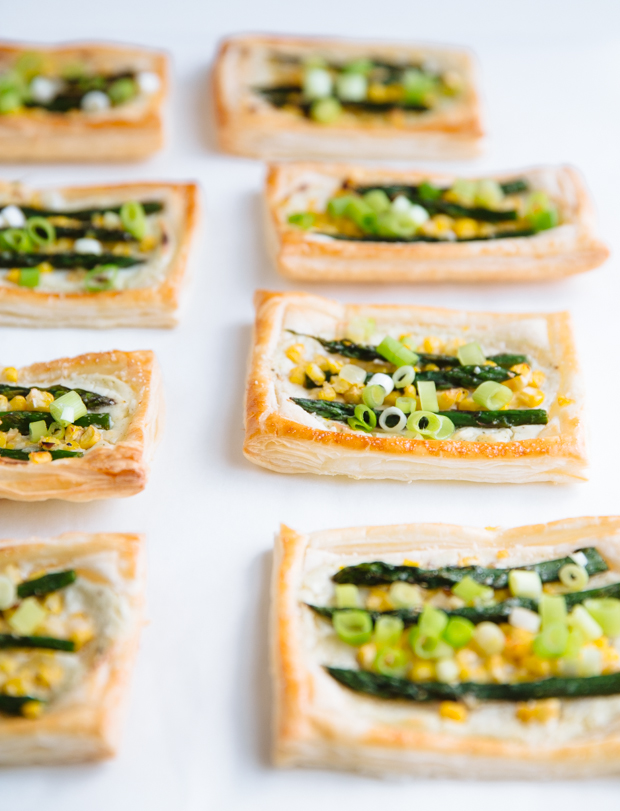 These asparagus, garlic & corn cream cheese tartlets are just perfect for this time of year. Asparagus is one of my favourite ingredients you guys! But, looking at my recipes, you wouldn't know- in fact it's been only featured here twice: quite recently in this super fresh chinese egg rice salad and a while back, courtesy of Nassia and her kick-ass red wine risotto. What the hell, right? Asparagus is such a delicate beauty, such a rock star, it needs all the love we can give it and then some.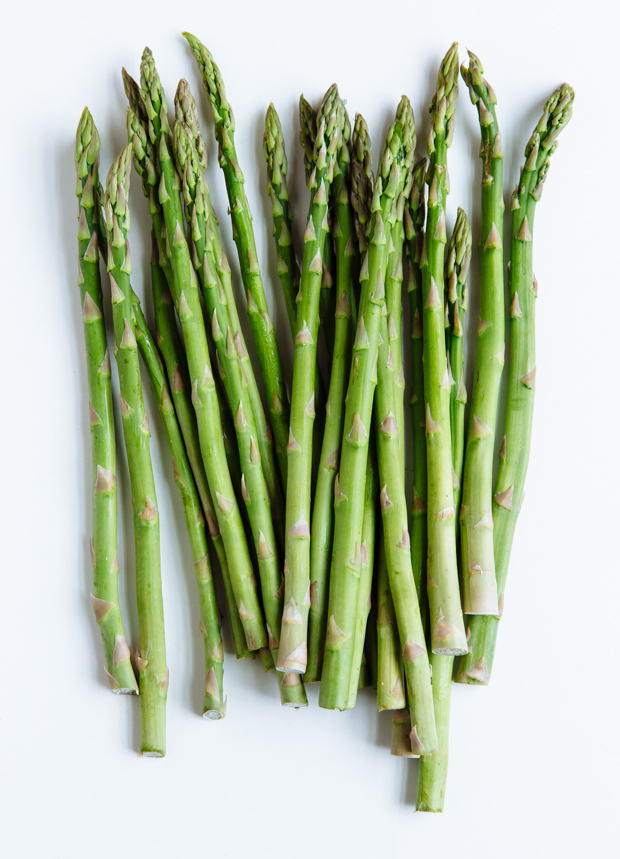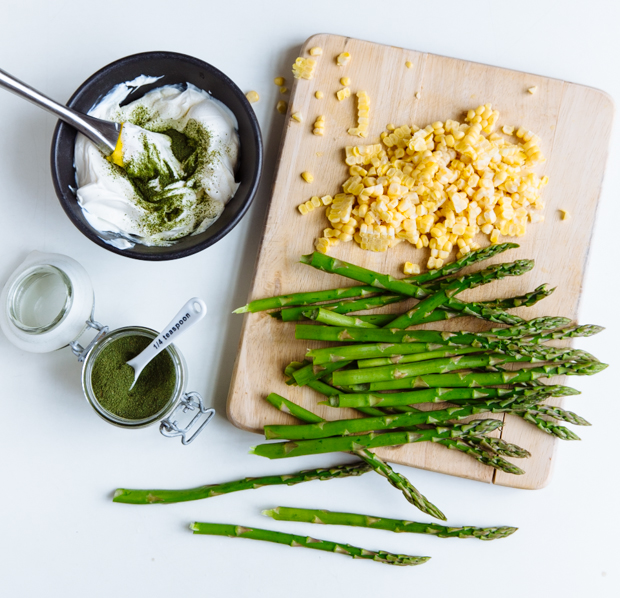 The thing is, as soon as the first beautiful bunches appear on the market stalls, I grab them, snap them, lightly sautee them and devour them- usually alongside a poached egg. The result is always the same: I marvel at their perfect taste and looks and soon enough I'm left with no more asparagus to play with. Not this time though; this time, I managed to show some restraint and instead actually tested a couple recipes.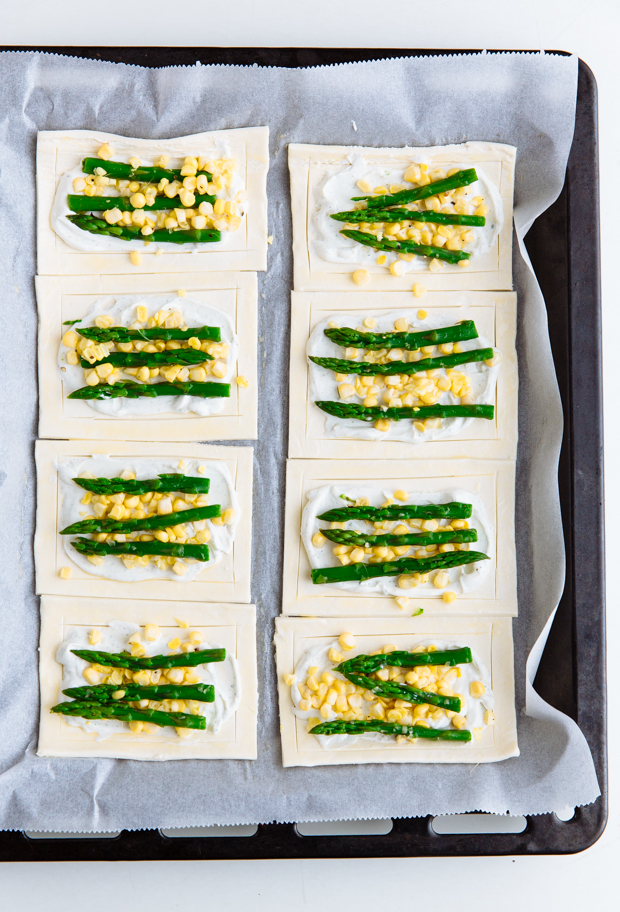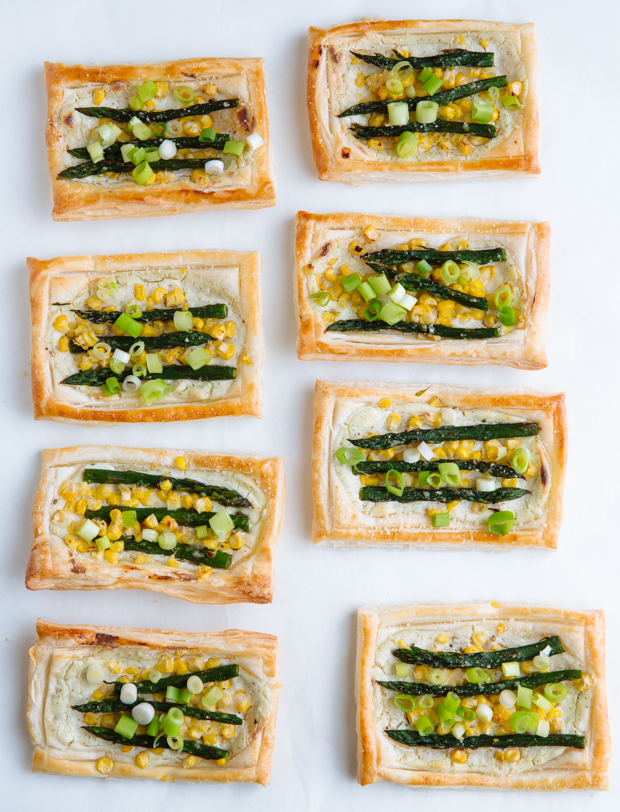 Because asparagus is so tender and pretty, with such a delicate flavour, it really needs no bells and whistles to shine. Few additional ingredients, merely to highlight the superstar: cream cheese mixed with wild garlic, fresh corn and spring onions- all atop a perfectly crunchy buttery puff pastry. All hail asparagus and their spring charm, all hail speedy tarts filled with pretty greens (and yellows)!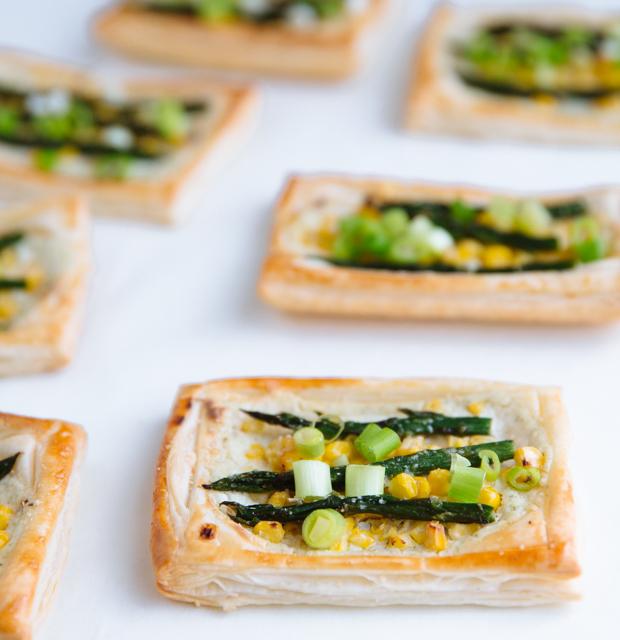 Asparagus, wild garlic & corn cream cheese tartlets
INGREDIENTS
1 pack puff pastry, thawed
24 asparagus stems, washed 
1 tablespoon extra virgin olive oil
kernels from one medium corn on the cob
sea salt flakes & freshly ground black pepper to taste
1 tub cream cheese (about 300gr)
1/4 teaspoon wild garlic powder*
1 medium egg, beaten
3 small spring onions, thinly sliced
METHOD
Preheat the oven to 200C (180C for air). Unroll the thawed puff pastry and cut in even squares. Score a border (about 1/2cm) around each piece and prick the centers with a fork. Place in the freezer while you prepare your vegetables.
Heat 1 tablespoon olive oil in a pan over medium heat. Snap and discard the asparagus ends, and add the rest the remainings to the pan. Cook until just tender, about 3′ and then add the corn kernels. Season with sea salt and black pepper to taste, gently toss and cook for another 2′. Remove from the heat and set aside. Combine the cream cheese with the wild garlic powder and a pinch of sea salt flakes and set that aside too.
Take the puff pastry squares out of the freezer, place on a large baking sheet and brush the borders with the eggs wash. Top each square with a generous smear of the garlic cream cheese, asparagus (I only used the tops here) and corn kernels.
Bake in the preheated oven for 10′, turn the heat down to 170C (150C for air) and bake for another 5-7, or until the pastry is puffed and golden brown.
Remove from the oven, top with the sliced spring onion and serve.
*I discovered this at my favourite Armenian spice & meat shop in Athens- if you can get a hold of it (I've only found it here online), get it. It's very expensive, but totally worth it (plus only a pinch goes a long way).