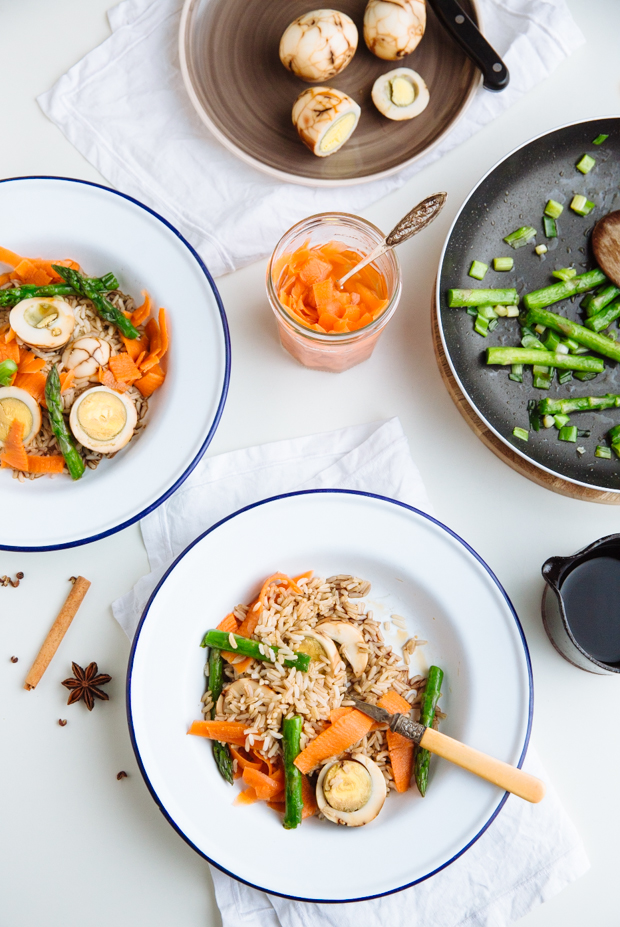 Easter is practically here, you guys! I realised this just a few days ago and I have to say, it really caught me by surprise- it's so early! This year there seems to be a mahoosive gap between Catholic and Greek Easter and since I've been accustomed to the latter, I guess I really dropped the ball on the whole Easter situation. Still, since I LOVE celebrations of any kind at absolutely any time of the year, I'm definitely up for a speedy seasonal dish, filled with delicious flavours and bright springy colours:  hello, marbled egg, pickled carrot & asparagus rice salad!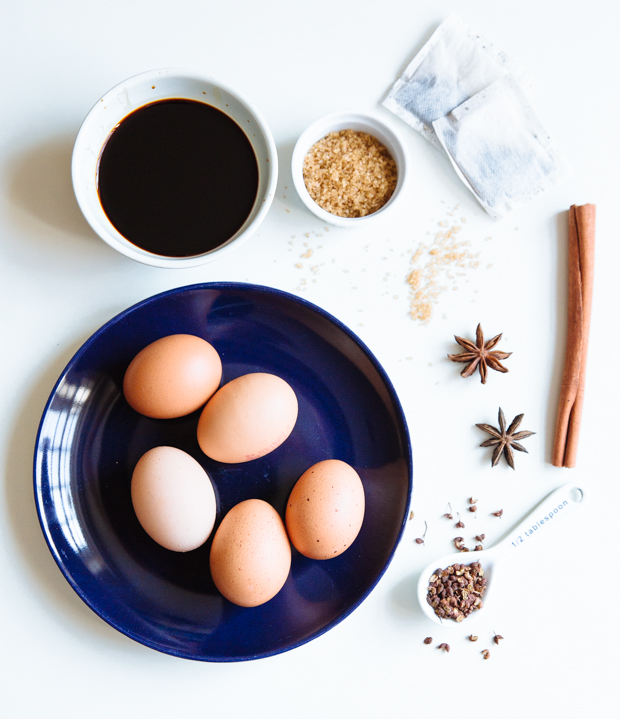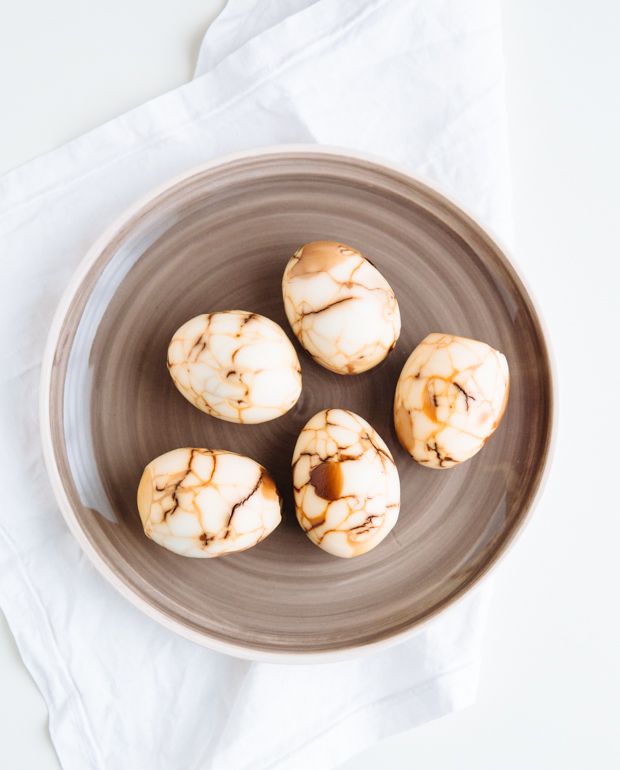 I first gave these beautiful marbled eggs a try a while ago, back when I was actually aware of Easter coming up. I initially experimented with soy sauce and star anise alone and although they turned out fine, there was something missing: more aroma and a tiny kick of spice. Enter Earl Grey tea (which I love to cook with) and Sichuan peppercorns. And bam! There is was, all the flavour I was looking for and so much more colour.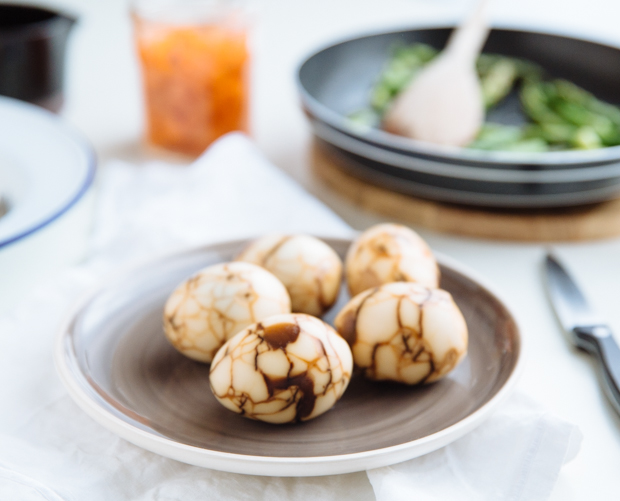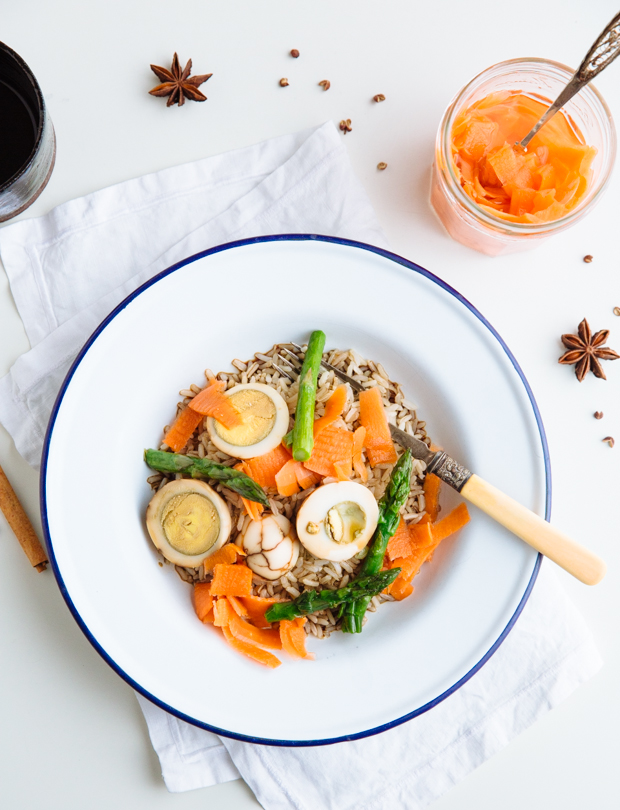 And what to pair these delicate beauties with? Why, with lots of bright colours to balance their dark pattern and lots of texture- a perfect match to their softness. Carrot ribbons, quickly pickled for a touch of acidity, and fresh, crunchy asparagus only barely sautéed with a little olive oil alongside spring onions.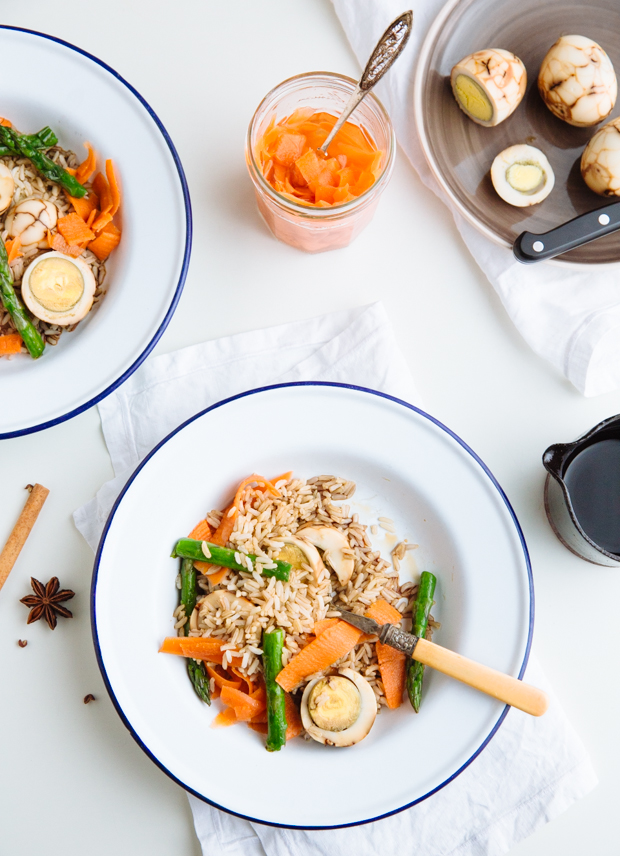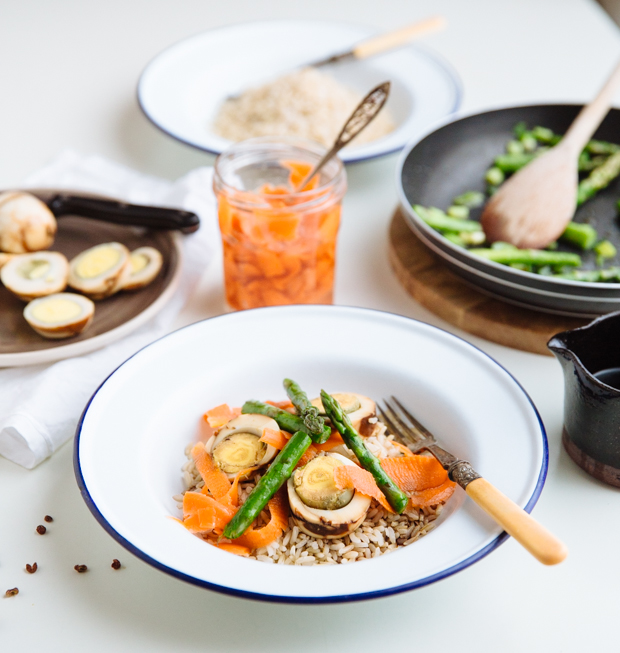 We'll start with hard boiled eggs, then crack them all over and boil them again in a delicious, fragrant mixture of cinnamon, Earl Grey tea, star anise, soy sauce, sugar and sichuan peppercorns. We'll leave them there for as long as possible, allowing our broth to penetrate the little cracks and give our eggs their delicious spidery pattern. And then we'll combine them with brown rice, delicious asparagus, spring onions and pickled carrots. We'll drizzle our salad with some of the broth and be set for lunch and dinner and ready for Easter and all things springy and beautiful.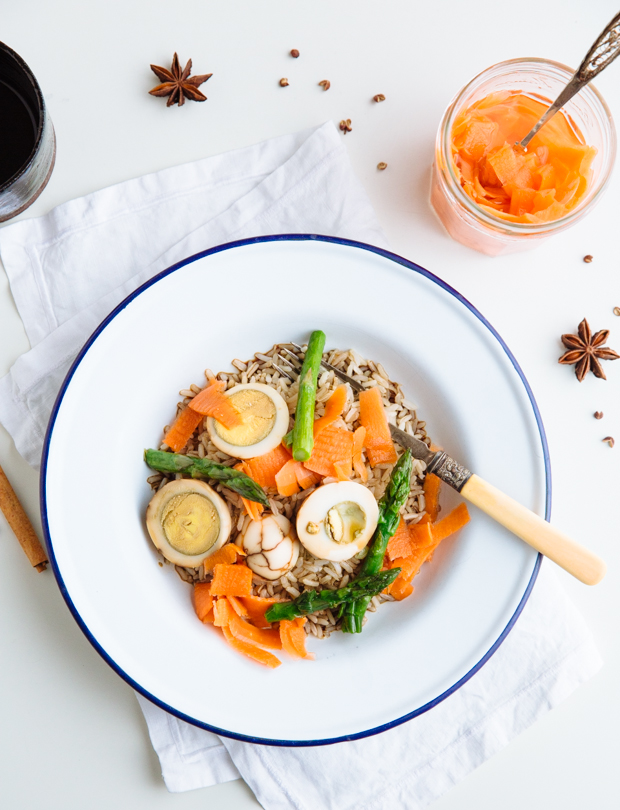 Marbled egg, pickled carrot & asparagus rice salad
INGREDIENTS
For the eggs:
5 medium hard boiled eggs
1 large cinnamon stick
2 pieces star anise
2 Earl Grey tea bags
1/2 tablespoon Sichuan peppercorns
1/2 cup soy sauce
2 tablespoons demerara sugar
For the pickled carrots
2 medium carrots, washed and peeled
2 tablespoons golden caster sugar
50ml white wine vinegar
100ml water
For the asparagus:
100gr fresh asparagus, washed and trimmed
3 spring onions, thinly sliced
1 tablespoon extra virgin olive oil
To serve: cooked brown rice
Run the boiled eggs under plenty of cold water and carefully crack each one with a small spoon, taking care not to remove any part of the shell.
Place the cracked eggs in a large pot, add the rest of the ingredients and cover with filtered water. Bring to a boil and then bring down the heat to a low simmer. Allow the eggs to simmer for at least two hours and then remove the pot from the heat and leave the eggs undisturbed for at least two hours or overnight (the longer you leave them, the darker the pattern will be).
In order to quickly pickle the carrots, using a peeler, peel thick slices from each carrot and place in a large bowl of cold water.  Combine the sugar, vinegar and water in a small pan over medium heat until the sugar is dissolved. Remove from the heat and set aside. Drain the carrots, transfer in a glass container and pour the sugar and vinegar mixture over them. Allow to cool, put the lid on and let them sit for at least one hour.
After removing the eggs from the broth, strain the liquid through a mesh and reserve. Peel the eggs and cut in thick slices.
Add the olive in a medium frying pan and warm over medium heat. Add the trimmed asparagus and spring onions and cook until the asparagus are just tender and the onions very lightly browned.
So serve: Pile some cooked rice on a plate and top with egg slices, pickled carrots, asparagus & spring onions. Drizzle generously with the strained broth and enjoy.