My favourite vegetable platter features lots of crunchy veggies, toasted sourdough, mozzarella balls & my favourite, smooth, green, sour & sweet dip.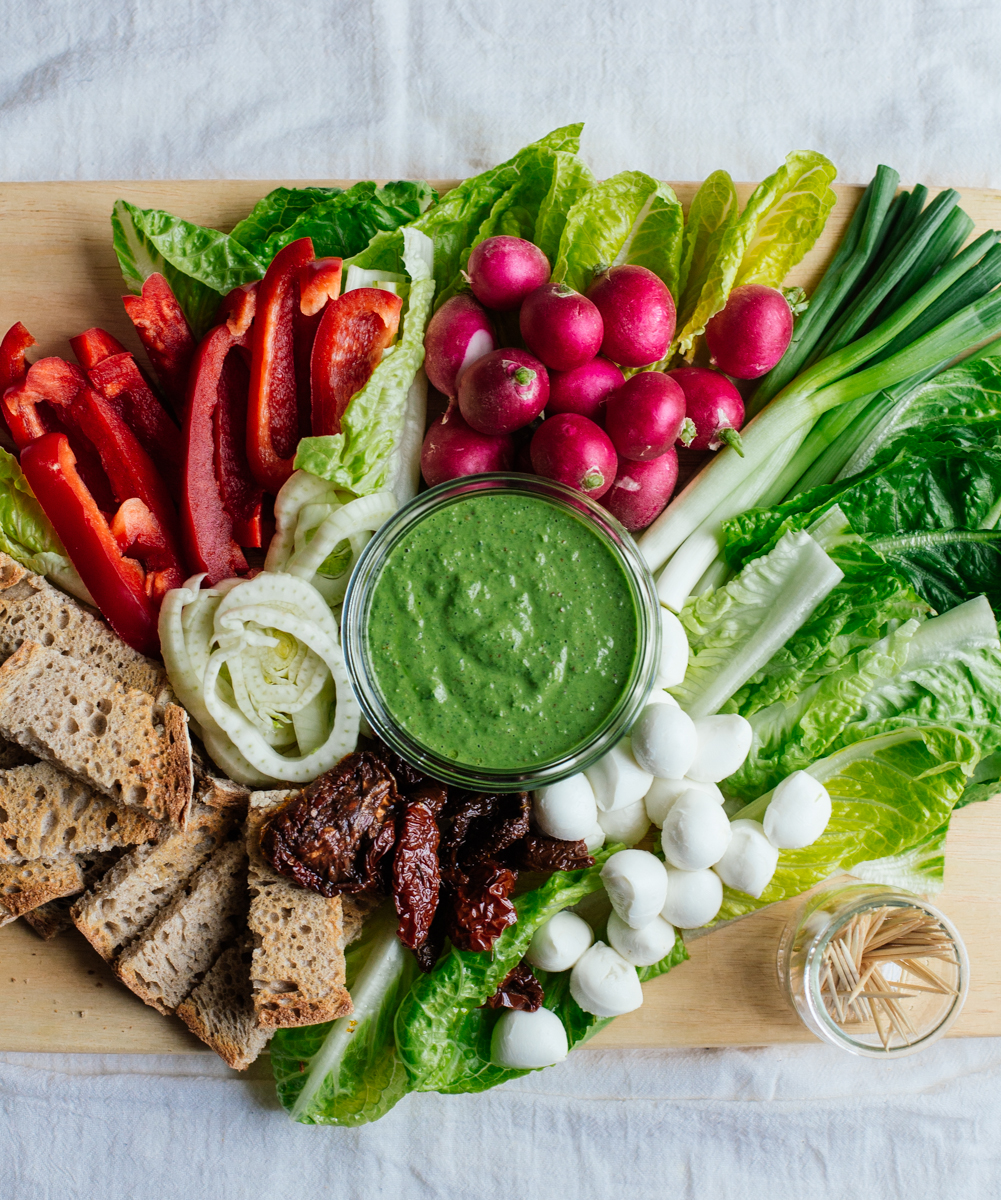 One of the things that makes me happiest is having friends over and feeding them. I always prefer preparing the food myself (be it small bites or an actual meal) and not relying on store-bought options- so when guests do arrive, I've been through a bizarre state of mild stress and almost absolute bliss. And they can both be attributed to cooking, which stresses and relaxes me in almost equal measures. My biggest joy is to prepare a platter, abundant in some of my favourite things. These most often belong in the dairy family (there's few things I love more than a good cheese platter), but as of late, I have been experimenting with including more freshness, crunchiness and colours.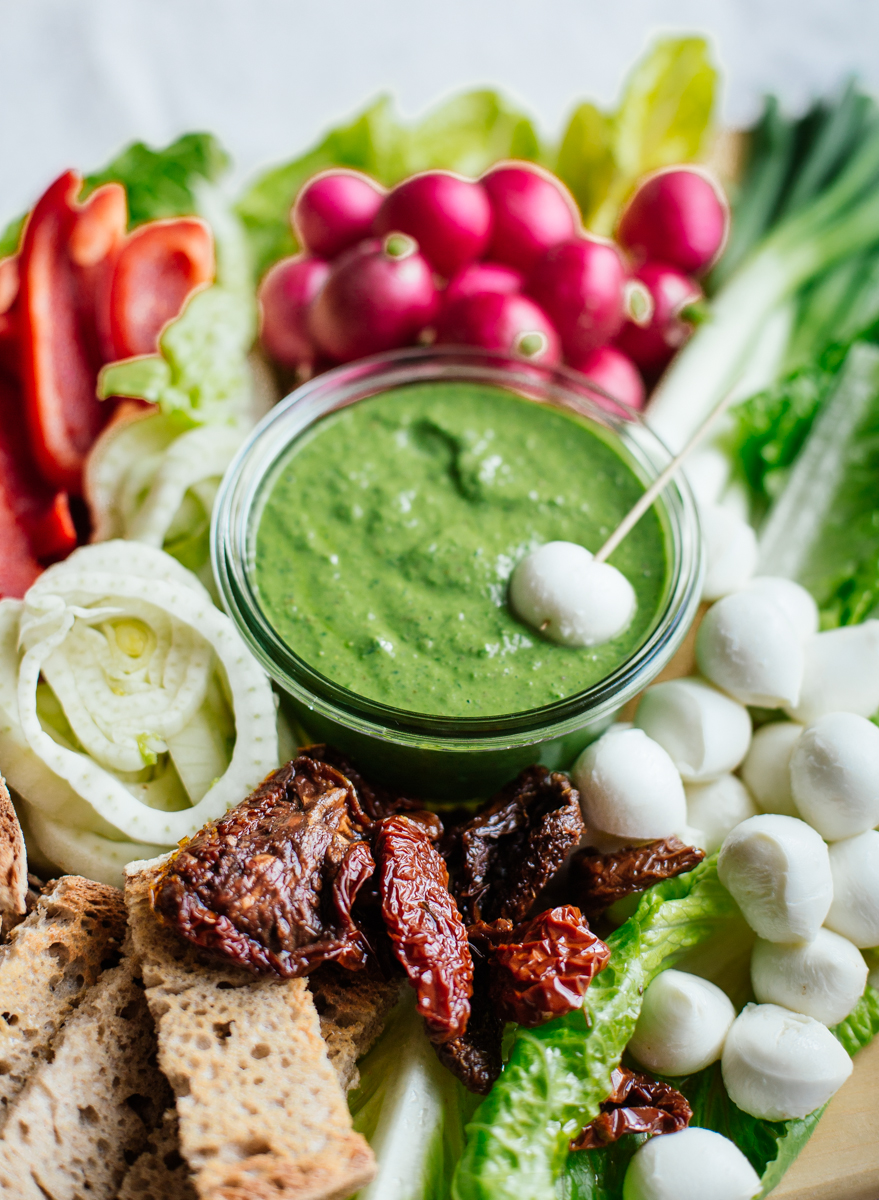 Enter vegetables, my trusted cooking ally, the ones I always rely on for inspiration, texture, variation and goodness. They are humble and mighty all at once, filling without ever becoming heavy; I often prefer them raw, simply dressed in fresh lemon zest, perhaps a drizzle of good, light olive oil and a sprinkle of salt flakes. Here, they are sitting pretty, next to big chunks of toasted sourdough, mozzarella cherries and wrinkly, herby sun-dried tomatoes, keeping company to my new favourite green: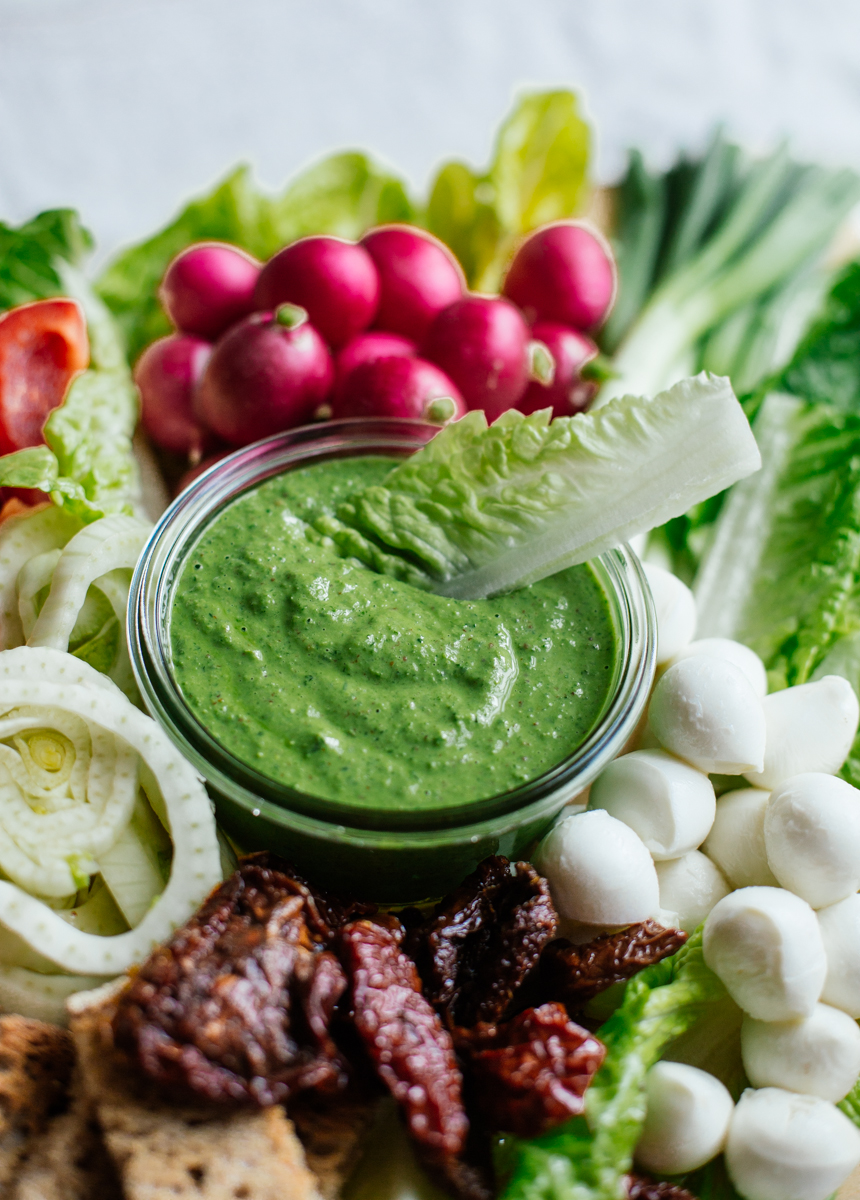 a smooth, acidic dip, inspired by a Caesar dressing; there's fresh kale, anchovies, parsley, mustard, honey and yogurt in there, along with a good Grana Padano, lemon juice and vinegar. It's strong and velvety at the same time, truly the perfect partner in crime for our beautiful raw vegetables.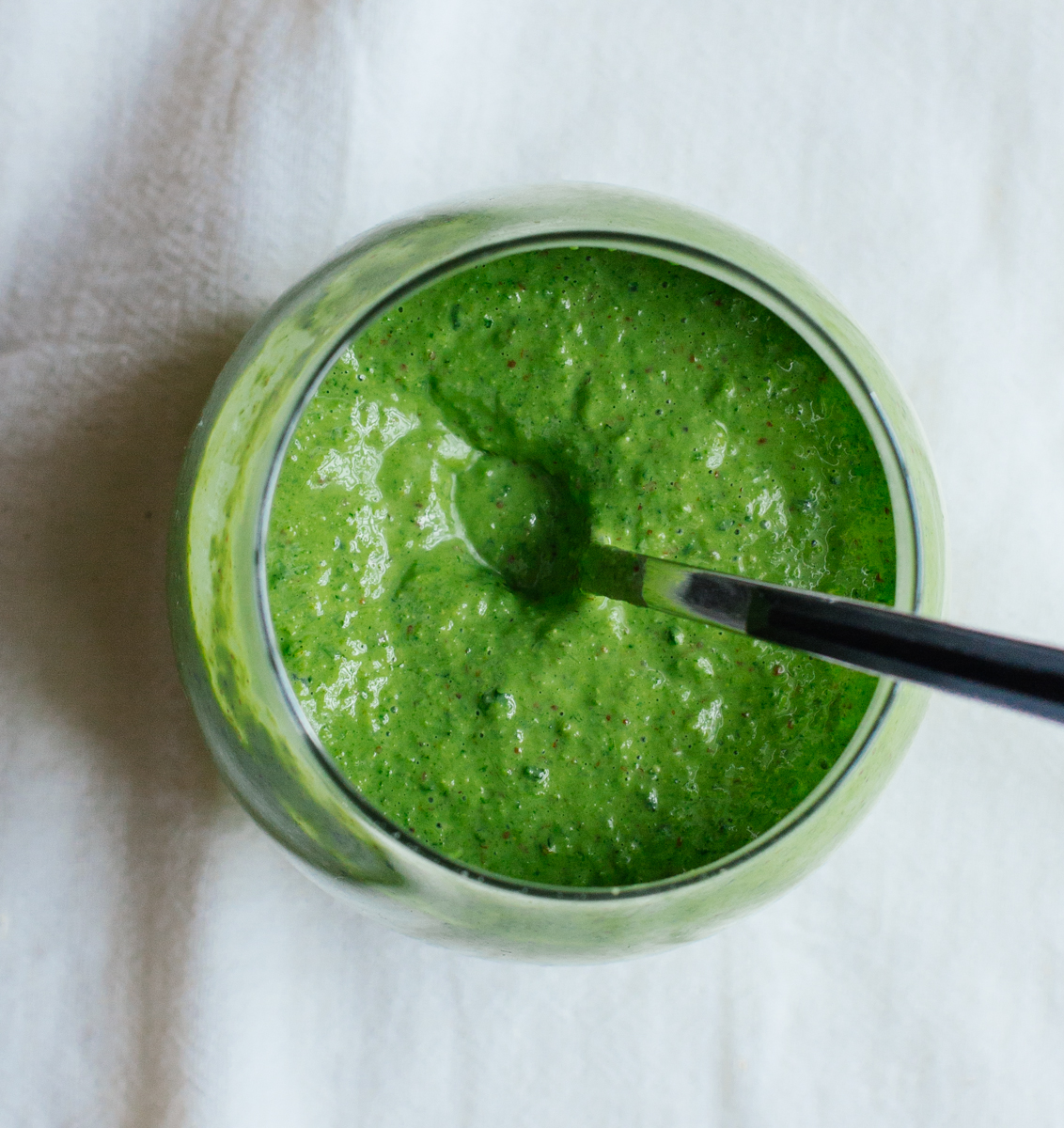 Vegetable platter
WHAT
for the dip:
6 anchovies (from a jar)
1 1/2 tablespoons wholegrain mustard
3 teaspoons honey
juice for 1/2-1 lemon
1 teaspoon garlic powder
2 tablespoons white wine vinegar
4 tablespoons finely grated Grana Padano
3 tablespoons full fat Greek yogurt
2 cups kale, washed, hard chunks removed
2 tablespoons fresh parsley, roughly chopped
1/2 cup extra virgin olive oil
for the platter:
1 lettuce, washed and torn in large chunks
15 radishes, washed 
1 fennel bulb, washed, hard leaved removed
1 red bell pepper, deseeded and cut in wedges
8 spring onions, washed
6 sliced sourdough bread, toasted or grilled and cut in thick chunks
150 gr mozzarella cherries (or one big piece, torn in chunks)
about 20 sun-dried tomatoes
HOW
Make the dip by combining all the ingredients, except the olive oil, in a blender. Start blending while simultaneously adding the olive oil in a constant flow. Taste, adjust the acidity to taste and season with salt (if needed) and freshly ground black pepper.
Arrange the cut vegetables in a large platter, tray or platter, along with the bread, cheese and tomatoes. Serve with the dip at room temperature.