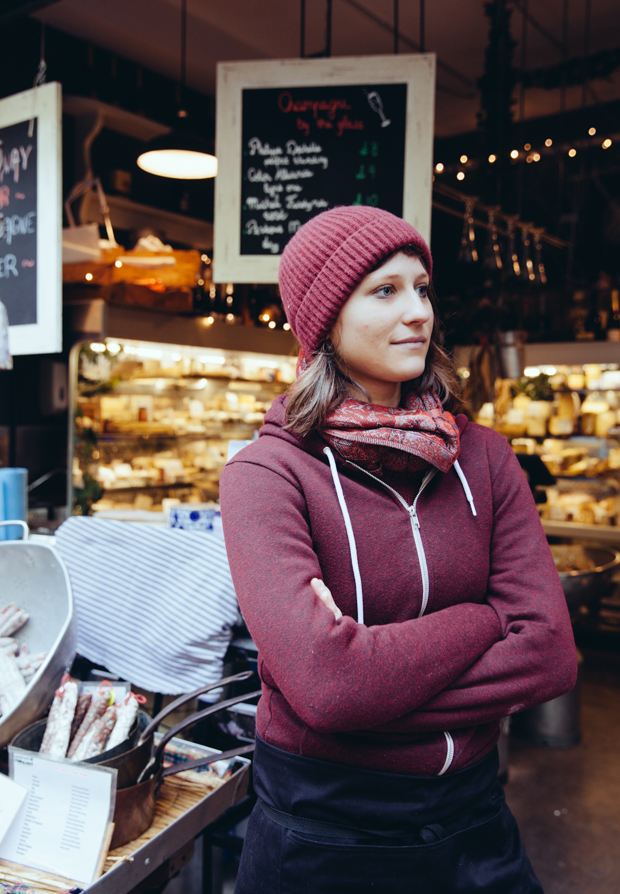 Agathe Cerezo, Assistant Manager of Champagne+Fromage, from Metz, France, lives in Bethnal Green, London
As clearly indicated from last week's posts, cheese is only one of my absolute favourite things to eat (baked camembert anyone? or a bite of an ever so fancy comté grilled cheese?). So when I discovered Champagne + Fromage in Brixton, about 6 months ago, it quickly became one of my go-to destinations both for shopping and for a relaxed night out: the cheese and charcuterie platters are a 'best of' of what's in store and the small dishes they offer, such as the champagne/ pear crostini, are delicious and taste even better with a glass of champagne- or two.
Champagne + Fromage is absolutely my kind of store: small and very charming, a rustic deli where you can stock up on numerous different varieties of French cheese, charcuterie, few selected types of bread, delicious jams and lots of different champagnes. I met Agathe (who currently splits her time between the two branches, in Brixton and Covent Garden) through a friend, who visits the store almost every week. Much like the store, she is also very charming and cool; she instantly makes you feel at home, moving around the store as she would in her own kitchen, chatting with customers, preparing dishes and keeping a watchful, yet calm eye on everything. Every time I go there, I overwhelm her with cheese questions, which she always answers helpfully and with a great sense of humor- so I decided I wanted to learn more, about her foodie preferences, as well as her suggestions for the perfect cheese platter.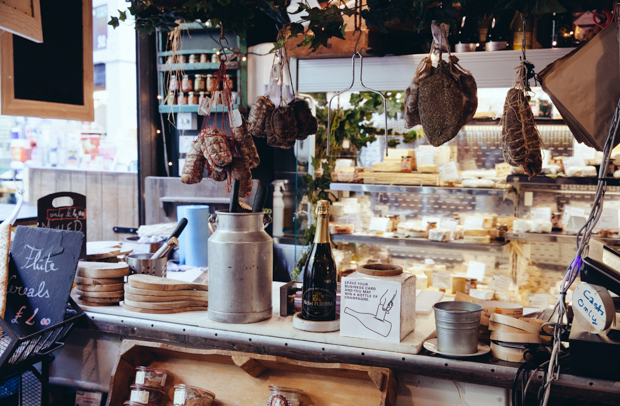 3 favourite ingredients:
garlic, olive oil, onion- you can cook anything with these three!
What's always have in your fridge?
Crème fraiche- I'm French so it's a must-have. Courgettes, my favorite vegetable! They go well with everything and I usually add it on pasta sauces or as a side with meat. Lastly, milk- I need my hot cocoa before bed!
Go- to snack:
Baguette and cheese.
Which ingredient do you consider overrated?
Caviar! I had some again for Christmas- and yeah, still not my cup of tea…
3 favourite places to eat in London: 
Polpetto: tiny Italian restaurant in Soho. When my family visited for my birthday, I took them there and they LOVED it! Lots of sharing dishes of Italian food, all prepared with a little twist. Café Boheme: typical Parisian cafe in Soho. Even though I'm working at a French restaurant, I miss the French ambiance, which is quite difficult to find here in London; Cafe Boheme however is Paris from A to Z! Muriel's Kitchen: British food in South Kensington and Leicester square (I prefer the South Ken one). Their food is everything you always wanted to taste but not necessarily cook, because of all the expensive products or long hours of cooking required. 
3 places for grocery shopping: 
Brixton village market: I work there a lot, so I often get my vegetables, fruits, meats and fish from the market. Tesco (always handy to have close to home!) and Waitrose (which I visit from time to time to get my hands on different ingredients)
Food memories: 
I have a long list of food related memories but this is probably my favourite one: in the French culture, it's very  common to invite people over for lunch or dinner and actually cook for them- and my mum used to it even more than the average French hostess. So every Sunday, she would cook lunch for about 15-20 people, just because she wanted us all to be reunited and enjoy a meal together. The day before I left for London, she made a huge paella (half of my family is Spanish)- and let me tell you: I've spent summers in Spain eating paellas done by Spanish people but THIS one bears no comparison to those, nor to a paella you can find in a restaurant!
Favourite dish: 
I make a mean ratatouille (a vegetarian dish from the south of France). It's super easy: you basically chop up courgettes, eggplants, tomatoes and peppers and cook them with a splash of olive oil, some salt, pepper, paprika and garlic. If you have any leftovers, you can use them for a pasta sauce.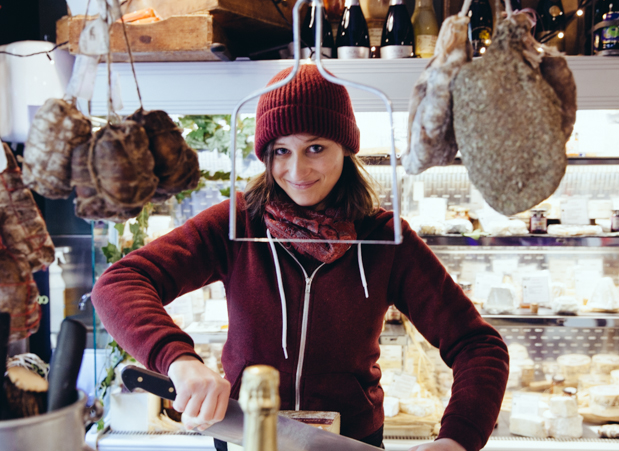 The perfect cheese board: 
I would go for 5 kinds of cheese, served with an assortment of breads like a baguette, sourdough and a cereal loaf (you can always also have some cheese crackers- being French, I'm not too much of a fan but I can understand their appeal). Feel free to also add some fruit to your board- not too much though, as the star here is the cheese!
A goat's milk cheese, probably the Taupinette, a very gooey yet creamy goat's cheese, even better with an added tiny pinch of lavender. 
A strong cow's milk cheese, such as the Langres from the Champagne region, which you can soak in Champagne for extra flavor. If you prefer a milder cheese, definitely go with the Brillat-Savarin, a triple cream cow's milk cheese, named after a famous French gastronomer; it's perfect paired with some Amarena Cherries.
A blue cheese, like the Bleu des Causses: as strong as a Roquefort, as flavourful as a Bleu d'Auvergne and creamier than a Fourme d'ambert! Combined with some green grapes, it's just magnificent!
A hard cow's milk cheese: Comté is very popular choice and definitely a must: quite similar to Cheddar, with its flavour changing depending on its maturity- it can go from fruity (young) to nutty (mature). I prefer the 18 month old and would strongly recommend having it with some fig jam!
Finally, the Chebris: quite unusual in terms of cheese making, as it combines two types of milk, 'chèvre' (goat) and 'brebis' (ewe), hence its name. Very creamy yet a bit crumbly, it goes perfectly with some quince paste. (Agathe is absolutely right! I tried it with some lemon & ginger quince paste and it's crazy good!)