Perfectly seasonal, very easy to make and very hard to resist baked pumpkins stuffed with couscous, blue cheese & pine nuts.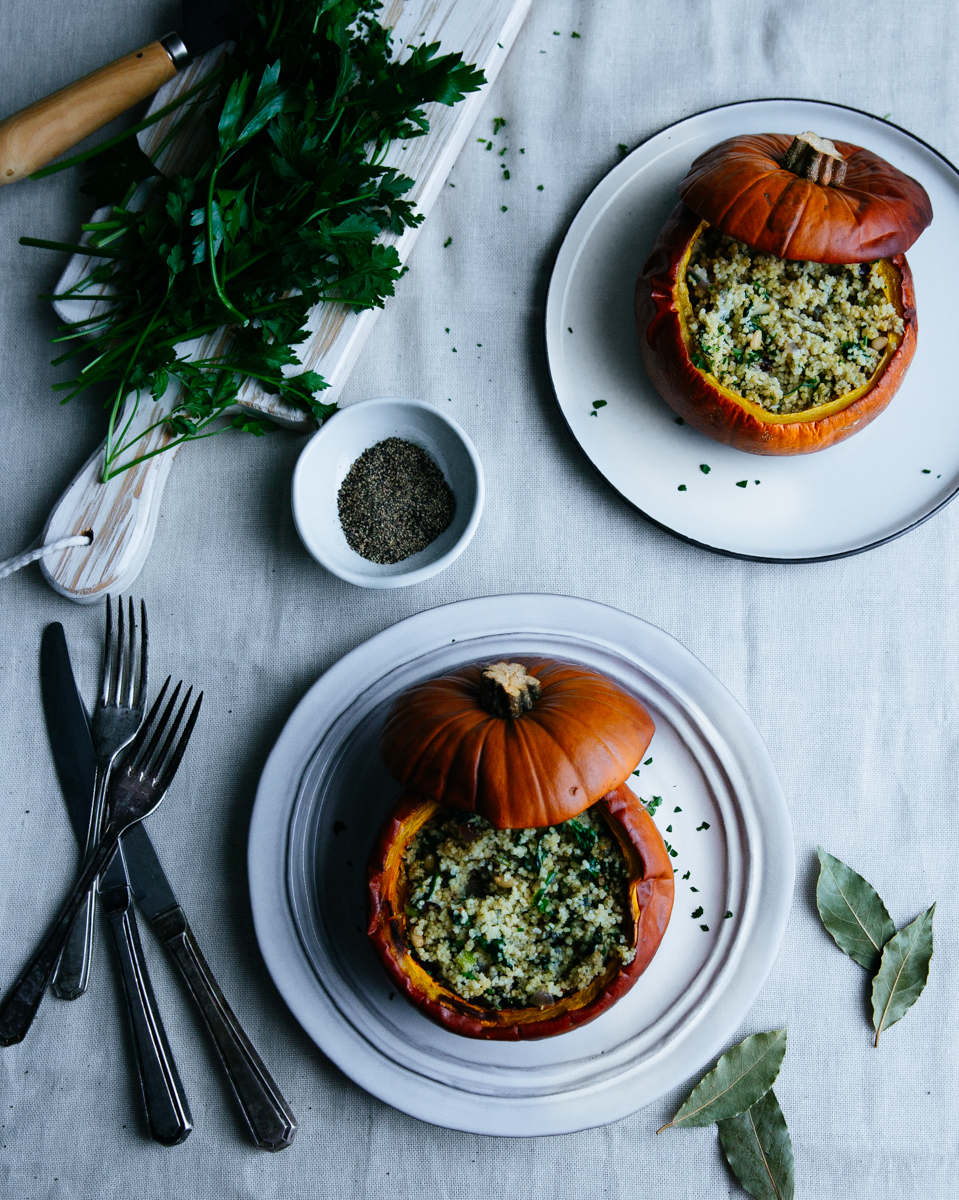 Fragrant herbs and filling grains or carbs is usually my go to for easy lunches or fuss free dinners. A little bit of couscous, quinoa or wholewheat pasta, brown or black rice, faro and barley are on heavy rotation year round, alongside lots of greens and maybe eggs or fish. In the colder months, I like to pair them with thick skinned vegetables, roasted with generous amounts of extra virgin olive oil until they almost collapse, and their flesh is almost sweet as honey.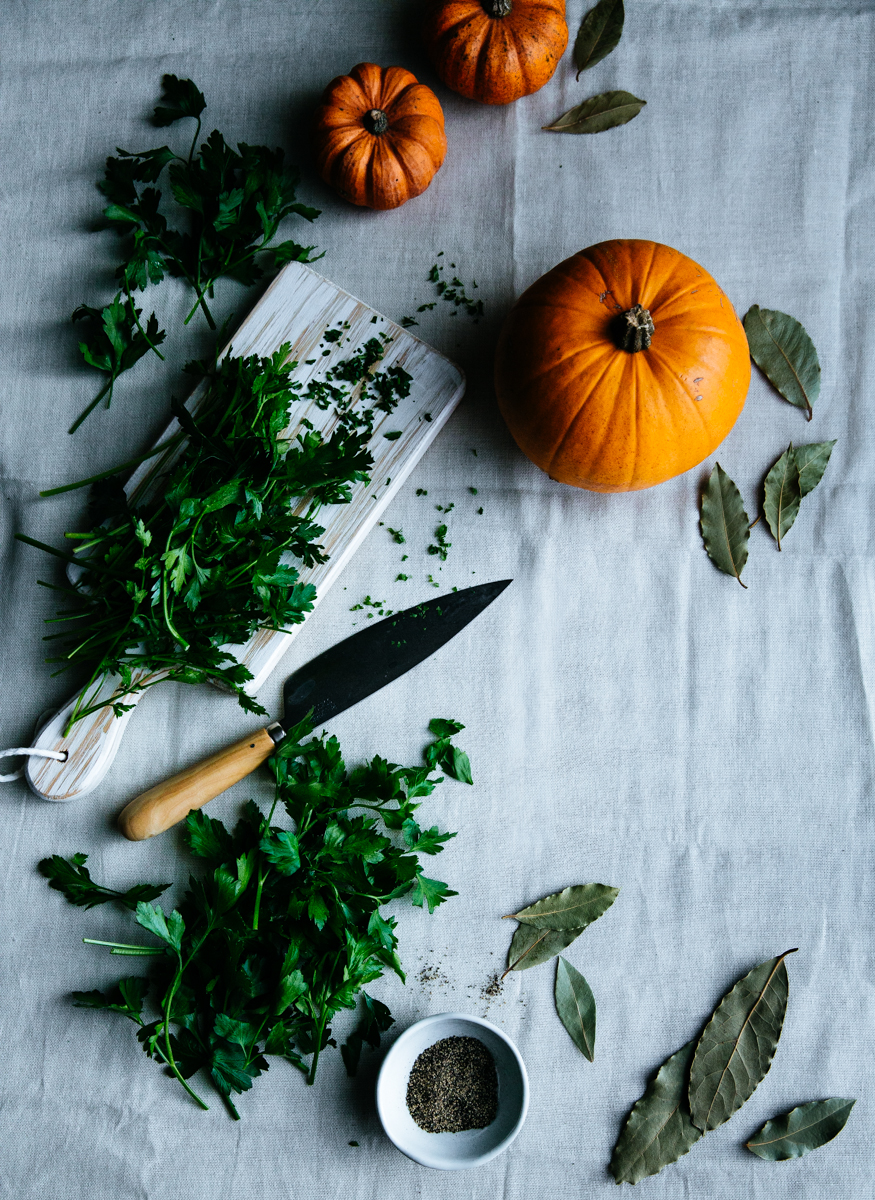 Every year, come October, pumpkins of all sorts take centre stage time and time again- in colourful salads, warming soups, or even baked goods. They add a lovely pop of colour and some subtle sweetness, which I almost always pair with a type of cheese. My favourite way to cook them is stuffed and baked twice: the pumpkin flesh and its slight sweetness slip into the filling and makes it all the more wholesome and flavourful. As long as there is a pumpkin big enough to fill with something and small enough to fit in the oven, you can bet I'll cook it like so- a few years ago it was orzo and a couple cheeses and before that there was wild rice, mushrooms and raisins- every time spooned into the belly of the orange beast along with a few spoonfuls water from keeping the filling from drying out.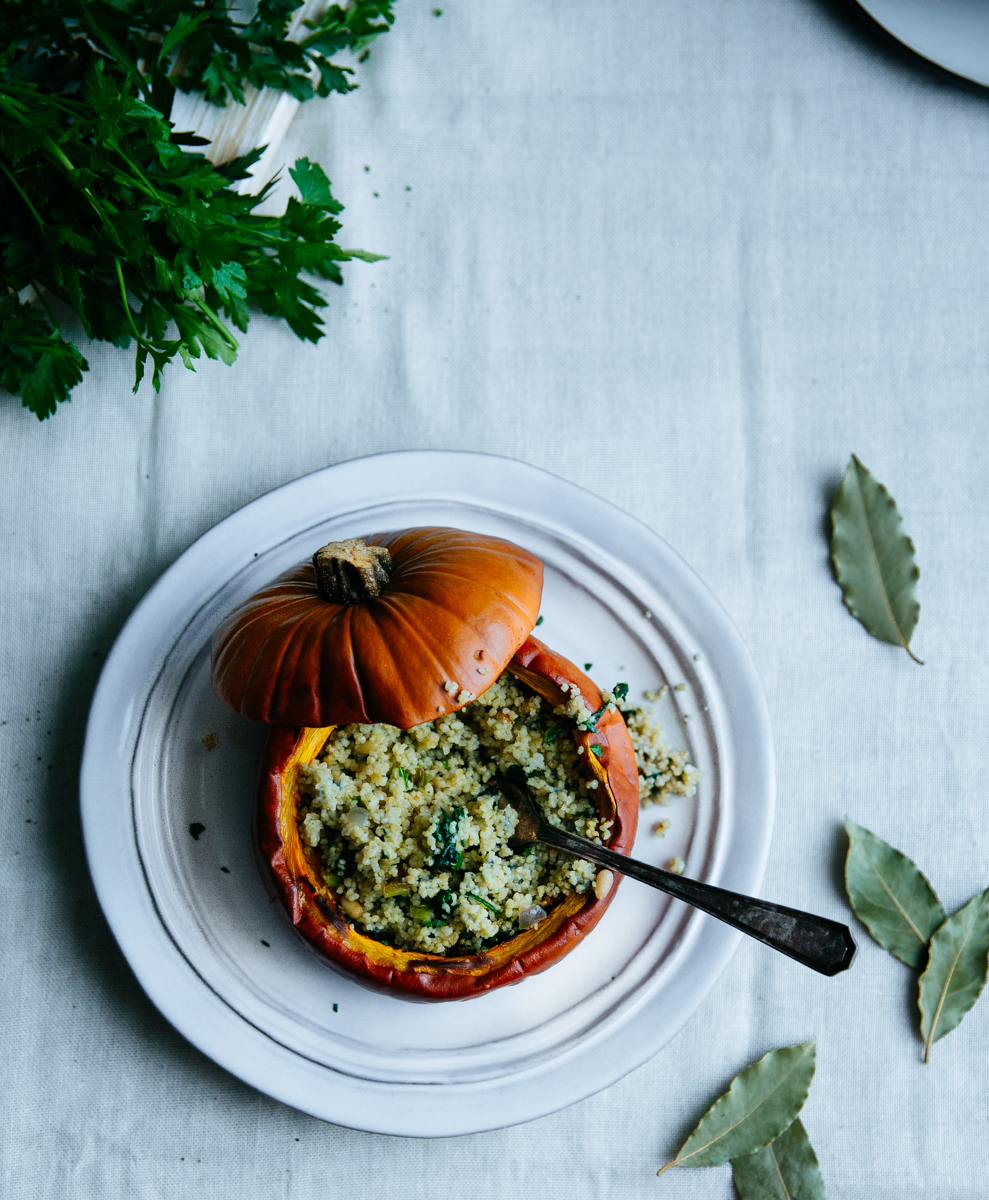 This time, I went with couscous, lots of fresh and dried herbs (fragrant bay leaves and crisp parsley), baby spinach, a good dose of strong blue cheese (which goes so well with the sweet pumpkin) and a small handful of pine nuts. You can easily however make it your own, adding cooked quinoa or barley, other types of cheese and herbs (sage would be a very tasty alternative), but I would definitely not leave out the nuts, as they add an extra texture beautifully contrasting the soft vegetables and melted cheese.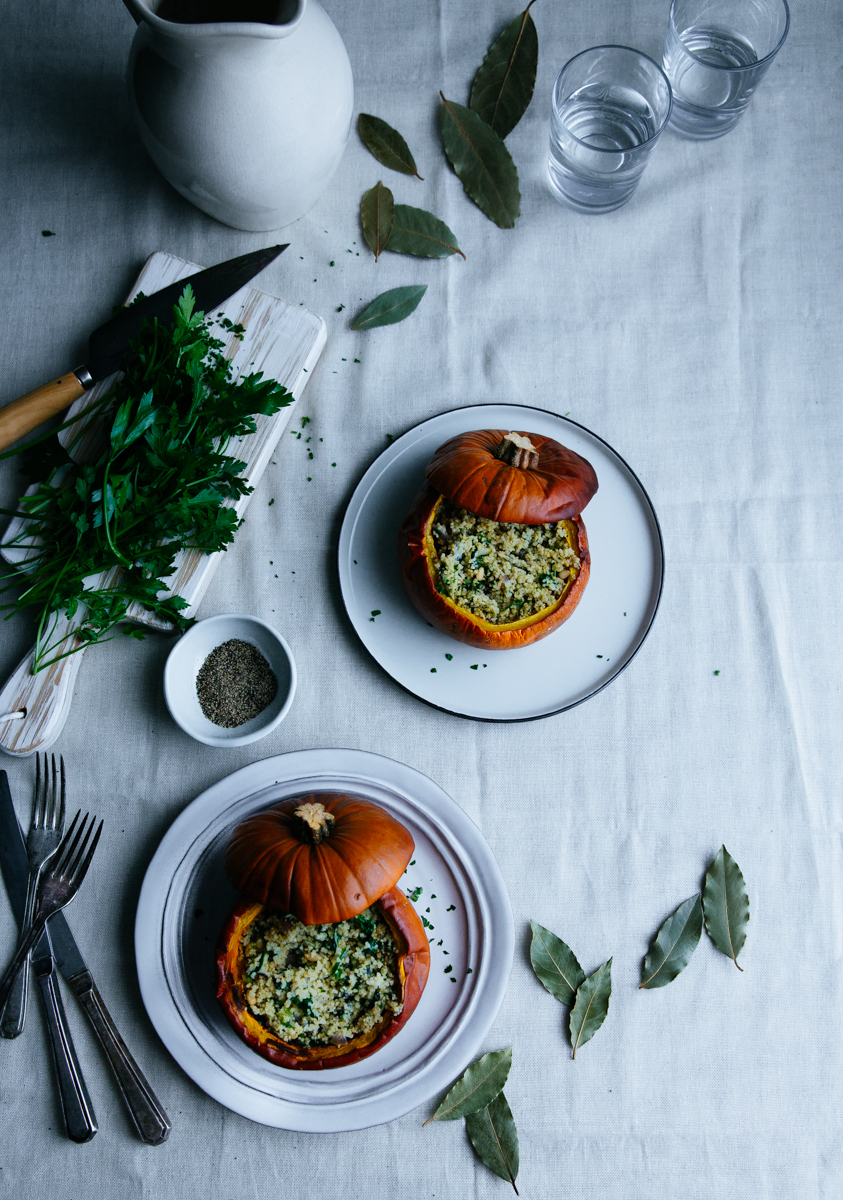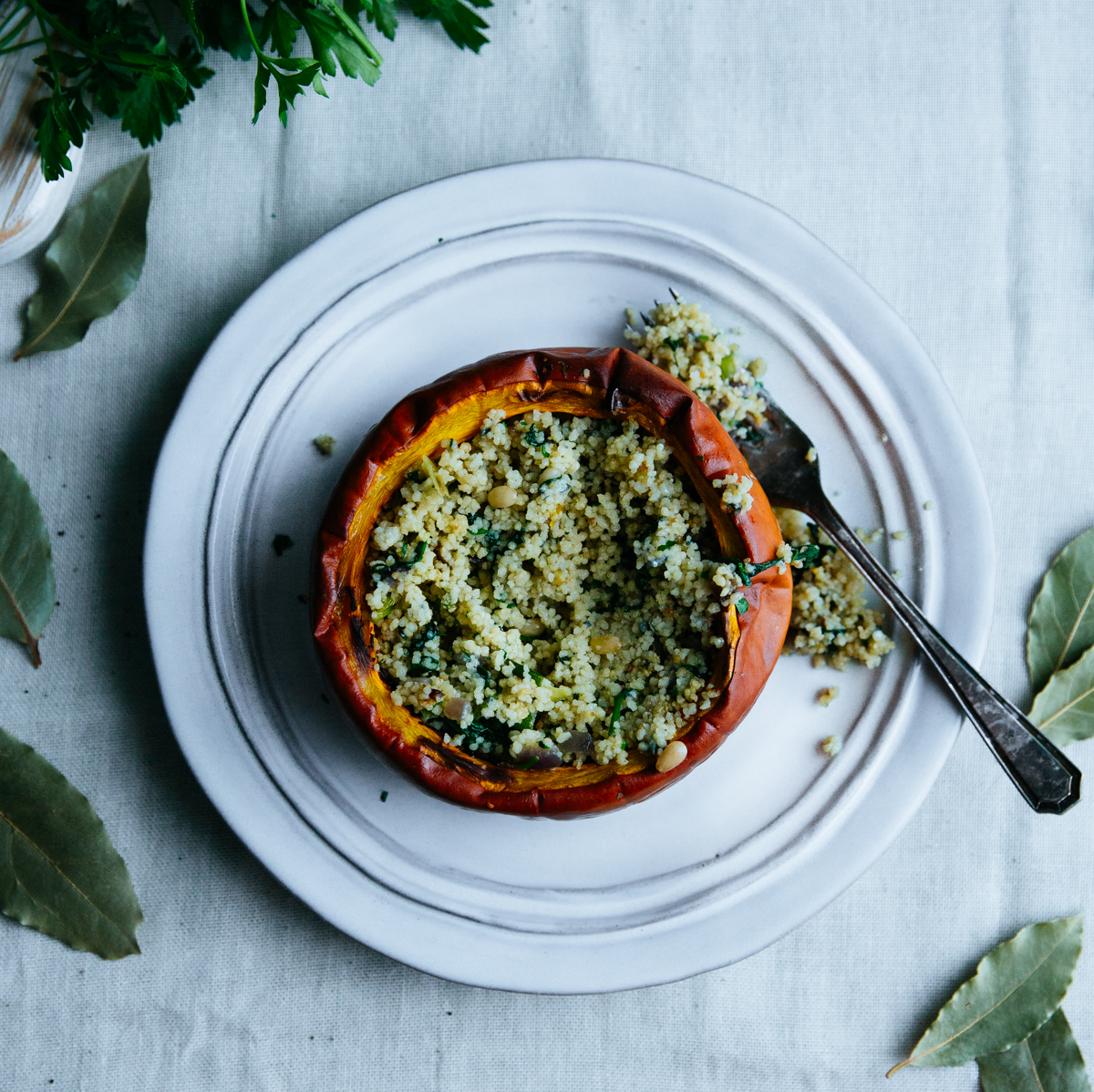 Baked pumpkins, stuffed with couscous, blue cheese & pine nuts
WHAT (serving for as a main dish)
4 medium-sized pumpkins, about 500g each
4 bay leaves
2 tablespoons extra virgin olive oil
300g couscous, cooked
6 spring onions, sliced
2 medium red onions, roughly chopped
2 fat garlic cloves, sliced
180g baby spinach, washed and roughly chopped
200g blue cheese in chunks
1/4 cup water
3 additional tablespoons extra virgin olive oil
salt to taste 
plenty of freshly ground black pepper
3 tablespoons pine nuts
2 tablespoons fresh parsley, minced
HOW
Preheat the oven to 190ºC (170ºC FAN). Slice the top of the pumpkins (keep it) and remove the seeds and threads, leaving enough fresh on the sides so they don't collapse in the oven. Wipe inside and out with a kitchen towel and place on a baking tray lined with baking paper
Place one bay lead inside each pumpkin along with a few drops of olive oil and bake in the preheated oven for about 30', or until softened.
In the meantime, make the stuffing: warm a medium-sized pan over medium heat, add 2 tablespoons extra virgin olive oil and then the onions. Cook until soft, about 7', then add the garlic and cook for another 3' or so.
Remove from the heat and add the spinach, cooked couscous, blue cheese, water (to keep the stuffing from drying out while baking), extra virgin olive oil and seasoning. Keep in mind that blue cheese is quite salty, so add your salt gradually and adjust after tossing everything together and tasting.
Remove the empty pumpkins from the oven and discard the bay leaves and any liquid from inside them. Stuff with the couscous and put the lid on. Place back in the oven and cook for about 15, or until the cheese inside is melted.
Take out oven the oven, let cook slightly and and serve alongside a crisp green salad.