These hazelnut & raisin olive oil cookies are sweetened by petimezi (grape molasses) and baked until soft and a little crunchy around the edges.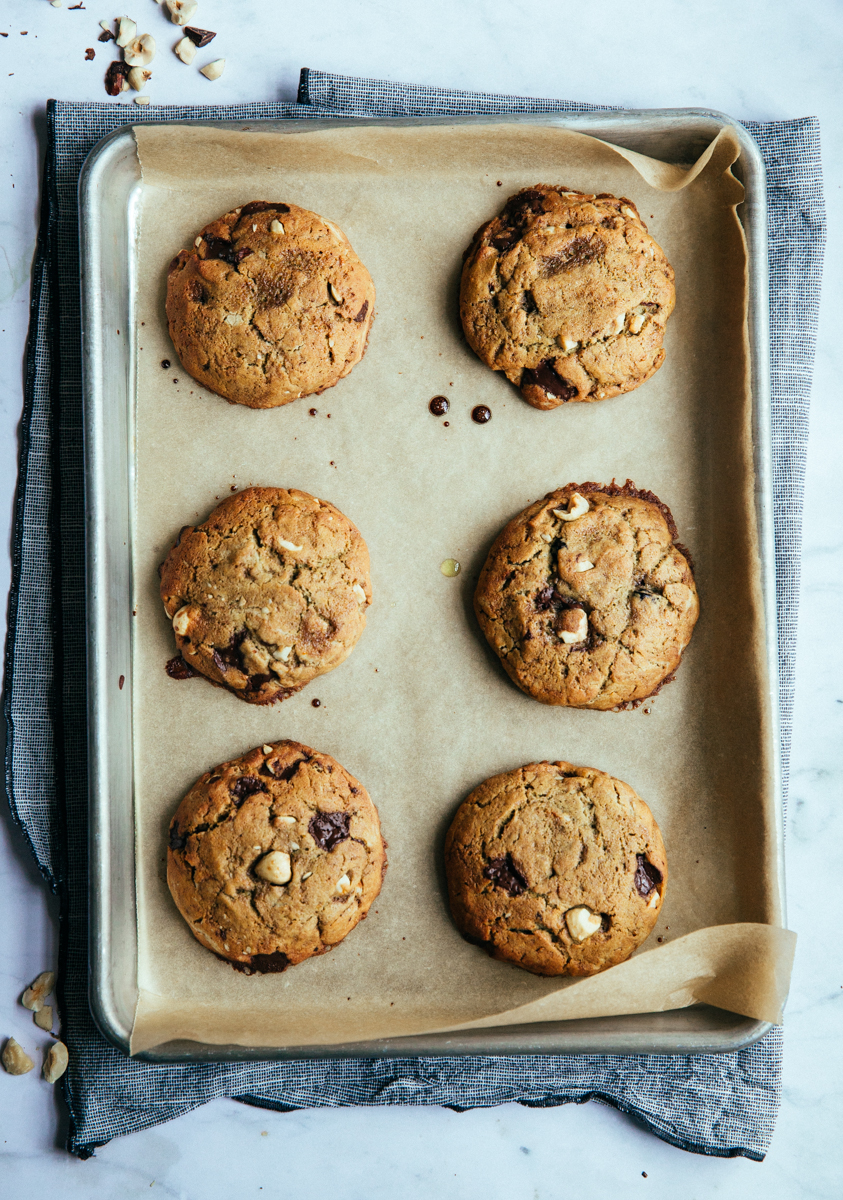 Last Saturday, I had the great joy to once again take photos at Oliveology's cooking workshop. It's no secret I have a huge soft spot for Marianna's shop; everything is so carefully selected and brought over to London after much thought, consideration and testing, always in pursuit of best quality products*. The workshops follow the same philosophy: they are relaxed yet informative, introducing Greek cuisine and tradition through tasting and hands on preparation. The recipes are created by Despina Siahuli (another big soft spot right there) and every dish I've tasted time and time again there is filled with the best ingredients, bursts of flavour, goodness and an ever so slight sense of nostalgia, with which I am only too familiar. On that day, the menu included some of the most delicious cookies I've ever had- which also proved to be entirely fool proof and filled with all the good stuff.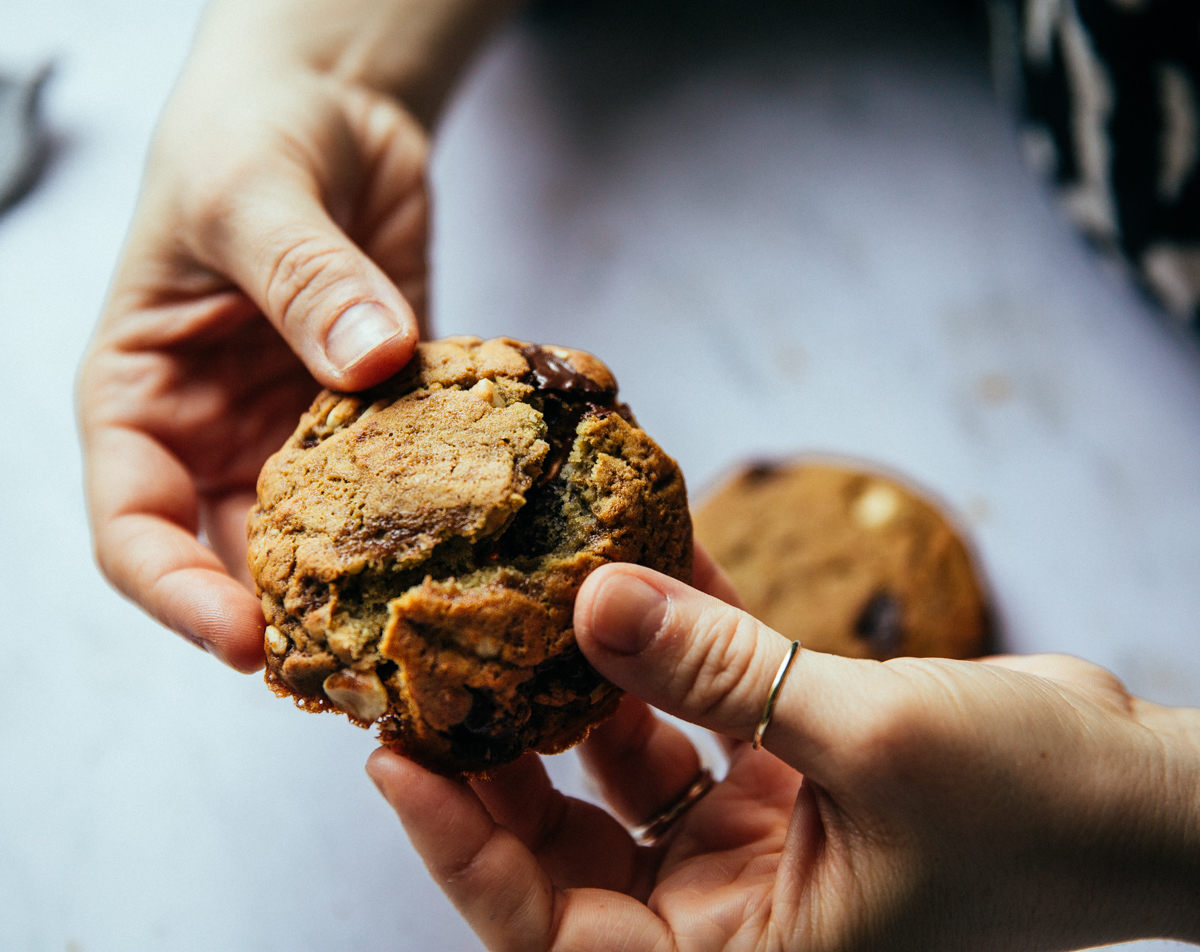 Made with no eggs, dairy or sugar, they highlighted some of Oliveology's best ingredients: extra virgin olive oil, soft, wrinkly and sweet Corinth raisins, nuts (Despina's original recipe calls for walnuts, but I can't resist hazelnuts when baking, so I used those) and petimezi. I've used this sweet and aromatic grape molasses on a number of different dishes and I'm always impressed anew by the depth of flavour it adds; in here, it gives the cookies a delicious sweetness and their lovely tan colour.
You can flavour these with mastiha liquor like Despina suggests, but I didn't have any at hand so I used brandy instead. It worked a treat and after 15′ out the oven came these little cuties. Very fragrant, soft and crunchy too, every bite bursting with just enough sweetness and so much flavour. They were gone on that same afternoon and made again the following day. Do give them a try- I have a feeling you'll be making them many times over too.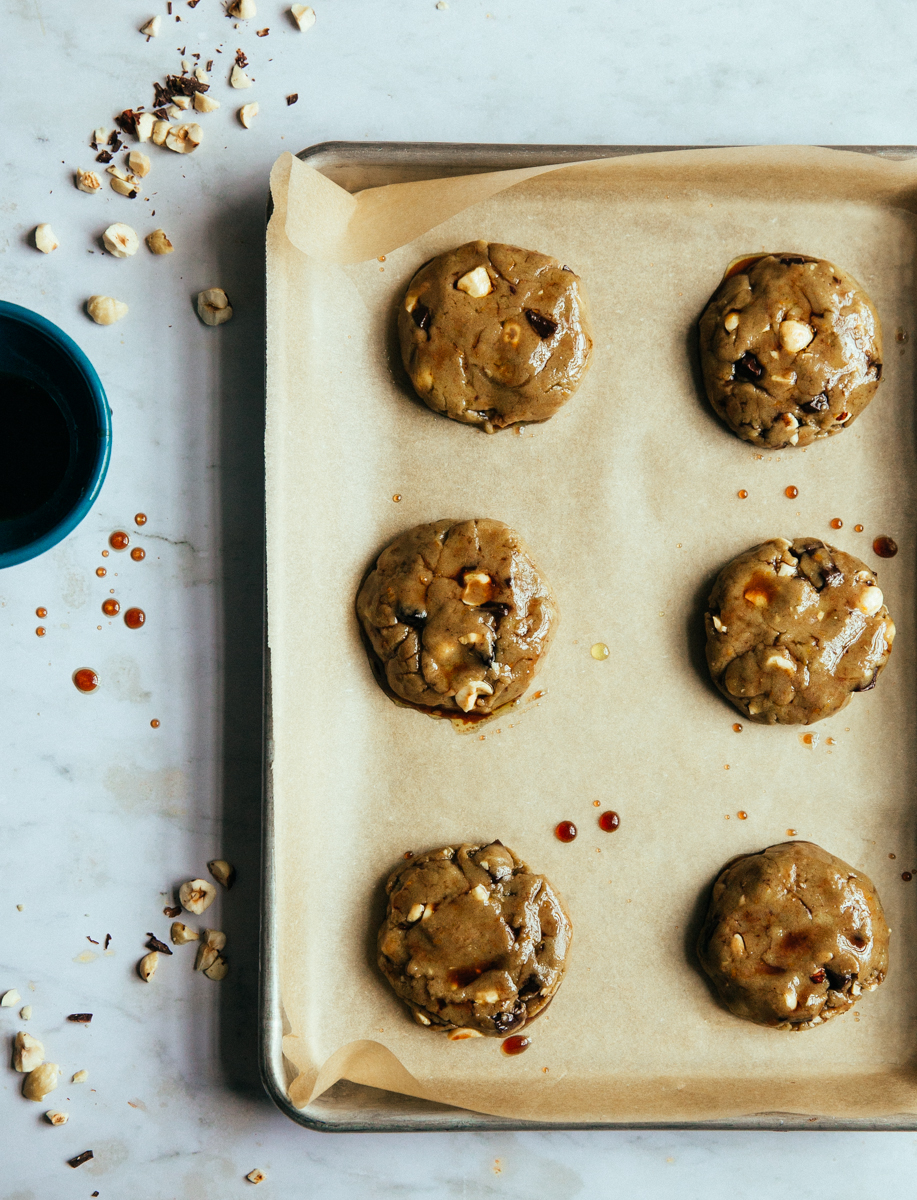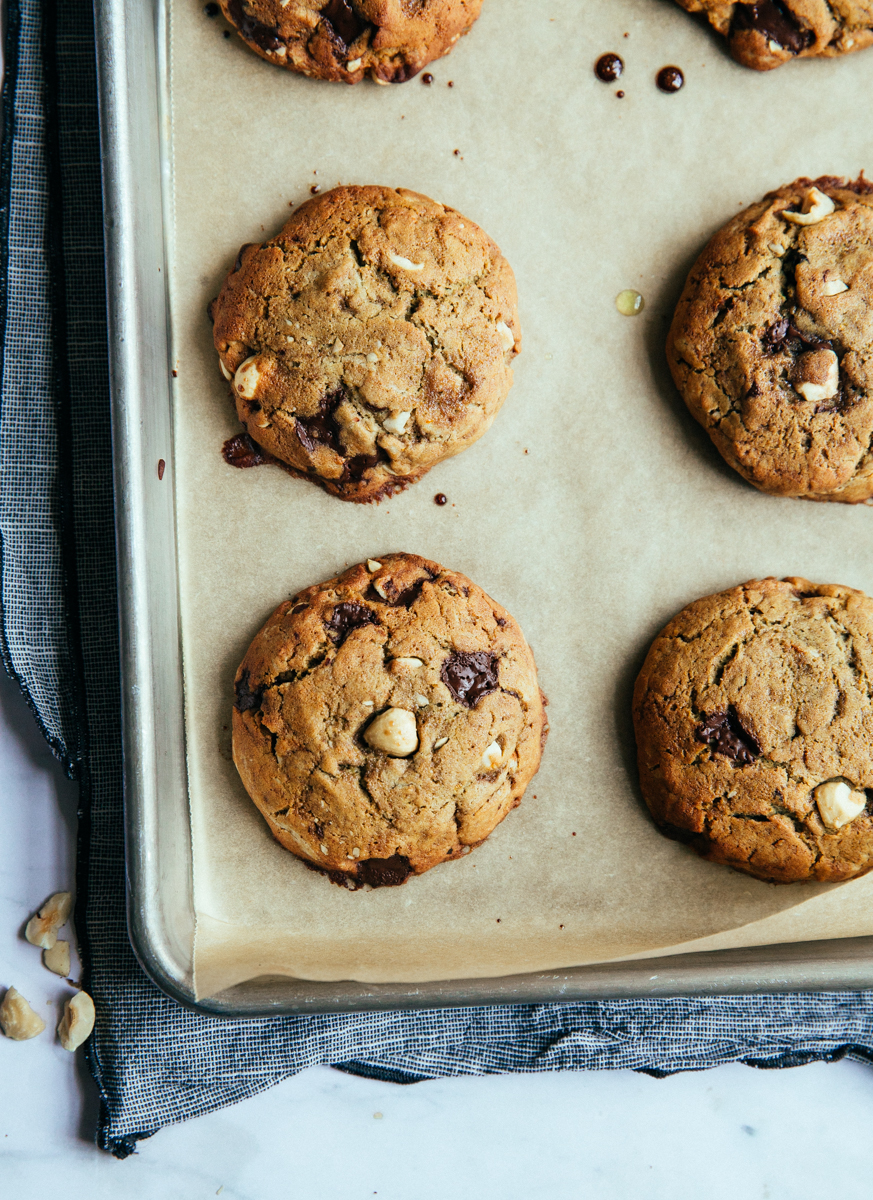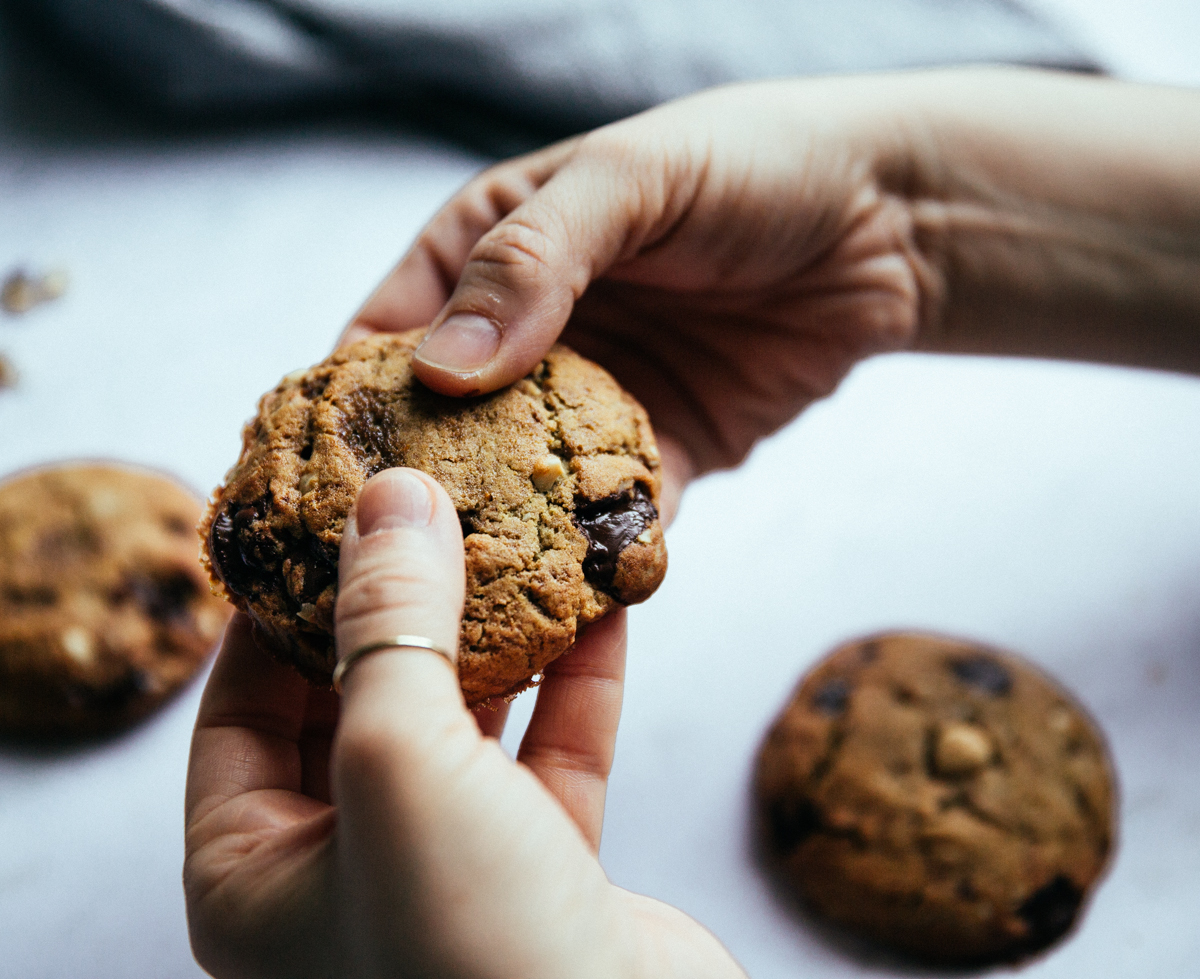 Hazelnut & raisin olive oil cookies
WHAT
80g petimezi (grape molasses) 
50g extra virgin olive oil
150g all purpose flour
10g mastiha liquor (or brandy)
1/2 teaspoon ground cinnamon
1/2 teaspoon baking soda
1/2 orange zest
15 pieces Corinth raisins (I used more)
5 pieces roughly chopped walnuts (I used hazelnuts and doubled the amount for extra crunchiness)
30g dark chocolate, chopped into small chunks
extra grap molasses and olive oil for brushing
cocoa powder for dusting (I omitted this)
HOW
Preheat the oven to 175C and line a large baking sheet with parchment paper.
Dissolve the baking soda in the mastiha liquor (or brandy); combine the petimezi and extra virgin olive oil and transfer to a mixing bowl. Stir in the liquor (with the added baking soda), orang zest, ground cinnamon, nuts and raisins.
Slowly add the flour, mixing to crated a soft cookie dough (if it feels dry, you can add a few drops of olive oil); lastly, add the chocolate and fold again.
Shape the dough into round or oval cookies (about 35g each) and place on the baking sheet, leaving some space between. Brush with the petimezi and olive oil combined and bake in the preheated oven for about 15′ or until lightly coloured.
Remove from the oven, and after 5′, transfer to a wire rack to cool completely.
* Just to clarify: this is not a sponsored post. I do work with Oliveology and (as with all brands I collaborate with) I love their products. As I use them very frequently, I would wholeheartedly also recommend them.