This Greek mezze platter features some of my favourites from Oliveology: extra virgin olive oil, delicious cheeses, crunchy olives & thick grape molasses.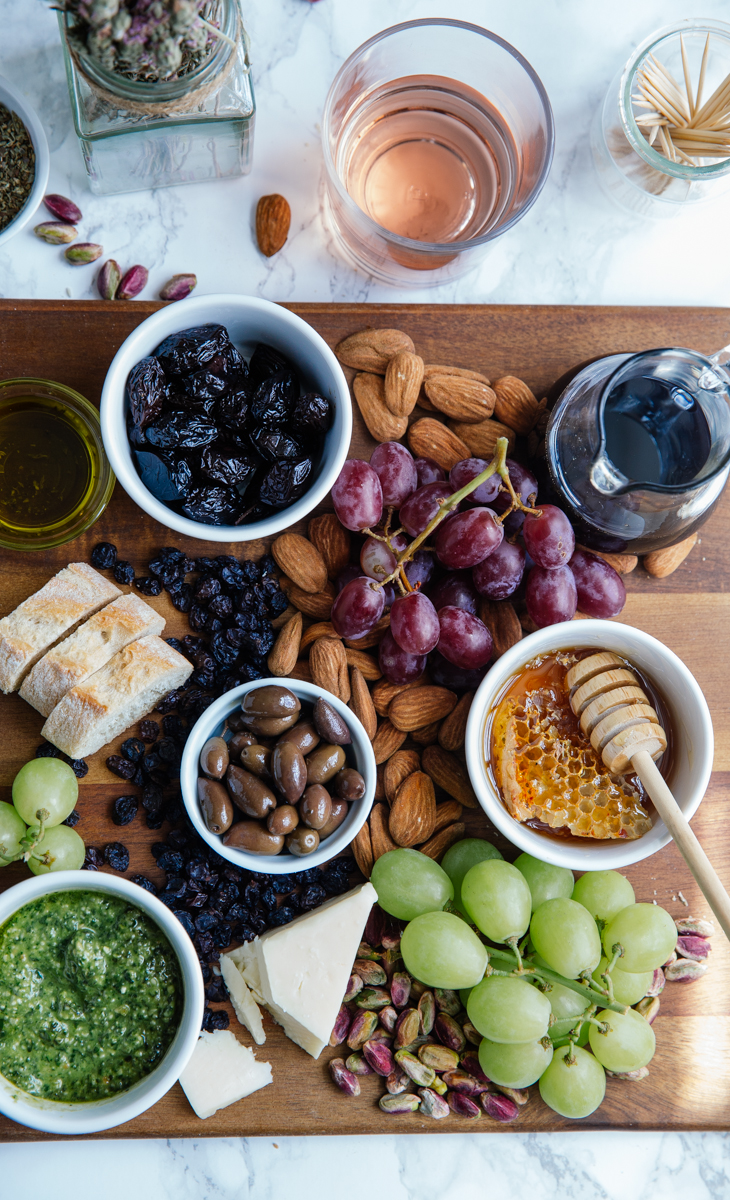 I discovered Oliveology a little over a year ago- yet I knew of it. I'd heard stories from friends, Greek and foreigners alike- delicious stories about superb products, which increased homesickness for the former and filled the latter with a sudden urge to visit Greece. I met Marianna, the sweet and mighty owner and creative force behind the brand, randomly at a food event and subsequently discovered what all the fuss was about. Everything I've tried from Oliveology is simply very very good.
Even more so, there is a quietness about it all; at the core of the brand is a deep love, I believe mostly for the actual, physical aspect of what comes from the earth, the ground, plants and trees. Marianna is collaborating with producers, with whom she's developed real relationships; and I think this comes across in the products more that anything else: they are products of actual labour and labours of love at the same time- and as such, they need no song and dance to shine.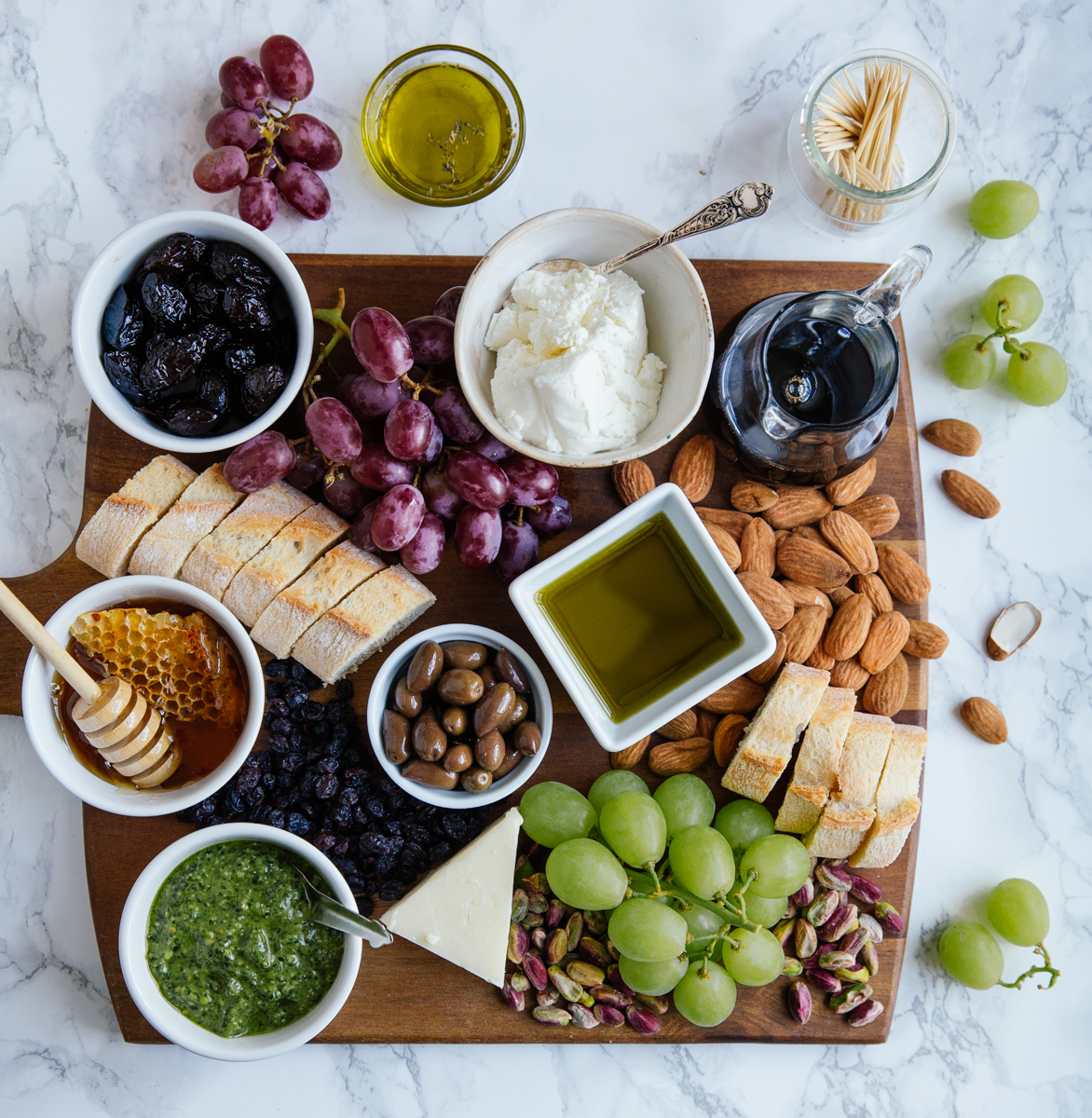 For this Greek mezze platter, I've put together some of my favourites. There's crunchy nuts and the most delicious teeny tiny raisins, but also cheese, olives, thick pine honey and grape molasses. They are all things I would reach for time and time again when cooking, as party appetisers or as gifts. They need little introduction- in fact I would strongly recommend just visiting the store and trying them out for yourself. None the less, I have asked Marianna for information on some of them, as I'm always fascinated by the story behind ingredients and, even though I am Greek, I've come to realise that there is much I still don't know.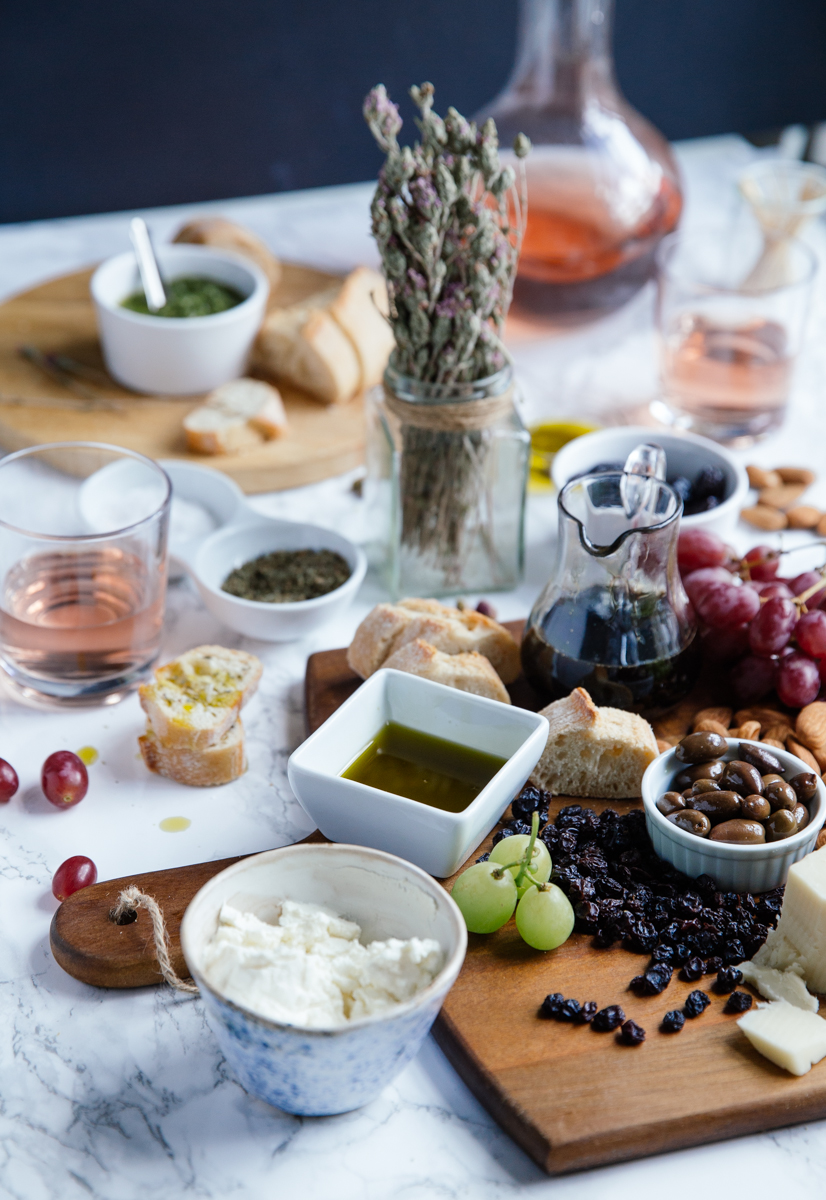 Let's start with the olive oil, the brand's core and superstar.
 Not all olive oils are created equal and once you've tried a good one, you really can't go back. The olive oils at Oliveology come from the
Koroneiki
olive, which is considered the 'royal' one, because of its delicious flavour and texture. I've included a 18°C here (the number refers to degrees to which the olives being cold extracted), which has a distinct deep flavour and deep yellow-green hue, but I would also recommend any of the flavoured varieties. In any case, they are all EVOO and delicious.
On to the olives, by far one of my most beloved little bites. Good quality ones will set you on a forever love affair, whereas a mediocre one may leave you entirely unimpressed and may also put you off for good. My absolutely favourite variety is
Throuba: 
small, soft, wrinkly, slightly bitter and also sweet- utterly unique and delicious! These ones are exclusively grown and produced in Thassos Island in Northern Greece and hold P.D.O status. The tiny green ones are unripe, unpasteurised 
wild baby olives
,
marinated with fresh lemons and wild herbs; hand picked early in the season whilst they are still small and green, they are cured in fresh water, which leaves them crunchy and super nutritious (high in vitamin E, chlorophyll and the
oleuropein
compound
,
unique to the olive, found mostly in the young fruit).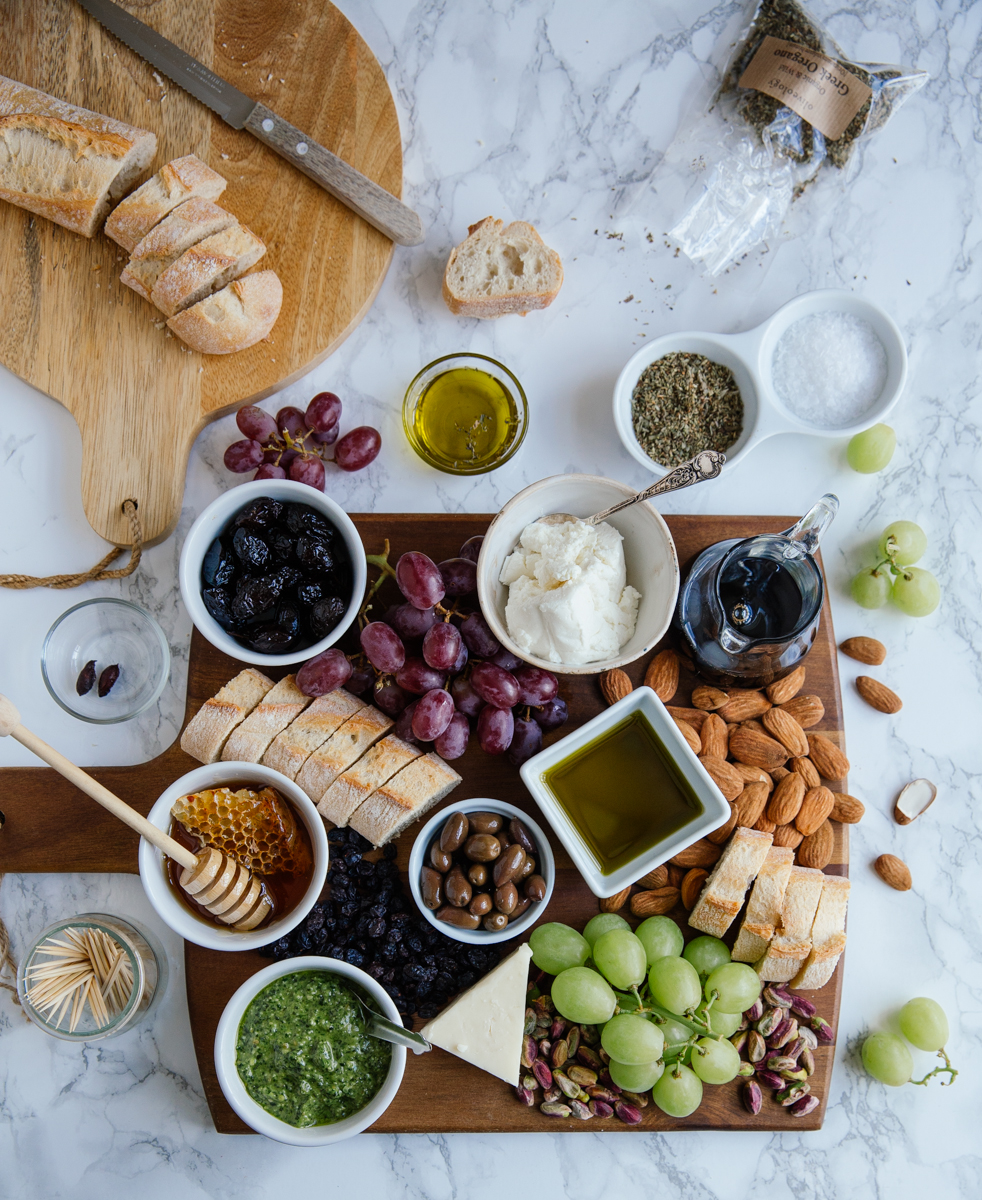 And then on to the cheese! I have a deep love for pretty much all cheeses, reserving however a wee bit extra for the ones from home. According to Marianna, 'whatever their origins, Greek cheeses are among the finest in the world, and many varieties have been accorded protection under the European Union's Protected Denomination of Origin (PDO) provisions'.
The two featured here are both excellent: Graviera (possibly the Greek variety I love most) is a mildly yellow cheese from the island of Naxos, with a descreet salty and sweet flavour and with a delicate aroma; it is made from a combination of pasteurized fresh local cow, sheep and goat milk, heated and thickened with a natural vegetable rennet and aged for a year. It contains no preservatives, additives or involves any chemical processing- and it is delicious fresh, paired with fruit or honey, grated or in the quick rocket pesto I made.
Galomizithra is a soft, white spreadable cheese from Crete, made of sheep's & goat's milk. It is lightly salted and obtains its acidity through being strained in traditional cloths called 'tsantila'. I love it with a generous drizzle of petimezi and a handful crashed pistachios.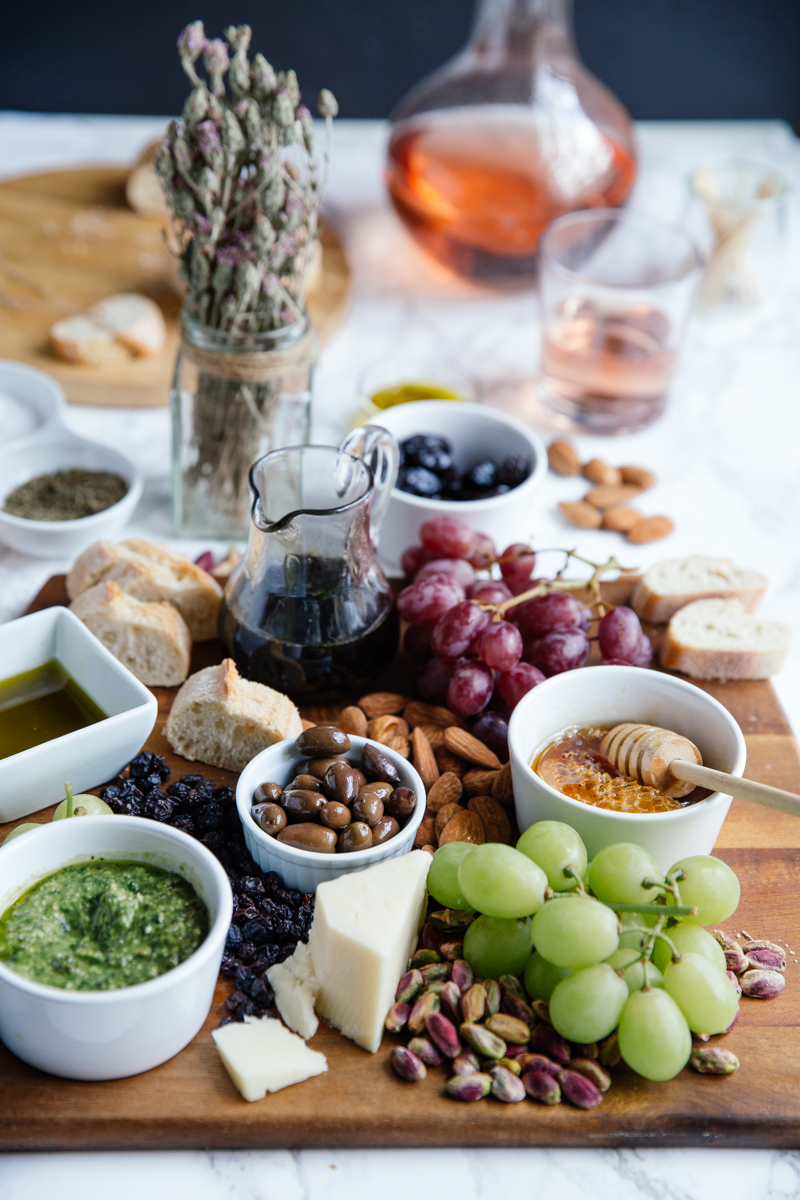 Speaking of 
petimezi
– this is currently my biggest crush: sweet and with a hint of smokiness, it is sinfully delicious and adds depth in pretty much everything. As the product of grape-must, boiled down in low heat and for a long time, it is rather expensive, as the process is long and yields little product. It is rich in antioxidants, vitamins A, C, and B, and minerals such as potassium, iron, calcium, and magnesium- and pairs wonderfully with both cheeses mentioned, and is also delicious when drizzled over breakfast yogurt of a nice piece of grilled chicken. Honestly, there's nothing not to loved about it, or in fact, about all of the above.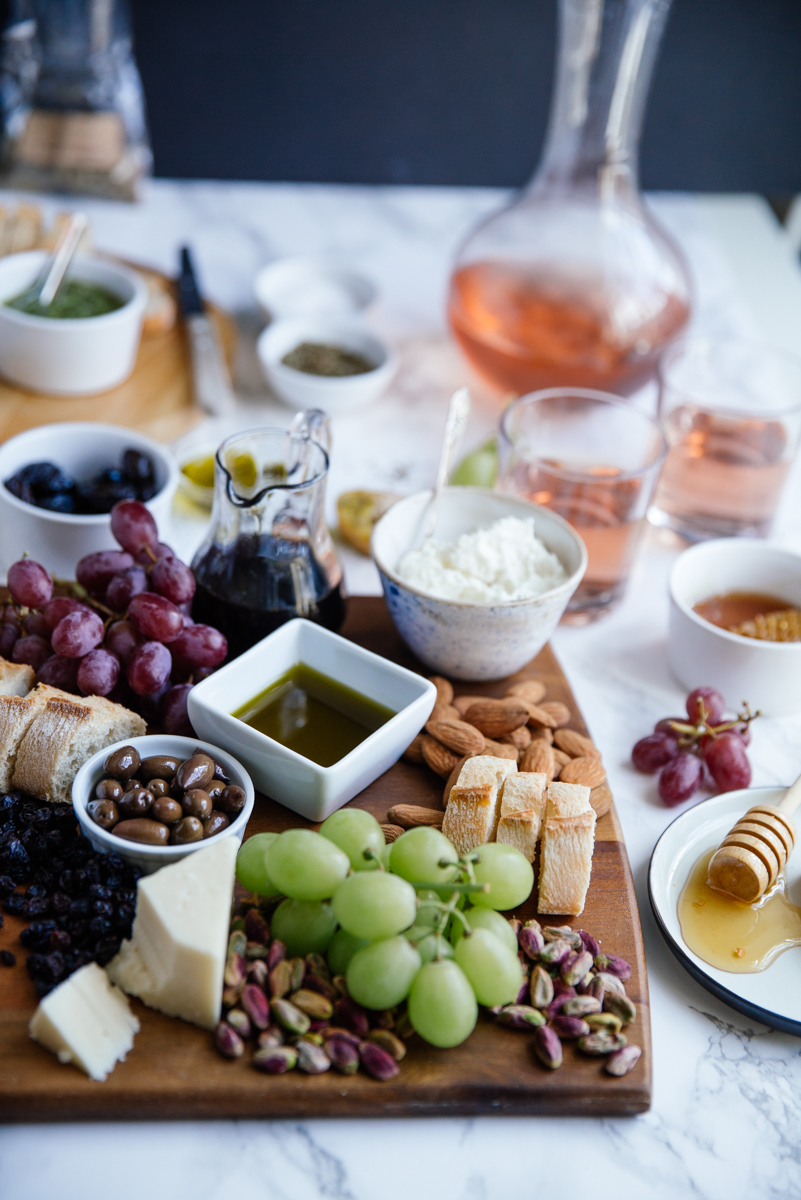 Greek mezze platter
WHAT
(I used small bowls for everything- plan according to your guests, appetite and budget)
throuba olives
wild baby olives
pine honey
petimezi
graviera
galomyzithra
pistachios & unsalted almonds
extras: fresh fruit and/or vegetables, crusty bread, graviera, olive oil, graviera & rocket pesto
serve with: a beautiful rose (Marianna loves this one) and no cutlery