Comforting and filling, this leek, bacon & kale pie is delicious, easy, adaptable and the prefect start to a delicious new year!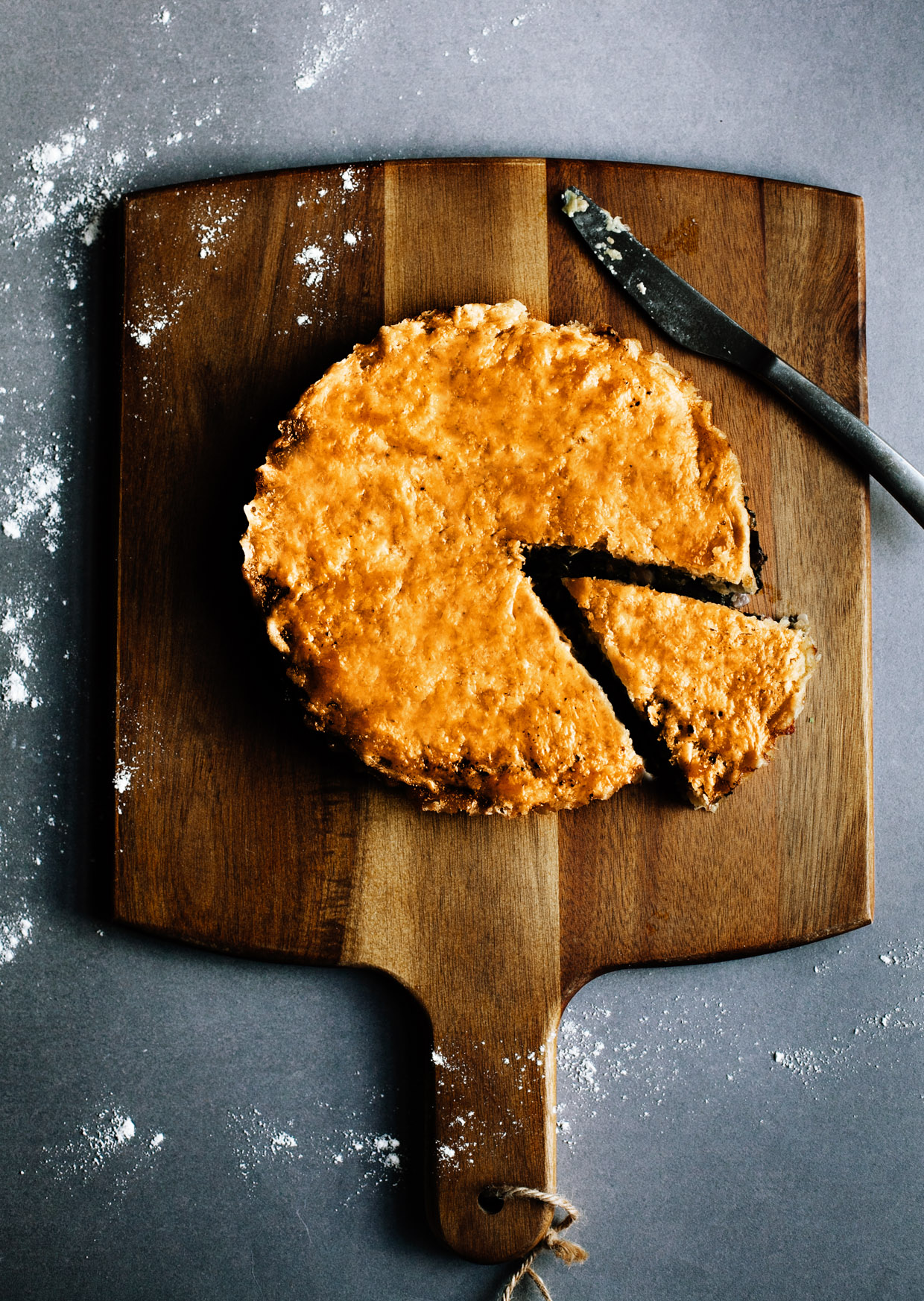 I wanted the first recipe of the new year, the first to share with y'all here, to be something reflecting my sentiments of the last few days: familiar, comforting, uncomplicated, brimming over with strong flavours and seasonal ingredients. Something that's easy to make, yet fills you with pride for a meal well-made and utterly satisfying. I've always loved pies, of all shapes and forms: traditional Greek with dark greens and delicate herbs, fruity and summery with dark colours or crunchy and salty with beautiful colours and textures. They're all dear to me and I enjoy making them as much as devouring them as part of any meal of the day.
This one is very fitting for winter: made with heaps of delicate, sweet leeks, beautiful, almost bitter kale, cured bacon and coarsely grated cheddar, it really is the perfect comfort dish. A thick buttery crust, tightly embracing the colourful, savoury filling to give a very balanced, utterly satisfying bite.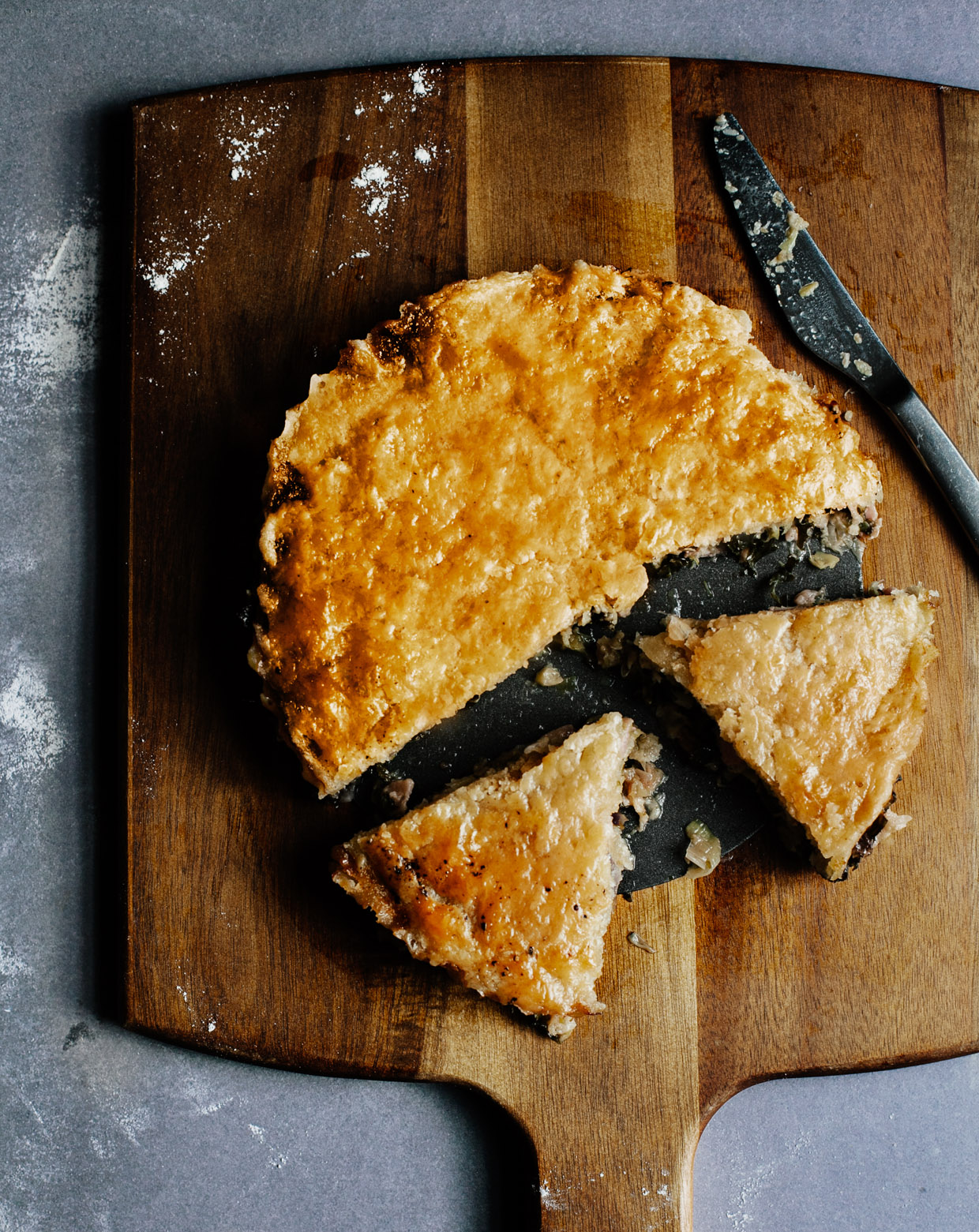 The beginning of things is thoroughly pleasing too: starting with the dough (essentially a pâte brisé with butter, egg, a touch of sugar, salt, flour and water), quickly folding it together and storing it in the fridge, just long enough to make the filling. There's a process in pie making and it's a simple, yet soothing one. There's steps to take and a little waiting involved, which makes the whole thing all the more enticing. Frying bacon comes next and it always is a wonderful, fragrant process I am very fond of; and then leeks, lots of them, thinly sliced along with a couple red onions, which will all be sautéed until soft and almost translucent. Also kale, with its bold, dark green, in perfect contrast with the pale pink and green we already have in the pan. A touch of nutmeg and a generous sprinkle of fresh parsley and lots of freshly ground black pepper too. Tossing and mixing, adding grated cheese, tasting for seasoning and adding salt accordingly- it's all part of the beauty of pie making. And then we're on to the dough again, lightly flouring all around and rolling out and covering all the colours, trimming or folding and brushing with egg wash- and in to the oven we go.
Let us start the year with fundamental, delicious comfort. Let us start the year with pie.
Happy new year everyone!
* The dish was made in collaboration with Blas Y Tir and with heaps of their beautiful leeks! As always, it was a pleasure.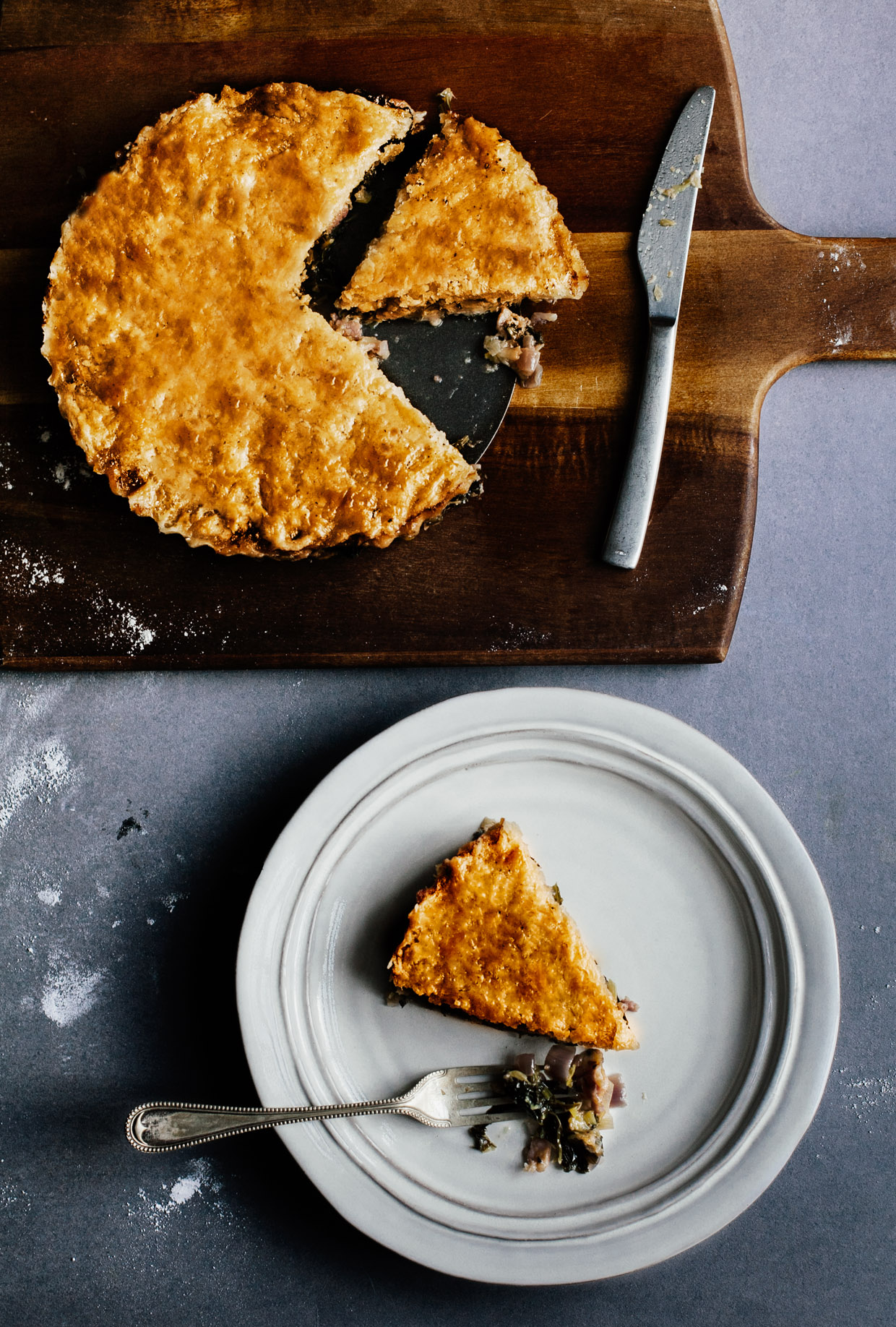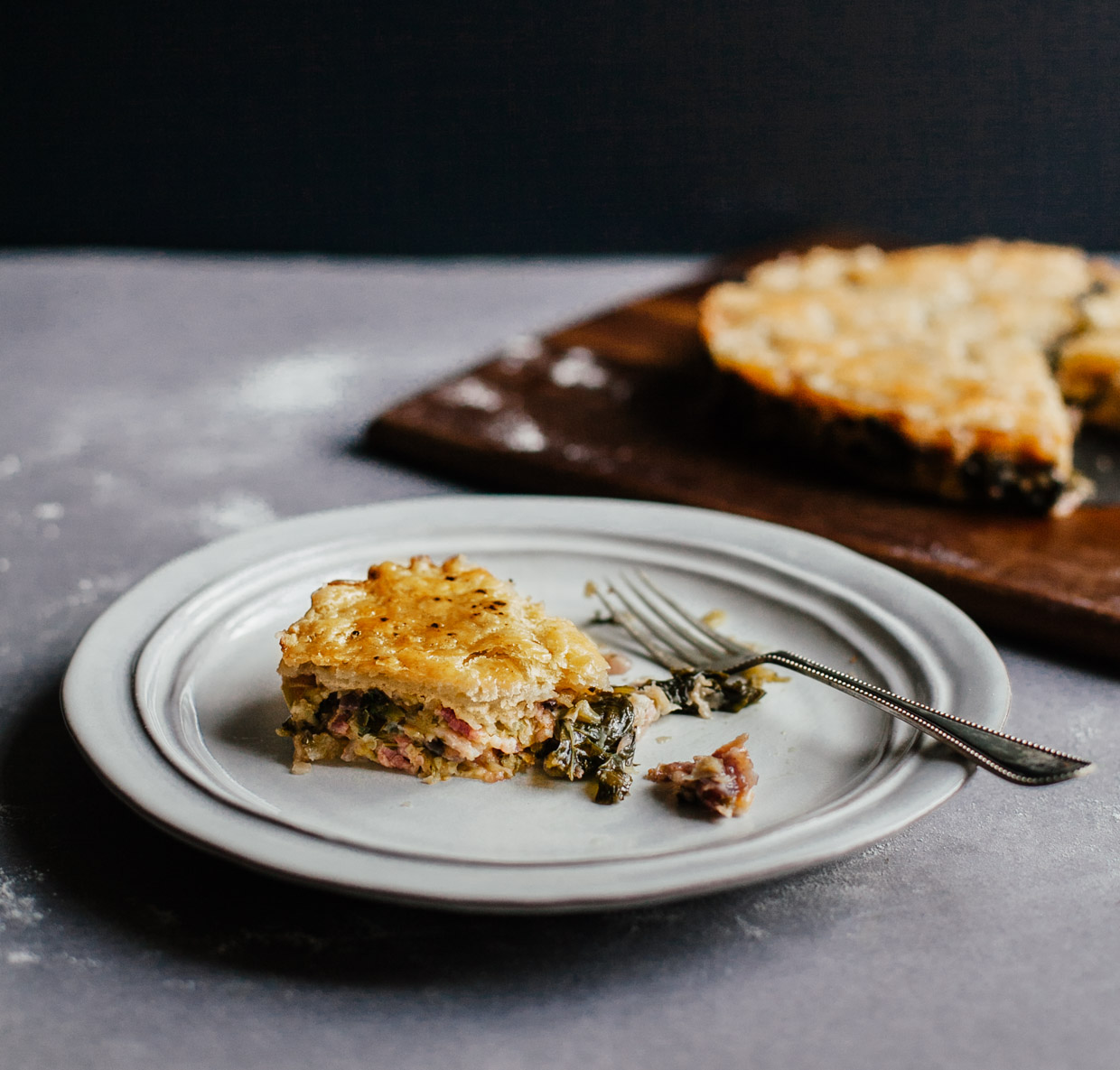 Leek, bacon & kale pie
for the pastry:
100g butter
200g soft flour
1 egg
a pinch of salt
freshly ground black pepper
a pinch of granulated sugar
10g water
for the filling:
2 tablespoons extra virgin olive oil
200 grams cured bacon, roughly chopped
2 medium red onions, roughly chopped
3 cups leeks (about 400g), roughly chopped
2 big handfuls fresh kale, roughly chopped, hard ends discarded
2/3 teaspoon grated nutmeg
sea salt and freshly ground black pepper to taste
1 tablespoon fresh parsley, finely chopped
130 mature cheddar, grated
1 medium egg, beaten with 1/2 tablespoon water
METHOD
Grate the frozen butter into the flour using a box grater; add the egg, salt, pepper, sugar and cold water and fold until the dough comes together- it should be soft but not sticky (you may need to add a pinch of flour or a splash of water). Shape into a ball, flatten, wrap in cling film and refrigerate until ready to use.
Preheat the oven to 200ºC (180ºC FAN).
Warm the olive oil in a large frying pan over medium heat; add the bacon and cook until lightly crispy, about 5'. Add the leeks and onion and cook for 10', tossing well to combine.
Wash the kale, drain well and add to the pan, along with the salt and pepper, nutmeg and parsley. Cook for another 7', until almost wilted; remove from the heat and allow to cool for about 5'.
Add the cheese to the mixture, combine, taste and adjust the seasoning if necessary. Scoop into your pie dish.
Take the dough out of the fridge and roll out onto a lightly floured surface, until a little bigger than the pie dish you'll be using. Top the filling with the pasty, trimming away any excess. Brush with the egg wash and cook for about 30', or until golden.
Remove from the oven and allow to cool for about 10' before serving.