Celebrating one of the season's stunners fruits in one simple dish: red wine & grape molasses poached pears with mascarpone, cinnamon & cloves.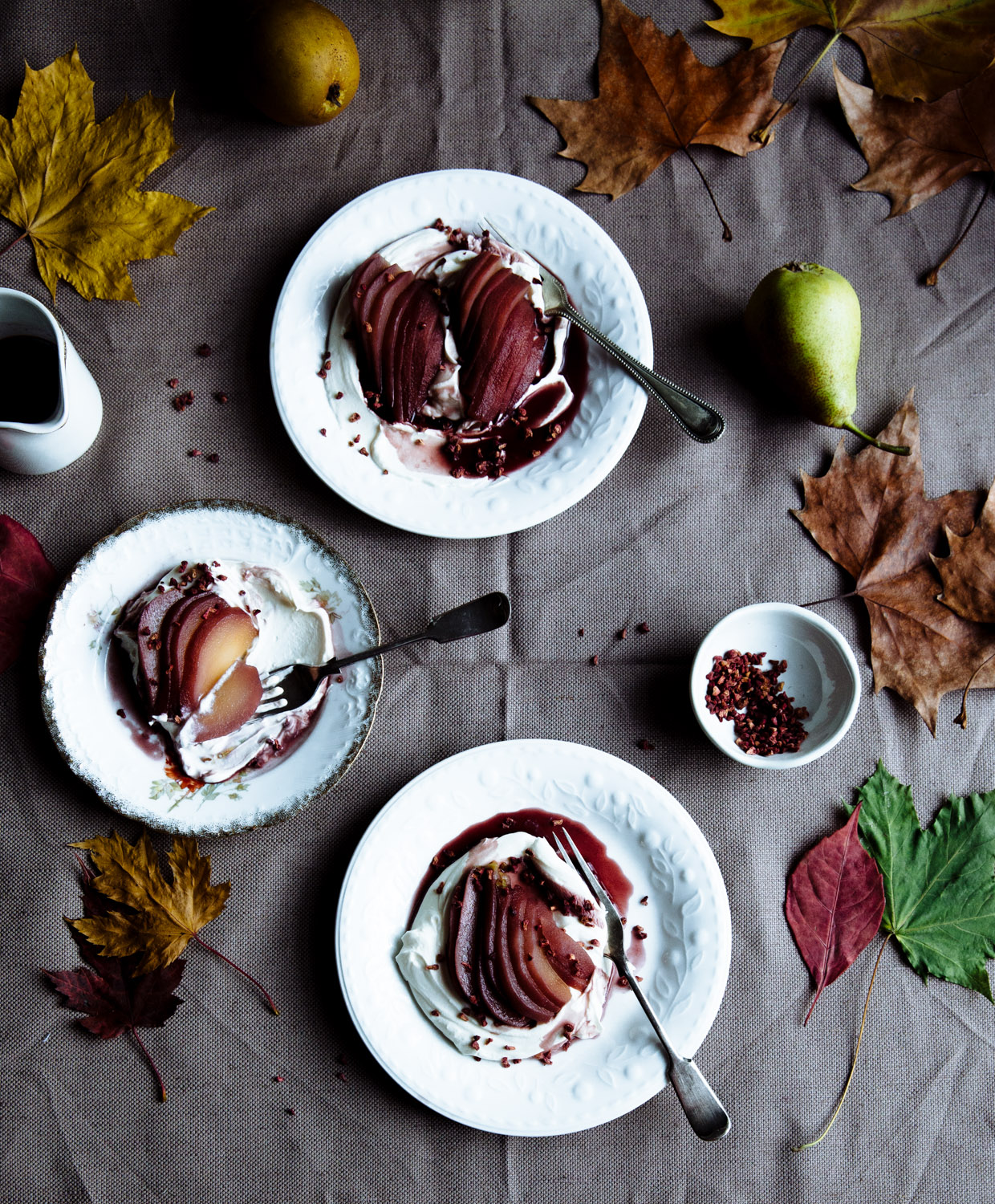 I didn't always love pears; up until recently, apples, all kinds of them, always took centre stage come autumn and winter. Pears were always in hand none the less, since every time I'd bite into one's juicy, sweet flesh I'd think that they really were quite special. Yet, I never though 'Damn, I wish I had a pear now', nor would I excitedly reach for one when in need of a sweet, fresh bite or a quick snack. This year though, I somehow found myself hopelessly attracted to them. I can't recall how it happened, nor is it really essential to trace down that first spark. Since they first appeared in markets, I've been buying them in heavy rotation and enjoying them on their own or incorporated into various dishes. In thick, steaming hot quinoa or oats with maple syrup and a dollop of almond butter, sitting pretty on a cheese platter or dunked in melting Camembert, or cut in thick slices and topped with Maldon salt flakes and a drizzle of honey- they've become a true favourite of the season.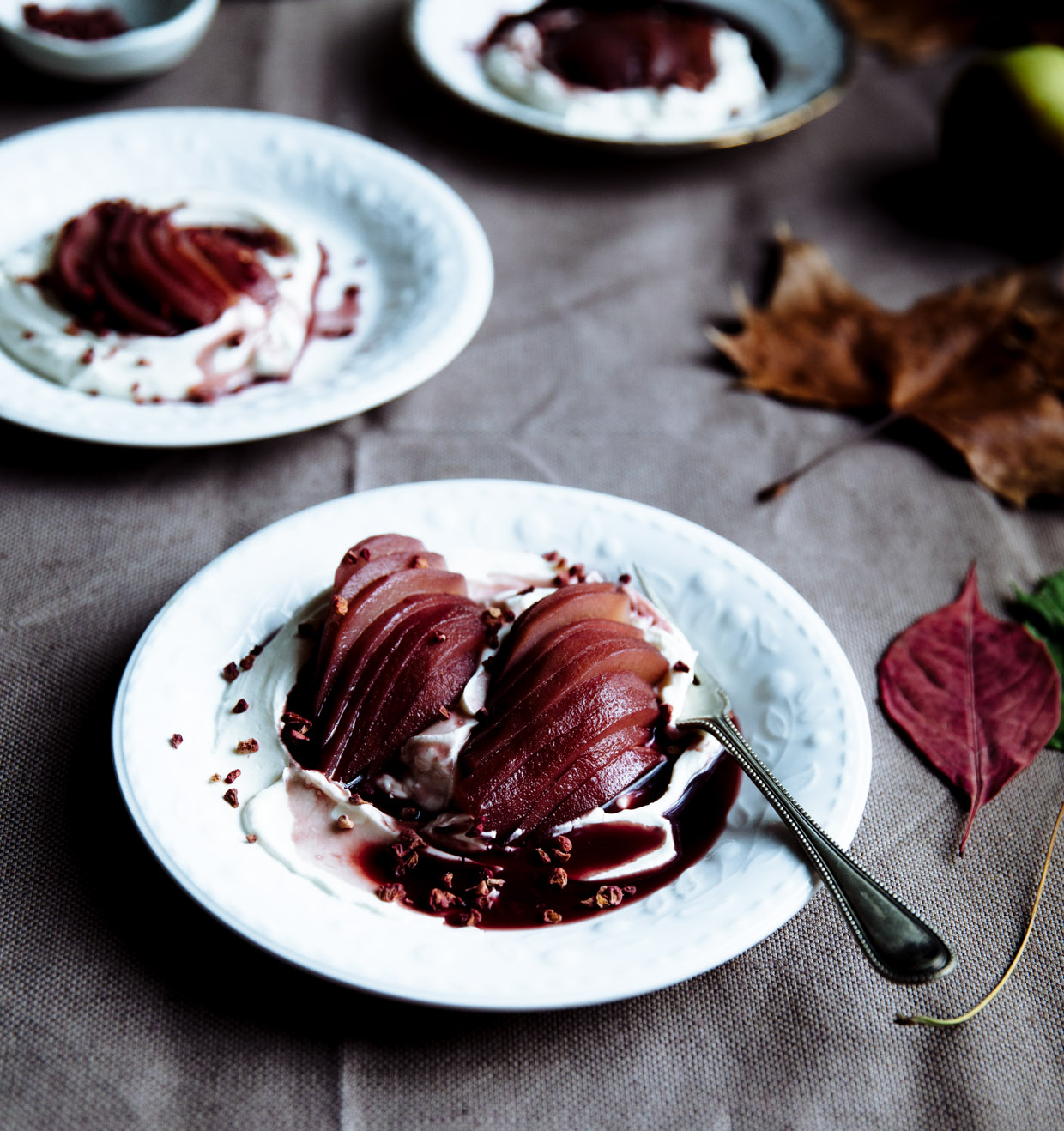 A few weeks back, I peeled their gorgeous spotted green and faded red skins and poached them along with a good red and lots of sweet, delicious petimezi (grape molasses); I added cinnamon, cloves, cardamom and a few black peppercorns and poached them until just tender and pale pink and even prettier than before; set aside, they were sliced thinly, while the wine was simmering away for a while, until it slickly thickened into a deeply fragrant and utterly autumnal  delicate sauce. Laid atop big dollops of mascarpone folded with some Greek yogurt and served with the thickened wine, they were just perfect. They were done like so on repeat and enjoyed as a dessert principally, but also hungrily midday, or even early in the morning for a somewhat decadent, yet very appropriate and filling breakfast, alongside homemade granola. Whichever way, pears are beautiful and I'm now kicking myself for not realising any sooner. Done like so, they are just undeniable. I hope you enjoy them as much as I did.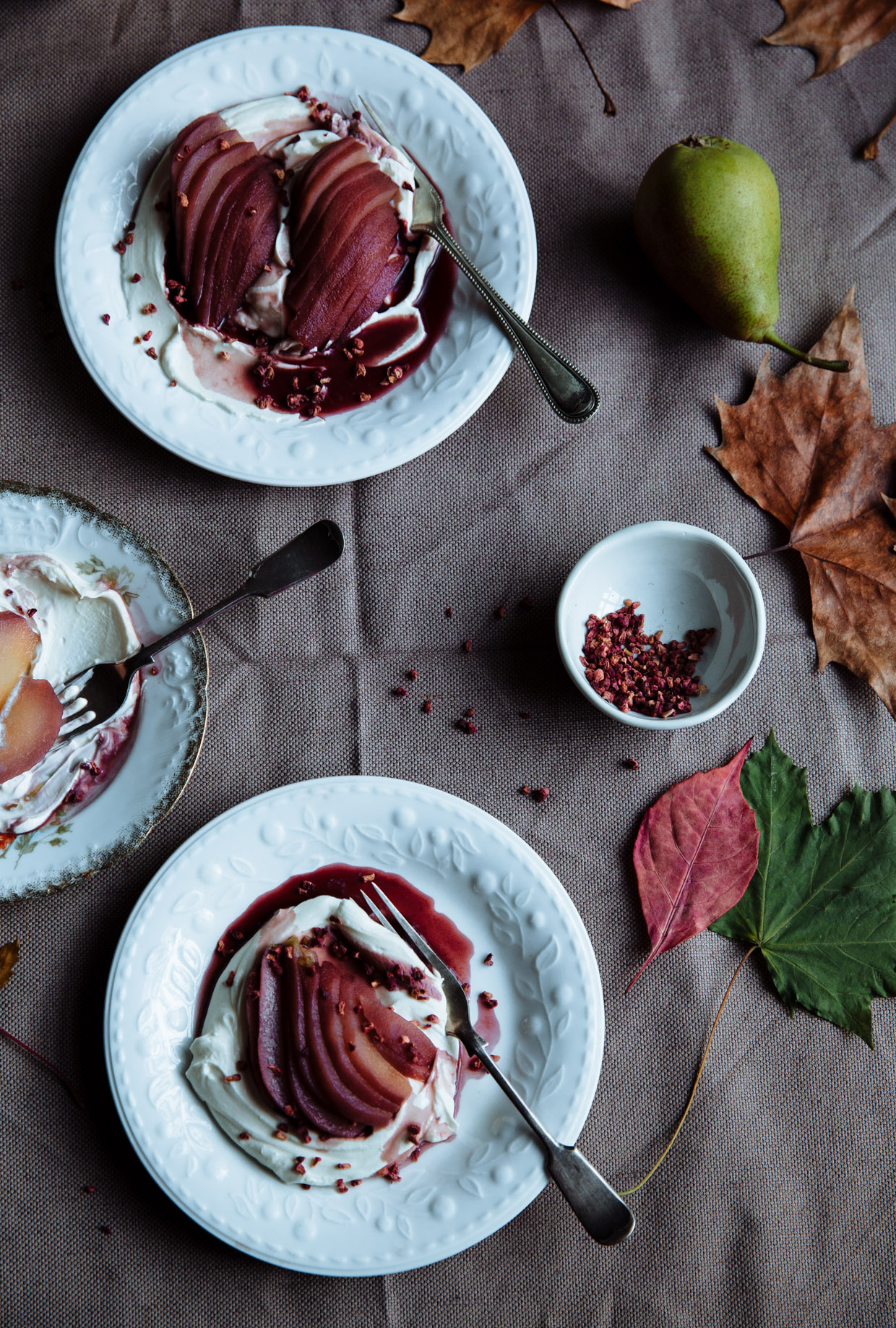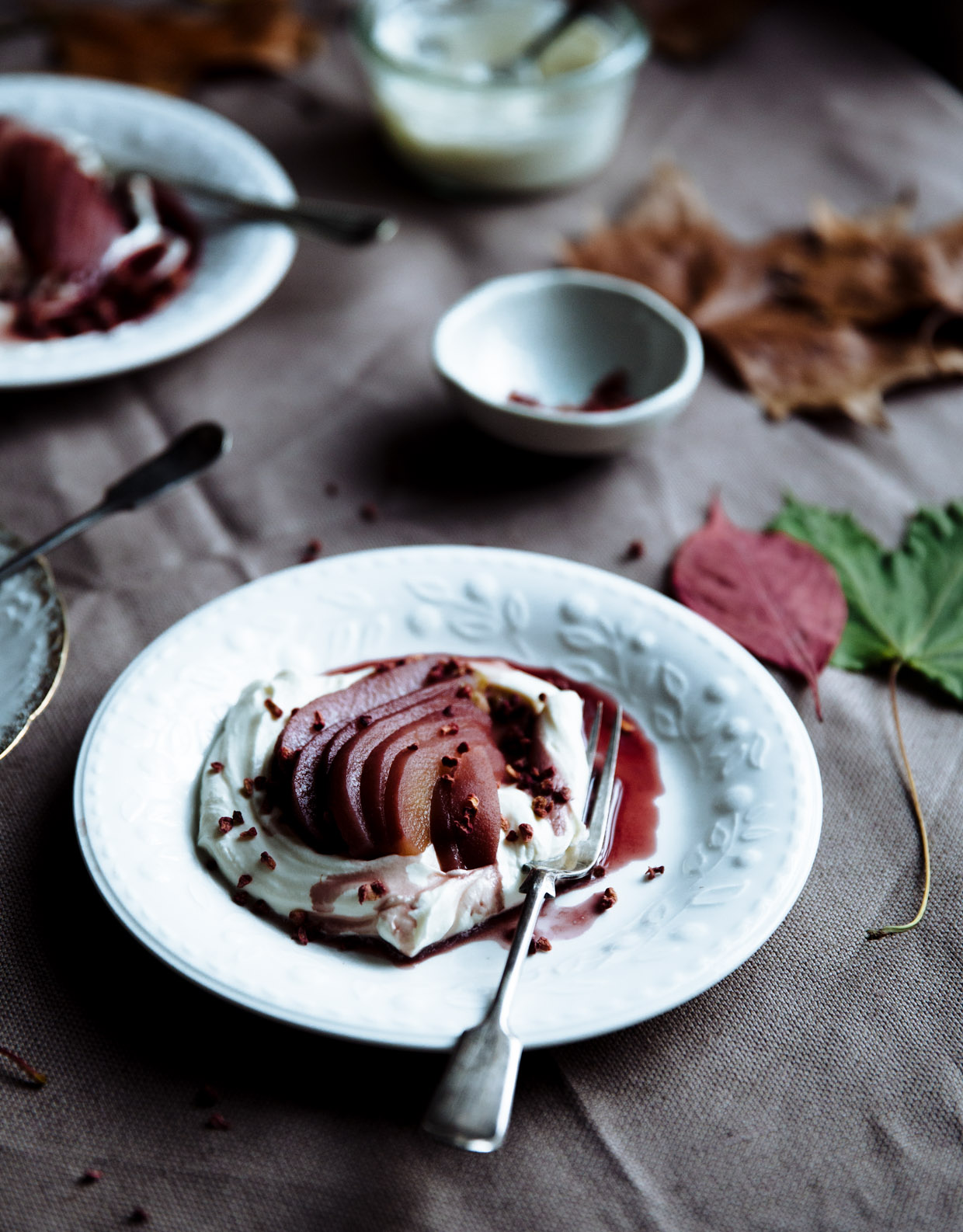 Red wine & grape molasses poached pears with mascarpone
WHAT
4 blush pears, firm
700 ml good red wine
350 ml petimezi (grape molasses)
1 fat & short cinnamon stick
12 cloves
7 cardamom pods
5 black peppercorns
to serve:
1/2 cup mascarpone
4 tablespoons low fat Greek yogurt
1 tablespoon freeze dried raspberries (optional)
HOW
Peel the pears, but keep the stems intact, and place in a bowl of cold water to stop from browning.
Place the wine, petimezi and spices in a medium saucepan and bring to a boil.
Add the pears and lower the heat to medium-low. Simmer for about 30′, or until the pears are fork tender, turning them from time to time, so they cook and colour evenly.
Remove the pears from the pan, strain the liquid and return it to the pan; simmer over low hat for about 30′, to slightly thicken.
Serve the pears over a big dollop of the mascarpone yogurt, a generous drizzle of the sweetened wine and a sprinkle of the raspberries, if using.