A light potato salad with cappers, spring onions and a creamy, lemony yogurt sauce- it's the perfect way to use those perky spring baby potatoes.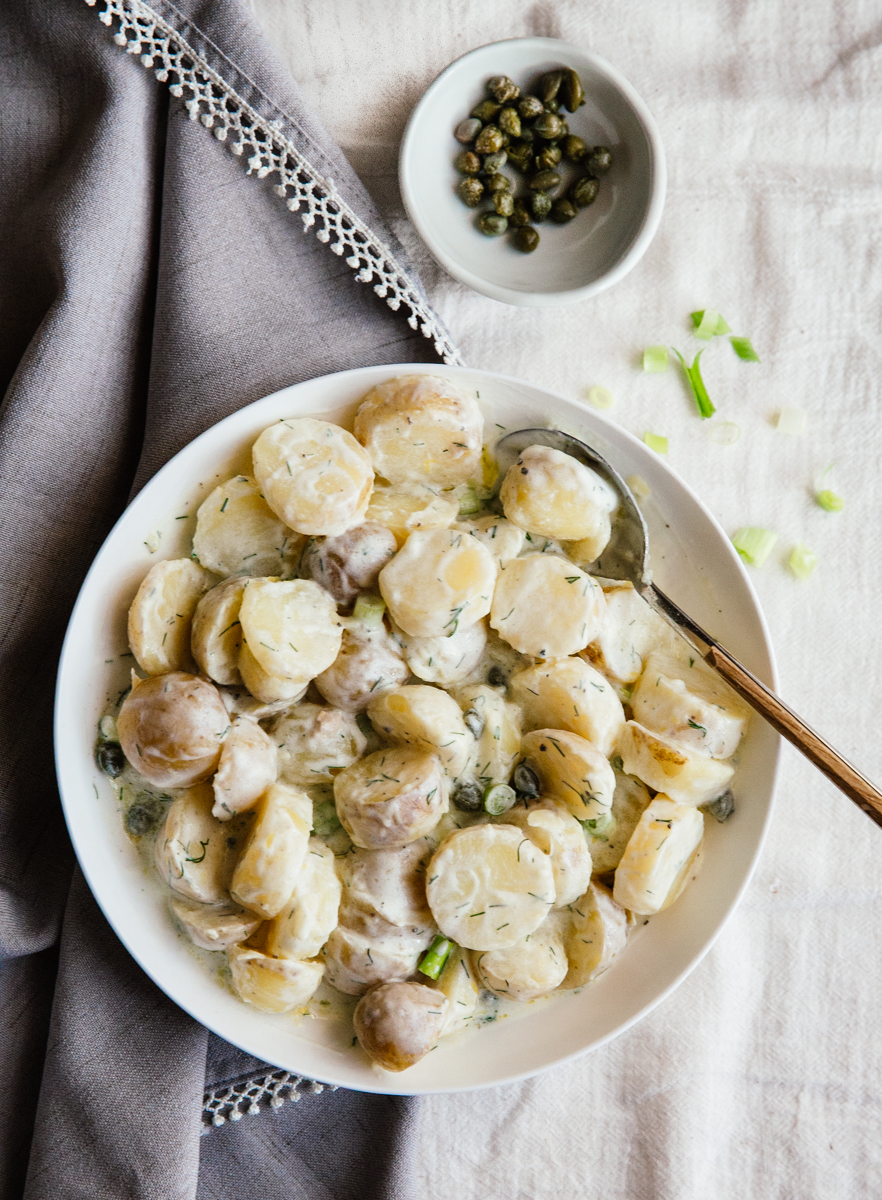 Sweet, restless, raffish spring is here, with all its colours, moody weather, all the smells and overwhelming desires and at times melancholy it often brings along. It's here, with all its pretty ingredients, delicate and unassuming, bright and almost festive. Of those, the ones I almost never notice are new potatoes, the somewhat kings and queens of April harvest.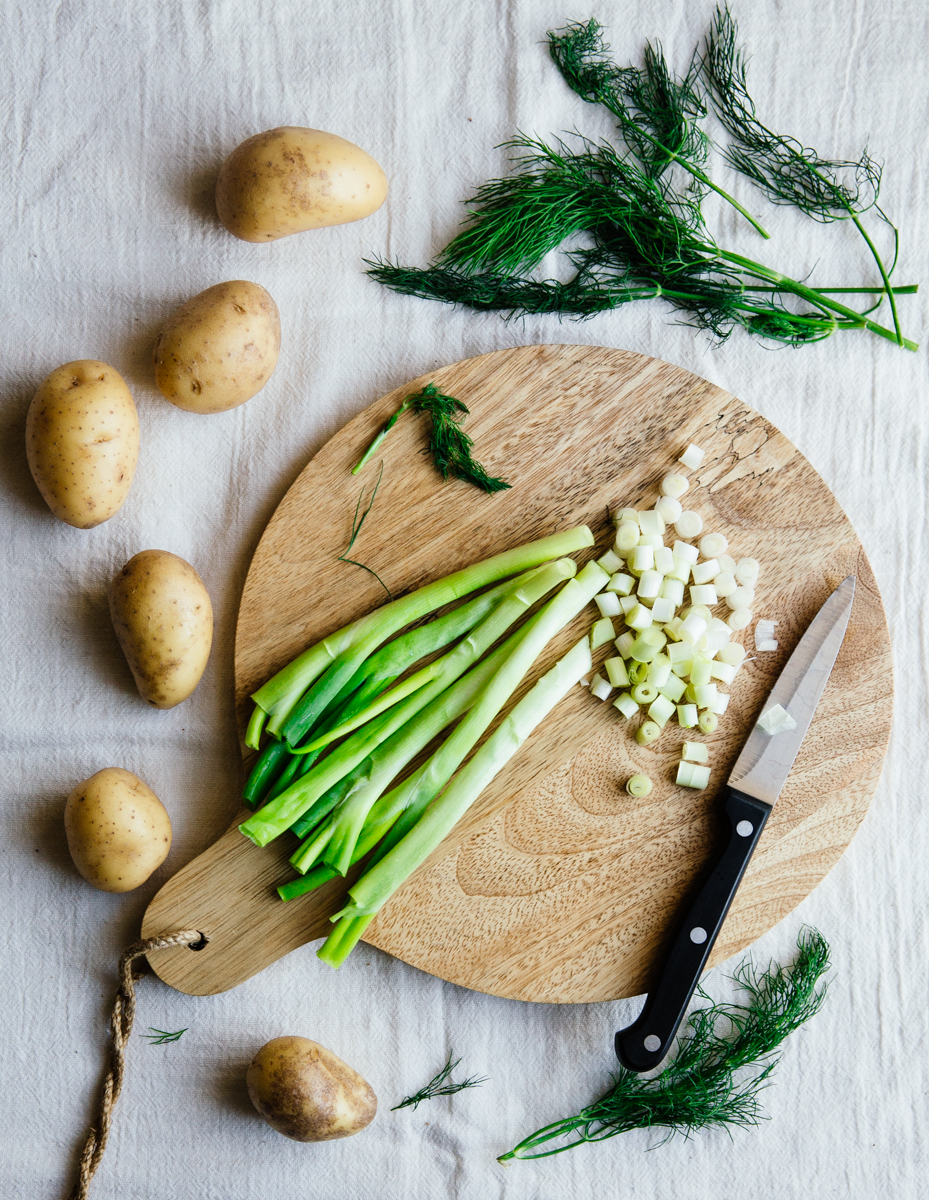 I don't know where this lack of interest comes from; I suppose we were never big potato eaters in my family and I've come to realise, much to my surprise and much like me, that Mike doesn't care for them at all. So there's rarely any potatoes in the pantry and subsequently, there's almost no potato dishes to speak of (unlike sweet potatoes, which make frequent appearances in our meals). But I knew, I somehow new, that those little spring ones, with the soft, bright skin and delicate flesh- those where not to be missed. And yet, I missed them on almost every spring. This year however, I was ready. To be fair, I became ready after talking to my friends about my lack of love for potatoes and being almost shamed about it. And there it came along, the simplest of ideas, possible the best way to celebrate their subtlety and good looks: a potato salad.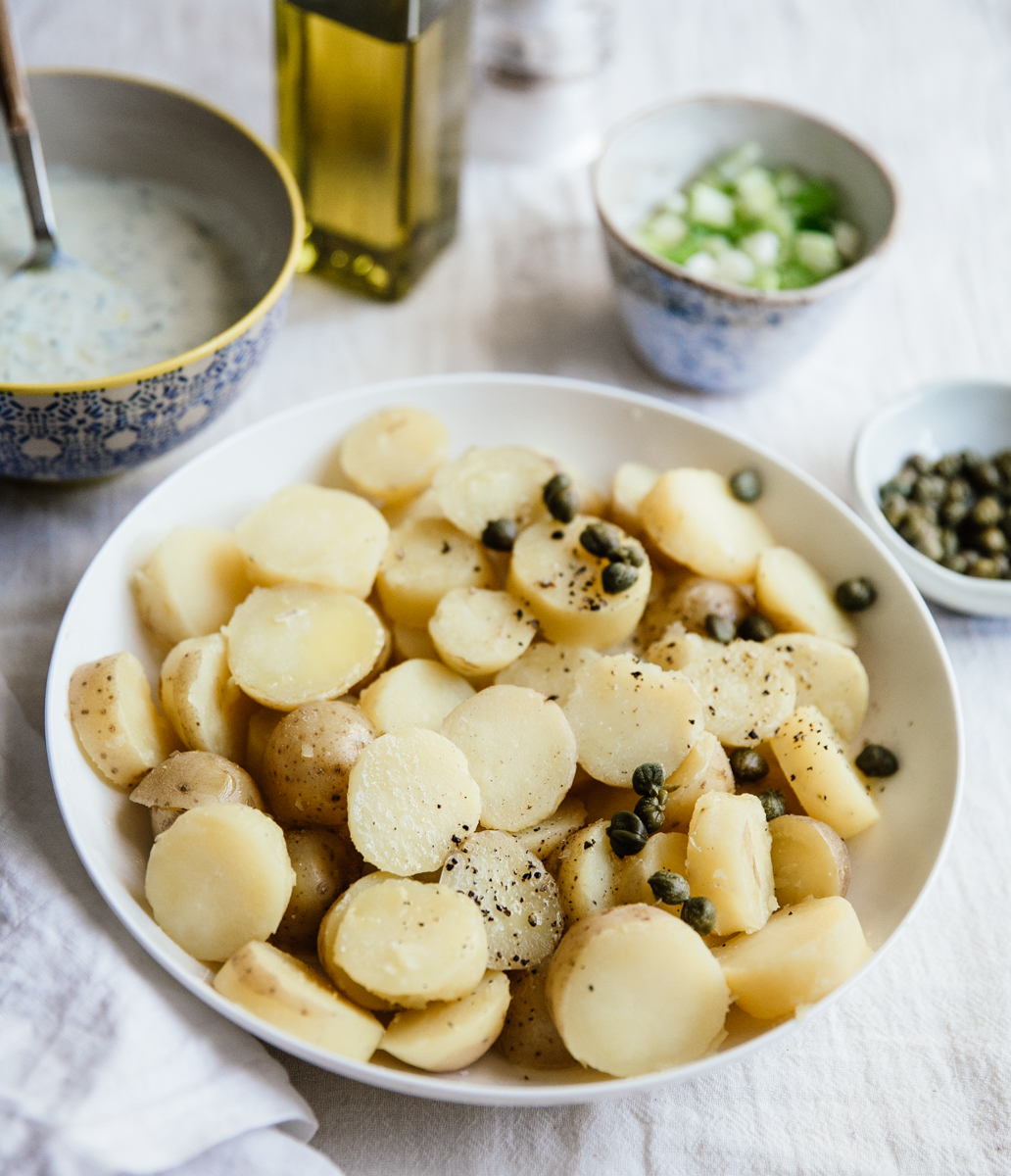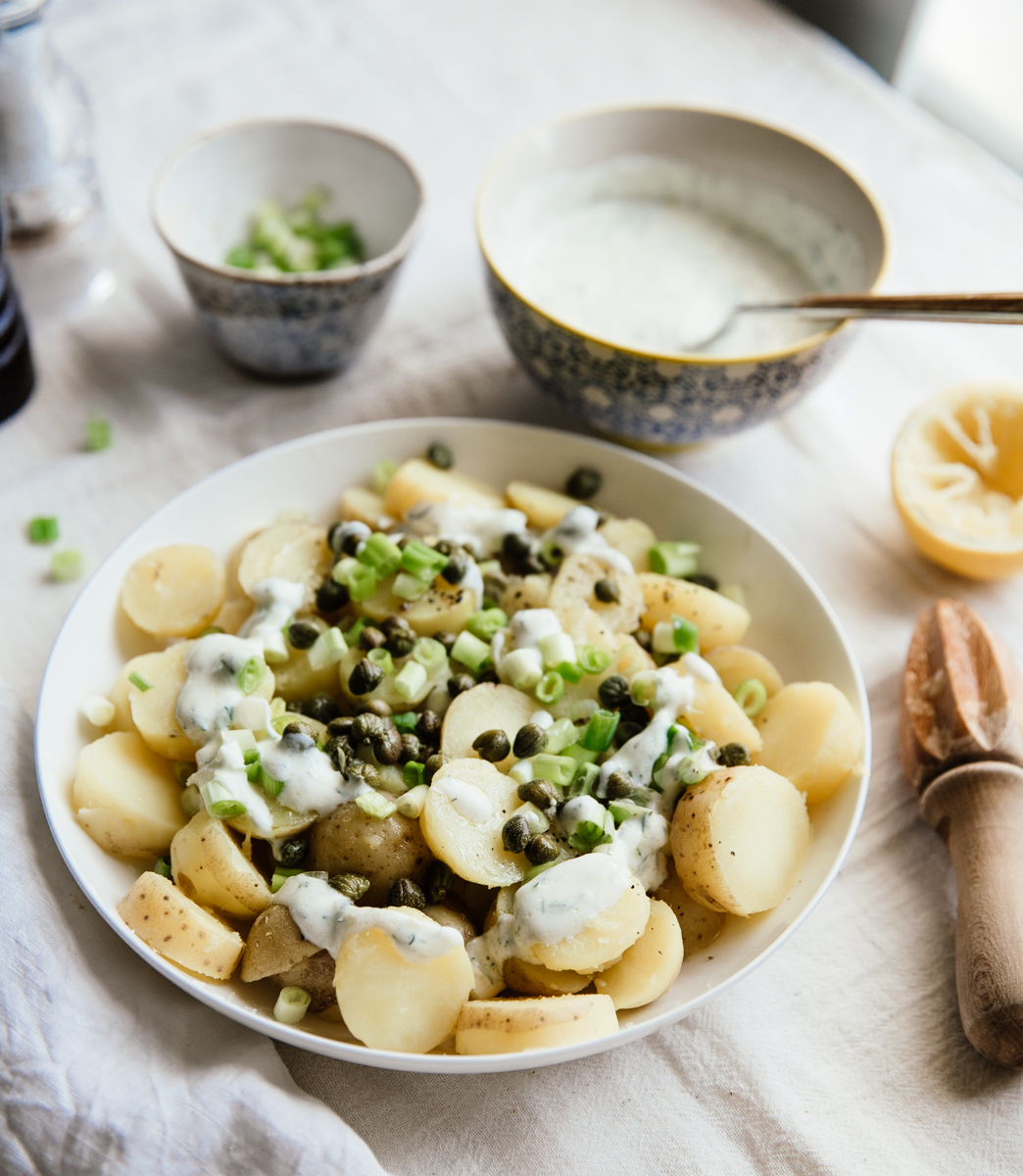 Potato salads are quite popular in Greece and this is very much based on the variation which is often served back home: there's briny cappers, lots of them, and intense spring onions, very fresh and very pretty; there's a whole lot of Jersey Royals with their skin on (that's how I like it, always), there's lemon juice and lots of black pepper and sea salt flakes. And as such, it is perfect- perfect to celebrate these spring staples and the season itself. But there can be more: a yogurt dressing, simple as it is delicious, filled with more spring spirit: fresh dill and lemon zest, olive oil and more salt and pepper. Simple and delicious, just like those potatoes are, just like spring eating should be.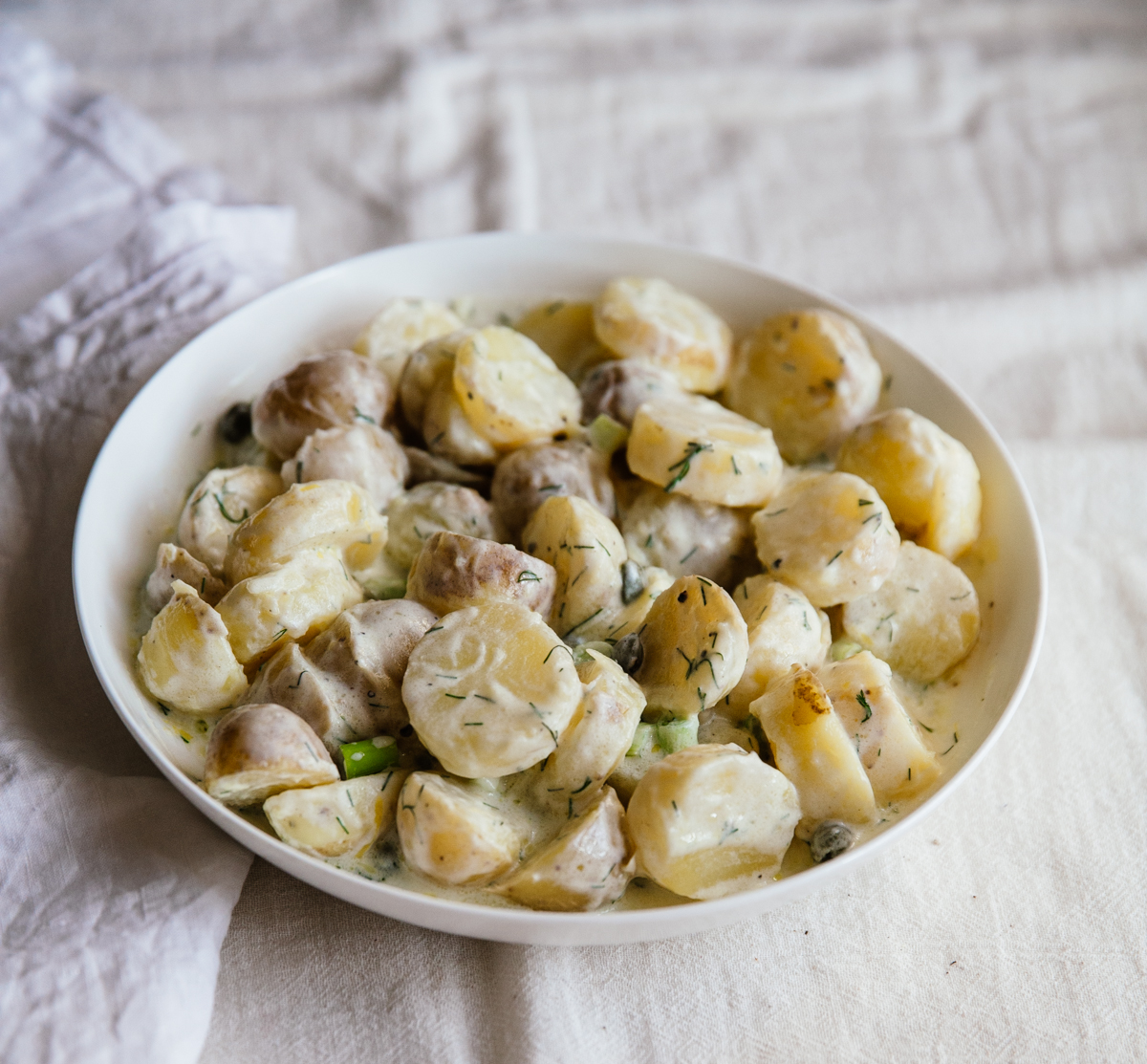 Potato salad
WHAT
15 small potatoes
4 spring onions, thinly sliced
2 tablespoons cappers
1 tablespoon fresh dill, chopped
1 1/2 tablespoons olive oil
juice from 1/2 a lemon
salt & pepper to taste
for the dressing:
1 cup half fat Greek yogurt
1 tablespoon olive oil
zest of half a lemon
salt & pepper to taste
HOW
Bring a large pot of water to boil; reduce to a medium/low simmer, add the potatoes and cook for 15′, until tender, but not falling apart.
While the potatoes are boiling, prepare the dressing by combining all the ingredients. Set aside.
Drain the potatoes and run under cold water; peel if desired.
Cut into thick slices and arrange in a serving dish. Add the cappers, dill, lemon juice and salt and pepper and toss gently to combine.
Add the dressing and toss again, or serve the potato salad with the dressing on the side.
This recipe was created as part of the International Food Photography and Film Week. You can find out more on Facebook and Twitter.