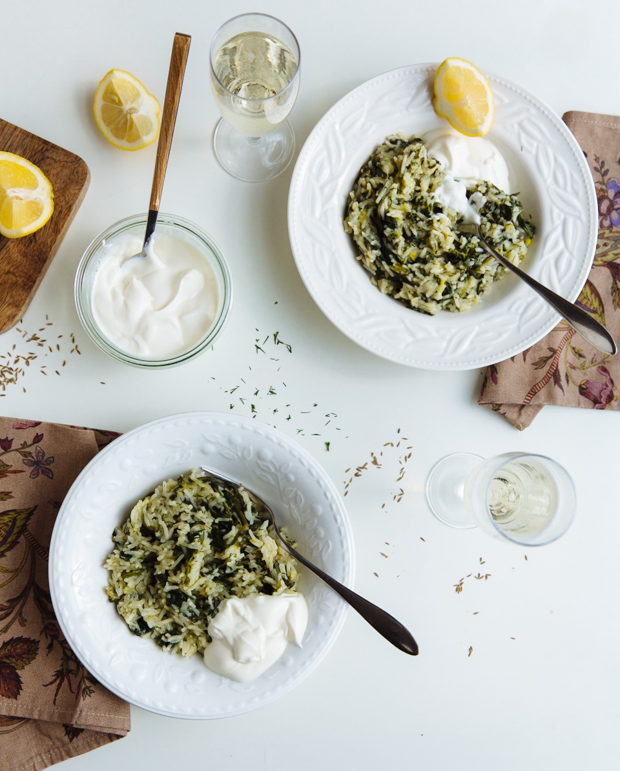 This spinach, dill & lemon basmati rice is my friend Zoe's version of spanakorizo (spinach rice) a Greek dish which is both widely loved and loathed. I used to belong to the latter category; I passionately despised spanakorizo, even when it was prepared by my mom, a truly exceptional cook. I expressed and emphasized my dislike at any given opportunity, but that never phased her (she's had years of intense practice not paying much attention to most dramatic declarations occuring at home): instead, it was the dish she'd prepare for my sister and me every time we'd return home from London. I mean, every.damn.time. And every damn time, I'd give it a try and every damn time, I'd dislike it even more.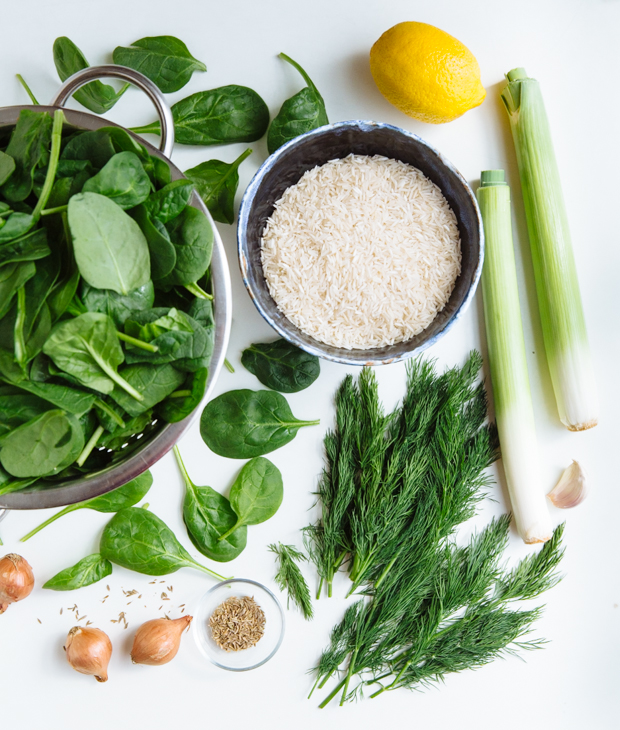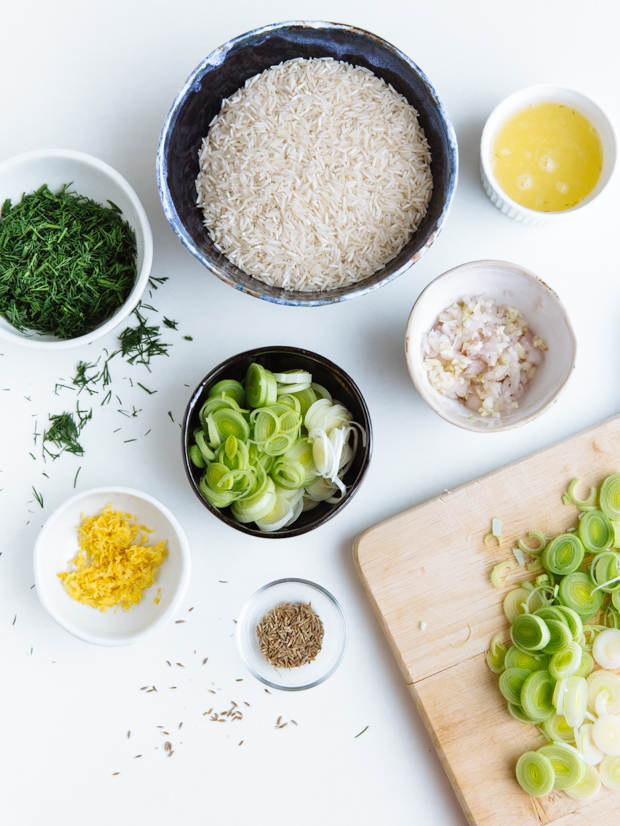 But all that drama, all that angsts and whatnot is now a thing of the past. Zoe's version is a game changer. I mean, look: fresh, crisp baby spinach; sweet, delicious leeks, paired with and elevating the obligatory onion and garlic combination; cumin seeds (my favourite part, fragrant and with a tiny bite), fresh dill and lots of lemon zest & juice.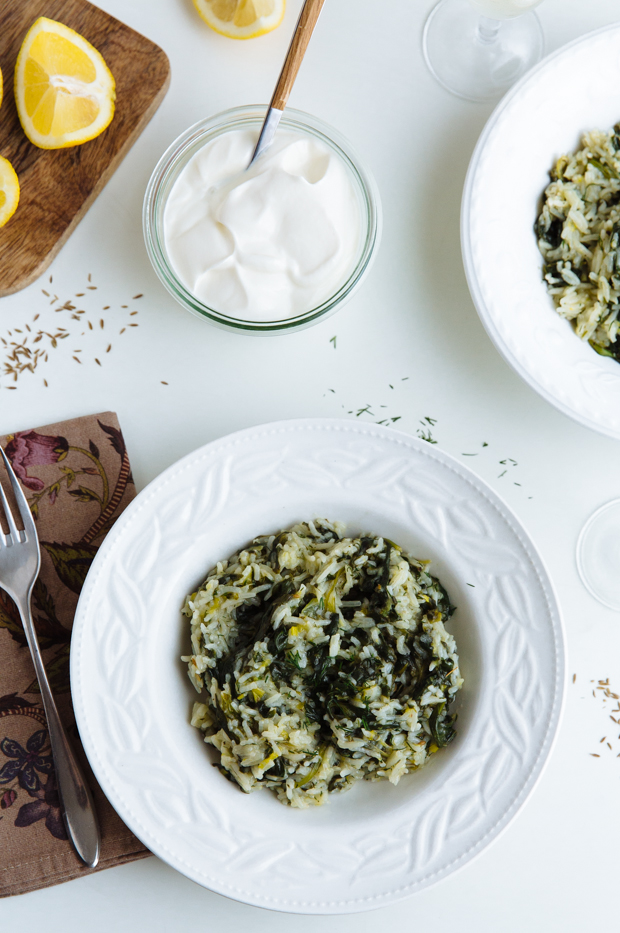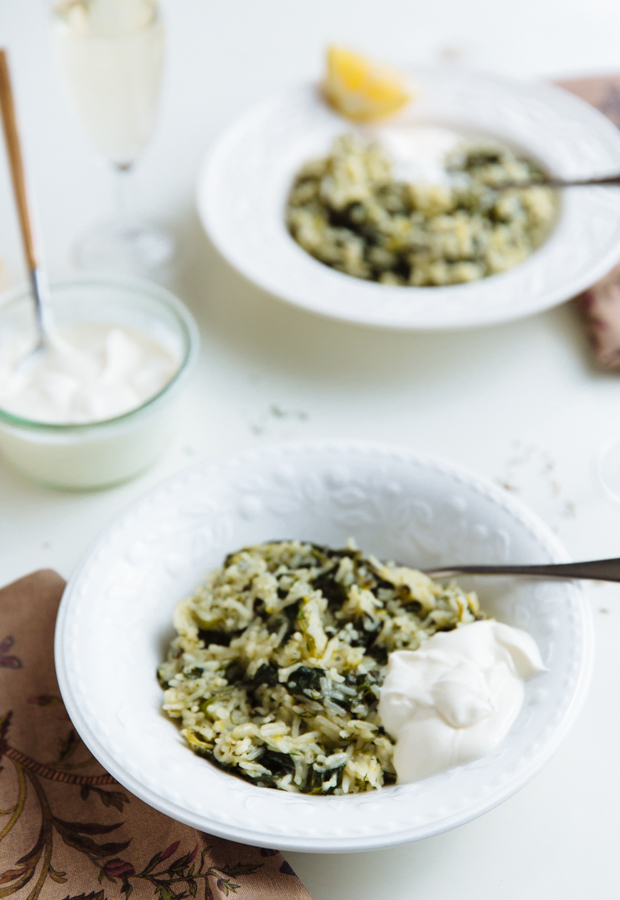 Super fresh, perfectly balanced, mildly spicy and endlessly refreshing, this one's a keeper (sorry mom). Serve with a big dollop of Greek yogurt and say hello to your new favourite Greek dish.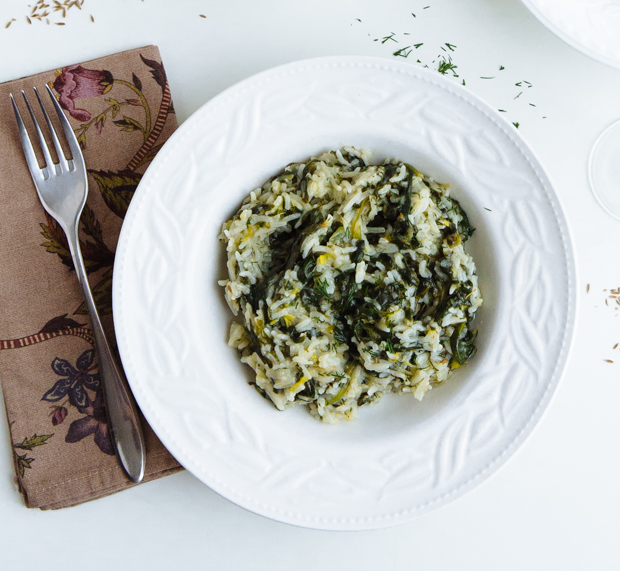 Spinach, dill & lemon basmati rice (spanakorizo)
INGREDIENTS
1 tablespoon olive oil
3 shallots (or 1 large yellow onion), finely chopped
2 large leeks, washed, trimmed and finely chopped
1 clove of garlic, finely chopped
1 large lemon (zest & juice)
1/2 teaspoon cumin seeds
400g baby leaf spinach, washed
2 cups basmati rice
30g dill, finely chopped
4 cups boiled water
1 vegetable stock cube
salt & pepper
METHOD
In a large pot add 1 tablespoon olive oil over low heat, add the finely chopped shallots (or onion), leeks, garlic, lemon zest and cumin seeds and stir until soft but not browned- about 3'. Add the spinach, stir and then cover and cook until wilted.
Meanwhile, boil the 4 cups of water and add the vegetable stock until it is completely dissolved.
Add the rice and dissolved vegetable stock to the wilted spinach and stir well. Cover with a lid and simmer for 15', or until all the liquid has been evaporated, checking after the first 10' and giving everything a good stir).
Turn the heat off and add the finely chopped dill, lemon juice, salt & pepper. Serve in a pasta bowl with a scoop of thick Greek yogurt on the side.