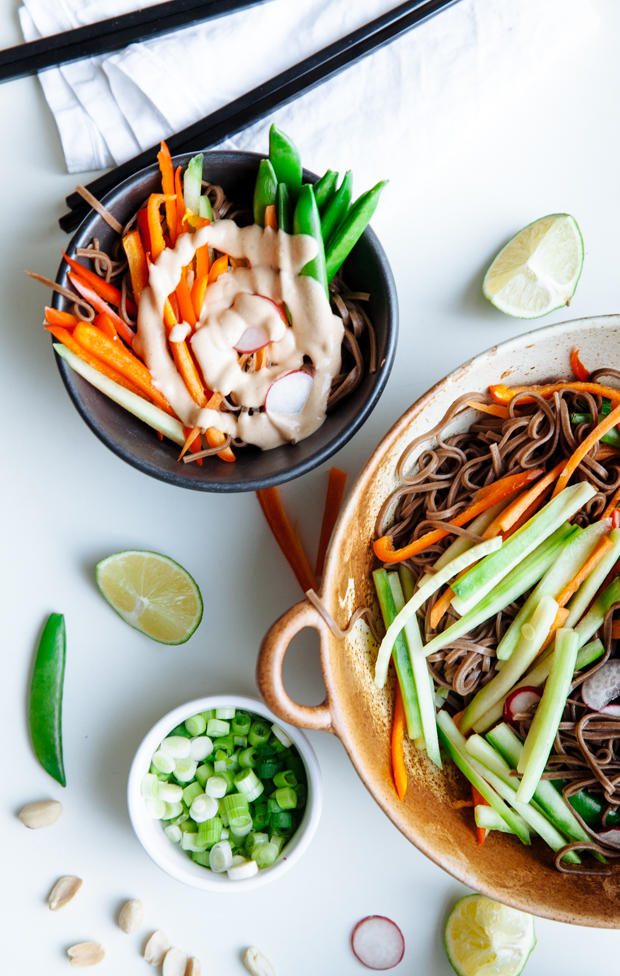 Today is the first day of February and every passing day to me is another little step closer to spring! ΥΑΥ for spring, I can't wait for it to be here already! To make things more springy around here, I think a colourful recipe is in order. How about one that's packed with tons of delicious flavours, too many pretty, fresh and crunchy vegetables and an absolutely irresistible creamy sauce?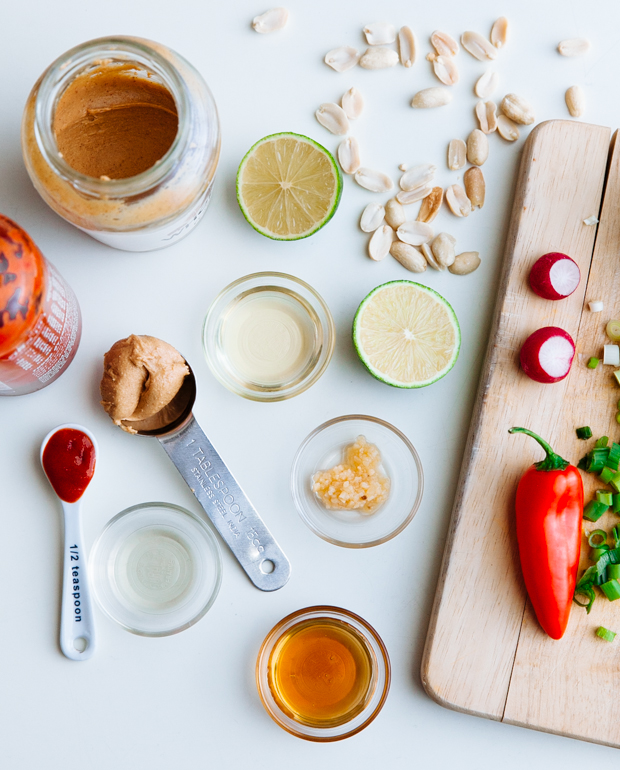 During the winter months, I tend to favour warming soups and chunky stews; but then, there are days when I crave something more refreshing, more salad-like. Today looks like one of these days and this simple, versatile and ridiculously tasty creamy & spicy peanut butter noodle salad is just the thing to make.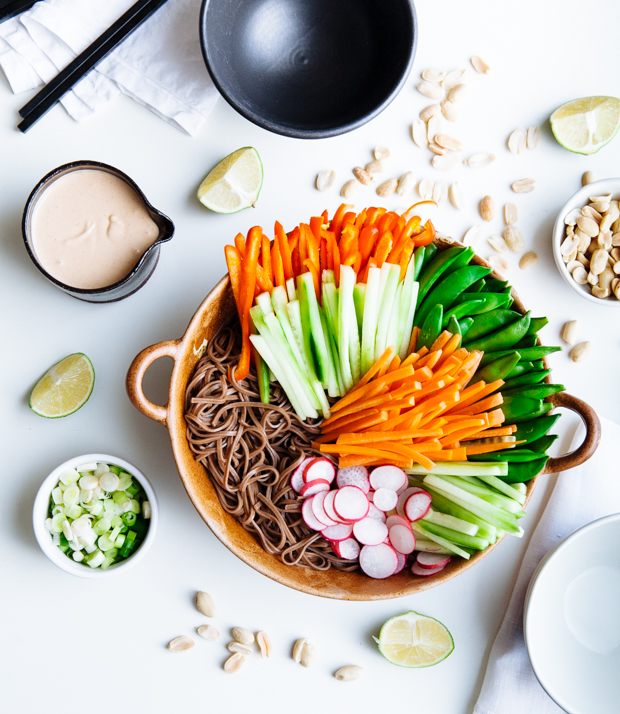 There's barely any cooking involved- all you have to do is slice, blend and combine. Like most recipes shared here, this one's pretty versatile too. You can add any veggies you like, but I went with some classics: carrots and sweet mini peppers, cucumbers (not exactly in season but the most refreshing vegetable in my book), sugarsnap peas for their perfect crunch and radishes for their gorgeous colour and slight heat. All these, mixed with earthy soba noodles are pretty great. But they're lacking a little something, a delicious sauce to bring everything together.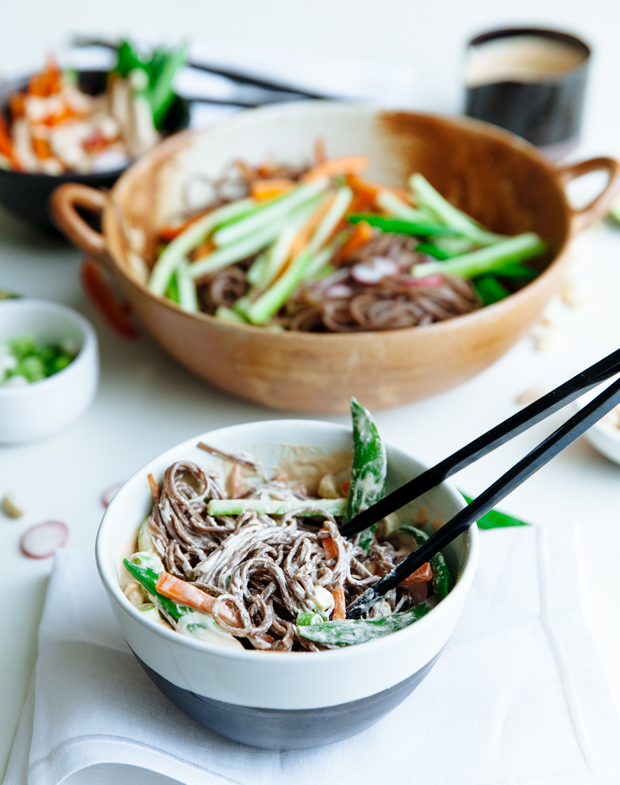 This peanut butter number is just the thing. Thick enough to cling on our noodles, packed with so much flavour, but without overpowering our vegetables and most importantly so addictive, you'll want to be adding it to almost everything (I know I have). There's so many little gems in here apart from our creamy butter: a drop of vinegar and a good squeeze of lime for acidity; honey for sweet balance; sesame oil for softness and sriracha and garlic for some subtle heat. Blend, taste, adjust, drizzle generously and keep your fingers crossed for spring!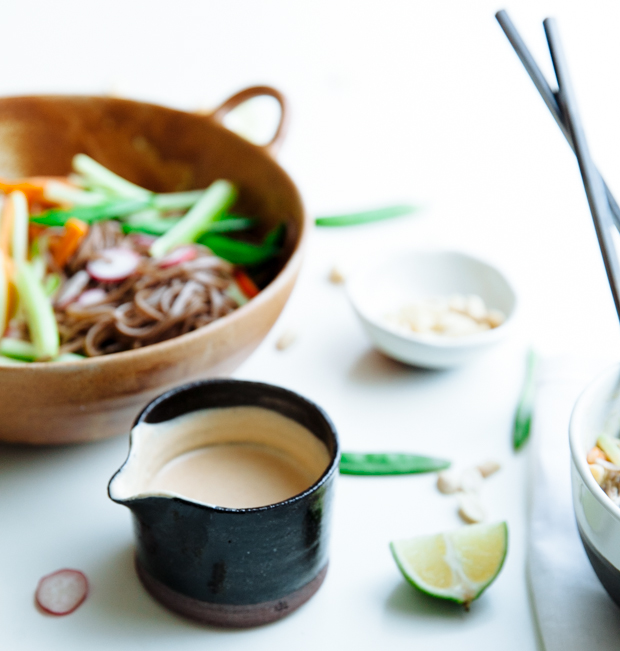 Creamy & spicy peanut butter noodle sauce
INGREDIENTS
3 small carrots, peeled and sliced very thinly 
1/2 cucumber, peeled and sliced very thinly 
3 sweet baby red peppers, sliced very thinly 
200 gr sugarsnap peas
a handful of radishes, washed and sliced very thinly 
250 gr soba noodles
For the sauce (recipe adapted from here)*:
7 tablespoons smooth peanut butter
3/4 cup hot water
2 tablespoons white wine vinegar
1 1/2 tablespoons honey
1 1/2 teaspoons salt
1 1/2 teaspoons minced garlic
juice from 1/2 lime (& 1/4 teaspoon zest)
1 teaspoon sriracha
1/2 tablespoon toasted sesame oil
to serve:
1/2 cup roasted unsalted peanuts
3 spring onions, sliced very thinly 
Make the sauce: put the peanut butter in a blender and blend with the hot water. Add the remaining ingredients and lastly the sesame oil and blend well until combined. The sauce will look very runny, but will thicken when you put in the fridge.
Before serving: remove the sauce from the fridge, allowing it to cool to room temperature. Taste and make any adjustments necessary.
Wash, peel and slice your vegetables and set aside. Steam the peas until tender and set aside as well.
Cook the noodles according to pack instructions, drain and run under plenty of cold water. Drain again and place on a serving dish or individual dishes.
Combine with the sliced vegetables, spring onions and peanuts and drizzle generously with the peanut sauce.
Store any remaining sauce in the fridge for up to a week.
* The sauce is better made several hours before serving or the previous day, as it will thicken and the flavours will blend together. Once it's thickened, you can make any adjustments before serving.