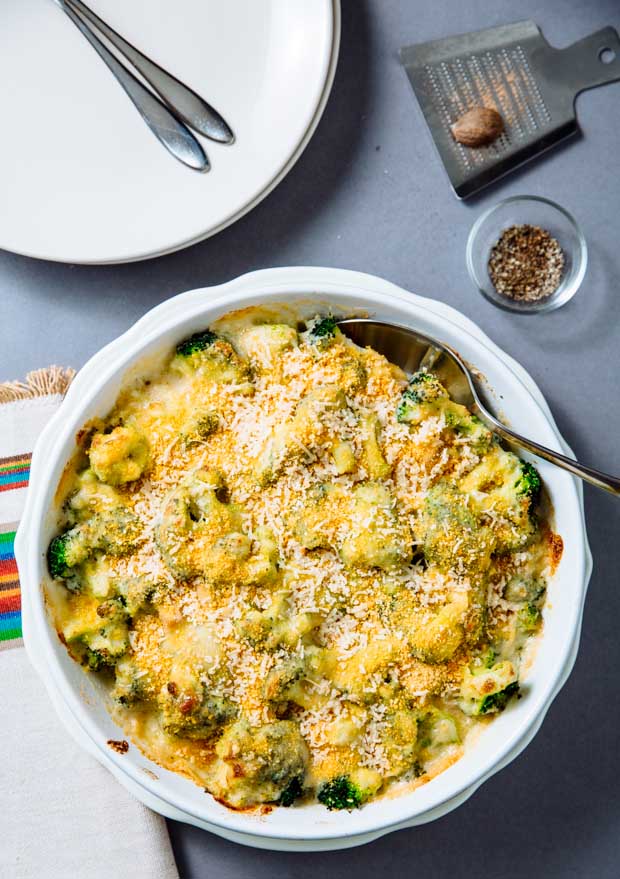 You know how, when it comes to vegetables (or anything, really), you have your star players and your underdogs? Tomatoes, avocadoes, the mighty kale, carrots- they're all winners, loved by most and consumed enthusiastically. And then you have others, like broccoli and cauliflower which are less fancy, less sparkly, less favoured. So totally unfair. I think I love almost all vegetables the same. And I have my mom to thank for this.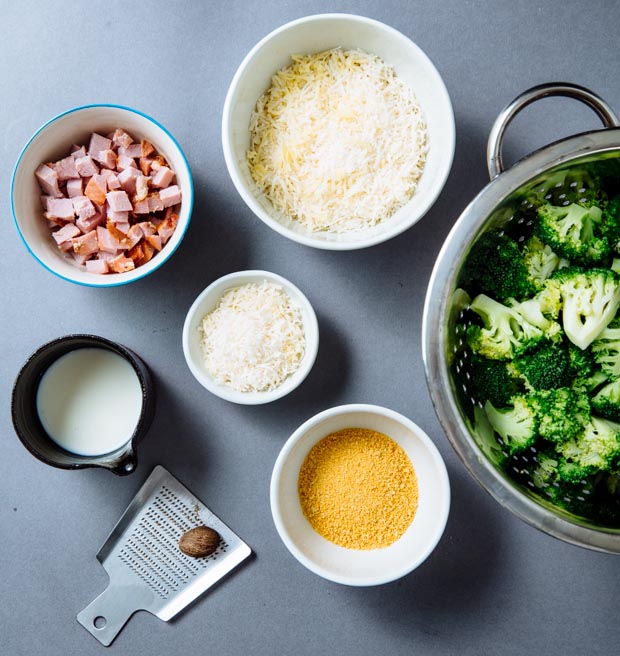 See, she was and is the kind of cook that always prepared meals based on seasonal products and whatever caught her eye at the farmers market. And broccoli was always on her list, especially in the fall and winter. So during the colder months, broccoli would appear on the table quite frequently; most of the times it was in the form of a salad (steamed or raw), simply drizzled with olive oil, lots of lemon juice, sea salt flakes and freshly ground pepper. Other times, she's prepare it au gratin, half buried under a delicious layer of a light bechamel, heavy on the cheese and black pepper. In any case, when broccoli was on the table, much like everything else, it had to be eaten- as in, there was no alternative and if my sister and I didn't want to leave the table hungry, that was our only option. Lucky for us, we were always pretty accommodating and accepting when it came to food. More is better seemed to be our motto, so when most kids would turn their nose to broccoli, we'd happily gulp it down.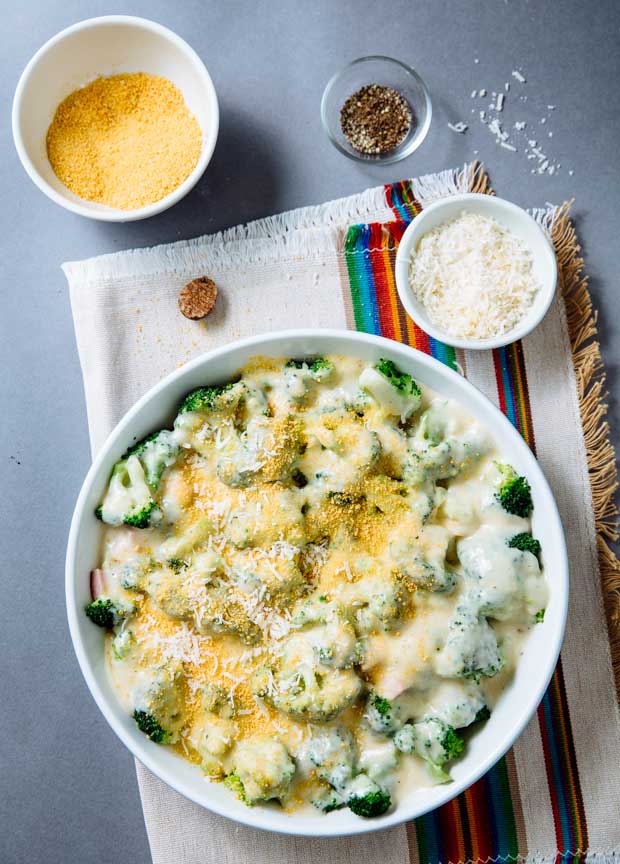 Even though I'm still not a massive fan of cauliflower (my favourite way to enjoy it is in the form of a couscous– so so good!), broccoli is probably my favourite vegetable for autumn & winter cooking, one that's always in the fridge, washed and cut in small florets, ready to be enjoyed on its own, alongside a hefty amount of hummus or incorporated into hearty soups.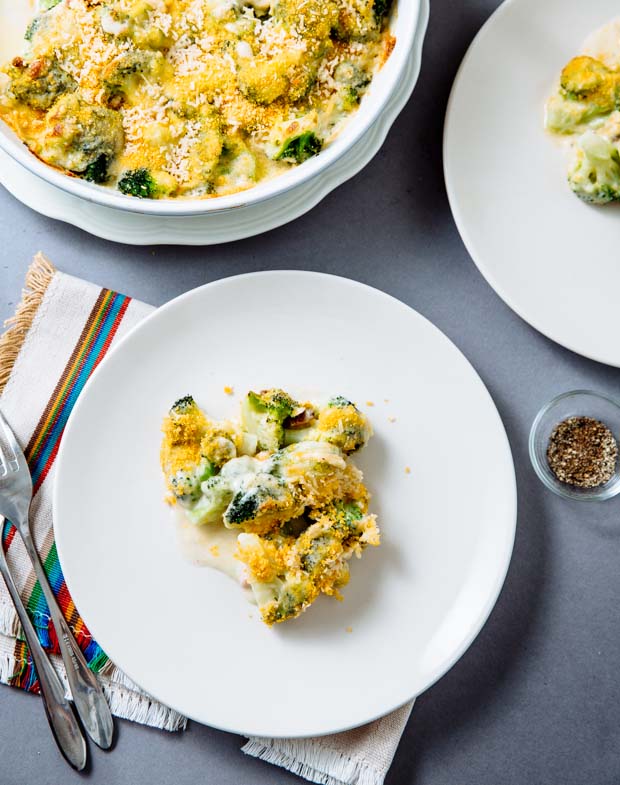 I don't usually make it au gratin- anything cheese related seems to be my culinary kryptonite and once it's ready, I can easily make it disappear, on my own, in an embarrassingly short amount of time. So I prefer to stay away. But a few days back, I found myself with some leftovers from a beautiful piece of roasted gammon and I decided to combine it with my beloved broccoli. So, here it is, smoked gammon & broccoli au gratin, a slight variation of one of my mom's star dishes.
Broccoli is the bomb you guys! In any form, yes, but especially here: it really is the star of the show, even alongside the perfectly salty and tender gammon and under a deliciously rich cheese sauce of cheddar, parmesan and grated nutmeg. Tender yet crispy, in the perfect shade of green, so comforting and tasty. Folks (& avocados), we have a winner here. Take a bow.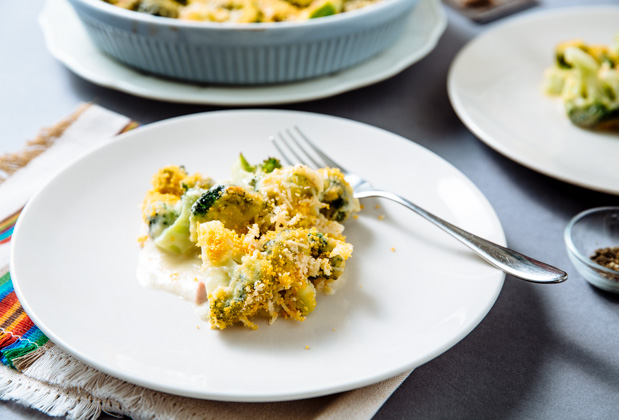 Smoked ham & broccoli au gratin
INGREDIENTS
fresh broccoli, cut in small florets, hard ends removed
1/2 cup cooked smoked gammon, cut in small pieces
4 tablespoons unsalted butter
4 tablespoons all purpose flour
1 1/2- 2 cups full fat milk at room temperature
1/4 teaspoons freshly grated nutmeg
1 cup mild cheddar, grated
1 cup parmesan, grated
freshly ground black pepper to taste
1/3 breadcrumbs
1/4 cup extra parmesan
Preheat the oven to 220C (200C for air).
Fill a large pot with water and bring to a boil. Add the broccoli florets and boil for 4′, until just tender.
Drain and run under plenty of cold water. Drain again and pat dry, set aside and combine with the gammon pieces.
Make the cheese sauce: melt the butter over medium heat and add the flour, whisking well to combine.
Add the milk and continue whisking for about 1′. Reduce the heat to low, add the grated nutmeg and black pepper and cook until the the sauce thickens, about 5′. Add the cheddar and parmesan and combine well. Remove from the heat and set aside.
Grease a large baking dish and cover the bottom with the broccoli florets & ham pieces. Drizzle the sauce, making sure to cover all the broccoli pieces; combine the breadcrumbs with the parmesan and sprinkle on top.
Bake for about 20′, until bubbly and golden brown.