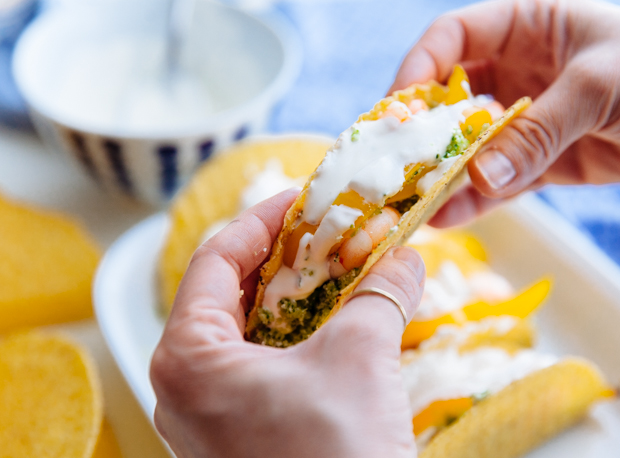 This dish was more of an afterthought than an actual plan. More of an exercise on what to do when a random pile of groceries lands on your kitchen counter than a carefully planned cooking strategy. The other day, my significant other came home bearing groceries. Shock and joy- as it doesn't happen often. Like at all. Smiles all over- smiles which were quickly replaced by a silent WTF. And then a loud one.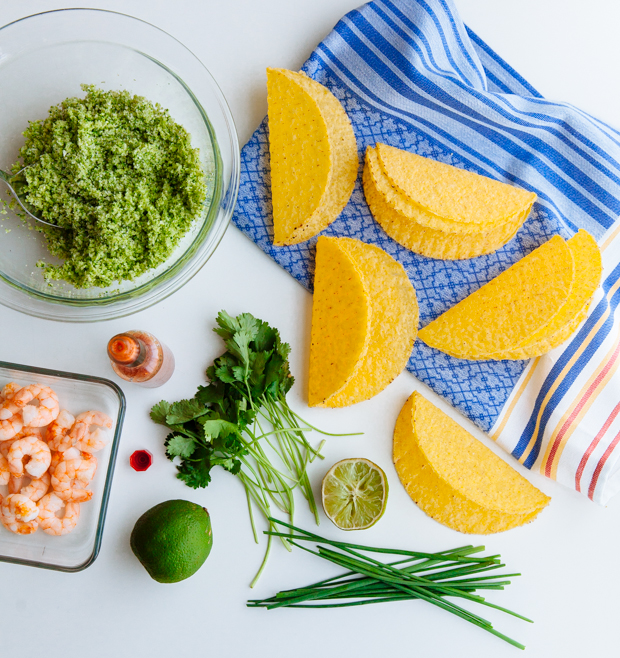 Three Kinder Bueno bars (random, but hello and welcome), a big carton of milk (neither of us drinks milk), lots of apples (Really? There's strawberries, like everywhere!), 3 steaks (a subtle reminder that, hey, it's been almost a month since we've had meat in this house, it's about goddamn time), white chocolate chips (another subtle reminder that dark chocolate is not the only chocolate that should be enjoyed around here) and finally 2 bags of cauliflower/ broccoli medley. Seriously? Of all the vegetables, in all the world, these are the two that had to land on my kitchen?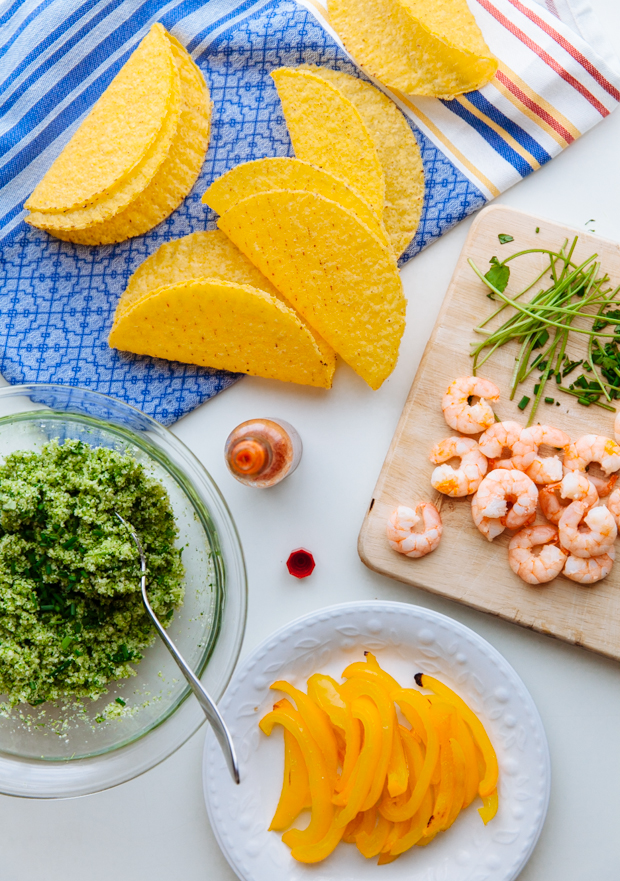 Good thing I like a good challenge as much as I like a good plate of food. Think, woman, think! First, have a Kinder Bueno, There, better already. Leave that milk alone, it will be dealt with later- wait! Let's make pancakes! No! Put it down and focus. Go through the fridge and cupboards; what do we have here? Sour cream, beautiful pink prawns and… wait- are these leftover taco shells? Why yes, yes they are. We got taco shells here, people; I repeat, taco shells. Crisis averted, time to love your cauliflower.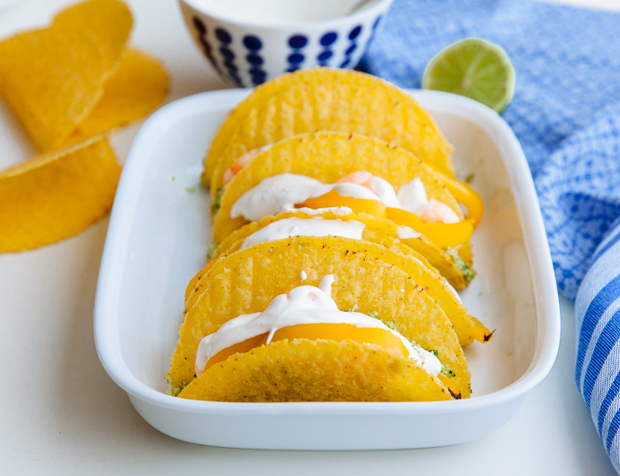 And so it begins: the prawns are tossed with some olive oil, a good squeeze of lime and a few drops of tabasco and popped in the grill. Along with them goes a fresh, firm and shiny yellow bell pepper, cut in slices and ready to be slightly charred. The cauliflower and broccoli are looked at almost lovingly, placed in a food processor and pulsed until crumbly and resembling a colourful and fresh couscous; they are then mixed with lots of coriander, chives and some more olive oil and sea salt flakes.
Prawns, peppers and fake couscous are ready and the taco shells are waiting. Fill them up, drizzle generously with lime sour cream, grab them, eat them, thank your clueless grocery bearer, eat your words, eat your tacos.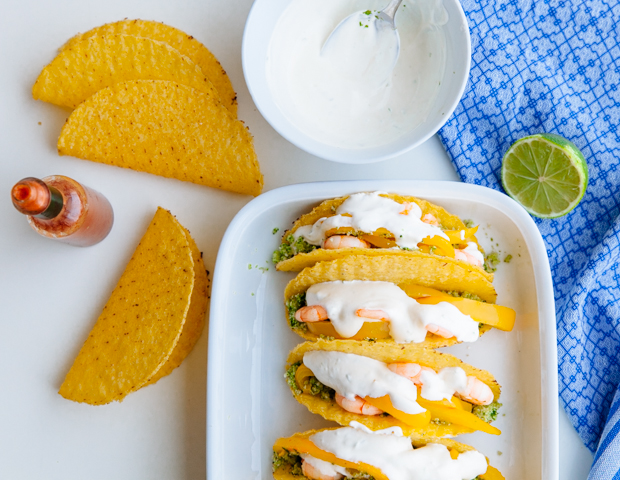 INGREDIENTS (for 8 tacos)
8 tacos shells
300 grams jumbo king prawns (I used peeled and cooked ones)
1 yellow red pepper, washed and sliced
1/2 lime
tabasco sauce
sea salt flakes
about 600g cauliflower and broccoli florets, washed and dried
1 tablespoon extra virgin olive oil & extra for the prawns and peppers
2 1/2 tablespoons fresh coriander, minced
1 tablespoon chives, minced
1 cup cup sour cream
Turn the grill on to 200C (180C air); line a large baking tray with foil and add the prawns and peppers; drizzle with some olive oil, a few drops of tabasco and some fresh lime juice and grill for about 5' (the peppers may need a little longer). Set aside to cool slightly.
In the meantime, place the florets in a food processor and pulse until they reach couscous consistency. Season with sea salt flakes, fresh coriander, chives and 1 tablespoon olive oil.
Add the remaining juice of 1/2 lime to the sour cream, a couple drops of tabasco and set aside.
Assemble the taco: line the bottom of each shell with 1/2 tablespoon lime sour cream; top with about 1 tablespoon 'couscous', add another 1/2 tablespoon of the sauce and top with the pepper slices and prawns. Top with a final drizzle of sauce.